LeBron James Net Worth is $340 Million
LeBron James is a professional American basketball player who started his decorated career at the age of 9 when a local youth coach introduced him to basketball. King James has given his best to ensure that he has his name among the greatest NBA players to ever exist and thankfully he is among the highest paid players in the sports.
In 2014, James earned a total of $72 million from the NBA season. Just from his salary, he made a whopping $19.3 million, and from several of his endorsements, he made $53 million. In the same year, he was listed as the third highest paid athlete behind Cristiano Ronaldo ($80 million) and Floyd Mayweather Jr. ($105 million). However, LeBron is thought to have a greater appeal compared to the two which shows why he was voted the 2nd most powerful athlete.
See Also: 30 Highest-Paid Celebrities In The World 2015
Due to James' recent contract arrangements with massive endorsement partners McDonald's, Upper Deck, Coca-Cola and Nike; he is considered to have Basketball's biggest endorsement.
LeBron has made over $150 million in NBA salary and over $300 million in several endorsements over his career.
LeBron made a surprising announcement of his return to Cavaliers which was highly anticipated. He did sign a two-year deal worth $42.1 million.
In 2016, LeBron earned $77.2 million with $23.2 million coming from his salary and $54 million from endorsements. James' earnings only increase by the year. In 2017 his salary enjoyed a 12% increase to $86 million, making him the highest-paid NBA player for three consecutive years.
See Also: Top 20 World's highest-paid celebrities 2015
LeBron James Net Worth: Endorsements
LeBron has inked lucrative deals with very established companies that return millions of dollars yearly. He has made his busy schedule worth it by appearing in commercials for Samsung, Microsoft, State Farm, and Dunkin Donuts. In fact, James owned a small portion of Beats by Dre when the company was taken over by Apple for $3 billion in 2014.
Back in 2003 at 18 years of age, LeBron signed his first endorsement deal which was a $90 million deal with Nike over 7 years and in 2015 he renewed the deal to last a lifetime, becoming the only player in the history of the 44-year-old company to do so. The deal stands to earn him as much as $1 billion depending on the sales of LeBron James-branded shoes.
Lebron James doesn't bank only from his NBA salary and endorsements, Read Also: How LeBron James Makes And Spends His Millions to see the other ventures the NBA star is involved in.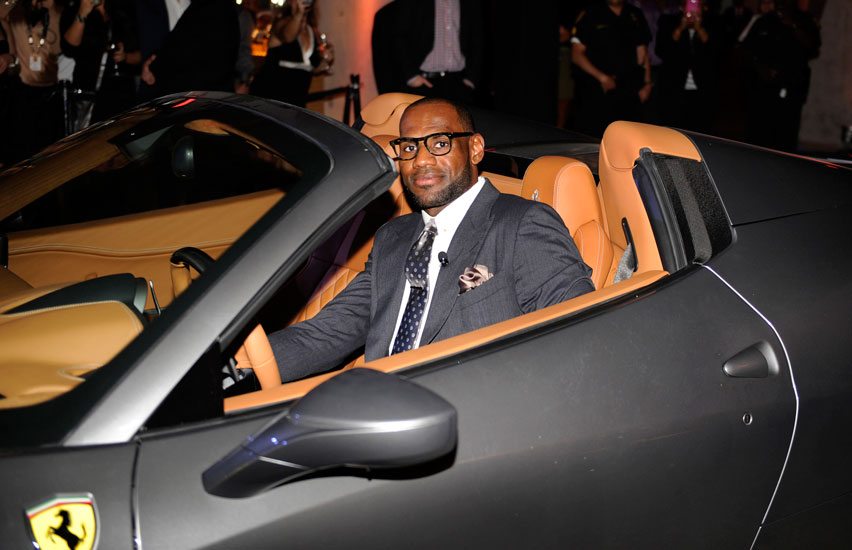 LeBron James Net Worth: House
Celebrities are rich and most of them usually invest in prominent homes worth millions of dollars and LeBron James isn't different. Upon returning to the Cavs, King James sold his Miami mansion for $13.4 million, he had originally bought it for $9 million, thus making a $4.4 million gain.
The 12,000 square-foot mansion has 6 bedrooms, 8 bathrooms, a bay view, an elevator, a guest house, as well as a heated pool. The small forward now lives in a mansion in Montrose Ohio which he built from scratch on a land he bought for $2 million back in 2003.
The house measures almost 36,000 sq ft and includes 6 bedrooms, 8 bathrooms, a bowling alley, aquarium, movie theater and of course a basketball court.

Lebron James Net Worth: Summary
LeBron is a man many kids can look up to not only as a complete professional but as one of the few celebrities who has lived a successful, scandal-free life on and off the pitch. Of course he has had his not-so-good moments but no one would deny that James has been able to take control of most of his words and deeds and that has played a huge role in his success. Lebron is happily married with three great kids, two of which are already hitting their strides in basketball.
See Also: Highest Paid NBA Players 2016