Age/Date of Birth:

December 30, 1984
Height:

6 feet, 9 inches (2.06 meters)
Ethnicity/Race:

African American
Nationality:
American
Wife or Girlfriend:

Savannah Brinson (Married in 2013)
Parents:
Father: Anthony McClelland
Mother: Gloria Marie James
Net Worth:
$450 million
LeBron James is a professional American basketball player who started his decorated career at the age of 9 when a local youth coach introduced him to basketball. King James has given his best to ensure that he has his name among the greatest NBA players to ever exist and currently, he is the highest-paid player in the sports.
Joining Los Angeles Lakers in 2018, the famous athlete had previously played as a small forward/power forward for his hometown team, Cleveland Cavaliers and also, Miami Heat over the course of his long-spanning career in the NBA. Thus far, he is a 3-time NBA Champion, 4-time NBA Most Valuable Player, 3-time NBA Final MVP, 16-time NBA All-Star selection, and several others. Asides enjoying a bloomy career, the NBA superstar is equally relishing a flourishing married life with his high school beau, Savannah James. He also shares a special bond with his mom who raised him single-handedly.
LeBron James' Upbringing By A Single Mom
LeBron James (nickname King James) was born LeBron Raymone James on December 30, 1984. His mom, Gloria Marie James was only 16 years old when she was delivered of him in Akron, Ohio in the United States. While growing up, the ace athlete took up his mother's last name James, as his father abandoned his mom when he learned about her pregnancy. His father, Anthony McClelland is an ex-convict with an extensive criminal record. According to sources, LeBron James has a half brother from his father's side named Aaron McClelland Gamble, but the two seem not to be close.
It may be surprising to learn that growing up was really tough for James as his mother raised him alone as a single mother without a stable job. When his mom couldn't take it anymore, she gave up little LeBron to stay with the family of a local football coach, Frank Walker. But against the run of play, he developed a keen interest in basketball against football and started playing the game of basketball at the age of nine.
Beginning His NBA Career With The Cleveland Cavaliers
After years of uncommon exploits at St. Vincent-St. Mary High School, during which he was selected to First-Team Parade All-American twice and was also 2003 McDonald's National Player of the Year, as well as a National Champion, LeBron James decided to forfeit college and thus, entered the 2003 NBA Draft. He was selected the first overall by the Cleveland Cavaliers and was offered a four-year contract valued at $18.8 million by the NBA franchise.
He went on to claim the NBA Rookie of the Year Award after averaging points; 20.9, rebounds; 5.5 and assists; 5.9 per game in his rookie season. Hence, Lebron became the third player to accomplish such feat in his rookie year in the history of the league. Later in the 2007-08 season, he was named All-Star Game Most Valuable Player with a record of points; 27, rebounds; 8, and assists; 9.
As a result of his exploits, he was offered a lucrative three years contract extension by the Cavs worth $60 million. Despite his salary upping from 7 figure to 8 figure at the time, the highly skilled athlete made a decision to join Miami Heat at the beginning of the 2010 season, when he was an unrestricted free agent.
How He Became An Elite Basketball Player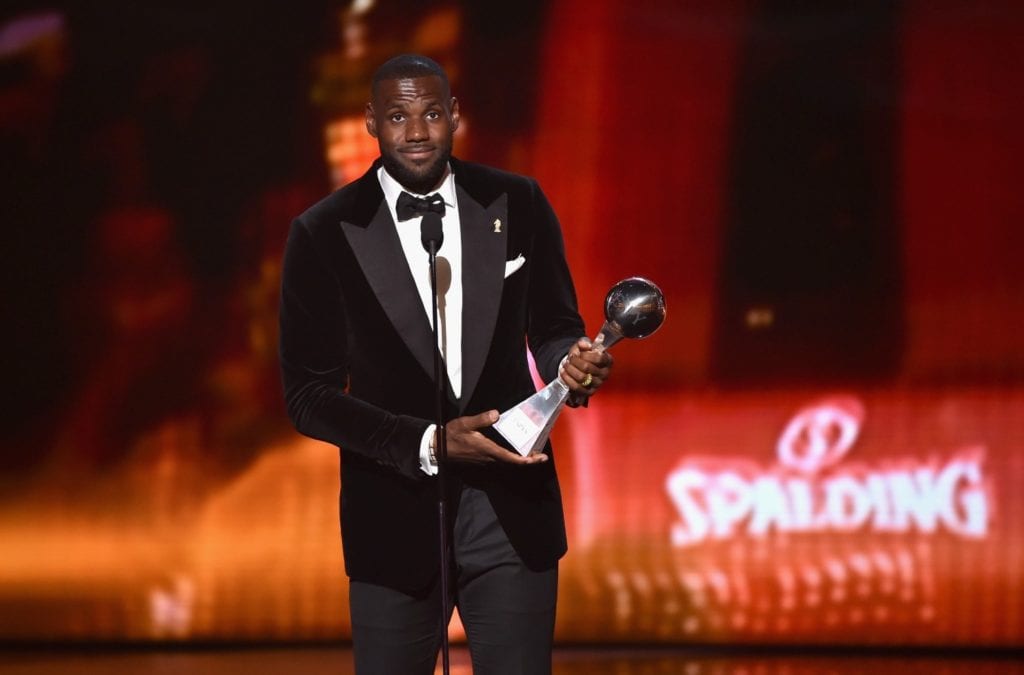 In July 2010, the NBA power forward signed a six-year contract with Miami Heat valued at $110 million. He then moved on to average points; 26.7, rebounds; 7.5, and assists; 7 per game in his first season in Miami. He subsequently led his team to back to back Championships in 2012 and 2013. Then in his final season in Miami, James scored a bewildering 61 points in a game against Charlotte Bobcats, which became a franchise-record and equally a career-high for the Ohio native.
He afterwards, made a return to his hometown team, the Cavs in 2014 and during the 2015-16 season, the 6 feet 9 inches forward won the NBA Championship with the Cavaliers, ending the city's professional sports title drought for 52 years. He also set a new record by becoming the third player in the NBA history to post a triple-double in the league's Finals Game 7. He went on to become NBA's all-time postseason scoring leader before joining Los Angeles Lakers in June 2018, penning down a four-year contract worth $153 million which entitled him to an average salary of $38 million per year.
In his first season with the Lakers, James missed 17 games consecutively, having suffered a groin injury and was later ruled out for the remainder of the season. Later in the 2019-20 season, he led the team to a 17-2 record opener and subsequently became the league's 3rd all-time regular-season scorer surpassing the late basketball legend, Kobe Bryant on the list.
A Peek At His Net Worth, Salary, and Endorsements
LeBron James has made over $150 million in NBA salary and over $300 million in several endorsements over the course of his career. He made a surprising announcement of his return to Cavaliers which was highly anticipated in 2014. He did sign a two-year deal worth $42.1 million. In the same year, he earned a total of $72 million from the NBA season. Just from his salary, he made a whopping $19.3 million, and from several of his endorsements, he made $53 million. Also in 2014, he was listed as the third highest-paid athlete behind Cristiano Ronaldo ($80 million) and Floyd Mayweather Jr. ($105 million).
Later in 2016, the two-time Olympic gold medalist earned $77.2 million with $23.2 million coming from his salary and $54 million from endorsements. James' earnings only increase by the year. In 2017, his salary enjoyed a 12% increase to $86 million, making him the highest-paid NBA player for three consecutive years. His 2017/18 salary is adjudged to be the highest of any player in the NBA since Michael Jordan in 1997/98.
James additionally pocketed about $92 million between October 2018 and October 2019, which includes $55 million he cashed in from endorsement deals. As a result, he ended the year as the highest-paid NBA player for the sixth consecutive time.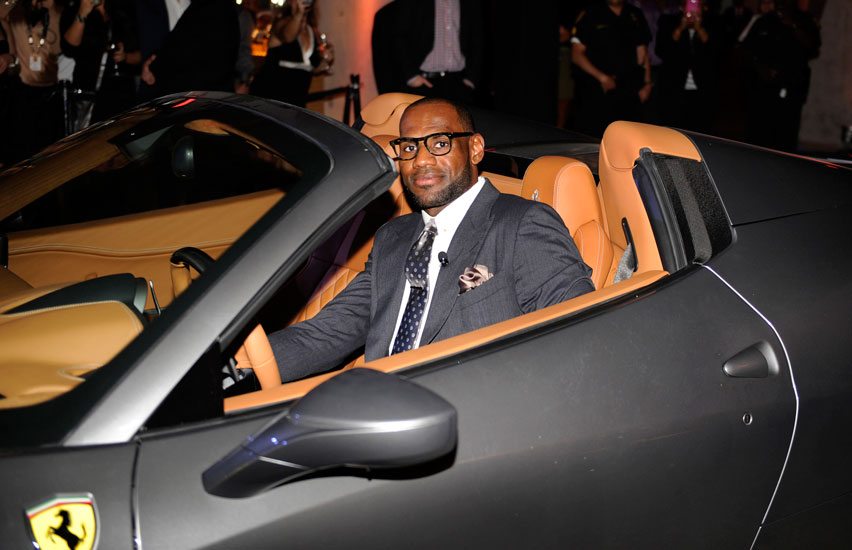 LeBron James has further inked lucrative deals with established companies that return millions of dollars yearly. Due to his recent contract arrangements with massive endorsement partners such as McDonald's, Upper Deck, Coca-Cola, and Nike; he is considered to have basketball's biggest endorsement.
Back in 2003 at 18 years of age, LeBron signed his first endorsement deal which was a $90 million deal with Nike over 7 years, and in 2015 he renewed the deal to last a lifetime, becoming the only player in the history of the 44-year-old company to do so. The deal stands to earn him as much as $1 billion depending on the sales of LeBron James-branded shoes.
He has made his busy schedule worth it by appearing in commercials for Samsung, Microsoft, State Farm, and Dunkin Donuts. In fact, the prominent sportsman owned a small portion of Beats by Dre and when the company was taken over by Apple for $3 billion in 2014, he received a whopping cut of $30 million. LeBron James who has his net worth estimated at $450 million doesn't bank only from his NBA salary and endorsements
Read: How LeBron James Makes And Spends His Millions to see the other ventures the NBA star is involved in.
James' Enduring Romance And Family Life With Savannah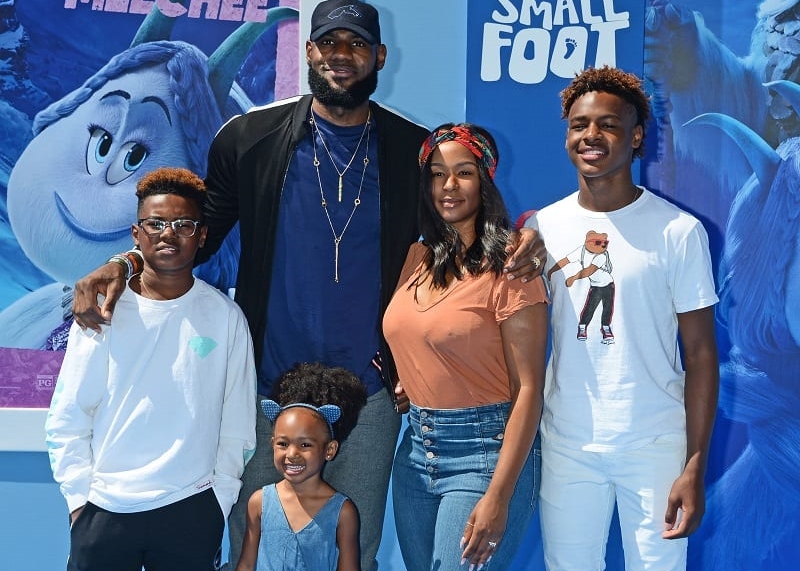 LeBron James is married to Savannah Brinson, who has been his sweetheart since they met in high school. He proposed to her on New Year's Eve of 2011, in a party that was supposed to be his 27th birthday party. She said yes to him and they eventually walked down the aisle two years later on September 14, 2013, in a posh ceremony in San Diego, with Jay-Z and Beyoncé performing 'Crazy in Love' for the cute couple as their wedding ceremony lasted for three days and had only 200 guests in attendance.
Prior to wedding, Savannah gave birth to their first child, LeBron James Jr. in 2004 at the age of 18 and then welcomed another son, Bryce Maximus James three years later. The couple's last child, Zhuri Nova James was born in 2014 – ten years after the arrival of their first child. The two love birds are doting parents who love to spend quality time with their kids, and they often share their loved up family photos with their fans on social media. They have been together for almost half of their lives and are still going strong as a couple.
All About His Wife And Kids
Savannah James
King James' gorgeous Queen was born to parents, J. K and Jennifer Brinson in Akron, Ohio, United States on August 27th, 1986. She completed her basic education from Butchel High School and there, she was among the school's cheerleaders. She equally showed off her athleticism while at school as a member of the softball team.
Following her marriage to the NBA star, Savannah has been involved in many philanthropic duties including her mentorship project called Women of Our Future, which aims at impacting the lives of young women by offering them quality education. She serves as the vice president of her husband's foundation – LeBron James Foundation and additionally founded her own furniture line called Home Court in partnership with American Signature, a well-known furniture brand.
Bronny James
LeBron James Jr, who is famously known as Bronny James was born in Cleveland, Ohio on October 6th, 2004. He has followed in the footsteps of his dad by becoming an elite point guard/shooting guard playing in the Amateur Athletic Union (AAU). He began making waves as a skilled basketballer while attending Old Trail School situated in Bath Township, Ohio, and during that time, he led his team to an independent School League tournament which they won.
He then started attending Crossroads School in Santa Monica in August 2018 and subsequently transferred to a private K-12 school, Sierra Canyon School in Chatsworth, Los Angeles, in the next year. There, he has continued with his high school playing career, having averaged 4.1 points in 15 minutes per game in his freshman year.
Bryce Maximus James
Dubbed by his father as the best shooter in the James gang, Bryce is also a basketball player who has put up outstanding performances on the court in a number of Amateur Athletic Union basketball games. He was born on June 14th, 2007 in Cleveland, Ohio, and just like his elder brother, he previously attended Crossroads School before heading to Sierra Canyon School in May 2019.
Bryce may not be as good as his dad in terms of passing ability but his ability to shoot from behind the arc, as well as his delivery of full-court passes, have kept him in the limelight in recent years.
Zhuri Nova James
LeBron James' only daughter has become quite famous on social media in the past few months, as she has been showcasing her dancing talent on TikTok along with the other members of her family. Zhuri who is also attending Sierra Canyon School recently graduated from Pre-K and entered Kindergarten. She was born in Cleveland, Ohio on October 22nd, 2014.
Even though her brothers have chosen a career in sports, beautiful Zhuri is gradually building a social media career. With the help of her mom, she launched a YouTube channel named All Things Zhuri which has garnered over 150,000 subscribers. Therein, she uploads DIY and tutorial videos, as well as the videos of their family adventures.
The NBA Superstar's Real Estate Acquisition
Celebrities are rich and most of them usually invest in prominent homes worth millions of dollars and LeBron James isn't different. Upon returning to the Cavs, King James sold his Miami mansion for $13.4 million. He had originally bought it for $9 million, thus making a $4.4 million gain. The 12,000 square-foot mansion has 6 bedrooms, 8 bathrooms, a bay view, an elevator, a guest house, as well as a heated pool.
The small forward also has a mansion in Montrose Ohio which he built from scratch on land he bought for $2 million back in 2003. The house measures almost 36,000 sq ft and includes 6 bedrooms, 8 bathrooms, a bowling alley, aquarium, movie theater, and of course a basketball court.
See Also: 30 World's Highest-Paid Celebrities
Then in 2015, James purchased what was then the most expensive home in the Brentwood neighborhood of Los Angeles for $21 million. Despite purchasing the 9,350 square-foot mansion, he went on to buy another luxury home in the same neighborhood for $23 million, two years later.
His Athletic Body Build Features
LeBron James stands at 6 feet 9 inches (2.06 m) and weighs 250 pounds (113.4 kg). His height is perfect for the game of basketball. He has an athletic build and his body statistics are 46-17-36 inches (117-43-91.5 cm) for his chest, biceps, and waist. His wingspan is 214 cm and his shoe size is US size 15.
His workout routine with his personal trainer includes spinning or pilates. He also uses the VersaClimber cardio and body fitness machine. His diet includes lots of carbs, chicken breast, peanut butter, or some pasta. He claims the carbs in his pre-game diet helps increase his energy levels during games.
He says he also eats lots of vegetables, salads, and even protein shakes with some fruit before games. But avoids fatty foods such as the pizza, french fries, pies, and sandwiches. All of which he says he saves for eating only after a game.
Profile Summary
First Name:
LeBron
Last Name:
James
Also Known As:

King James, "The Akron Hammer", L-Train".
Sex/Gender:

Male
Profession:

Basketball player
Famous For:
Three-time NBA champion
Colleges/Universities Attended:

Not Available
Educational Qualifications:

Not Available
Religion:

Christianity
Birthday & Zodiac

Age/Date of Birth:

December 30, 1984
Zodiac Sign:
Capricorn
Birth Place:

Akron, Ohio
Nationality:
American
Ethnicity/Race:

African American
Country of Residence:

The United States of America (USA)
Physical Attributes

Height:

6 feet, 9 inches (2.06 meters)
Weight:

113 kg (250 pounds)
Eye Colour:

Brown
Hair Color:

Black
Other Body Measurements:

Chest: 46 inches (117cm)
Waist: 17 inches (43cm)
Biceps: 36 inches(91.5 cm)
Relationships

Marital Status:

Married
Spouse/Partner:

Savannah Brinson (Married in 2013)
Family and Relatives

Father:

Anthony McClelland
Mother:
Gloria Marie James
Children:

Bronny James (born 6 October 2004), Bryce Maximus James (born14 June 2007), Zhuri James(22 October 2014)
Siblings:
Aaron McClelland Gamble (Half-brother)

Other Relatives:

Curt James (Uncle)
Freda James (Grandmother)
Terry James (Uncle)
Net Worth
$450 million
Estimated Net Worth:

$450 million
Salary:
$37.44 million
Source of Wealth:

Salary, Endorsements with (NKE) and Sprite, owned by The Coca-Cola Company, Basketball games
Related Questions: