What is Serena Williams' net worth?
Net Worth:

$210 million
Salary:
$8 million annually
Income Sources:
Professional tennis and endorsement deals
Age/Date of Birth:

41 years old (26 September 1981)
Height:

5 ft 9 in
175 cm
Nationality:
American
Last Updated:

2021
Serena Williams is an American renowned professional tennis player known for dominating the sport over the years together with her sister, Venus Williams.
Born in a renowned tennis family background, Serena's first contact with a tennis racket and ball was when her tennis-obsessive father brought her to Los Angeles public courts, close to their family's house in Compton.
Today, she has strikingly emerged the greatest tennis player of all time among both men and women and the highest paid female athlete. As of 2021, Serena Williams' net worth is $210 million
Serena Williams' Early Life and Career Beginnings
Born as Serena Jameka Williams, Serena was born to Afro-American parents Oracene Williams (nee Price) and Richard Williams on September 26, 1981, in Saginaw, Michigan. She is Oracene's youngest daughter and a half-sister to Isha Price, Yetunde Price, and Lyndrea Price, who came from her mother's first marriage.
Before Richard pledged his troth to Price in 1980, he previously married Betty Johnson in 1965 (a young woman he met in California). Their union produced six children (three daughters and three sons) but however, lasted for just 8 years, following a divorce.
Williams met Price in 1979 in Saginaw. The couple wedded in 1980, shortly after they had Venus. A year after, Serena arrived and not long after, her family moved to Compton, California, where she began playing tennis with her sister Venus at the age of 3.
At the age of 9, Serena's family relocated to West Palm Beach, Florida, where she enrolled for extra coaching lessons at Rick Macci's tennis academy.
Education-wise, Venus, and Serena got homeschooled to ensure they got enough time for practice. Under the tutelage of her father, Serena's tennis skills developed. She was ranked the no. 1 player in the under 10 division. In 1995 she went professional and in a few years, she broke into the top-100 bracket.
Serena Williams' parents (who are also professional tennis coaches) divorced in 2002. After separating from his wife, Richard found love in the arms of Lakeisha Graham, who's 37 years younger than him. The couple got married in 2010 and welcomed their first son Dylan Starr Williams in 2012.
Career Achievements
Serena's over 2-decade professional tennis career has seen her being named the world number 1 six times. The first was in July 2002. She won her first Grand Slam title at the age of 17, and so far won at least 21 Grand Slam titles. She has won three Olympic gold medals from the Beijing, London and Sydney Olympics. She currently has a win percentage of 85.4% in singles and 86.8% in doubles. She is the first player to win 5 Australian Open singles titles.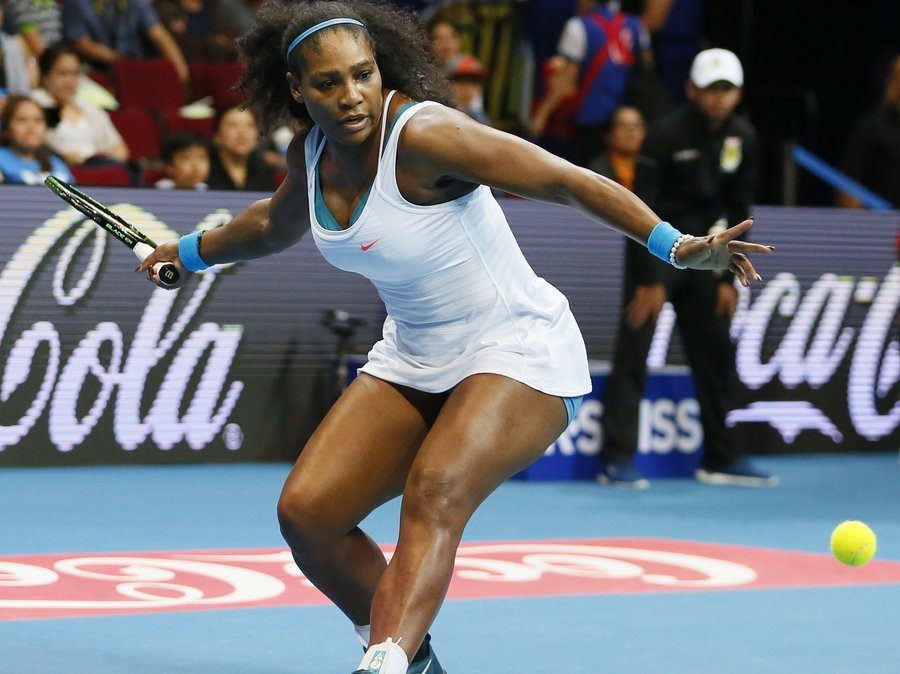 Career Earnings
She has earned the most prize money in the world among female players and is the highest-earning female tennis player in the world. Serena made $22 million between June 2013 and June 2014. Half of that came from prize money while the other half came from endorsements. After winning both the US Open and US Open series, Serena received $4 million, making it the highest payday in history. Between November 2014 and November 2015, she earned $46 million.
Serena endorses companies like Kraft Foods, Nike, Delta Airlines, Aston Martin, Audemars, Piquet, Mission Athletecare, OPI Products, Chase Bank, Beats By Dre, Pepsi and more.
Apart from her endorsement deals, Serena is involved in other ventures like fashion and entertainment. She produces her own Nike fashion line and a separate Serena Williams Signature Segment clothing line, she has a signature collection of handbags and jewelry sold on HSN.
The tennis star owns investments in some of the companies she endorses, like Sleep Sheets, and Mission. Together with her sister Venus, they own stakes in NFL side Miami Dolphins, making them the first African-American women to own an NFL franchise. In entertainment, Serena has lent her voice to a number of animated TV shows.
Price Money and Earnings:
First woman to win US$6,000,000 in prize money in a single year: 2009.
First woman to win US$12,000,000 in prize money in a single year: 2013. (Record: $12,385,572)
First, and only, woman to win US$40,000,000 in career prize money (in 2012).
First, and only, woman to win US$50,000,000 in career prize money (in 2013).
First, and only, woman to win US$60,000,000 in career prize money (in 2014).
First, and only, woman to win US$70,000,000 in career prize money (in 2015).
First, and only, woman to win US$80,000,000 in career prize money (in 2016).
Holds the record for most seasons (18) earning US$1,000,000 or more. In 1999–2005 and 2007–2017.
Holds the record for most seasons (15) earning US$2,000,000 or more. In 1999, 2001–2004, 2007–2010, and 2012–2017.
Holds the record for most seasons (6) earning US$5,000,000 or more. In 2009, 2012, 2013, 2014, 2015, and 2016.
Holds the record for most seasons (6) earning US$6,000,000 or more. In 2009, 2012, 2013, 2014, 2015, and 2016.
Holds the record for most seasons (5) earning US$7,000,000 or more. In 2012, 2013, 2014, 2015, 2016.
Holds the record for most seasons (3) earning US$9,000,000 or more. In 2013, 2014, 2015.
Holds the record for most seasons (2) earning US$10,000,000 or more. In 2013 and 2015.
Serena Williams is still actively involved in the tennis game, thus her wealth is bound to increase.
Serena Williams' Salary and Details of Her Net Worth
World number tennis player Serena Williams is apparently one of the world's heavily-paid athlete, having made it to number one position as the best female athlete five good times. The all-time great tennis player, in 2017 alone, raked in a whopping $8,000,000 as price money from tennis tournaments and $19,000,000 from endorsements. In 2016, she netted $7,600,000 as salary, making her America's premier tennis player.
As of 2021, Williams had an estimated net worth of $210 million, which she amassed from neat earnings, endorsements, and endeavors.
Her Career Highlights
Espy Awards (Best Female Athlete, 2003, 2013)
Laureus World Sports Award for this year (2010, 2016, 2018)
Espy Awards (Best Female Tennis Player, 2015-2017, 2019)
Sports Person Of The Year (2015)
Glamor Award for The Athlete (2009)
Teen Choice Award (Best female tennis player (2010, 2012, 2014)
BET Award for this year's female athlete (2015-2017)
Shorty Award for Best in Sports (2018)
Meet Her Husband Alexis Ohanian, and Kids
American tennis star Serena Wiliams is married to Alexis Ohanian. Brooklyn-born Alexis, dubbed "Mayor of the Internet" is an internet guru, a renowned investor, and an outstanding entrepreneur.
He was born to Anke Ohanian (mother) and Chris Ohanian (father) on April 24, 1983. He had his high school education at Howard High School, Ellicott City, Maryland, from where he graduated in 2001 with flying colors. He proceeded to the University of Virginia, where he graduated with degrees in commerce and history in 2005.
While Alexi's mother is of German ancestry, his father, Chris is an Armenian-American. The internet lord's great-grandparents were said to have migrated to the United States shortly after the Armenian Genocide as refugees.
In addition to co-founding Reddit – American social news aggregation, web content rating, and discussion website, Alexis also played crucial roles in the establishment of venture capital fund – Initialized Capital – in 2011, together with Stanford University graduate Garry Tan.
Ohanian is the brain behind the book – Without Their Permission: How the 21st Century Will Be Made, Not Managed – which he published on October 1, 2013, and subsequently promoted to a very large extent. He is also the creator of Breadpig and even assisted in rolling out consumer-oriented online travel company, Hipmunk, headquartered in San Francisco.
Regardless of his numerous achievements, Alexis is an adorable husband to tennis star Serena Williams and a loving father to their gorgeous daughter.
Williams, who's currently one of the world's greatest tennis player, and her tech entrepreneur sweetheart, Alexis, had a spectacular engagement on December 10, 2016, after enjoying a secret love affair for 15 months.
Read Also: 10 World's Highest-Paid Female Athletes
On September 1, 2017, the tennis champ and her husband welcomed their first child together in West Palm Beach, Florida. The baby was named Alexis Olympia Ohanian Jr. Serena called her Alexis while her husband settled for Junior – for reasons not obvious.
Recently, the tennis champ and her infant daughter made appearances on the cover of American fashion magazine Vogue for the February 2018 issue.
Ohanian and Williams had their classy and sensational wedding two months after Olympia's arrival. The star-studded ceremony held on November 16, 2017, in New Orleans, and was attended by friends and family, including A-list celebrities like Beyonce, Kim Kardashian, Caroline Wozniacki, La La Anthony, Kelly Rowland, Eva Longoria, Cynthia Erivo, and Model Selita Ebanks, to name but a few.
Height, Age, and Body Measurements
Unlike most celebrities with the Hourglass shape, Williams' ample body is complemented by her pear body shape. The tennis star's shape may not be celebrities' favorite, she has, however, learned to cherish and continuously build it up in order to achieve her desired result on the court.
In addition to her shape, Williams (born September 26, 1981) has an appreciable height of 5 feet 9 inches, which makes it easier for her to be identified from a far distance.
Here's a detailed statistics of her body measurement
Height: 5 feet 9 inches or 175 cm in metric units
Weight: 70.5 Kilograms (155 lbs)
Body shape: Triangle or Pear
Hip Size: 44 inches
Bra Cup Size: D
Eye Color: Brown
Hair Color: Black
Body Measurements: 36-28-44 inches
Profile Summary
First Name:
Serena
Last Name:
Williams
Estimated Net Worth:

$210 million
Salary:
$8 million annually
Source of Wealth:
Professional tennis and endorsement deals
Last Updated:

2021
Also Known As:

Serena Jameka, Meka, Momma Smash, ReRe, Serena Stoutarm, The Beast of Burden, The King of WTA, The Mountain that Plays Tennis, The Tennis Playing Truck, The Widowermaker
Sex/Gender:

Female
Profession:

Tennis player
Famous For:
Becoming one of the greatest tennis players ever
Colleges/Universities Attended:

The Art Institute of Fort Lauderdale
Educational Qualifications:

NA
Religion:

Jehovah's Witnesses
Birthday & Zodiac

Age/Date of Birth:

41 years old (26 September 1981)
Zodiac Sign:
Libra
Birth Place:

Saginaw, Michigan, United States
Nationality:
American
Ethnicity/Race:

African American
Country of Residence:

The United States
Physical Attributes

Height:

5 ft 9 in
175 cm
Weight:

155 lbs
70.5 kg
Eye Colour:

Dark brown
Hair Color:

Black
Other Body Measurements:

Hip Size 44 inches
Bra Cup Size D
Relationships

Marital Status:

Married
Spouse/Partner:

Alexis Ohanian (m. 2017)
Family and Relatives

Father:

Richard Williams
Mother:
Oracene Price
Children:

Alexis Olympia Ohanian Jr.
Siblings:
Venus Williams, Yetunde Price, Lyndrea Price, Dylan Starr Williams, Isha Price, Richard Williams III, Ronner Williams
Other Relatives:

Lakeisha Juanita Williams- stepmother