What is Gucci Mane's net worth?
| Net Worth: | $12 million |
| --- | --- |
| Salary: | $1 Million+ |
| Income Sources: | Music |
| Age/Date of Birth: | Gucci Mane, Guwop, La Flare, Mr. Zone 6, Wizop |
| Height: | 43 years old (February 12, 1980) |
| Nationality: | Americn |
| Last Updated: | 2021 |
Gucci Mane is an American Hip hop rapper and songwriter popular for the hip-hop sub-genre, 'Trap', which he co-pioneered with fellow rappers, T.I. and Young Jeezy.
Gucci Mane's net worth is estimated at $12 million as at 2021. Let's take you on his journey to fame and wealth.
Gucci Mane's Early Life and Career Beginnings
Gucci Mane was born Radric Delantic Davis on 12th February 1980 in Bessemer, Alabama, USA. Fathered by Ralph Everett Dudley, his surname was not supposed to be 'Davis'. He however, took his mother's (Vicky Jean Davis) last name because she was the one that signed his birth certificate. Gucci's father was at the time running away from apprehension over allegations of selling cocaine and heroin. Ralph and Vicky eventually separated when Gucci Mane was still a child.
Owing to his parent's unstable relationship, Gucci had a quite rough childhood. Putting up with his paternal grandmother at some point, being homeless at some other, and finally settling in a crime-infested Atlanta neighbourhood, Mane became exposed to street life from a very young age.
All these however, never sapped the skilled rapper of his music talents. He had earlier started writing poetry as a child and became acquainted with hip-hop after attending a concert at age six. With inspiration from rapper Big Daddy Kane propelling him to put his words into music, Gucci began rapping at fourteen. Mane also did very well academically. He however, could not finish college as he earned expulsion and a 90-day jail time dealing on cocaine.
Details of His Music Success and Earnings
It was after dropping out of school that Mane who was already 21, started taking music seriously as a full-time career. That was in 2001, when he released his first amateur and dependent album, La Flare. Later in 2005, Gucci released his debut single 'Black Tee' which received wide patronage locally, earning him distribution contracts with the Big Cat and Tommy Boy Records.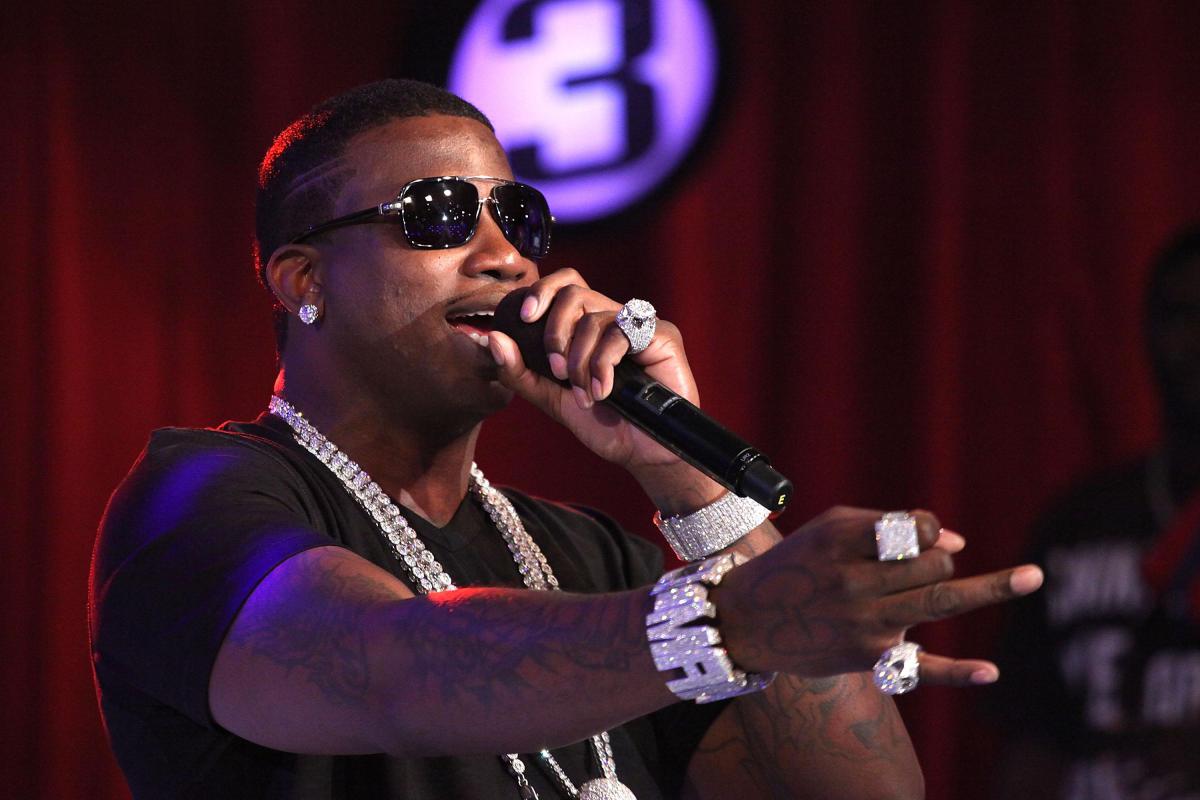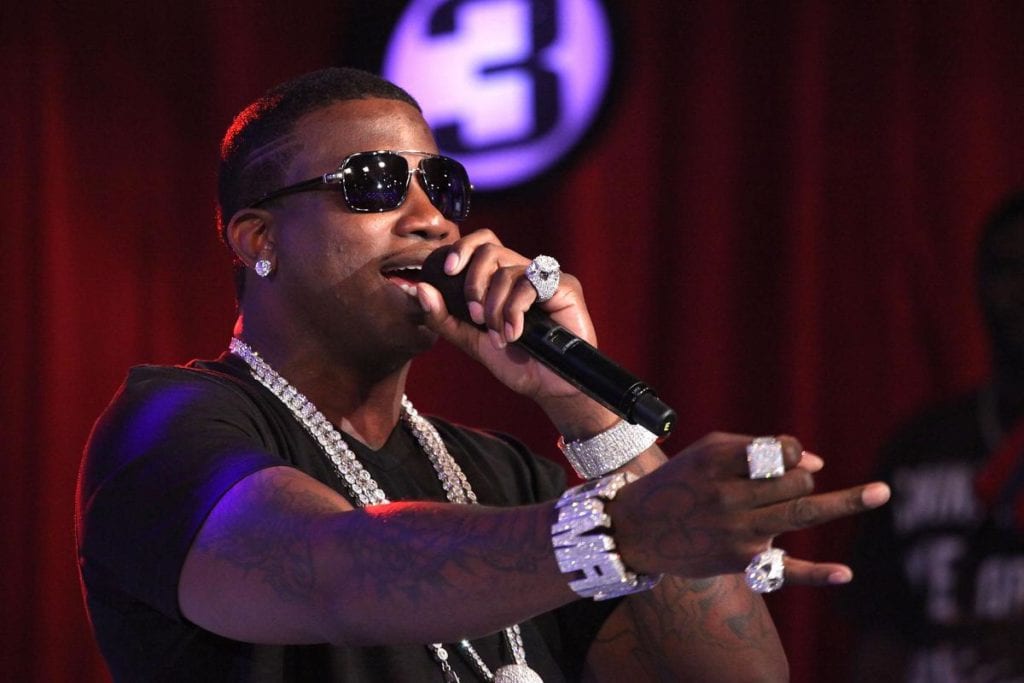 From then till date, Gucci Mane has released a total of 14 studio albums, 74 mixtapes, 7 extended plays, and 99 singles among numerous other projects such compilation and collaboration albums, and promotional singles, with several of them recording commercial success.
Mane's debut independent studio album, Trap House which he released in 2005 topped the Billboard Heartseekers Chart and around 130,000 copies to date. Hard To Kill (2006) peaked at #4 and #6 on Billboard's Independent Albums and Top Rap Albums respectively.
After releasing three other albums, Gucci hit commercial success with "Wasted", the lead single of his sixth studio album, The State vs. Radric Davis (2009). The song ranked among Hot R&B/Hip-Hop Songs' top 5. The album itself debuted at #10 on Billboard 200 and #1 on Top Rap Albums, selling up to 90,000 copies its first week of release. It also went on to receive RIAA's Gold after selling over 500,000 copies in the US.
Mane's 7th studio album, The Appeal: Georgia's Most Wanted (2010) made it to #4 on Billboard 200 and earned Mane about $175,000. In 2011, his EP, The Return of Mr. Zone 6 debuted at #18 on the Billboard 200 and #2 on the Rap Albums Chart. He later recorded a higher charting with his ninth album, Everybody Looking (2016) which on its release, hit #2 on Billboard 200. The album's second single, "Back on Road" sold over 500,000 copies, receiving RIAA's Gold certification.
Gucci went on to sell over 3 million copies of "Both", the third single from his 2016/10th album, The Return of East Atlanta Santa. The song charted on Billboard Hot 100 for 22 weeks and received RIAA's 3x Platinum. Mr. Davis (2017), Gucci's 11th studio album also recorded moderate success, selling over 70,000 copies in its first week. One of the album's singles, "I Get The Bag" reached #11 on Billboard and sold over 4 million copies.
In 2018, his 12th album, Evil Genius debuted at #2 on Billboard 200 and sold over 51,000 in its first week. One of its singles, "Wake Up In The Sky" went on to sell over three million copies in the US and peaked at #5 on Billboard's Hot R&B/Hip-Hop Songs.
The rapper has also collaborated with seral A-list artists such as Mariah Carey, Chris Brown, Justin Bieber, Selena Gomez, Marilyn Manson, Drake, and Lil Wayne. He also did a very successful collaborations on "Black Beatles" with Hip Hop duo, Fred Sremmurd. The song which made a global sales of about 8 million was certified 6x platinum by RIAA for selling over 6 million copies in the US.
While it will be difficult to determine exactly how much Gucci Mane has realised from all of the above record sales, it is obvious that they make the major part of his net worth. At the moment, Mane is working on his 17th studio album titled So Icy Summer. Fans are hoping that this will turn out a smash hit.
Earnings from other Businesses and Investments
In addition to rapping, Mane is also an actor. He made his acting debut in the 2012 film Spring Breakers which landed him a $100,000 paycheck. His October 2015 movie The Spot launched on iTunes and other digital retailers.
Gucci owns a record label, the 1017 Records formerly 1017 Brick Squad Records which he founded in 2007. The label has signed and worked for several artists including American rapper, Waka Flocka Flame and Asian Doll among others.
In 2013, the Atlanta rapper endorsed 'Country Time Lemonade'. In 2016, he launched a clothing line of tees, hoodies, and underwear called Delantic which has turned out lucrative. He also released his autobiography that same year which became a New York Times bestseller.
Quick summary of Gucci Mane's major income sources:
Record sales
Acting
1017 Records
Delantic Clothing
Endorsements
Gucci's Legal Issues and Career Setbacks
Even while doing music, recurring legal issues continued to plague Mane's life and career. In 2005, he served a 6-month jail term for assault. He however, earned another six-month sentence in 2008 for violating his probation rules. Between 2010 and 2011, Gucci recorded three arrests and one six months prison time, over numerous charges including traffic rules violation, assault and misconduct.
The rapper has been a recklessly extravagant person with the habit of showing off expensive but rented jewelry. In one of the instances in 2012, Mane borrowed diamonds worth $200,000 from A&A, on the agreement to pay for them if he didn't return them in 15 days. On paying just $40,000 of the total amount after he eventually failed to return the diamonds, Mane earned a legal suit from A&A. The court's verdict placed a lien on his assets until he pays the $200,000 plus $75,000 legal fees and interest.
Mane's legal woes reached its peak in 2014 when he earned a 39-month jail sentence for gun possession and assault. While in prison, Mane had limited movement and was only able to supervise releases. Howbeit, his music career had progressed even during his jail spells, although with limited success. The rapper released his first single, "Black Tee" straight out of prison. He reportedly made $1.3 million during the first year of his last prison sentence; and since after this last jail term which touched his life tremendously, Mane's career has gotten much better.
How Much Is Gucci Mane Really Worth Now?
Per Celebrity Net Worth estimates, Gucci Mane earned as much as $430,000 from the sales of his 2009 album, The State vs. Radric Davis. In 2010, his 7th studio album, The Appeal raked in $175,000. The same year, Mane ranked number 20 on Forbes' 'Hip-Hop Cash Kings' with a total annual earning of $5 million.
In 2011, the trapper witnessed a plunge in his career earning owing to several legal issues that plagued, causing him to make an annual income of only about reportedly made an annual income of$300,000. In the past few years however, the rapper has reportedly made not less than $1 million per year. Reports also have it that Mane takes home as much as $100,000 for a show.
As of 2021, Gucci Mane's net worth stands at an estimated $12 million.
Aside from his liquid assets, Gucci Mane also boasts fortunes in the form of real estate, including his $9 million Marietta mansion. Most valued among the rapper's automobile assets are his $306,000 Bentley Mulsanne, $250,000 Ferrari 612, and $240,000 Ferrari 458 Italia.
Best highlights of Gucci Mane's career:
Studio albums
Trap House (2005)
Hard to Kill (2006)
Trap-A-Thon (2007)
Back to the Trap House (2007)
Murder Was the Case (2009)
The State vs. Radric Davis (2009)
The Appeal: Georgia's Most Wanted (2010)
The Return of Mr. Zone 6 (2011)
Everybody Looking (2016)
The Return of East Atlanta Santa (2016)
Mr. Davis (2017)
El Gato: The Human Glacier (2017)
Evil Genius (2018)
Delusions of Grandeur (2019)
Woptober II (2019)[186]
East Atlanta Santa 3 (2019)
So Icy Summer (2020)
Collaborative albums
Ferrari Boyz (2011) (with Waka Flocka Flame)
BAYTL (2011) (with V-Nasty)
DropTopWop (2017) (with Metro Boomin)
A Closer Look at Mane's Romantic and Marital Life
While it is apparent that Gucci Mane must have had several romantic affairs, his relationship with Keyshia Ka'oir is the only one that came to media notice. Although Gucci mentioned in his autobiography that he has a 10-year-old son, he did not disclose the identity of the baby mama.
Keyshia is that one and only lady that stuck to Gucci through thick and thin, especially during his rigorous jail terms.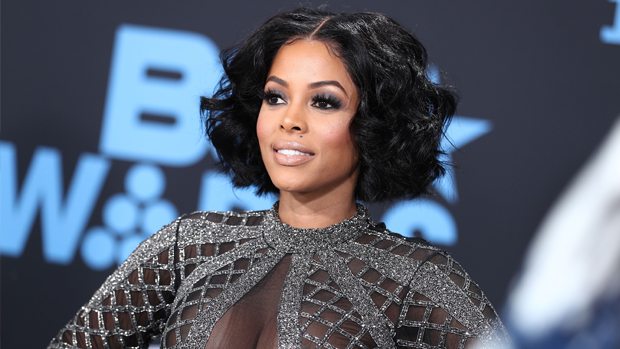 Gucci and Keyshia met in 2010 when she came to Atlanta to feature in Mane's "911 Emergency" video. The rapper had seen her in a magazine while he was serving a six-month sentence in Fulton County prison and contacted her. According to Keisha, Gucci loved her at first sight. For her? Keyshia told Page Six she fell for Gucci after bathing him during a tour they had together that same year.
Thenceforth, the duo's relationship grew stronger, despite Mane's legal woes alongside serving an almost three-year jail sentence. Following his release in May 2016, Gucci proposed to Keyshia in November at a basketball game between the Atlanta Hawks and New Orleans Pelicans. The couple subsequently married on 17th October, 2017 at the Four Seasons in Miami, Florida. The lavish ceremony which reportedly took $1.7 million from Mane's pocket was documented on BET's 10-part series, The Mane Event.
More Facts About Gucci Mane's Wife, Keyshia Ka'oir
Gucci Mane's Wife, Keyshia Ka'oir was born as Keyshia Watson on 10th January, 1985. She is Jamaican.
Keyshia used to be a video vixen. She however, later shifted to beauty and wellness, founding Ka'oir Cosmetics and Ka'oir Fitness in 2010 and 2011 respectively. Keyshia largely holds the credit for Gucci Mane's balanced and decent post-prison lifestyle, including eating clean, staying fit, and keeping off the streets.
An Instagram source had revealed that Gucci gave Keyshia $2 million before going to jail. According to the IG user, Keyshia invested the money in a couple of businesses, as well as built their dream home; and by the time Gucci was out, she has saved up to $6 million which she gave back to him.
Keyshia was also the one who encouraged Gucci Mane to replace his gold teeth with a new set of clean white teeth. Grateful for all the gestures, patience and commitment, Mane in return, devoted himself to Keisha and her dreams. Here's the touching thing Gucci Mane said about Keisha in his autobiography:
"I had Keyshia, my first real love. The first woman I ever wanted to bring to a red carpet and let the world know this was my lady. She held me down the whole time I was locked up and showed me what it means to have somebody you can truly count on. I wanted to be able to return the favor."
As of the time of writing this article, Gucci and Keyshia are expecting their first child together.
Gucci's Tattoos
Gucci Mane is one of those artists who prefer to have almost their entire body covered with tattoos. He's really got so many of them! On Gucci's forehead, under each of his eyes and either side of his face are small tattoos that look like flowers. He also has the drawings of some other objects, designs, and write-ups from his neck and chest down to his legs, arms, and fists. One of them is a car drawn on his right shoulder.
On his right cheek is an ice cream cone with three scoops and "brrr". Gucci had revealed through his spokesperson that the ice cream tattoo is there to remind his fans of his 'ice-cool' personality which is capable of making someone say "brrr". Very interesting!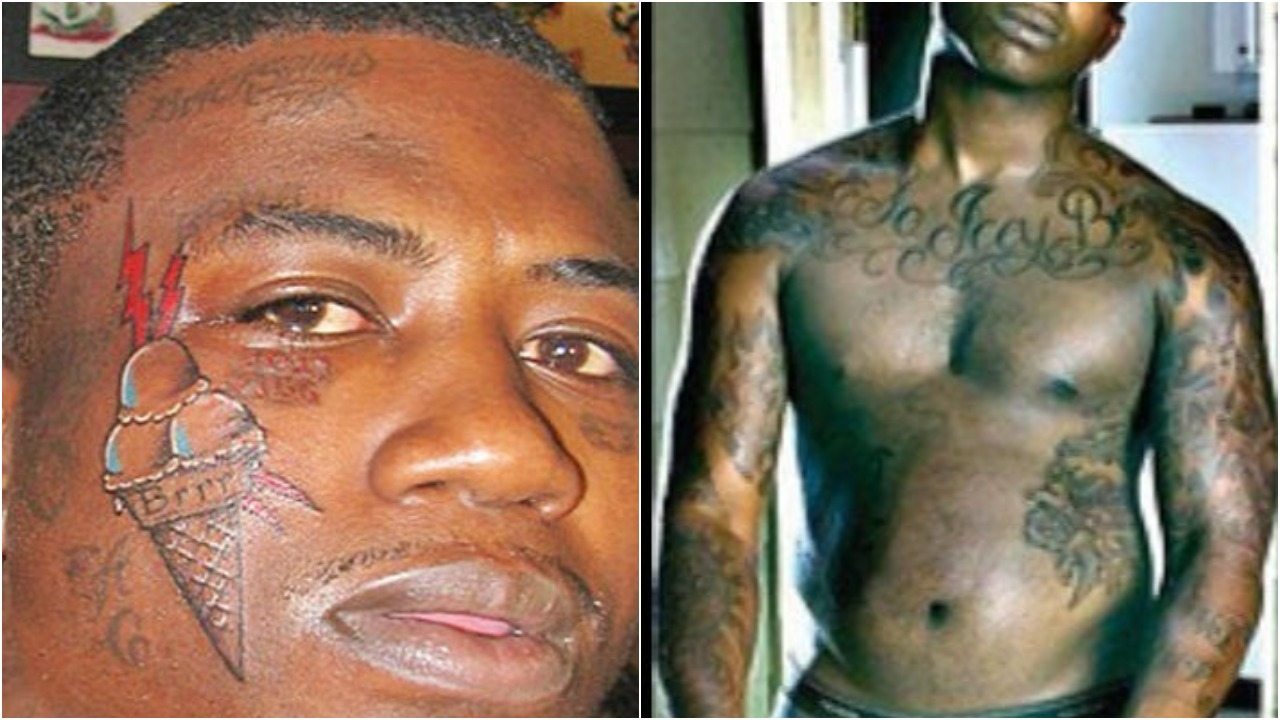 His Weight Loss Journey
More interesting is Gucci Mane's weight loss accomplishments! Mane stepped out of the United States Penitentiary in May 2016 a totally different man – mind and body. His physical transformation was however, so conspicuous that fans found it very difficult to handle. Having slashed not less than 75 pounds off his body weight, Mane looked entirely different from himself to the extent that some sources like Don Beats claimed that the Trap House singer has been cloned.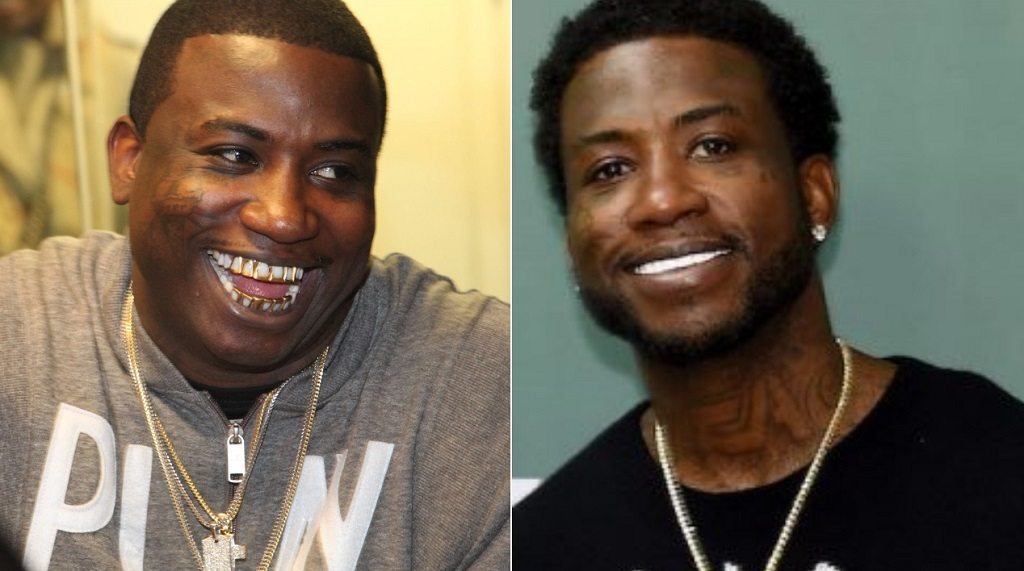 The big cheeks and fat arms were all gone while his prominent pot belly is replaced b well-trimmed abs!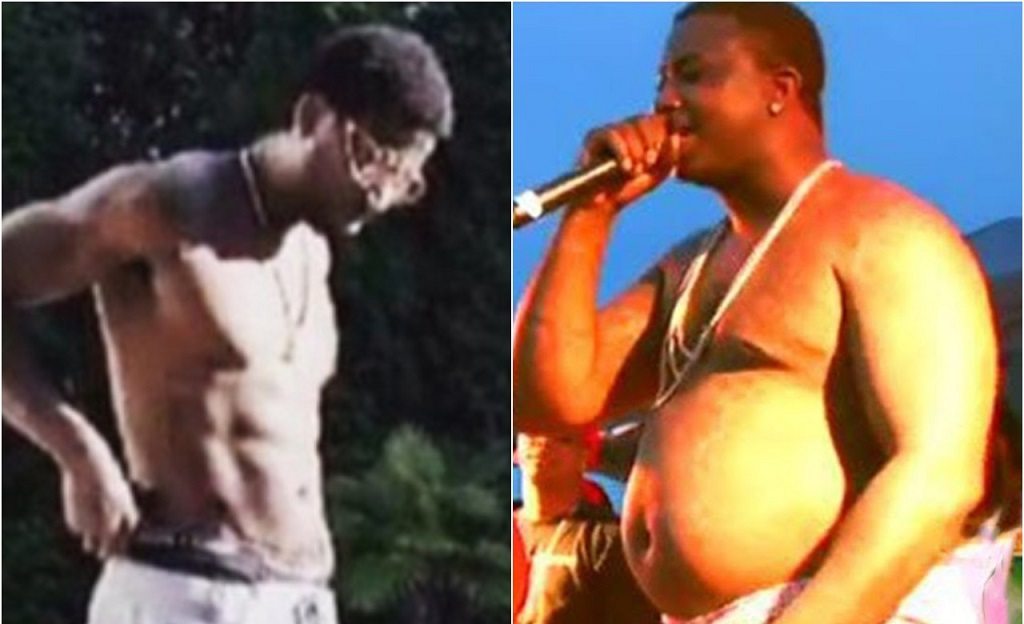 As mentioned earlier, Gucci Mane's girlfriend and now wife, Keyshia, was instrumental to his weight loss journey. The resilient Jamaican lady compelled Gucci into a fixed daily routine of workouts and fitness diet throughout his over two years in jail and onward.
Speaking to The New York Times in an interview, Keyshia revealed that she used to speak with Gucci up to six or seven times every day to follow up on what he was eating and doing at each point in time. And when he finally came out "super skinny", it became even much easier for her to maintain the focus.
Profile Summary
First Name:
Radric
Last Name:
Davis
Estimated Net Worth:

$12 million
Salary:
$1 Million+
Source of Wealth:
Music
Last Updated:

2021
Also Known As:

Gucci Mane, Guwop, La Flare, Mr. Zone 6, Wizop
Sex/Gender:

Male
Profession:

Professional Rapper, Entrepreneur
Famous For:
Hip Hop Singer, Founder of 1017 Records
Colleges/Universities Attended:

Unknown
Educational Qualifications:

Not Available
Religion:

Christianity
Birthday & Zodiac

Age/Date of Birth:

43 years old (February 12, 1980)
Zodiac Sign:
Aquarius
Birth Place:

Bessemer, Alabama, U.S.
Nationality:
Americn
Ethnicity/Race:

Black
Country of Residence:

The United States of America (USA)
Physical Attributes

Height:

6feet, 2 Inches (1.89 m)
Weight:

92kg
Eye Colour:

Black
Hair Color:

Black
Other Body Measurements:

Chest size: 44inches
Waist Size: 35inches
Biceps: 15inches
Relationships

Marital Status:

Married
Spouse/Partner:

Keyshia Ka'Oir (Married October 17, 2017)
Family and Relatives

Father:

Ralph Everett Dudley
Mother:
Vicky Jean Davis
Children:

One son Born in 2007
Siblings:
Victor Davis (Brother)
Joséphine Davis (Sister)
Other Relatives:

Not Available
Your Questions Answered:
The American rapper Radric Delantic Davis, also known as Gucci Mane has a net worth of $12 million. He makes his money mostly from the release of his 12 studio albums and a large number of mix-tapes
Gucci Mane was on September 30, 2013, sentenced to prison to serve 183 days in jail on charges of firearm possession by a convicted felon, disorderly conduct, carrying a concealed weapon, and marijuana possession, among others. On May 13, 2014, he pleaded guilty to possession of a firearm by a convicted felon after reaching an agreement with prosecutors. According to the Federal Bureau of Prisons, his release date would be September 20, 2016, but he was released on May 26, 2016, for not initially being credited for the time he served while waiting for his court date