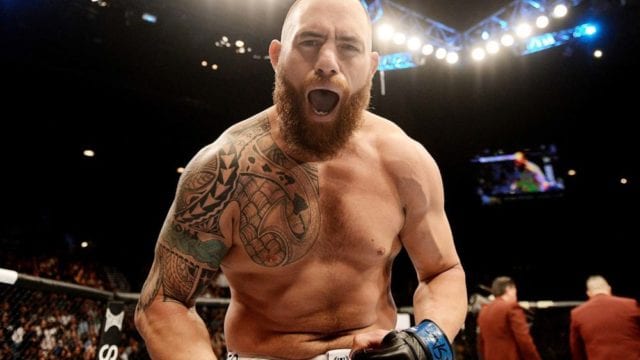 Travis Browne is a well-known mixed martial artist with excellent skills, he competes as a heavyweight in UFC (Ultimate Fighting Championship). Travis is popular for his massive size and striking, well-rounded ground game.
Travis Browne Bio 
Born in Oahu, Hawaii, on July 17, 1982, Browne spent a larger part of his childhood in Hawaii. He had his high school education in San Diego and thereafter, attended Palomar College.
As a child, the towering 6'7" fighter was exposed to drugs and gang violence. He lost his father to alcohol-related problems when he was only 10.
Travis Browne began his career as an athlete, playing competitive basketball at the age of 18. He won Coastal North League Player of the Year in 2000. While in college at Palomar College he furthered his basketball career until his career took a turn. Travis was introduced to the world of Brazilian Jiu-jitsu at the age of 26. Before the introduction, he had no idea about martial arts. However now, he has earned a purple belt in Brazilian Jiu-Jitsu. He also got training for boxing and his first professional fight was almost a year later.
His career met more progress as he became a professional Mixed Martial Arts fighter in 2009. At first, he fought at smaller platforms like Gladiator Challenge and King of the Cage. Nonetheless, he got his recognition as a big league fighter when he had a winning streak of 9-0. At this point, everyone expected that he'd sign with the UFC.
He did, and his debut was on The Ultimate Fighter: Team Liddell vs. Team Ortiz Finale while his opponent was James McSweeney. He won that fight by knocking him out in the first round. His other famous fights include the fight with Stefan Struve on May 20, 2011. This was the UFC 130 and he won the fight by knocking him out in the first round. The knockout was also awarded Knockout of the Night.
Travis Browne's next famous fight was between himself and a newcomer Chad Griggs on April 21, 2012. He won the fight in the first round by submission. For this, he earned a Submission of the Night award.
See Also: LeBron James Profile, Shoes, Wife, Stats, Age, Twitter, Height
Who is Travis Browne's ex-wife and is he currently married?
Browne used to be married to Erin, a fitness model. But the two went through a very sour divorce after he was accused of domestic violence in July 2015. Browne's ex-wife shared photos on social media platforms in which she appeared to have multiple bruises on her body.
Browne was later suspended from UFC's International Fight Week events in 2015. However, following an independent investigation which arrived at inconclusive evidence, he was reinstated.
As time passed, the fighter announced his relationship with women UFC fighter, Ronda Rousey. Nearly two years into their relationship, the duo got married on August 28, 2017. Rondy is a martial artist, judoka and an actress. She was the first American woman to win an Olympic medal in Judo which she bagged at the 2008 Summer Olympics in Beijing.
This tells you that Browne and his wife are one of the strongest couples in UFC, literally. The couple is among the most famous UFC champions. Browne has two adorable kids with his first wife, Erin. Apparently, he is extremely and uncritically fond of his sons.
What is Travis Browne's Net Worth
At the age of 35, Travis Browne is a talented and accomplished MMA fighter, who has gained international fame for himself over the years.  With a record 18 wins against six losses, there is no surprise that Travis Browne's net worth is a modest $500,000. With his career and a new wife, Travis wealth will likely grow. Keep in mind that his financials is based on his total winnings.
His wife is a woman of many talents. As an actress, she has featured in blockbuster films like Entourage and The Expendables 3. Her killer moves in the cage, good looks and powerful personality helped her climb the ladder of fame so easily. She is also a role model for young girls and women everywhere.
Read Also: Tyler Sash Bio, Death, Cause Of Death And Autopsy
Quick Facts About Travis Browne 
Full Name: Travis Kuualiialoha Browne

Profession: MMA Fighter

Height: 6ft7 (201 cm)

Weight: 241 lbs 109kg)

Nationality: American

Date of Birth: July 17, 1892.

Place of Birth: Oahu, Honolulu County Hawaii

Marital status: Married

Astrological sign: Virgo

Fact Check: We strive for accuracy and fairness. If you see something that needs updating,