Despite losing more money than any other of the top billionaires in the world in 2020 due to the coronavirus lockdown, Bernard Arnault has beaten all odds to emerge as the richest person in the world. The French billionaire businessman serves as the chairman and chief executive of the world's largest luxury goods company, Louis Vuitton Moët Hennessy (LVMH). Following a valuation of $329 billion in 2021, the multinational corporation and conglomerate is Europe's most valuable company. Bernard Arnault's net worth has grown at an astonishing rate as a direct result.
From being among the top 15 richest people in the world in 2017, he became the world's third-richest person two years later. Then, on May 24th, 2021, he edged past Tesla founder Elon Musk, who was worth $147.3 billion, and Amazon founder Jeff Bezos, worth $186 billion, to become the wealthiest person on the planet with a net worth of $186.3 billion. At the time of this writing, the luxury goods mogul has an estimated net worth of $189.1 billion. This is thanks to the surge in the price of LVMH stock, as well as the over-the-top sales rate increase in the first quarter of 2021. Here's a detailed look at how Arnault has made billions from his gigantic empire of luxury brands.
Bernard Arnault Has Gained Over $110 Billion Since March 2020 When He Had a Total Wealth of $76 Billion
The year 2020 wasn't favorable to Bernard Arnault's brands. He lost more than $30 billion that year as LVMH shares went down by 19 percent. As a result of the coronavirus pandemic, his outlets were shut down, leading to a decrease in revenue. During such time, the Sephora chain laid off about 30 percent of its store's staff which were over 3,000 in number. By the end of the year, the Louis Vuitton Moët Hennessy group generated €44.6 billion in revenue and recorded a 17 percent decline from the revenue gathered in the previous year (€53.6 billion).
But following a pandemic-defying performance by LVMH, Bernard Arnault's net worth which was estimated at $76 billion in March 2020 has surged to $189.1 billion in May 2021, growing by over $110 billion in the past fourteen months. The group's revenue rose by 32 percent in the first quarter of 2021 compared to its revenue at the same period in the previous year. This growth was a result of strong sales registered by the fashion and leather goods brands at the beginning of 2021, and also increased sales in alcohol especially champagne in the first quarter of the year.
Furthermore, LVMH's uptick in sales which saw the company gather revenue of $17 billion in the first quarter of 2021 can be attributed to an increased shopping of luxury goods in China as the country recently makes up more than one-third of luxury goods sales, as well as two-third of the industry's growth.
For several years, the spot for the world's richest person has been dominated by United States citizens, with only Mexican businessman Carlos Slim interfering with the dominance at some points. Although Bernard Arnault has been ranking among the top 10 world's billionaires since 2005 when he accumulated a net worth of $13 billion, he has never held the No. 1 spot for a long period. In 2019, he emerged as the third wealthiest person on the planet with a net worth of $76 billion and briefly became the world's richest man on December 16th, 2019, before Jeff Bezos took over the spot. Currently, Arnault is not only known as the richest man in France but the richest person in the world.
His Multinational Corporation Has Been Making Over €40 Billion in Revenue Since 2017
Bernard Arnault took over the leadership of the luxury goods empire, Louis Vuitton Moët Hennessy, in 1989 when he had a total of 43.5 percent stake in the company. He purchased LVMH shares worth $500 million that year. He began buying shares in the company in 1988 when he bought 24 percent of LVMH stock through a holding company he formed with Guinness and provided $1.5 billion for the purchase. He also bought a 13.5 percent stake in LVMH worth $600 million before he finally had controlling shares of 43 percent, as well as 35 percent voting rights in 1989, thus becoming LVMH's chairman.
Under his leadership, he has expanded LVMH into a multinational conglomerate with about 60 subsidiaries and over 70 brands. Arnault's prodigious flair for turning the craftsmanship and the creativity of the oldest luxury brands in Europe into a windfall of ever-growing profits has earned him the title of "Luxury Goods King". In the year 2010, the group generated revenue of over €20.3 billion and had a net profit of more than €3 billion. Later in 2015, revenue gathered by the group rose to €35.6 billion and then crossed the €40 billion mark in 2017 when LVMH racked up €42.6 billion. The group made €46.8 billion in revenue in the following year.
Later in 2019, the multinational corporation raked in revenues of €53.6 billion with a net income of €7.17 billion and an operating income of €11.5 billion. Following the outbreak of the coronavirus pandemic in 2020, LVMH's sales plunged worldwide and its revenue declined by 17 percent with the group generating €44.6 billion in revenue that year. However, Louis Vuitton Moët Hennessy is gradually bouncing back in 2021 after having gathered $17 billion in the first quarter of the year. The group's products include perfumes, watches, clothing, cosmetics, wines, fashion accessories, spirits, jewelry, and wines. Its headquarters is situated in Paris, France and it operates more than 2,400 stores across the globe, employing more than 80,000 staff.
With a record of $329 billion market capitalization, LVMH is France's most valuable company and equally the company with the largest market capitalization in Europe. Through Bernard Arnault's holding company, the Arnault Family Group, he owns 46.84 percent of LVMH shares and voting rights of 63.13 percent in the group. Hence, he is LVMH's major shareholder.
A Look at Some of Bernard Arnault's Luxury Brands
As one of the ultimate tastemakers in the world, Bernard Arnault operates more than 70 brands in his empire. This is not surprising as the savvy businessman has gone on to expand the business over the years through the acquisition of competitors. In March 2011, he acquired a 50.4 percent family-owned stake in the Italian luxury brand Bulgari known for watches, fragrances, leather goods, and jewelry for $5.2 billion. Arnault's group also acquired Christian Dior in April 2017.
Later in 2019, the group purchased a 55.5 percent stake in Château d'Esclans, manufacturer of Whispering Angel. It also went on to enter a joint venture with Stella McCartney for her brands that same year. Having acquired numerous brands, LVMH has 60 subsidiaries which are divided into six branches. They include watches and jewelry, fashion group, selective distribution, perfumes and cosmetics, wines and spirits, and other activities. Some of the group's widely known brands include Les Echos (financial newspaper), Dom Pérignon, Belvedere, Armande de Brignac, Make Up Forever, Berluti, Fendi, Loewe, Marc Jacobs, Emilio Puccio, Kenzo, Rimowa, Hublot, Chaumet, TAG Heuer, DFS, La Samaritaine, Zenith, and Royal Van Lent Shipyard (luxury yachts). Here's a sneak peek into a few of Arnault's luxury brands;
Fashion house and luxury goods company Louis Vuitton (LV) was established in France in 1854 by late fashion designer, Loius Vuitton. The company produces leather goods, ready-to-wear, sunglasses, shoes, watches, accessories, and jewelry. As one of the leading international fashion houses across the globe, Louis Vuitton sells its products in high-end departmental emporiums, standalone boutiques, and through e-commerce. It generated revenue of €9.4 billion in the year 2013 and it increased to €14 billion in 2020.
Louis Vuitton was ranked as the most valuable luxury brand in the world for six consecutive years (from 2006-2012). It has a presence in 50 countries around the world and operates over 460 stores.
LVMH's Moët & Chandon is considered one of the largest champagne producers in the world. The notable champagne house has in possession 2,900 acres of vineyards that produce almost 28 million bottles of champagne per annum. The company had more than 1,700 employees in 2011 when it generated revenue of €1.2 billion. It formed a merger with Hennessy Cognac in 1971 to create Moët Hennessy, followed by another merger with Louis Vuitton in 1987 to form Louis Vuitton Moët Hennessy.
The company is best known as the producer of Dom Pérignon, the vintage champagne that is only produced in best years. In each vintage, approximately 5 million bottles of champagne are produced.
Hennessy, a French cognac distiller, is a subsidiary of Moët Hennessy owned by LVMH and Diageo. The former owns 66 percent of the company while the latter owns 34 percent. With sales of 50 million bottles annually around the world, Hennessy supplies over 40 percent of the world's cognac and hence, ranks as the world's largest cognac producer. In 2012, the company recorded revenue of €954.2 million. It was founded by Richard Hennessy in 1765 and is headquartered in Cognac, France.
Some of its products include Hennessy X.O, Hennessy V.S, James Hennessy, Hennessy Paradis, and Hennessy Pure White. The former Supreme Leader of North Korea, Kim Jong-il, had once spent more than $700,000 in a year buying Paradis cognac as it was his favorite drink.
Barbados singer Rihanna launched Fenty, a fashion house under LVMH in May 2019. As a result, she emerged as the first African-American woman to run a fashion house under the luxury fashion group. Fenty was first launched as an online emporium before its outlet was opened in Soho, New York. Prior to launching the fashion house, Rihanna first partnered with Bernard Arnault in September 2017 when she founded a cosmetic brand, Fenty Beauty in partnership with LVMH. The brand has garnered popularity in the past years for offering a wide variety of products suitable to all skin tones.
It was named one of the best inventions of 2017 by Time Magazine and within its first month of release, the company had sales of $72 million. It reported revenue of €500 million in 2018 and has a valuation of $17 billion. While Rihanna owns a 49.9 percent stake in the company, Bernard Arnault has a majority stake of 50.1 percent. The brand operates in more than 15 countries.
Although Celine, a ready-to-wear and leather luxury goods brand was founded in 1945 by Céline Vipiana, it was acquired by the LVMH group for $540 million in 1996. Subsequently, Arnault opened a boutique for the brand at 36 avenue Montaigne, Paris. It now has approximately 150 stores globally and the brand distributes its products through selective networks. They include departmental stores like Galeries Lafayette in Paris, Bergdorf Goodman in New York, and Harrods in London.
Luxury fashion and perfume house Givenchy is among the subsidiaries of LVMH. The brand produces Parfums Givenchy, haute couture clothing, accessories, and cosmetics. It was founded by Hubert de Givenchy in 1952 and headquartered in Paris, France. The brand, which was acquired by the LVMH group in 1988, registered a net profit of €11.5 million in 2010 and brought in €917.7 million in revenue two years later. As one of the oldest fashion houses in the industry, Givenchy is a member of Chambre Syndicate de la Haute Couture et du Pret-a-Porter (the governing body of the Fench fashion industry).
Bernard Arnault's group made a move to acquire Tiffany & Co. for almost $16.2 billion in November 2019. Later in September 2020, LVMH hinted that the takeover won't pull through again due to mismanagement on the part of the American luxury jewelry and specialty retailer. After a number of court filings from both parties, LVMH eventually agreed to proceed with the takeover at a slightly reduced price of $15.8 billion. The acquisition was completed in January 2021 and it became the biggest luxury brand acquisition ever.
Headquartered in New York City, Tiffany & Co. deals in jewelry, watches, leather goods, fragrances, water bottles, and personal accessories. The brand is best known for its sales of diamond and sterling silver jewelry. As of 2019, the company has employees of over 14,000. Its revenue in 2019 was $4.44 billion and its net profit was $586.4 million. It operates more than 320 stores worldwide.
Multinational retailer of beauty and personal care products Sephora hosts approximately 3,000 brands alongside its label. The company sells beauty products such as skincare, nail color, cosmetics, body lotions, hair care, and fragrances. Its headquarters is in Paris, France and it has more than 2,600 stores in 34 countries across the globe. Sephora brought in a revenue of $4 billion in 2013 and later in 2019, it generated revenue of over $10 billion. It was founded in 1970 and was acquired by Bernard Arnault's luxury conglomerate, LVMH, in 1997.
Formerly known as Orient-Express Hotels Limited, Belmond Limited is a hospitality and leisure company that was purchased by Bernard Arnault in 2019 for $3.2 billion. It operates train services, luxury hotels, and river cruises globally. The company has about 7 tourist trains, 35 deluxe hotels, 3 river cruises, and restaurants that operate in 22 countries as of 2015. It generated revenue of $576.84 million in the year 2018. The hospitality group has its headquarters in Hamilton, Bermuda. It was established by James Sherwood in 1976.
Some of the group's restaurants include William Restaurant in Portugal, Ristorante Hotel Cipriani in Brazil, 21 Club in New York City, The Restaurant at Belmond Le Manoir aux Quat'Saisons in the United Kingdom, and Oro Restaurant in Italy.
Highlights of Louis Vuitton Moët Hennessy's Revenues in The Past Years
| | |
| --- | --- |
| Year  | Revenue  |
| 2015 | €35.66 billion |
| 2016 | €37.60 billion |
| 2017 | €42.63 billion |
| 2018 | €46.82 billion |
| 2019 | €53.67 billion |
| 2020 | €44.65 billion |
Bernard Arnault Started His Business Career Managing His Father's Construction Company
The luxury goods king was born to his parents, Jean Léon Arnault and Marie-Josèphe Savinel in Roubaix, France on March 5th, 1949. His father graduated from École Centrale Paris and worked as a manufacturer. Bernard Arnault's maternal grandfather, Étienne Savinel, was the owner of Ferret-Savinel, a civil engineering company he gave its ownership rights to Arnault's father, Jean. The billionaire entrepreneur attended Lycée Maxence Van Der Meersch in Roubaix, France before moving to Lille where he attended Lycée Faidherbe.
After graduating from the leading engineering school in France, École Polytechnique, Bernault Arnault joined his father in the construction company, Ferret-Savinel, in 1971. He worked in various executive management positions before being promoted to chairman of the company seven years later. The businessman left the company after acquiring Financière Agache holding company in 1984.
He Moved Into Fashion Business in 1984 When He Acquired Christian Dior Through Which He Has Built a Luxury Goods Empire
Bernard Arnault learned in 1984 that the French government was seeking a buyer for the ailing textile conglomerate, Agache-Willot-Boussac, which had filed for bankruptcy at the time. The textile and retail empire owned many companies, including the prominent French fashion house Christian Dior which was put up for sale. Arnault then collected $15 million from his father's business and also took $45 million from Lazard Frères, a French financial institution, to purchase Bousssac which he later renamed Financière Agache.
Through the deal, he gained control of Le Bon Marché, Conforama, Christina Dior, Peaudouce, and other assets of Boussac. Bernard Arnault subsequently made Christian Dior the holding company of LVMH and the fashion house owns 40.9 percent of LVMH shares and voting rights of 59.01 percent. Even though he had a controlling stake in Christian Dior SE, Arnault moved on to buy all the remaining shares of the French fashion house for $13.1 billion in the year 2017.
The Billionaire Businessman Has Invested His Wealth in Diverse Businesses 
Through his family holding company, Groupe Arnault, Bernard Arnault has made investments in numerous companies in the past years. He invested in companies such as Zebank, Boo.com, and Libertysurf between 1998 and 2001. In 1999, he invested a portion of his fortune in the streaming service giant, Netflix. Together with property firm, Colony Capital, Arnault owns 10.6 percent of Carrefour – the largest supermarket retailer in France and second-largest food distributor in the world.
He kickstarted a yacht venture in the year 2008 when he purchased Princess Yachts, a luxury motor yacht manufacturer for about £200 million. The company has more than 3,000 employees globally and operates in more than 117 countries. More so, Bernard Arnault bought Royal Van Lent Shipyard for over $200 million in 2008. The company later merged with Koninklijke De Vries Scheepsbouw to form Feadship, a manufacturer of high-end luxury yachts like Symphony and Venus. The fashion mogul additionally founded a private equity firm, LCapitalAsia with a seed fund of $640 million in 2011.
The firm has provided assistance to Xin Hee Co. Ltd, an apparel company situated in Beijing, as well as a clothing brand, QDA. The LVMH's chairman has further invested his wealth in a number of art collections designed by artists such as Andy Warhol, Pablo Picasso, Jean-Michel Basquiat, and Yves Klein.
His Real Estate Assets Are Worth Hundreds of Millions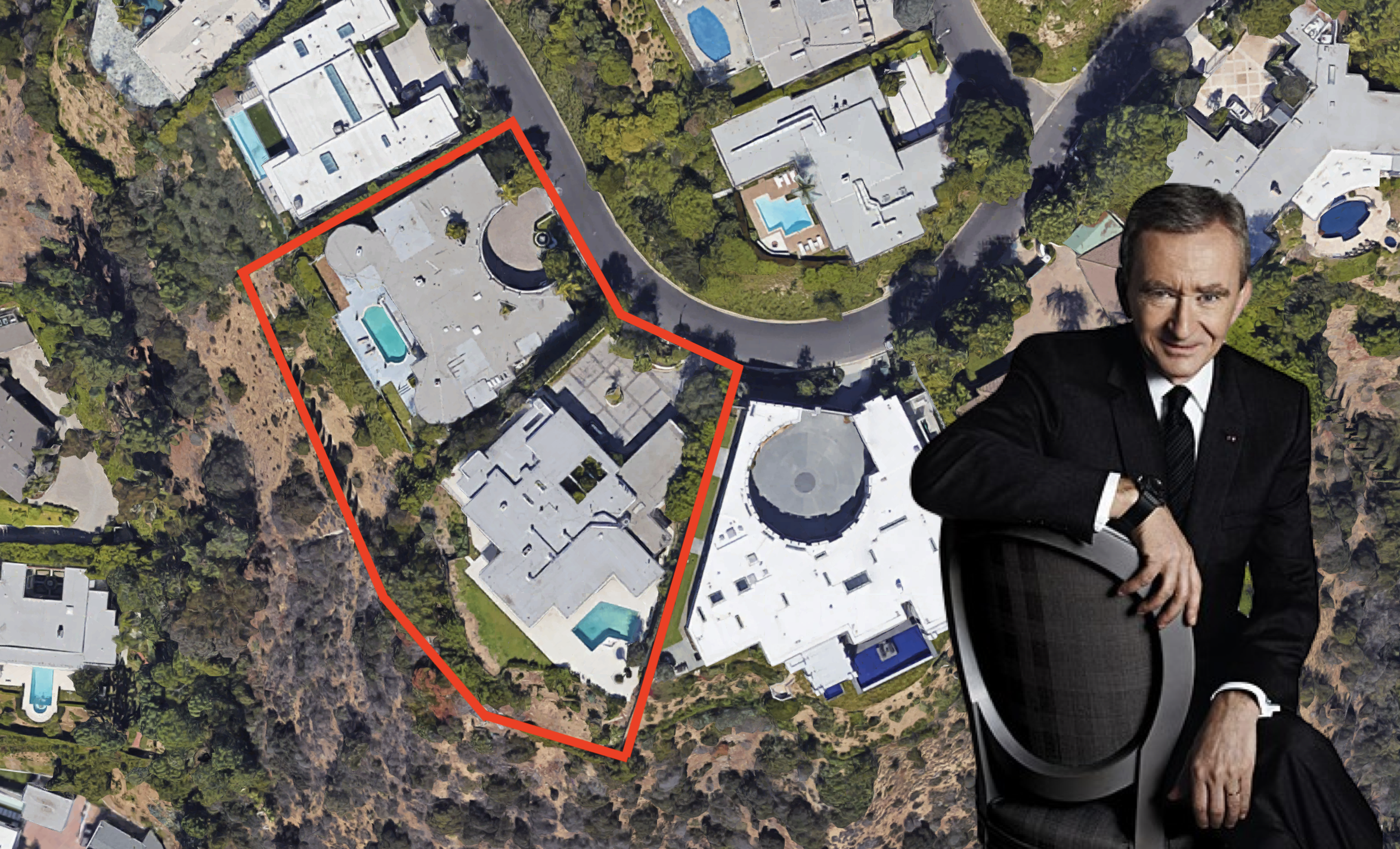 As a real estate investor, Bernard Arnault has shelled out millions of dollars to purchase properties in the United States and France. He has a vacation villa in Saint-Tropez, France, and several houses in Los Angeles, California. In September 2016, he purchased a $32.5 million mansion in Trousdale Estate. Two years later, in the same area, he bought a next-door home for $30 million. In June 2017, Arnault purchased a 3.64-acre property for $33.9 million in the Beverly Hills Post Office area. Five months later, he bought a home in the Hollywood Hills for $16.9 million, followed by the purchase of a home next door for $14.5 million.
The Arnault family further owns a stellar 150-year-old castle situated in Bordeaux, France which he purchased in 1998. The famed entrepreneur also paid $35 million for a 133-acre Indigo Island in the Bahamas. Besides real estate properties, Bernard Arnault owns a BMW-7 Series worth over $86,000 and a superyacht, Symphony, valued at over $100 million. He previously owned a private jet, Bombardier Global Express and currently, he has a Dassault Falcon 7X jet worth $40 million.
List of Arnault's Revenue Streams
Louis Vuitton Moët Hennessy (LVMH)
Venture capital investments
Real estate investments
Yacht business
Bernard Arnault Has Donated To Charitable Causes on Multiple Occasions 
Since 2013, Bernard Arnault has been sponsoring an international competition for fine arts students. Every year, the winner walks home with a grant of over $340,000 to create their own label and gets enrolled in a one-year mentorship program. In 2014, he launched a contemporary art museum and performance space called Louis Vuitton Foundation. Additionally, Arnault and his family donated €200 million for the reconstruction of the Notre-Dame Catholic Cathedral in Paris after it was engulfed with fire in April 2019. He also made a donation of $11 million towards the curbing of Amazon wildfires.
The Fashion Tycoon is a Recipient of Multiple Awards and Honors
For his success in the fashion industry, Bernard Arnault has won many accolades. They include;
The Woodrow Wilson Award for Global Corporate Citizenship, 2011.
In 2014, the accomplished entrepreneur received David Rockefeller Award from the Museum of Modern Art.
He was appointed to the Order of Commandeur de la Légion d'Honneur in France in February 2007.
In July 2011, Arnault was appointed to the Order of Grand Officer de la Légion d'Honneur.
He was bestowed with the honor of Honorary Knight Commander of the Most Excellent Order of the British Empire in 2012.