While working at diverse financial institutions over the years, serial entrepreneur Olugbenga Agboola has demonstrated his passion for developing financial technology solutions by making worthwhile contributions to numerous fintech projects. Before coming to the limelight as the co-founder of the famous fintech company, Flutterwave, the software engineer had coordinated multiple projects, delivering them on time. Thus, he has two successful exits to his name. Not only is he a technology solution product developer, but a Microsoft certified system engineer and a certified security analyst.
Since taking over the chief executive officer role at Flutterwave, Agboola has changed the company's fortune, leading it through two successful funding rounds. With the recent Series C round generating fresh capital of $170 million, the fintech company emerged as a unicorn (a privately held startup company with a valuation of over a billion dollars). Flutterwave has so far raised over $234 million in total funding, and here's a sneak peek at Agboola's journey to establishing the fintech company, as well as his accomplishments.
Agboola Has Taken Flutterwave To The Next Level Since Becoming The CEO in 2018
After years of contributing to the development of fintech solutions in multiple financial institutions and tech companies, Olugbenga Agboola, alongside Iyinoluwa Aboyeji and a team of technology and banking veterans from Andela, Google Wallet, Standard Bank, and PayPal, founded Flutterwave in May 2016. The company was established to ease African businesses' difficulties in making and accepting payments anywhere across Africa and equally around the world. Hence, it has since helped to build secure and seamless payment solutions between global merchants and payment service providers and their customers, smoothening the exchange of funds.
Before Olugbenga Agboola became Flutterwave's chief executive officer in October 2018, Aboyeji held the role of CEO from May 2016 to September 2018. Under Iyinoluwa Aboyeji's lead, Flutterwave had a Series A round of funding in July 2017, which generated a capital of $19.2 million, and the lead investors were Green Visor Capital and Greycroft.
Today, we are announcing an important step towards achieving our mission and goals. We @theflutterwave have collaborated with @PayPal to allow businesses in Africa receive payments from over 377 million @PayPal users all over the world. pic.twitter.com/h0tDPIOGwd

— GB ???? (@TechProd_Arch) March 16, 2021
The Series A funding round was completed in October 2017, and $10 million was raised from five participating investors. Almost two years after Agboola became the company's CEO, Flutterwave Series B funding round was held, precisely in January 2020, and it was led by e.ventures and Greycroft, who raised $35 million. The Series C funding that took place in March 2021 was led by Avenir Growth Capital and Tiger Global Management. It raised fresh capital of $170 million. As a result, the total funding amount of the fintech company was brought to $234.7 million.
Thus, Flutterwave is now valued at over $1 billion, emerging as the third African unicorn in fintech. With the company headquartered in San Francisco, it has attracted investments from notable companies such as Mastercard, Y-Combinator, Visa Ventures, and Insight Partners. Over the years, Flutterwave has established itself as the premier payment solution provider in Africa. It is available in over sixteen African countries and serves more than 290,000 businesses, including Uber, Booking.com, Flywire, and Jumia.
In 2020, the company processed over 80 million transactions valued at $7.5 billion. It has so far processed more than 140 million transactions worth more than $9 billion.
Awards Won By Flutterwave
Best Payments Company Award at the Ghana e-Commerce Award show.
Changing Africa Award at the AppsAfrica Innovation Awards in Capetown in November 2019.
The fintech company was listed as the Most Valuable Company from Africa by Y-Combinator in 2019.
Flutterwave was named as one of the 10 Innovative Companies in Africa by Fast Company in 2019.
The Famed Entrepreneur Has Fascinating Educational Achievements
Born in Lagos, Nigeria, the renowned Flutterwave CEO had his high school education in his home country before relocating to the United States. According to his Linkedln profile, he had an executive program on Technology Operations & Value Chain Management at Massachusetts Institute of Technology (MIT) – Sloan School of Management, where he acquired an MBA. He then moved on to bag a Master of Science degree in Information Technology Security Science from EC-Council University.
Afterward, Olugbenga Agboola proceeded to the University of Westminster, London where he graduated with a Distinction in Project Management & Advanced Computing, Projects in a Controlled Environment. Later in 2014, he had another management program at The Wharton School and further studied Strategic Marketing at the Northwestern University – Kellogg School of Management, Evanston, Illinois in 2017. More so, at MIT, the security analyst studied the Fundamentals of Finance for The Technical Executive in 2012, Developing a Leading Edge Operations Strategy in 2013, and Supply Chain Strategy and Management in 2014.
In addition to having rich academic qualifications, Agboola has equipped himself with numerous skills that have contributed to the success of his entrepreneurial career thus far. He has skills in JavaScript, PHP Application, Ethical Hacking, Server Administration, Retail Banking, Card Management Solution, and Product Life Cycle Management.
Olugbenga Agboola Gathered Wealth of Experience at Different Financial Technology Companies Before Co-founding Flutterwave
Having had great insight into project management and delivery, Olugbenga Agboola first founded QuickFix NT in January 2003. He moved on to work as an application developer at the British Telecom Professional Services from January 2003 to January 2004. He subsequently had a year and one month stint at PayPal, working as an application engineer. He then joined Guaranty Trust Bank Plc in January 2005 and there, he was a member of the Enterprise Infrastructure Solution Development team.
Leaving GTBank in March 2009, the software engineer joined Standard Bank Nigeria (Stanbic IBTC Bank) in the next month. There, he worked as a transaction product development manager for one year before taking up the role of technology (e-business) product developer/project manager/product manager, developing a biometric payment solution for the financial institution. He worked in that position for four years and three months before leaving the bank in June 2014. He quickly proceeded to Sterling Bank where he had a four-month stint as the head of mobile financial services.
Additionally, Olugbenga Agboola upgraded his profile by joining Google in October 2014. He was part of the Google Wallet Product Management team for two months and subsequently became a member of the staff of Access Bank Plc. He served as the head of the Digital Factory & Innovation team of the financial institution from November 2014 to May 2016 when he co-founded Flutterwave along with Iyinoluwa Aboyeji.
Insights Into Agboola's Career Accomplishments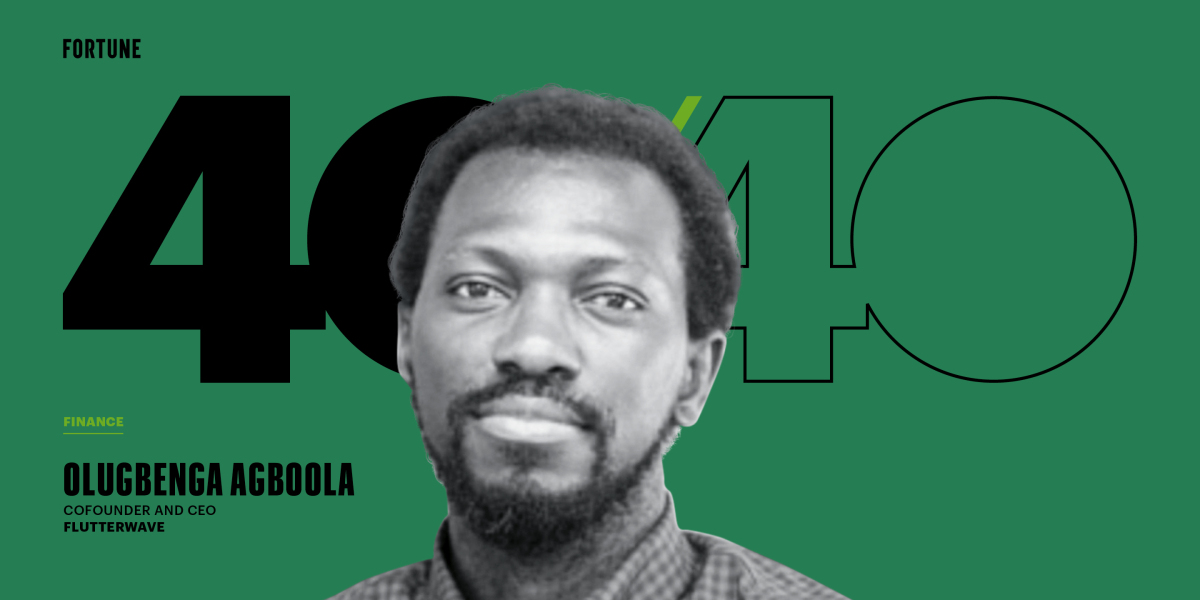 Following his success with Flutterwave, Olugbenga Agboola has been recognized with many awards and honors. Here's a list of them:
He was selected among the six African entrepreneurs to join Endeavor during the non-profit organization's 87th International Selection Panel held in Madrid, Spain in April 2019.
On September 19th, 2019, the security analyst was named as one of the 2019 Quartz Africa Innovators.
Agboola is one of the board of directors of the Corporate Council on Africa.
He was listed as a member of Fast Company's Impact Council in 2019.
Olugbenga Agboola made the Fortune Magazine 40 Under 40 list in 2020 and equally, TIME100 Next 2021 by Time Magazine.