The name Gloria Vanderbilt made quite some waves during the '80s and '90s because it was associated with elegance and charm. She was an American woman who rose to prominence with her industry and pure drive to make a name for herself in the world of fashion and entertainment. She first gained some attention because of her family as she was born into the famous Vanderbilt family of New York which was once described as the wealthiest family in America. She then made a name for herself through her passion for taking her own steps. A talented and daring woman, she is respected for her involvement in the fashion business and building her own empire.
Gloria Vanderbilt was good at many things that some people have found it difficult to understand the exact thing she was most famous for and this sparked questions about what her career path looked like, as well as how she started out as an adventurous woman with big ambitions. Our investigation has revealed some very interesting facts about her.
What Was Gloria Vanderbilt Famous For?
Born on the 20th day of February in 1924, Gloria Vanderbilt grew up in Manhattan, New York City, where she was also born. She took interest in the arts from when she was a little girl and worked her way into acting. According to reports, she studied acting at the Neighborhood Playhouse under great teachers and then went on to get some acclaim as an actress from 1954 to 1963.
Gloria Vanderbilt made her debut as an actress in 1954 when she starred in The Swan, a play that was staged at Pocono Playhouse in Mountainhome, Pennsylvania. She went on to star in other stage productions, including making an appearance on Broadway as Elsie in a revival of William Saroyan's The Time of Your Life in 1955. She eventually transitioned into a TV star and appeared in a number of television dramas, including the drama series Studio One in Hollywood, and the anthology series The Dick Powell Show.
One of the things for which Gloria Vanderbilt is best known for is her fashion career. As a matter of fact, it is reported that she kick-started her career as a fashion model at the mere age of 15 when she featured in Harper's Bazaar. Considering how beautiful she was, Vanderbilt apparently did not find it difficult to land modeling gigs back in the day.
Eventually, she ventured into the fashion business itself, creating a number of designs and building a wide public appeal. During the 1970s, she made quite some buzz after she launched a line of fashions, perfumes, and household goods which all bore her illustrious family name, Vanderbilt. She was more notable as an early developer of designer blue jeans. Her line of jeans was designed to carry Vanderbilt's signature embroidered on the back pocket and was also more tightly fitted than most of the jeans that existed at the time. This made her creation very popular and became an immediate success with customers who found her work very fascinating.
Through her company, GV Ltd, which she launched in 1978, Gloria Vanderbilt designed a number of fashion goods, including dresses, blouses, sheets, shoes, leather goods, liqueurs, and accessories, which all became popular with the buying public and made her a household name in America. Her work in the fashion industry earned her enormous respect across the USA and beyond.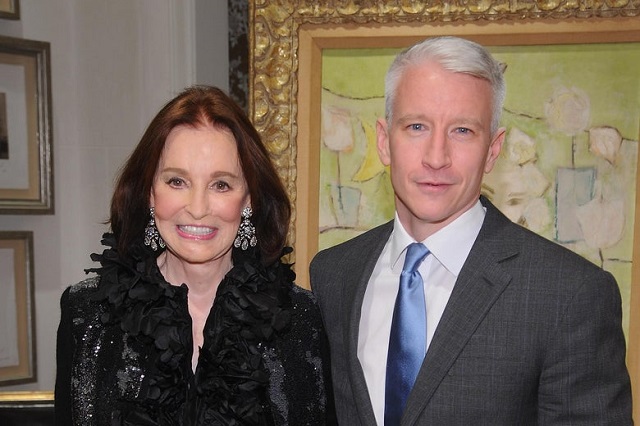 It is noteworthy that Gloria Vanderbilt was not just a fashion designer, she was also a writer and an author who wrote novels, as well as non-fictional books, among other things. She also published four volumes of memoirs during her lifetime.
Read Also: How Kate Spade Achieved a Net Worth of About $150 Million and $1 Billion Fashion Line
How Much Did She Inherit?
Having been born into a very illustrious and rich family, Gloria Vanderbilt is expected to have inherited some money from her parents when they passed away. But did she inherit anything at all? If so, how much did she get?
Well, Gloria Vanderbilt did inherit some money from her father after he died when she was just 18 months old. According to reports, she inherited more than $4 million which, in today's value, is equivalent to more than $70 million. Apparently, this amount of money helped to fuel the growth of her fashion business.
When Gloria Vanderbilt died on June 17, 2019, she left the bulk of her belongings to her son, Anderson Cooper, who is a popular American journalist. She left the rest to her other children.