Physician, philanthropist, and mega political donor; these are the facets that make up one of the world's richest women, Miriam Adelson. Married to billionaire casino tycoon Sheldon Adelson for 30 years, Ms. Adelson inherited her husband's whopping fortune when he passed away in January 2021. She is now worth $36.1 billion and is the 36th richest individual in the world. She is also the fifth richest woman as well as the richest Israeli individual alive.
Such a reality positions Adelson as just some lady who inherited her husband's billions but nothing could be further from the truth. The physician is credited with giving her husband the bright idea for the Venetian Casino which kick-started his billion-dollar casino empire. Ms. Adelson's love for her native Israel has also influenced the family's staunch support for Jewish causes, showing that she is indeed a force to be reckoned with.
Miriam Adelson Originally Hails From Israel and is a Trained Physician
The late Sheldon Adelson may have had Jewish ancestry but it was the influence of his wife Miriam that made him devote billions to supporting Israeli causes. Born on the 10th of October 1945 in Tel Aviv, Miriam's parents were Polish immigrants who ran away from their country to escape the holocaust. Her grandparents and some other relatives were killed and all these terrible experiences inspired in the young girl a desire to fight for the liberty of her people and the greater mankind.
Armed with such a desire, Miriam Adelson (nee Farbstein) completed her early education at the Hebrew Reali School in good time. She subsequently earned a B.Sc. degree in microbiology and genetics from the Hebrew University of Jerusalem. Miriam would later undergo her two-year mandatory military service as a biological researcher for the army. She then earned a medical degree from Sackler Medical School, Tel Aviv University.
Having qualified as a physician, Miriam Adelson spent some time working in the emergency room of Rokach Hospital, Tel Aviv. Her duties brought her in contact with drug addicts and she did her best to help them. Sometimes they survived while in other times they died and the whole experience inspired her to focus on drug addiction treatment. Miriam's brilliant work would eventually see her rise to the position of chief internist at her hospital. The Israeli ministry of health then recommended her to study at the Rockefeller University in the U.S. in 1986. It was in the course of her stay in the U.S. that she would eventually meet and marry Sheldon Adelson.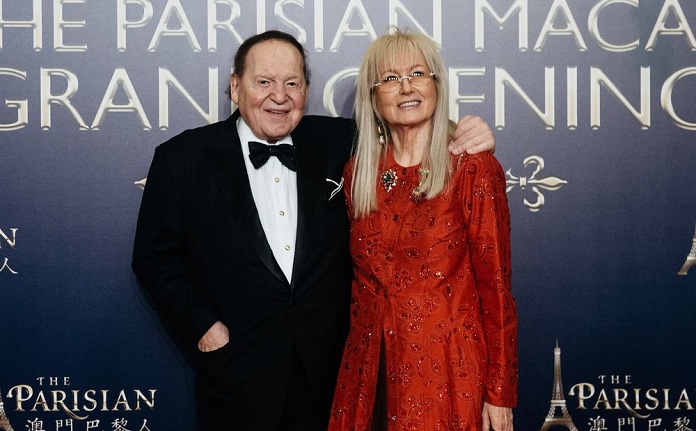 Sheldon and Miriam Adelson Began Dating in 1988 and Tied the Knot Two Years Later
It must be noted that Miriam Adelson's marriage to Sheldon is not her first marriage. While working as an internist in Tel Aviv in the 70s, Miriam married a fellow physician named Ariel Ochshorn. The union lasted for a few years, a time during which they welcomed two daughters. They subsequently divorced in 1980. Following the divorce, Miriam turned all of her attention to her daughters as well as work. That work eventually led her to America in 1986 where she continued researching the best ways to treat people with drug addiction issues.
Whilst recording a breakthrough in that regard, Miriam also experienced a personal breakthrough as some mutual friends set her up on a blind date with Sheldon, an ace entrepreneur who had just opened the Sands Expo and Convention Centre in Las Vegas (then the only privately owned and operated convention center in the U.S.). The two hit it off immediately after discovering that they shared common values. They began dating in earnest and tied the knot in 1991. The couple would remain together until Sheldon passed away in 2021. Following his death, Miriam paid an eloquent tribute to him, describing him as the love of her life, soul mate, as well as a partner in romance, philanthropy, political activism, and enterprise.
Her Son-In-Law is Set to Take Over as CEO of Las Vegas Sands Someday
Miriam Adelson and her late husband share a total of seven children between them. They include two of the daughters that she had from her first marriage, one of whom is named Sivan Ochshorn Dumont. Sheldon also had three sons from his first marriage to a lady named Sandra. They are Mitchell (now late), Gary, and Shelley. Miriam and Sheldon also have two sons together, namely Adam and Matan Adelson.
Such a large family would normally make for a rancorous succession which would unsettle shareholders of the Las Vegas Sands (LVS) empire but this is not the case here as it seems that Miriam and her husband had prepared for all eventualities. They picked long-time LVS employee, Robert Goldstein, as the new CEO while Sivan's husband, Patrick Dumont, will be groomed to take over in the future. He currently serves as the chief financial officer of the company.
Miriam Adelson Now Owns Half of Her Husband's $48 Billion Casino Empire
Another thing that Miriam Adelson and her late husband planned carefully was his financial affairs. The couple knew that they would be liable to pay huge inheritance taxes in order to be able to cede their wealth to their children and they got around this by transferring the bulk of their fortune to a trust managed by Miriam. As far back as 2012, the doctor held a 26.9% stake in LVS while her husband retained 26.3%. Her ownership stake would further increase to 41.6% around 2019 while her husband retained just 10%, giving her a personal net worth of $17.4 billion.
With her husband's death, Miriam Adelson has received the 10% he previously owned. On the whole, her family retains a 57% stake in the gambling empire which is worth $48 billion. LVS holdings include the $2.4 billion Venetian Macao Resort Hotel in the city of Cotai and the famous Marina Bay Sands in Singapore. Beyond their casino empire, Miriam also inherited several newspapers from her late husband, including Israel Hayom and the Las Vegas Review-Journal Newspaper.
Miriam and Her Late Husband Used Their Billions to Support Right-Wing Causes
Miriam Adelson may have become a naturalized American citizen but she has never forgotten her roots and what her ancestors went through. She, therefore, remains resolute in supporting the state of Israel and influenced her husband in that direction. The Adelson Family Foundation has donated not less than $127 million to Birthright Israel, an organization that provides free trips for Jews to Israel. They have also funded Maccabee Task Force which is aimed towards fighting antisemitism and Israeli boycott on American college campuses.
In furtherance of their vision for a strong Israel, Miriam Adelson and her late husband donated hundreds of millions of dollars to politicians that are pro-Israel. For instance, they donated $180 million to GOP campaigns and PACs in 2020 alone. Of course, such efforts have not gone unrewarded. The couple recorded a big coup when then-president Donald Trump relocated the American embassy from Tel Aviv to Jerusalem. Trump also awarded Miriam a presidential medal of freedom in 2018.
They Also Founded the Miriam and Sheldon Adelson Research Clinic in Las Vegas
All the politicking and advocacy for Israeli causes have not made Miriam Adelson lose sight of her primary passion and work which is to help drug addicts get over their problems. She shared this vision with her husband in the early days of their marriage and he equally keyed in as he had lost a son to the menace. The couple would later set up an addiction treatment clinic in Tel Aviv in 1993 before doing something similar in Las Vegas in 2000.
The clinic remains in operation to date and Miriam Adelson stills dons her white coat occasionally to help out. The facility remains staunchly focused on its mission and has saved countless lives that would otherwise have been lost. These have fetched them praise from the American Association for the Treatment of Drug Dependency and Miriam has been hailed as a visionary for her work.
Key Takeaways
Miriam Adelson is a trained physician who is passionate about helping drug addicts get over their problems.
She was married to billionaire casino tycoon Sheldon Adelson for 30 years.
Adelson inherited her husband's fortune when he passed away in January 2021 and is now worth $36.1 billion. This makes her the 36th richest individual in the world, the fifth richest woman in the world, and the richest Israeli individual alive.
Miriam's love for her native Israel has also influenced her family's staunch support for Jewish causes. They have also donated hundreds of millions of dollars to politicians that are pro-Israel.