2020 was not only notable because of the covid-19 pandemic but also the death of several beloved personalities. They include the likes of Diego Maradona, Kobe Bryant, and Black Panther star Chadwick Boseman. As a result of this, many were happy to see the year go and hoped for a better 2021. It is barely two weeks into the much-awaited new year and the world has again witnessed some newsworthy deaths, most notably that of renowned casino magnate and political donor, Sheldon Adelson.
A Jewish-American, Adelson had come under scrutiny in recent times for his political ties to the GOP as well as his deep support for Israel and Jewish interests. However, before the notoriety of his political leanings, he was better known as a magnate in the casino industry as well as one of the richest men in the world. He gained the respect and admiration of many for lifting himself out of poverty as a child and building up a net worth estimated at $35 billion at the time of his demise.
Sheldon Adelson Overcame a Poor Immigrant Family Background to Make His First Million at the Age of 32
Sheldon Adelson's life story reads like a movie script or the perfect motivational tale. As the story goes, he was born in the city of Boston to two poor immigrants. His Lithuanian-Jewish father worked as a taxi driver while his Welsh mother had her own knitting shop. Given such occupations, Adelson's family was obviously not well-to-do and he and his siblings had to sleep on the floor of their cramped apartment.
Such a situation was enough to send any normal youngster into the tailspin of depression but not Adelson. His circumstance rather fuelled him to be enterprising and so by the age of 12, he borrowed $200 from his uncle to buy a newspaper-hawking license. From selling newspapers, the young boy went on to sell vending machines as well as other items. Whilst doing all this, Sheldon did not forget the importance of education.
He completed his high school diploma and then enrolled in the City College of New York. He, however, dropped out after some time; went on to work as a court reporter, and then joined the army. Upon leaving the army, Sheldon Adelson delved back into the business world and sold items such as chemical sprays and toiletries. All these helped him to build up a modest net worth of five-figures. He then got his big break, so to speak, after finding work as a mortgage broker on Wall Street. His earnings helped him to achieve a net worth of $1 million at the age of 32.
He Established the First Computer Convention in America Which Helped Him Join the Billionaires Club
Making their first millions will make many people relax and slow down their business pursuits but not Adelson. He invested in some businesses back in Boston and was able to garner a net worth of $5 million by the age of 35. He, however, lost it all and came close to bankruptcy following the stock market crash of 1969.
What do you do when you have lost it all? Well for Sheldon, he picked himself up and invested in the purchase of a computer industry trade publication. He started running the same and in the course of doing this, discovered that computers were growing in popularity. He also noticed that they were no conventions for the booming industry and so took to organizing one.
The first edition of the convention, known as Comdex, was held in 1971 and quickly proved to be a big hit. Its popularity and number of attendees grew with each passing year and this led to an attendant increase in its value. By 1995, Comdex was attracting hundreds of thousands of attendees. Adelson and his business partners then sold it off for about $900 million. The Boston native personally made about $500 million from the deal and this saw his fortune near $1 billion.
Adelson Entered the Casino Business In His 50s and Established the Largest Casino Company in the World
With the half a billion dollars that he made from the sale of Comdex, Sheldon Adelson could have afforded to retire to a life of sunshine and cocktails on any beautiful island of his choice. He, however, did not do this as the relentless enterprising spirit in him would not let him be. He, therefore, embarked on the lookout for the next great investment opportunity and found one right under his nose.
Adelson realized that Las Vegas was the perfect venue for work and pleasure and so, decided to build his own convention venue. For achieving this purpose, he turned his sights to the Sands Hotel & Casino (which he had purchased in 1989 for $128 million) and converted it into a convention center known as the Sands Expo and Convention Centre. He also retained the casino part and both proved to be lucrative.
Adelson operated the Sands Expo and Convention Centre for roughly eight years before a visit to the Italian town of Venice inspired him to build something grander. He thus demolished the Sands in 1996 and proceeded upon a three-year, $1.5 billion project which culminated in the Venetian in 1999. The Venetian resort was indeed an ambitious project, featuring only suites with no rooms. It, however, proved to be quite profitable and this encouraged Adelson to embark on other similar resorts in his casino empire. They include The Palazzo Las Vegas, The Marina Bay Sands Singapore, The Sands Macao, Sands Cotai Central, The Venetian Macao, The Plaza Macao, Four Seasons Hotel Macao, and The Parisian Macao.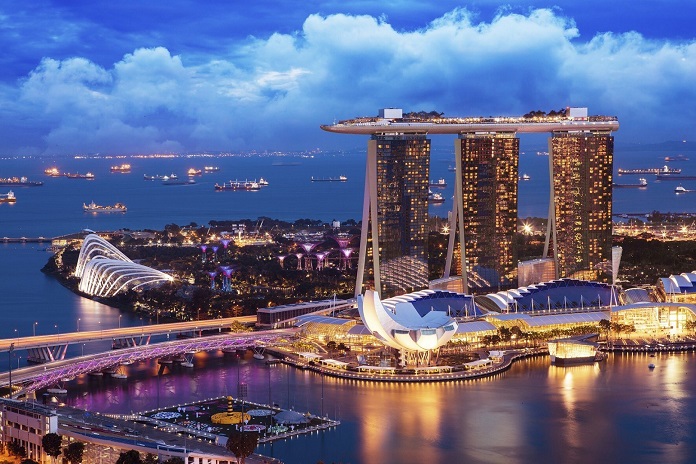 Each of these glamourous projects cost Sheldon Adelson a pretty penny (for instance, the Marina Bay Sands in Singapore is the third-most-expensive building in the world at $5 billion) but he recouped his investments in multiple folds. His Las Vegas Sands Corporation now employs about 50,000 people and is the largest casino company in the world. It generates more than $20 million dollars each day and its annual revenue for 2019 was $13 billion. The company now accounts for half of the global gambling empire which is valued at $14 billion.
The Casino Magnate was Also the Proprietor of Some Newspapers
Asides from the casino and gambling business, Sheldon Adelson also made an impact in the print journalism industry. He purchased and published newspapers in both Israel and the United States of America. It must, however, be noted that his purchase of these publications was more for the pursuit of his own ideological beliefs rather than profit purposes.
For instance in Israel, Adelson began publishing the free daily newspaper known as Israel Hayom in 2007. The daily was highly critical of former Israeli Prime Minister Ehud Olmert and eventually contributed to his removal from office. Olmert would later reveal that Adelson used Israel Hayom to bring him down because he (Olmert) favored the two-state solution to the Palestinian crisis, something which Adelson detested.
Over in the United States, Adelson also splashed out $40 million to purchase the Las Vegas Review-Journal in 2015. Many felt that he paid far too much money for the deal but he wasn't bothered. This was because he did not purchase it to make a profit but rather to further his conservative beliefs. The newspaper would end up being the first nationwide daily to endorse Trump for president in 2016. This was at a time where many dailies were avoiding such a path.
Highlights of His Business Career
Sold newspapers in Boston as a teen
Developed COMDEX Trade Shows
Founded Las Vegas Sands Corporation which owns the Marina Bay Sands in Singapore, The Venetian Las Vegas, and the Sands Expo and Convention Center among others.
Owned newspapers like the Las Vegas Review-Journal, Israeli daily newspaper Israel Hayom, and Israeli weekly newspaper Makor Rishon.
Sheldon Adelson Lost Nearly All of His Fortune During the Global Financial Crisis of 2008
Thanks to the several lucrative resorts that he built in Macau as well as in the U.S., Sheldon Adelson was able to build up a net worth of about $26 billion in 2008. This made him the 12th richest human being alive but he came tumbling down from that position due to the global financial crisis which rocked the world subsequently. The crash of the stock market affected the value of Las Vegas Sand Corp. stocks and it fell from a peak of $140 in December 2007 to just $1.70 in March 2009.
The impact on Adelson was instantaneous as it wiped out 93% of his net worth (about $25 billion) and made him fall to 178 on the list of billionaires. Such a significant loss would have caused an ordinary person to develop suicidal thoughts but not Adelson. He approached his situation in a philosophical way and mused that he had started out from zero before and as such, could also work himself up from zero again. The business magnate then proceeded to invest $1 billion to bail out his cash-strapped company. He also forged ahead with the ambitious project he had in Singapore.
Fortunately for Adelson, the markets picked up and his newly-built resort went on to thrive. The older ones on the Las Vegas strip were also booming and by 2011, he had recovered about $20 billion to once more climb the ranks of the world's richest men. This steady increase would continue over the years and by the time of his demise in 2021, he had accumulated a fortune of $35 billion.
He Owned Several Private Jets as well as a Real Estate Portfolio Worth More Than $50 Million
While he was alive, Sheldon Adelson utilized his humongous wealth to provide a good life for his loved ones, which includes his wife – Miriam, his three children, and 11 grandchildren. The casino magnate owned at least one mansion in the affluent Las Vegas neighborhood of Summerlin. He then owned several other properties in Malibu, California, which were said to be worth a collective $52 million.
For getting around, Adelson had a fleet of private jets at his beck and call courtesy of his Las Vegas Sands Corporation. The company owns as many as 28 aircraft. This includes eight full-size Boeing and Airbus aircraft as well as 10 smaller private jets, consisting of Gulfstream and Hawker. This extensive fleet was not necessarily used by Adelson for personal purposes but rather used to transport the big-spending VIP guests to his various resorts.
For his personal use, Adelson had an Airbus A340-500. It has the capacity to carry about 313 passengers and is designed for long-haulage flights, a fact that Adelson proved when he used the plane to embark on a 17-hour and 40-minute non-stop flight from Israel to Honolulu in 2017.
Beyond his humongous private jet, the late Adelson also had a large yacht known as the Queen Miri. Named after his beloved wife Miriam, the yacht has a length of 91.5 meters and about 2000 square meters of interior space. It can carry about 36 guests and a crew of 32. It also has a convertible pool and is valued at $70 million.
Sheldon Adelson Donated Generously to Promote Israeli Causes While He was Alive
Sheldon Adelson did not just spend his money on private jets and yachts. He also gave generously to support causes that he believed in. Being Jewish, Adelson did everything in his power to support the Israeli state as well as their culture. In 2018, he donated $34 million to the Birthright Israel Foundation in New York. This is a program that brings young Jews all over the world together for educational trips to Israel. Also in that same 2018, Adelson donated $10.7 million to the Maccabee Task Force Foundation, a group that is dedicated to fighting anti-Semitism as well as boycotts and sanctions against Israel.
Beyond these charitable donations, Adelson also worked to improve ties between Israel and the United States and promote pro-Israel policies in America. He funded congressional trips to Israel. He also supported lobbying organizations such as the Israeli American Council as well as the American Israel Public Affairs Committee. Adelson also actively lobbied the Trump administration to move the American embassy from Tel Aviv to Jerusalem. That dream became reality in 2018 and he then went ahead to purchase the U.S. ambassador's official residence in Tel Aviv for $67 million. This was all in a bid to ensure that the embassy is not relocated back there by a future administration.
Everything that Adelson did for the Israeli cause meant that his demise was met with much sadness there. Prime minister and good friend, Benjamin Netanyahu, expressed his deep sorrow and heartbreak and stated that Sheldon will forever be remembered for his great contribution to the Jewish people.
He Was Also a Major Financier of the G.O.P and One of the Largest Political Donors in American History
In his home country of America, Sheldon Adelson also made an impact with his generous donations to the Republican Party. Given that he grew up in poverty and was the child of immigrants, one would naturally expect Adelson to be a democrat and this was the position for some time in his life. However, as he grew older and richer, he changed sides due to his unhappiness with the imposition of taxes and union activities by the democrats. The fact that the party also harbored anti-Israel sentiments solidified his resolve and he went on to become a staunch member of the G.O.P.
Adelson made several generous donations to the party, including a $10 million donation to Newt Gringich in 2012 and a $25 million donation to the Trump campaign in 2016. He also donated a further $5 million to Trump's inauguration committee after the latter won the polls. Between 2018 and 2020, Adelson and his wife donated $215 million to the G.O.P making them the largest publicly-disclosed donor of the 2020 election.
His Political Affiliations Did Not Stop Him From Facing Allegations of Bribery and Improper Dealings
No wealthy individual achieves his status without facing several challenges and Sheldon Adelson's case was no different. Despite efforts to keep a clean nose in the gambling business, he found himself at the center of a corruption scandal in 2008. The scandal erupted after a Hong Kong businessman named Richard Suen alleged that he had helped Adelson to obtain his lucrative gambling license in the Chinese region of Macau. He also stated that Adelson had promised him a cut of the profits but reneged on that promise.
The suit went on for several years before Adelson was ordered to pay about $101.6 million to Suen as compensation. His troubles did not stop there. The U.S. authorities also charged him under a law that prohibits their citizens from giving bribes in foreign business dealings. The charge was eventually concluded in 2015 with Sands Corp. agreeing to pay $9 million in a settlement which allowed them not to admit to any wrongdoing.