Bill Gates first became a billionaire in 1987. 34 years down the line, his net worth has grown to $126 billion meaning that he has made about $125 billion over the past 34 years. A simple division will reveal that the Microsoft founder has consistently earned approximately $3.7 billion for each year over the last 34 years. Further calculations will show that Gates makes $10.1 million each day and $117 with each passing second.
It has certainly been a rough couple of months for Bill Gates. Asides from the fact that his 27-year-old marriage has unraveled, the Microsoft founder has also seen his squeaky clean, nerdy philanthropist image punctured by several allegations, including his ties to the late convicted sex offender, Jeffrey Epstein, as well as revelations of an affair with a Microsoft staff. It remains to be seen how Gates would go about reclaiming his public image but one thing that is for sure is that he would remain one of the wealthiest individuals on the face of the earth.
Even though Gates faces a potential loss of half of his $126 billion fortune in the divorce settlement, and a fall down the billionaires' list, he will still retain enough wealth to remain one of the richest persons alive. An avalanche of investments, a massive real estate portfolio, and an exquisite collection of fancy artworks means that Bill Gates will continue to make in a day what many of us may not achieve in a lifetime.
Bill Gates Has Earned Approximately $3.7 Billion Per Annum Over the Last 34 Years
Before we unravel this puzzle, it is only proper that we outline some of the sources from where Bill Gates actually makes his money from. As is common knowledge, he stepped down as Microsoft CEO in 2000, meaning that for the past two decades, he has drawn no salaries from the company. He has also given away much of his stock in the company to charity and now has just a 1% stake. That stake is worth $26.1 billion and obviously does not explain Gates' $126 billion fortune. It, therefore, means that he has other lucrative sources of income, and chief amongst them is his holding company, Cascade Investment.
Through Cascade, Bill Gates has plowed the fortune he initially built from Microsoft into several lucrative avenues. They include 31.4 million shares in Deere & Co (worth $11.9 billion), 118 million shares in Canadian National Railway ($11 billion), 88 million shares in Coca-Cola Femsa ($4.2 billion), six million shares in Berkshire Hathaway ($2.1 billion), and 18.4 million shares in AutoNation ($1.3 billion). Gates also has half of the ownership stake in the Four Seasons Hotel chains. He has also invested in companies such as Apple Inc. Alibaba, Twitter, Amazon, and Uber, meaning that every time they report a profit, which is quite often, he is smiling to the bank.
So, what does Bill Gates actually make each year? Well, one reliable method of calculating this is to look at his verified net worth over the years. The Microsoft co-founder first became a billionaire in 1987. Between then and now, which is a gap of 34 years, he has managed to grow his net worth to a whopping $126 billion. If we crunch the numbers, it means that Bill Gates has made about $125 billion over the past 34 years. A simple division will reveal that he has consistently earned approximately $3.7 billion per annum over the last 34 years.
The Daily Earnings of the Microsoft Founder is Put at $10.1 Million
In case you are wondering how many days it will take Bill Gates to spend his entire $126 billion fortune if he is spending it at the rate of $1 million per day, then the answer is 126,000 days or a whopping 345 years. One would normally dismiss such daily spending as exorbitant but when you make nine times over that each day, as is the case with Bill Gates, then you do have the right to spend an amount like that. Having determined that the techpreneur has consistently made $3.7 billion per annum over the past 34 years, it, therefore, means that he makes about $10.1 million every single day.
Bill Gates' daily earnings are simply mind-boggling but there is a good chance of reduction over the next year thanks to the aforementioned divorce from wife, Melinda. The couple released a statement in March 2021 announcing that they no longer believed that they can grow together as a couple. They, therefore, stated that they were going their separate ways but would continue to work jointly at their philanthropic foundation i.e. the Bill and Melinda Gates Foundation.
In order to stave off any rancorous divorce and disputes over money, the couple has reached a separation contract that spells out how their combined $146 billion fortune will be divided. In line with that agreement, Bill Gates has made a substantial transfer of stock to his ex-wife, thus cutting into his fortune. To date, Melinda has received 1.4 million shares in Canadian National Railway Company ($1.5 billion), 2.9 million shares in AutoNation ($300 million), and 2.25 million shares in Deere & Co ($850 million).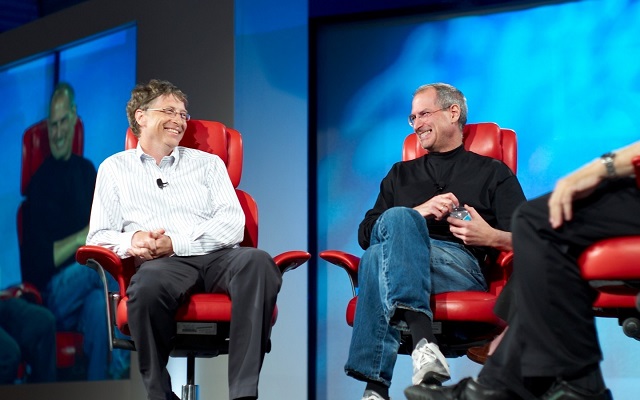 Gates Makes About $117 Each Passing Second
Working with daily wages of $10.1 million means that Bill Gates earns roughly $117 each passing second. The federally mandated minimum wage in the United States is $7.25 which means that Bill Gates earns in just one second what will take the average American 15 hours to make. Also, official government figures in the United States show that the average yearly income of an individual working a regular 40-hour workweek is $48,672. This means that it takes Bill Gates 416 seconds to make what many Americans toil for a year to make.
The figures are truly mind-boggling but the man who owns it all couldn't care less. To Bill Gates, money doesn't have any personal utility beyond a certain point. Its utility lies in building an organization and getting the resources out to the poorest in the world. The Microsoft founder is not only talking but is also walking the talk in this regard.
He, alongside ace investor – Warren Buffet, is one of the arrowheads of The Giving Pledge which persuades billionaires to give away at least half of their fortune to charity endeavors. Beyond The Giving Pledge, Gates and his now ex-wife are the founders of one of the largest philanthropic organizations in the world, The Bill and Melinda Gates Foundation.
The foundation has done exemplary work in eliminating diseases such as polio and malaria from the poorest parts of the world. They have also been at the forefront of enhancing accessibility to covid-19 vaccines for poorer nations. To date, Bill Gates has donated $35.8 billion worth of stock to the foundation. All the good work that he has achieved has fetched him numerous accolades. They include an honorary knighthood from Queen Elizabeth II in March 2005. He also received a Presidential Medal of Freedom, America's highest civilian honor, from President Barack Obama in 2016.