Through building a multi-billion dollar business empire, Aliko Dangote has held on to the title of the richest person in Africa for over nine years. He is widely known as the founder and chief executive officer of the Dangote Group which he first launched as a small trading company over three decades ago. He has gone ahead to expand the company into a conglomerate that manages several subsidiaries, with his cement company being the most remunerative of all as it generates hundreds of billions of Nigerian naira in revenue annually.
Having been born into a wealthy family of entrepreneurs, it's not surprising that the billionaire businessman kicked off his entrepreneurial career when he was still in elementary school. Today, he has gathered an eye-watering fortune estimated at $11.1 billion. Despite accumulating such wealth, he is not resting on his laurels as he further plans to expand his business empire by diversifying into the oil and gas industry, as well as fertilizer. If successful, Aliko Dangote might end up among the top richest people in the world in the coming years.
An Insight Into Aliko Dangote's Journey To Becoming Africa's Richest Man
It is quite interesting to know that the richest man in Africa began building his business empire with the $3,000 he borrowed from his uncle when he was 21 years old. Aliko is the son of Mohammed Dangote and Mariya Sanusi Dantata. He was born in Kano State, Nigeria on April 10th, 1957. His grandfather, Sanusi Dantata, was a renowned businessman who served as the founder of Sanusi Dantata and Sons Limited and also worked as a director of the Nigeria branch of Shell B.P. Dangote's great-grandfather, Alhaji Alhassan Dantata, on the other hand, passed on as the richest man in West Africa at the time of his demise in 1955.
Having been surrounded by people with great business acumen, Aliko Dangote's career choice was influenced at a very young age. He started a small retail business, selling sweets in an attempt to make his own wealth while completing his basic education. After graduating from the Government College situated in Birnin Kudu, the entrepreneur proceeded to Al-Azhar University, Cairo where he received a Bachelor of Arts degree in Business Studies and Administration.
Dangote's business career then saw great success after he borrowed money from his uncle to grow his retail business by importing and selling agricultural commodities. Just after three months, he repaid the loan and then diversified the business to cut across multiple industries, including manufacturing and food processing. This had led to the establishment of his multi-billion dollar corporation, The Dangote Group.
Key Takeaways:
In an attempt to make his own money, Aliko Dangote started selling sweets while in primary school.
After graduating from the university, the famed entrepreneur began his business career with the $3,000 loan he got from his uncle.
Dangote's great grandfather, Alhaji Alhassan Dantata died as the wealthiest man in West Africa in 1955.
How His Investments Established Him as The Richest Black Person In The World
Aliko Dangote first began The Dangote Group as a local commodities trading business before turning it into a multinational conglomerate. He established two business enterprises – Dangote Nigeria Limited and Blue Star Services in 1981 and started importing rice, sugar, fisheries, steel, baby food, and other consumer goods after acquiring import licenses for the commodities. The group later ventured into the importation of cement and were distributing various commodities in the Nigerian market.
Although the business was very lucrative at the time as he was making a net profit of $10,000 on his best days, the entrepreneur decided to end his endeavors as a middleman and went into manufacturing. As such, he began producing all the commodities he was selling for years. He kicked off with the manufacturing of textiles in 1989, launching Textile Mills Limited that was divided into two operations. The company's plant was situated in Lagos while the textile weaving mill was operating in Kano.
Dangote later deviated to salt processing, sugar refining, and flour milling in the late '90s and early 2000s. Later on, the group ventured into the production of cement and also initiated operations in other African countries where they established cement plants. Thus, becoming a multinational industrial conglomerate with interests across diverse sectors including beverages, seasoning, transport, real estate, and oil and gas. The company also exports goods such as sesame seeds, cotton, cocoa, ginger, and cashew nuts to many countries across the globe.
The Dangote Group today has more than eighteen subsidiaries that carry out operations in over nine African countries. They include Dangote Sugar, Dangote Classic Seasoning, Dangote Pasta, Dangote Transportation, National Salt Company (NASCON), Dansa Foods, and Dangote Cement among others. In 2017, Dangote Group recorded a revenue of over $4 billion and has employed more than 30,000 people.
Dangote Cement is Africa's Largest Cement Producing Company
One of the subsidiaries of Dangote Group, Dangote Cement Plc, was initially established as Obajana Cement Plc in 1992. Its name was changed in July 2010 and it has since gone on to become the largest company traded on the Nigerian Stock Exchange. Dangote Cement manufactures, packages, and distributes cement across Nigeria. It also operates in nine other African countries where it has cement plants and import terminals. In Nov 2020, the company generated quarterly revenue of 286.4 billion naira (almost $720 million).
Between 2007 and 2012, Aliko invested $6.5 billion into the cement company, and following its listing on the Nigerian Stock Exchange (NSE) in October 2010, Dangote Cement accounted for 20 percent of the NSE's total market capitalization by August 2014. The company's cement plant in Obajana, Kogi State has an annual production capacity of 10.25 million metric tons of cement across three lines and hence, is Sub-Saharan Africa's largest cement plant.
Dangote Cement also has two other cement plants in Nigeria that are situated in Ibese, Ogun State, and Gboko, Benue State. The plant at Ibese was constructed with $1 billion and has a production capacity of 6 million metric tons of cement per annum while the one in Gboko is capable of producing 3 million tonnes annually, though plans to upgrade its annual production capacity to 4 million tonnes were put in place in 2013.
In the year 2015, Dangote Cement further established cement plants in Tanzania and Senegal. The company equally has subsidiaries in Ghana, South Africa, Zambia, Cameroon, and Benin. The plant in Zambia was constructed in Ndole for $400 million and was completed in 2015. It is capable of producing 1.5 million metric tons of cement per year.
Dangote Cement has as a result of all of its plants across Africa become the biggest cement-producing company on the continent. With Aliko owning 85 percent of the publicly-traded cement company, he surely rakes in millions of dollars, if not billions from his remunerative investment.
Key Takeaways:
Dangote Cement is the largest company traded on the Nigerian Stock Exchange.
The company's Obajana plant is the largest cement plant in sub-Saharan Africa.
As of 2014, the company accounts for 20 percent of the NSE's total market capitalization.
Dangote Cement has subsidiaries in ten African countries.
Aliko Dangote's Sugar Refinery is The Third Largest in The World
Along with Dangote Cement that is publicly-traded, Aliko Dangote's salt and sugar companies are also publicly-traded. He established his sugar refinery in the year 1999 and commenced business in the next year. The company competes with imported sugar products from Europe and Brazil, as well as Golden Sugar Refinery and Bua Refinery Ltd. It has, however, since emerged as one of the largest sugar distributors in Nigeria. The Dangote Sugar Refinery Plc is situated at the Apapa port, Lagos.
At the beginning of its operation, the refinery had a processing capacity of 600,000 metric tons of raw sugar per year. This was subsequently increased to 1.44 million metric tons per year but it utilizes 75 percent of its current capacity. The company was named on the Nigerian Stock Exchange in March 2007 and declared an initial public offering of 10 billion shares later that same year. Consequently, Dangote Sugar Refinery received the award for the Best African Initial Public Offer from the African Investors' Index Series.
In the same 2007, the company was awarded the Nigerian Stock Exchange's President Merit Award for Best Quoted Company in the Food and Beverage Sector. With its main operation involving refining and marketing of sugar, the publicly-traded company imports raw sugar from Brazil and then refines it into a Vitamin A fortified white sugar. As such, it has dominated 70 percent of the Nigerian sugar market, serving as the main supplier of sugar to Nigerian Bottling Bottling Company Plc (NBC), Cadbury Nigeria Plc, Seven-Up Bottling Company Plc, and Nestle Nigeria Plc.
The company also supplies to distributors that service the retail end of the market which accounts for almost 82 percent of the Dangote Sugar Refinery's sales revenue. Aliko Dangote's sugar refinery is ranked the largest in Africa and the third-largest in the world.
His Flour Mills Company Was Sold For 120 Billion Naira in 2019
The Dangote Group has a flour milling plant that supplied the raw materials needed for the production of pasta in January 2006. Dangote Flour Mills Plc was constructed on a leased piece of land situated at the Apapa Port. It specialized in the milling of wheat and production of wheat products before Crown Flour Mills which is a subsidiary of Olam International bought over the company for 120 billion Nigerian naira in October 2019.
Dangote's Future Projects Will Make Him Richer in the Coming Years
The Dangote Group has planned to diversify into telecommunications, oil, natural gas, steel, and fertilizer manufacturing and as such, new projects are currently in development. With the entrepreneur always re-investing his net profits back into his business, it's no surprise that his company has grown into a multi-billion dollar corporation. He invested $319 million of his money into the construction of the Obajana cement plant in addition to the $479 million he borrowed from the International Finance Corporation.
Similarly, the richest African man has planned to spend $15 billion on his oil refinery and fertilizer plant located in the Ibeju Lekki district, in the outskirts of Lagos. About 30,000 workers are employed on the project that will cost Aliko Dangote more than his estimated fortune of $11.1 billion. It is the largest ever industrial project in Nigeria and would become one of the largest oil refineries in the world upon its completion. The oil refinery and fertilizer plant will create employment opportunities as it is expected to employ more than 70,000 people.
The refinery is also expected to be processing 650,000 barrel of oil per day when it kicks off operation while the world's biggest plant for urea and ammonia which is also being constructed on the site for the production of fertilizer and plastic would be generating $2.5 billion in revenue from fertilizer exports alone per year. This will make Nigeria the largest and only urea exporter in sub-Saharan Africa and equally, would catapult Aliko Dangote into the league of the top richest billionaires in the world. Reportedly, the oil refinery and fertilizer plant would begin operations by late 2021, though the company was initially designated to open in 2016.
The lavish Lifestyle Aliko Dangote's Wealth Affords Him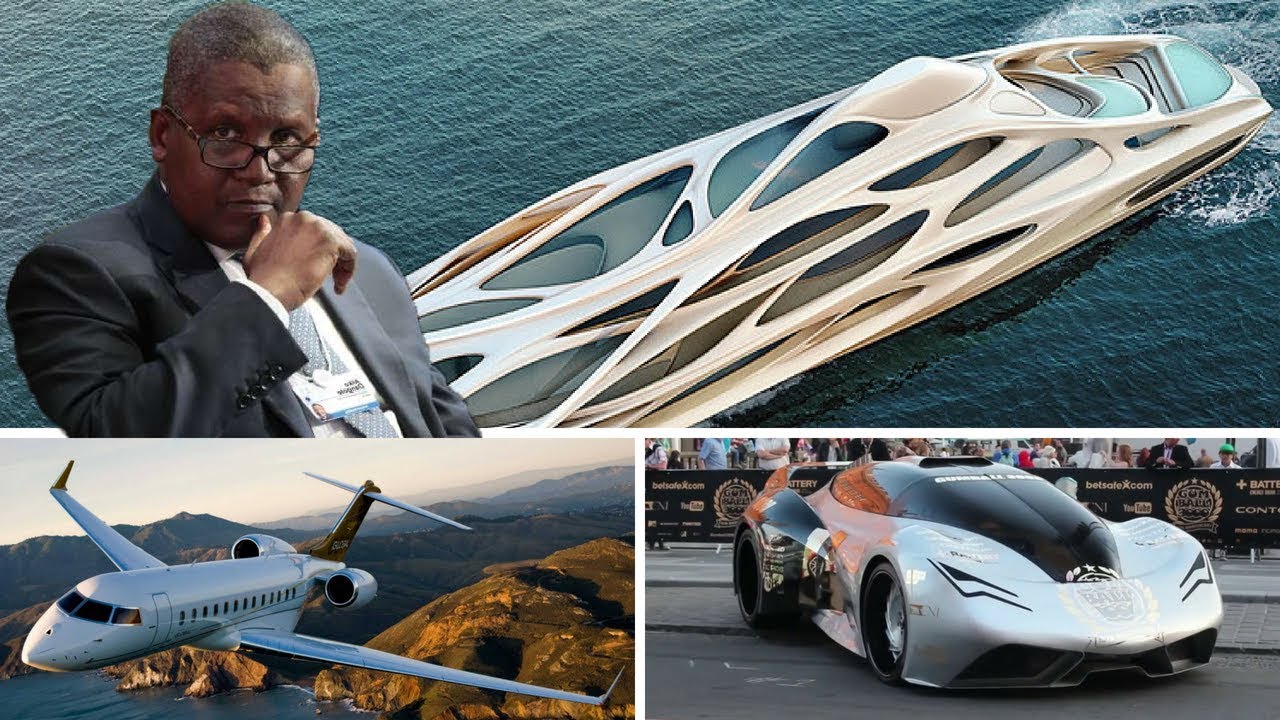 Asides from re-investing his money back into his businesses, Aliko Dangote also spends a huge chunk of his fortune on himself and his family. In the year 2010, the world's richest black person purchased a private jet for a jaw-dropping sum of $45 million. He is also said to have in his possession a luxury yacht worth $43 million. His expensive car collection includes a Mercedes-Benz CL65 AMG worth $220,000, and a Bentley Mulsanne valued at more than $300,000.
Additionally, Dangote made a good display of his wealth during his daughter's wedding on March 24th, 2018 as he hosted an extravagant wedding reception for Fatimah and her husband, Jamil Abubakar, at the Conference Centre of the Eko Hotel and Suites, Lagos. The lavish wedding ceremony was graced by one of the world's richest people, Bill Gates.
Africa's Richest Man is Also One of the Biggest Philanthropists on The Continent
With the aim to become known as Africa's biggest philanthropist, Aliko Dangote has spent a good portion of his total wealth on charitable causes. He serves as the founder of the Aliko Dangote Foundation which he established in 1994. Later in 2014, he donated $1.25 billion as an initial endowment to the foundation that aims at facilitating education, health, and empowerment initiatives across Africa and in the process, add value to the lives of Africans.
In 2013, ADF made one of its biggest collaborations as it entered into a partnership with Bill and Melinda Gates Foundation to eradicate polio and solidify routine immunization in Nigeria. Over the past four years, the foundation has made contributions of over a million dollars towards charitable causes in Nigeria and Africa as a whole. It donated one billion naira to the universities in Nigeria which included 500 million naira disbursed for the establishment of a business school in Bayero University.
The foundation also donated relief materials worth 50 million naira to the people residing in Jos to alleviate their suffering during the prolonged ethnic-religious crisis in 2010. As part of the Kogi Human Capital Development initiative, ADF also gave Kogi State women 230 million naira as a micro-grant. Through his foundation, Aliko Dangote donated $2 million to the World Food Programme in 2010. His foundation has emerged as sub-Saharan Africa's largest private foundation with the biggest endowment by a single African donor.
More so, in an effort to curb the spread of Ebola, the business magnate made a donation of 150 million naira ($750,000) in the year 2014 and six years later, he donated 200 million naira ($500,000) to help fight the spread of coronavirus in Nigeria. He further donated $1 million for the renovation of the 60,000 capacity MKO Abiola Stadium located in Abuja in August 2020.
Dangote Has Also Supported Nigerian Politicians
During the re-election campaign of former Nigerian president Olusegun Obasanjo in 2003, Aliko Dangote supported his re-election bid with more than 200 million naira, approximately $2 million at the time. Under the aegis of Friends of Obasanjo and Atiku, he also donated 50 million naira ($500,000) to the National Mosque and equally made a contribution of 200 million naira towards the development of the Presidential Library.
FAQs About Aliko Dangote
1. How Did Aliko Dangote Become Filthy Rich?
Aliko Dangote first gathered his wealth through the importation of commodities such as sugar, rice, steel, and cement before venturing into manufacturing in 1989. He has since expanded his business, turning into a multinational industrial conglomerate with his Dangote Cement accounting for the majority of the group's sales revenue. It has subsidiaries in 10 African countries and produces 45.6 million metric tonnes of cement per year.
2. What Makes Dangote Group Popular?
Dangote Group is known for its production of cement, salt, oil and gas, sugar, steel, and many other commodities.
3. How Many Children Does Dangote Have?
The world's richest black man has four children; three daughters – Halima, Mariya, and Fatimah, and one adopted son named Abdulrahman Fasasi.
4. Is Aliko Dangote Married?
Dangote is currently single but has been in two unsuccessful marriages.
5. Who is the Wealthiest African Man?
Aliko Dangote is the wealthiest man on the African continent.