An ambitious man of insight, Tim Cook is famed for heading one of the most innovative technology companies in this modern era. Though he took over from Steve Jobs in 2011, not many are aware that the gentleman has actually been running Apple for a very long time and is one of the company's most important figures in history.
Unlike his late boss who was a product guy, Cook has a gift for logistics and he has so far done tremendously well at leading the world's most valuable tech company. Despite heading one of the world's most important companies for years, Apple's CEO is an unassuming, intensely private person and remains a somewhat enigmatic figure. From his growth as a manufacturing whizz to a businessman, and then a leader, these facts deliver a rich tale of Tim Cook's executive progression.
Who Was Tim Cook Before Apple?
Tim Cook is a notoriously private and soft-spoken man who shies away from interviews, thus, not much is known about his personal life and habits. However, here are a few facts about his early life and journey to Apple. One of the three sons born to a shipyard worker and a pharmacist, Timothy Donald Cook is an Alabama native who was welcomed into the world on November 1, 1960. He is an alumnus of Auburn University where he studied Industrial Engineering before proceeding to top up his profile with an MBA from Duke University.
Right after his studies, Tim Cook first landed a job with International Business Machines Corporation (IBM) in 1982. During his dozen-year stint with the computer manufacturing company, Cook served in different positions and rose through the ranks. He later joined Intelligent Electronics in 1994 where he clinched one of his first top managerial positions while working under the company's computer reseller division. Thereafter, Cook moved on to Compaq in 1997. It was while working at Compaq that his talent caught Steve Job's attention and the late Apple boss poached him over.
After a brief six-month stint at Compaq, Tim Cook joined Apple Inc, assuming the position of the Senior Vice President of Worldwide Operations in 1998 when the company was moribund while Jobs was just returning from exile. But barely a year after, Cook's seeming Midas touch began yielding results and he became an integral part of the company's resurrection story. Specifically, Cook revolutionized Apple's supply chain, fostered and strengthened bonds with external manufacturers. Moreover, it was thereafter that the company began recording huge profit turnovers over the years, establishing them as one of the world's tech giants in terms of revenue.
How Did Tim Cook Become Apple CEO?
Only behind Steve Jobs, Tim Cook, who has arguably been running Apple's daily operations for years has been more integral than anyone else in the company's growth. He takes credit for changing Apple's story from a nosediving and struggling PC manufacturer into the powerful company it is today.
Long before his eventual take over after Steve Jobs yielded to pancreatic cancer, the signs were already evident that Cook would someday take over the reins as Apple CEO. He was first appointed interim CEO in 2004 while still heading the Mac division and when Jobs underwent pancreatic surgery. Three years later, Cook rose to the position of COO. In 2009, he became acting CEO again following Job's medical leave.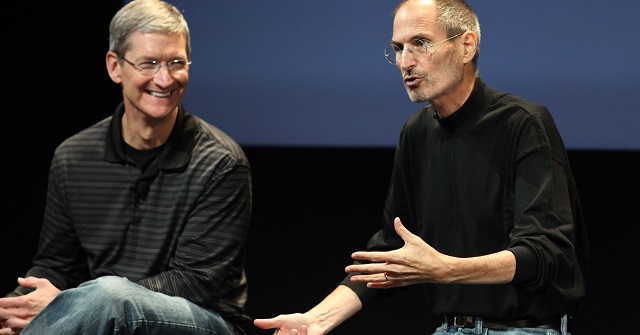 However, shortly before his death in 2011, the late Apple co-founder unsurprisingly hand-picked Tim Cook to grab the wheel as Apple CEO. Thereafter, CEO Tim Cook was faced with the Herculean task of walking in the big shoes of one of the world's most iconic personalities. Cook's transition into the enormous role hasn't exactly been a walk in the park. In his early days/years as CEO after Jobs' death, Tim Cook first had to assemble a team he thought the best fit and along the way, he has recorded retrenchments, failures, firings, departures, and of course successes as well.
Unlike his former boss who at his core was a product person, CEO Tim Cook is better known within Apple as an operations expert and a logistician rather than a product person. This was further confirmed in a Steve Jobs biography which was published years later where Steve reportedly hailed Tim for his ability to do everything but lacked interest in the product development process.
Some of the early major products Tim Cook has announced in his time as CEO include the expansion of both the iPhone and iPad lineups, Apple Pay, the Apple Watch which is quietly becoming the bestselling smartwatch globally, and much more. Again, in mid-2018, Apple recorded yet another milestone success after it became the world's first trillion-dollar company.
Though Apple has recorded considerable successes under Cook, his reign hasn't been without criticism. Some have frowned at the current Apple CEO's leadership style perceived as lacking innovation, product blunders and changes in the company's focus. For some, Apple under Tim Cook has become a tech giant that is more focused on being a force for good by fostering privacy, diversity, and carbon neutrality.
How Much Is He Worth Today?
Tim Cook is considered one of Apple's most important employee. It is under his leadership that the iPhone maker's market value eclipsed to over $1 trillion in 2018. Cook reportedly earns around $3 million per annum and his net worth is currently pegged at  $625 million. However, that value is expected to increase as the company's market value continues to soar.
The multi-millionaire tech executive is a dedicated philanthropist who spends his fortune on various charitable causes. Notably, Cook has his name stamped in the 'Giving Pledge' after he announced plans to donate his entire fortune to charity in 2015.