Ever since the invention of the internet and smartphones, both technologies have been at the forefront of changing the operation of the human economics. A major part of that sweeping change is that these 'new world' sectors have thrown up countless startups that could have otherwise not been possible. Thus, in March 2009, it was the turn of UberCab, the company that has ended up becoming Uber today.
Uber (registered as Uber Technologies Inc) set out to revolutionize the transportation industry particularly but has also done a lot to diversify their portfolio over the years. Today, the company that was a flimsy idea from a nasty experience of the co-founder Garret Camp on the New Year's Eve of 2008 now has a presence in more than 60 countries and over 780 metropolitan areas in the world. We took a look at how Uber has grown, its present net worth, and how the company makes its money. Check it out below.
How Much Is Uber Worth?
2019 was a very tough year for Uber. Due to increasing competition from other similar start-ups like Lyft, Grab, Didi, Taxify, Doordash, Postmates, Caviar, and more, the company was reported to have lost a whooping $1 billion in the first quarter of 2019. Then, in a bid to contain the surging competition, during its IPO in May 2019, further slashes in the company's stocks led to a further loss of about $5 billion by the mid-year.
Although by the end of the year, analysts were predicting a comeback for Uber Stocks in 2020, the economic downturn expected after the COVID-19 crisis seems to be dashing that hope at the time of writing this. The bottom line is that even the best sources are undecided on the current asset value of the company. In any case, according to the valuation of Uber when it went public in 2019, the ride-sharing company was worth $82 billion. By comparison, this was more than the worth of two iconic American companies, General Motors and Ford.
Uber's net worth comes from a rapid expansion driven by a guerilla need to redefine public transportation in cities all over the world. Given this fact, anyone considering to invest in the Uber stocks may allow himself to be guided by other parameters (after all, Uber is not the only company to suffer the COVID-19 after-effects). So, investor confidence in Uber can still rest on the fact that, today, as mentioned earlier, the company has more than 22,000 employees across the globe, all of whom work to maintain and expand its services across 63 countries and more than 780 cities.
Other relevant numbers to consider are the fact that the company posted a revenue of $11.27 billion as of late 2019. Also reported was more than $23.9 billion in total assets, $10.3 billion in Equity, and an operating income of $2.836 billion.
The company's journey to a net worth of $82 billion began in New Year's Eve in 2008 after Garrett Camp, a computer programmer, spent $800 hiring a private driver. Like a light bulb moment, he thought of making direct and private transportation cheaper by sharing the cost with people. With his idea, he partnered with Travis Kalanick, and the company was officially founded in 2009. The company had a beta launch in May 2010, and it was formally launched to the public in San Francisco in 2011.
Uber initially started with luxury cars before it launched to a more affordable non-luxury vehicle option with UberX in 2012. By the early parts of 2013, Uber had expanded to 35 cities, allowing drivers to use their vehicles as part of UberX, a model that has remained till today and helped the company in its global expansion, achieving its incredible net worth in the process.
Its first international expansion was in December 2011 to Paris, France, following up with expansion into Canada in 2012 with Toronto.
Four years after Uber was founded, the company was worth $3.5 billion according to the Series C valuation by Google Ventures, and in 2014, it was worth $17 billion during a Series D investment round, rising to $40 billion before the year was over.
By 2015, Uber had further risen in value to $62.5 billion, and at the time of its IPO four years later, the ride-sharing company was worth $82 billion, at $45 per share.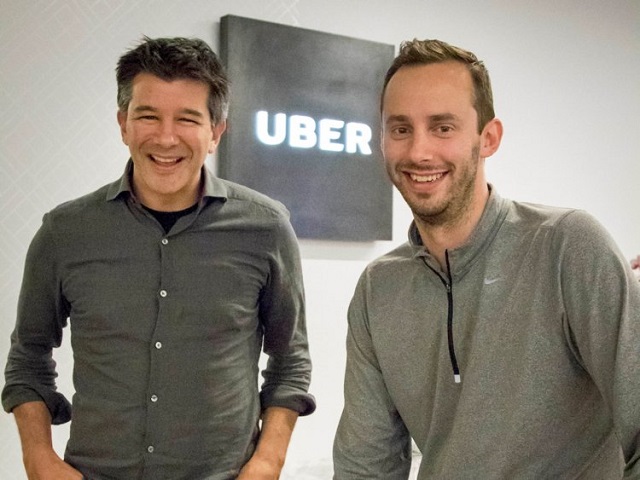 Since its establishment, Uber's worth has grown through its expansion into more 20 services such as UberEATS, Uber Bike, Uber Works and several others.
How Does Uber Make Money?
The Uber business model, which is the same with other ridesharing companies, involves the company taking a percentage of every trip charged through its mobile apps.

According to Investopedia, Uber charges 25% of every ride, 5% more than its rival, Lyft. Each city has its own rates, which is determined by the demand for the company's service as well as the quality of vehicles on offer and demanded by users of the service.

With the use of dynamic pricing, the cost of each fare is determined by the demand for rides on each route, with pricing increasing in tandem with growing demand, a pricing model that has met with its own share of controversy since the company was established.

The company applies the model in all its services, including Uber Health (for transportation of medical patients), UberEATS, UberFreight, and Uber For Business.

See Also: How Much is Twitter Worth in 2019 And How Do They Make Their Money? 

While the business model has helped Uber expand to more than 780 cities worldwide and a net worth of $82 billion, it has yet to turn a profit, although that is expected to change in the near future. The company has a growing curve of revenue, which grew to $11.3 billion in 2018.

Fact Check: We strive for accuracy and fairness. If you see something that needs updating,