Born at Maggie Valley, North Carolina, Popcorn Sutton lived and died as a rural Appalachian. He became famous as a moonshiner and bootlegger, at a time they were considered as illicit businesses in the US.
Many people consider Sutton a one-off personality for having the courage to gain notoriety in an illegal business. Not only did he become famous through the illegal trades, but he also wrote a self-published work (actually an autobiography) to teach people the art of moon-shining. He also self-produced a home movie depicting the then illegal art. His unique personality eventually made him the subject of many documentaries including one that won an Emmy. Interestingly, just a year after Popcorn Sutton died, moon-shining got legalized in the USA. Today, a popular whiskey – Popcorn Sutton's Tennessee White Whiskey – is named after him.
Get to know more about this very unique personality below.
Who Was Popcorn Sutton?
Marvin Sutton (popularly known as Popcorn Sutton) was born on October 5, 1946, and he died on March 16, 2009. He was a Scots-Irish American who was born and brought up in the South-Eastern Appalachian region of the United States. As already mentioned, Popcorn Sutton became famous for producing moonshines, a class of high-proof whiskey, and for smuggling liquor illegally (known as bootlegging). As he claims, he descended from a long line of moonshiners.
He committed multiple crimes
In his 62 years on Earth, Popcorn Sutton was convicted several times, not only for possessing and selling controlled substances (liquor mostly) but also for being in possession of firearms and other crimes. As a teenager, Sutton earned his nickname "popcorn" for attacking a bar's popcorn vending machine for being faulty.
In spite of getting into trouble several times for his moon-shining and other related crimes, Sutton went ahead to write, self-publish and sell an autobiographical book which he also used as a moon-shining tutorial. The title of the book which Sutton sold from his ramshackle shop in Maggie Valley, North Carolina, was Me And My Likker. As if this was not dare-devil enough, popcorn Sutton still went ahead to produce a home movie version of the book and with the same title. What is more? This was happening when Sutton was already above fifty years.
Only two years to his death, Popcorn Sutton got legally married to Pam Sutton.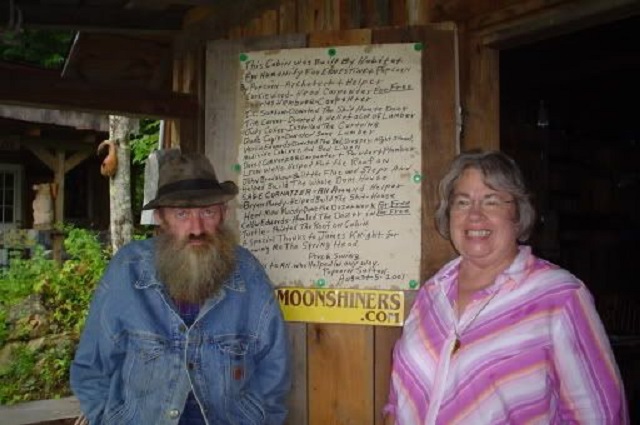 How Did Popcorn Sutton Die?
In spite of being so extraordinarily notorious all his life, Popcorn Sutton never became famous until he was nearly sixty years of age. First, his notoriety had drawn the attention of many, including Neal Hutcheson who included Sutton in his 2002 documentary Mountain Talk. The piece was focused on expressing the unique 'mountain dialect' of the southern Appalachian people. In that documentary, Sutton was only on set as one of the Appalachians.
But then, Hutcheson probably realized Sutton could be an asset in a bigger way. So, there was another 2002 Hutcheson movie that focused on the then illegal trade of making moonshines. That movie titled This Is The Last Dam Run Of A Likker I'll Ever Make starred Popcorn Sutton and was the beginning of his fame. But it was also the beginning of his death. How?
Of course, This Is The Last Dam Run Of A Likker I'll Ever Make was clearly an allusion to Sutton's earlier self-produced book and movie, Me And My Likker. So, the Hutcheson movie drew fresh and wider attention to Popcorn Hutton's moon-shining activities. While Sutton got featured in more screen projects from then, the authorities also began to investigate him more without his knowledge.
In 2007, during a fire incident at one of Sutton's real estate, firefighters discovered a large cache of untaxed liquor which led to Popcorn Sutton getting convicted yet again. As in previous cases, he was again placed on probation but the incident got him more exposed to the prying eyes of the authorities. So, in 2008, an undercover cop got Sutton to reveal that he had large amounts of illegal alcohol still stashed away in another property of his. Eventually, this led to popcorn Sutton getting convicted once again. But, this time, Sutton's case got worse on two counts. First, he was only recently diagnosed with cancer. Secondly, in spite of his plea to serve his sentence under house arrest – based on his medical condition – the judge insisted on Sutton going to jail since he had been convicted over and over again beforehand.
It was concluded in January 2009 that Popcorn Sutton would be spending 18 months in jail but in March 2009 – a few days to the start of his prison term – Popcorn Sutton was found to have committed suicide in his car by carbon monoxide poisoning. Apparently, he did so to avoid serving the prison term. Meanwhile, Sutton's daughter Sky has also testified that Popcorn told her that he would rather commit suicide than go to jail.
His net worth at the time of his death
There is no reliable information on Popcorn Sutton's net worth because he made most of his wealth via illegalities. But some sources claim the moonshine baron was worth as much as $13 million when he died. This is not surprising considering that illegal businesses are often huge money-spinners. Moreover, he must have received handsome payments from those documentaries he was featured in. And his book Me And My Likker still sells even posthumously.