It takes a lot of courage and skill to strap yourself into a special kind of car and go flying down racecourses and all kinds of tracks at breakneck speed and there are very few people who have the guts to let go and test the limits of a car in such suspense-filled setting. Interestingly, there are people like Tanner Foust who consider these things to be just another regular day. He is a superbly gifted driver and television host who is well known the world over for his exceptional podium placements and car control which have led him to win all sorts of records and championships. When it comes to stunt driving, few people do it better than Tanner. He has held various world records for the Hot Wheels Double Loop Dare and was the first American to claim victory in a European Rallycross Championship round.
He is one of the most revered drivers at home and abroad, and he has years of experience competing at different levels and competitions including rally racing, open-wheel, ice racing, SCORE Baja, rallycross, and Pike Peak Hill Climb. Away from the wheels, Tanner has served as a co-host of the critically acclaimed motoring television show, Top Gear (American version).
Early Life
The professional driver was born on June 13, 1973, in Los Angeles, California. His parents are named Jane and Dave Foust. Tanner's father was a naval officer and his work led to the family relocating to Scotland when he was little. While there, he kindled a love for cars and soon learned how to drive by practising on the road close to his house. Upon his return to the United States, Tanner bagged a degree from the University of Colorado where he studied molecular biology.
Whenever his school was on holidays, Tanner Foust would go find work at the track, doing mechanic work and coaching in order to get some time riding the cars. After graduating from college, he started working as a driving instructor and coach, while also participating in any competition that he qualified for. From this point, it was easy to pivot to professional racing, which led to him relocating to Hollywood where he found steady work as a stunt driver in Hollywood movies and television productions.
Over the years, Tanner has established himself as one of the busiest and most reliable professional drivers in the industry. He has had the great honour of competing alongside several established drivers such as Sebastian Vettel, Colin McRae, Jenson Button, Rod Millen, and Michael Schumacher. In 2010, his career took another leap in the right direction when he was chosen as a presenter on the American version of the series Top Gear. This led to him getting hosting offers on other shows such as Import Turners on ESPN, SuperCars Exposed, and Redline TV on SPEED Channel.
Tanner Foust's career as a stunt driver has led to him being featured in several blockbusters such as The Dukes of Hazzard, Iron Man 2, The Fast and the Furious Tokyo Drift, and Need for Speed. He became the first driver in the history of the Formula Drift series to win two consecutive championships. He has also competed in several competitions in America and on the international front.
His Net Worth
As a professional driver, Tanner Foust has earned a lot of money from sponsorships, competitions, and his work as a Hollywood stunt driver. Consequently, he has accumulated a hefty net worth of $1.2 million.
Is Tanner Foust Married? 
On the personal front, Tanner Foust is not married to anyone at the moment neither is there any record of him having been married in the past. However, the race driver has been reported to be in a relationship with Katie Osborne, the dedicated FOX Sports reporter. The happy couple has been living together for a while now and shows no signs of splitting up.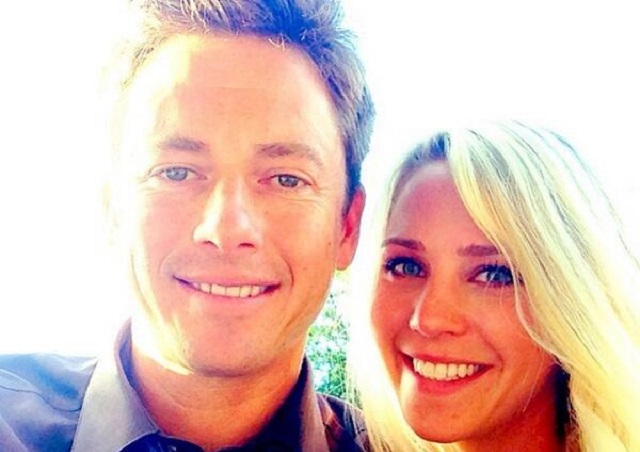 Still on the family front, it came as a surprise to nearly everyone when Tanner revealed that he has a daughter. This was particularly confusing because there was never any mention of a girlfriend who was pregnant for him and no one has been identified as the girl's mother till date. Tanner's daughter has now grown into a beautiful teenage girl.
Read Also: Is Michael Teutul Married? – Here are Facts
Height
Tanner is easily one of the most talented and popular stunt race drivers in the world of car racing and he stands at a height of 5 feet 8 inches, which is an acceptable height considering that his profession does not require him to be exceedingly tall.