Tamara Taylor is a respected Canadian actress who is loved by many people for her incredible acting talent and charming voice. Having started her acting career since 1987, she is considered a veteran actress in the business which she gave everything she had to rise through the ranks to the very top of the game. She has appeared in several movies and TV series and has also worked as a voice artiste in different animated TV series and movies. A beautiful woman, she has also worked as a model before.
As an actress, Tamara Taylor is now best known for portraying Dr. Camille Saroyan in Bones, an American crime procedural comedy-drama TV series. Her work on the series gave her lots of exposure and praise for her acting skills. She is also known for her work on Hidden Hills, an American sitcom in which she played Sarah Timmerman.
Tamara Taylor's Biography
Tamara Taylor was born on the 27th of September 1970 in Toronto, one of the major cities in Canada, where she was also raised.
The actress was born to a father identified as Vaughn Grouse and a mother called Deborah Reid. According to reports, her father worked as a musician and her mother worked as a property manager. However, her parents did not stay together for long; they got divorced when she was still a child so she was raised by her mother who was very supportive of her career and gave her the needed guidance along the way.
Tamara has always had an eye for the world of fashion and entertainment and wanted to make a name for herself in the industry. While she was still in high school, she decided to try out a career as a model and see the world. She consequently decided to quit school to concentrate on modeling. When she told her mother about her decision, the older woman was supportive and gave her blessings.
Tamara enrolled in modeling classes to boost her confidence and skill. She soon started landing modeling gigs. However, after a while, she decided to give acting a shot and began to audition for roles.
Movies And TV Shows
Tamara Taylor kick-started her acting career in 1987 when she was cast in LBJ: The Early Years, a TV Movie. In 1988, she scored her first role on a TV series when she starred in A Different World. These early roles in her career helped to build her confidence in front of the camera.
The actress began to get attention in 1996 when she appeared in Party of Five, a TV Series in which she played Grace Wilcox. She played the role across 16 episodes from 1996 to 1997. In 1998, she appeared in Senseless as Janice then portrayed Geri Nicholas in Introducing Dorothy Dandridge, a TV Movie.
Tamara starred in 14 episodes of City of Angels, a TV Series, in 2000 receiving positive reviews from critics. She then starred in One Special Moment, another TV Movie, as Colby Watson in 2001. In 2002, she played Sarah Timmerman in Hidden Hills, a TV Series before landing the role of Dr. Leslie Harrison in CSI: Miami. In 2005, she portrayed Nina Spencer across 8 episodes of Sex, Love & Secrets.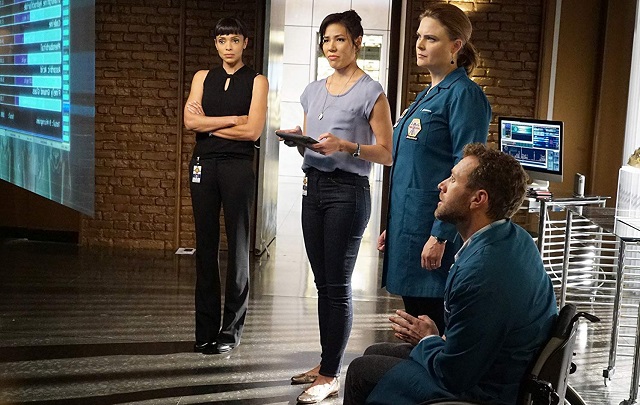 Tamara Taylor scored one of the biggest roles in her career so far in 2006 when she joined the cast of Bones, an American procedural comedy-drama TV series in which she played Dr. Camille Saroyan. Tamara played the role across 223 episodes, from 2006 to 2017, impressing so many fans who consider one of the most interesting Canadian actresses to watch.
Since scoring her role in Bones, Tamara has appeared in other prominent TV series such as NCIS in 2006, Dating In LA and Other Urban Myths in 2014, Justice League: Gods and Monsters Chronicles in 2015, Altered Carbon in 2018, and October Faction in 2019, among many others.
Net Worth
There is no doubt at all that Tamara Taylor has been able to rake in quite a substantial amount of money over the years with her work as an actress. She has appeared in several feature movies and TV series, cementing her place as an interesting actress to watch and accumulating some wealth in the process.
At the moment, the actress is reported to be worth about $4 million by different sources.
Other Facts About Tamara Taylor
She Is Of Mixed Ethnicity
Tamara Taylor is of mixed ethnicity. Even though she is clearly a Canadian woman, she also has African and Scottish roots. This is because, according to sources, her father Vaughn Grouse is an African Canadian man and her mother, Deborah Reid, is a Scottish Canadian woman.
Read Also: Diora Baird Biography – 5 Facts You Need To Know About The Actress
Is She Married?
Tamara Taylor used to be a married woman. She was married to a lawyer called Miles Cooley. The couple got married on June 10, 2007, and lived together peacefully for about 5 years before they eventually got divorced in May 2012. They had no kids together during their marriage.
Body Measurements
Tamara Taylor stands at ‎5 feet 7 inches in height and is reported to weigh about 123 lbs. Her other body measurements have been revealed to be 34 inches (chest), 23 inches (waist) and 34 inches (hips).

Fact Check: We strive for accuracy and fairness. If you see something that needs updating,