Scott Van Pelt is a respected American sportscaster who has spent decades in the business and has made great strides as a journalist. Having kick-started his career in 1990, he is considered a veteran who has given everything he has to climb to the top as a sportscaster. He has worked in different media outfits, stunning fans with his skills as a sports talk show host, and establishing himself as one of the very interesting sportscasters to watch.
Scott now works as a solo anchor for a midnight-edition of SportsCenter, a popular daily sports news TV program that serves as a flagship of ESPN. He has been on SportsCenter since 2001, making him one of the longest-running acts of a sports show ever. For many aspiring sports journalists, the secrets to his success remain elusive. But not anymore.
Scott Van Pelt Holds A First Degree In Radio/Television and Film
The sportscaster was born in 1966 in Brookeville, a town in Montgomery County, Maryland, USA.
Scott was born to a father identified as Sam Van Pelt and a mother called Cathie Mathis. According to reports, he has three brothers identified as Mark Van Pelt, Matt Van Pelt, and Mike Van Pelt.
Growing up, Scott attended the Flower Valley Elementary School, located in Rockville, Maryland. He then went on to study at Sherwood High School, located in Sandy Spring, Maryland. Upon his graduation, SVP proceeded to attend the University of Maryland, studying radio/television and film. He graduated from university in 1988 and has since made a name for himself as a journalist of good repute.
He Boldly Quit His First Job To Go For A Higher One
After graduating from university, Scott Van Pelt kick-started his career in 1990 when he landed his first job at WTTG-TV, a Fox owned-and-operated television station in Washington, D.C. He gained lots of experience in sportscasting while on the job.
After some time at WTTG-TV, he quit his job there and joined the Golf Channel, an American pay television network owned by the NBC Sports Group in 1995. While at the Golf Channel, he worked as a studio host for some of the network's signature programs from 1995 to 2000 and became quite popular among fans of the network.
5 Years At Golf Channel Was Enough To Prepare Him For A Shot At ESPN
In 2001, he left the Golf Channel and joined ESPN. At ESPN, he worked as a presenter for SportsCenter. He also covered some major golf tournaments, including the Master's Tournament. Before long, he rose to become one of ESPN's top golf correspondents.
Over the years, he has become one of the most famous faces on ESPN. He also worked extensively for ESPN Radio, becoming one of its most prominent personalities. At ESPN Radio, he co-hosted the Tirico and Van Pelt Show alongside Mike Tirico. However, when the show got canceled, it was replaced with Scott's show called The Scott Van Pelt Show, a three-hour program. The show was later renamed as SVP & Russillo in October 2012.
In May 2015, Scott left the SVP & Russillo show to become a solo anchor for a midnight-edition of SportsCenter. He continues to work there today and has won a lot of fans for himself over the years.
Beyond having a career that has lasted more than three decades, Scott Van Pelt's achievements also include awards and nominations. He has two nominations from Sports Emmy Awards for Outstanding Sports Personality. He also has a nomination from Producers Guild of America for Outstanding Sports Program of the Year.
Soft Skills Have Played Their Part Too
Discipline, hard work, knowledge are soft skills that have contributed to Scott Van Pelt's success as a sportscaster. But none of them have a more contributory power than authenticity. The sports journalist's ability to give an air of trueness is why he is one of the most respected sports hosts on TV for years.
Looking through his career, it is evident in many ways, but none more so than his bald head. In his earlier years as a journalist, SVP began losing his hair. Rather than wear wigs or spend some of his millions on a procedure, he went bald. He boldly embraced the change found embarrassing by most men.
Although a nationally famous multimillionaire, Scott Van Pelt, is by no means an Everyman. His ability to project he is has enabled millions of sports fans to connect with him. As a result, while most sports shows are losing ratings, SVP's show continues to grow.
Aside from his Everyman persona, Scott Van Pelt is a visionary. Ahead of what is common among sports shows, he has introduced human elements to his shows, with segments like 1 Big Thing and Bad Beats. The latter covers gambling projections, and he started years before the US Supreme Court made sports betting legal. By the time other sports outlets were updating their gambling coverage, Scott was already ahead of the curve.
These two qualities have helped Scott Van Pelt keep his place at ESPN, a media outlet known for its high turnover of talents. And not only has it made him the face of ESPN, but he has also made him significantly wealthy.
His Hard work Has Hugely Paid Off
There is no doubt at all that Scott Van Pelt has been able to rake in quite a lot of money over the years in the course of his career. He has worked for the top names in the media sphere in America, winning a lot of fans and making money in the process.
According to reports, ESPN talk show hosts and anchors earn between $51,000 to $81,000 in salary. However, thanks to his career history and achievements, Scott Van Pelt commands up to $2 million per year. As a result, the ESPN superstar has amassed a personal net worth of $16 million, making him one of the wealthiest sportscasters on TV.
READ ALSO: Who Is Nicole Briscoe Of ESPN? Here Are Facts You Must Know About Her
A Popular Sportscaster with a Private Personal Life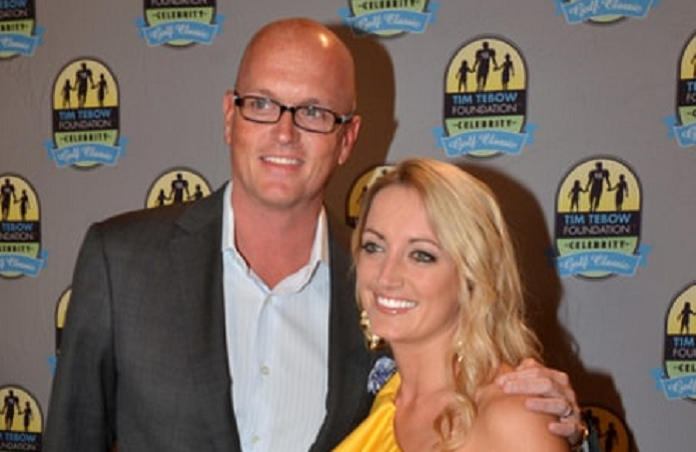 Scott Van Pelt is a happily married man. The sportscaster is married to a woman identified as Stephanie Van Pelt. Despite being a partner of the ESPN icon for years, details about her life and career have mostly stayed out of the public. It is however known that she worked for ESPN's college football programming as an associate producer.
Facts about how the couple met and fell in love with each other are not known to the public. However, it is clear that they tied the knot as husband and wife in 2011.
Things really fell apart on 11 pic.twitter.com/l0TNwWIAYJ

— Scott Van Pelt (@notthefakeSVP) May 22, 2020
The couple now has three children; a boy and a girl. Their daughter Lila Catherine was born in 2012, and their son, Sam, was born in 2016. He and his family live in Farmington, Connecticut. The family used to live in West Hartford but moved to a larger house when the family got bigger.