Every Hollywood fan would certainly be familiar with the Livelys- the family where everyone, including their parents, is in the entertainment industry. In this article, we shall be taking a look at one of the Lively kids- Robyn Lively. Here's everything you need to know about the actress.
Who is Robyn Lively?
Born on February 7, 1972, Robyn Lively is the half-sister of Blake Lively the renowned actress who is best known for her roles in a popular teen-drama TV series Gossip Girl. 
Robyn's full name is Robyn Elaine Lively, she was born in Powder Springs, Georgia, to her mother Elaine Lively (née McAlpin) who is a talent manager, and her father Ronald Otis (Ronnie) Lively. She has two older siblings Lori and Jason, and two half-siblings Eric and Blake. Robyn's stepfather is Ernie Lively. The actress belongs to white ethnicity and holds an American nationality. 
Acting Career
As we already know, the Livelys are a family of entertainers. Lori, Robyn's older sister, for instance, is a TV actress and acting coach to some youngsters in the entertainment industry. Ronald Jason Lively who is best known as Jason Lively started as an actor in the action-comedy TV series The Dukes of Hazzard, but now he is a businessman owning a mobile roasted corn business known as Jimmy Crack Corn.
Robyn's stepfather Ernie is an American actor and an acting coach. He is also known for his acting roles in the  1992 action film  Passenger 57, as well as the 2005 comedy-drama The Sisterhood of the Traveling Pants. 
As for Robyn Lively, acting has always been of major interest to her from her early age. She started acting at the age of six and made her TV debut in 1978 with the TV movie titled Summer of My German Soldier. Lively was also known for her feature roles in several other TV series like Punky Brewster and Silver Spoons. She also made remarkable roles in some films produced in the 80s. These films include The Karate Kid Part III, Wildcats, Not Quite Human and Teen Witch. Robyn Lively was, in fact, one of the nominees for an Emmy Award following her captivating performance in an anthology series Afterschool Special which was aired on ABC in 1991. Then, she was just 19 years.
Net Worth and Awards
Having been acting since she was a child, Lively's source of wealth could not be farfetched. With over three decades of acting, Lively has a net worth of about $500, 000.
Between 1984 and 1989, Robyn Lively was nominated consecutively for the Young Artist Award for her roles in films and TV series. She was also nominated for the Daytime Emmy Award in 1991, for her role in The Less Than Perfect Daughter episode of the ABC Afterschool Special.
Robyn Lively's Family: Husband and Kids
Robyn Lively sure has a very successful career life. Not only did she have a remarkable career start which has now earned her some financial stability and recognition, she also met her heartthrob right in the entertainment industry.
Lively is married to Bart Johnson, a Hollywood-born actor best known as Coach Jack Bolton in the 2006 musical film High School Musical film series. The two settled as a couple on September 25, 1999, but before Robyn made the final decision to settle with Johnson, she dated a number of fine-looking young men like the American actor and singer Neil Patrick Harris and a Canadian-American director and actor Jason Priestley.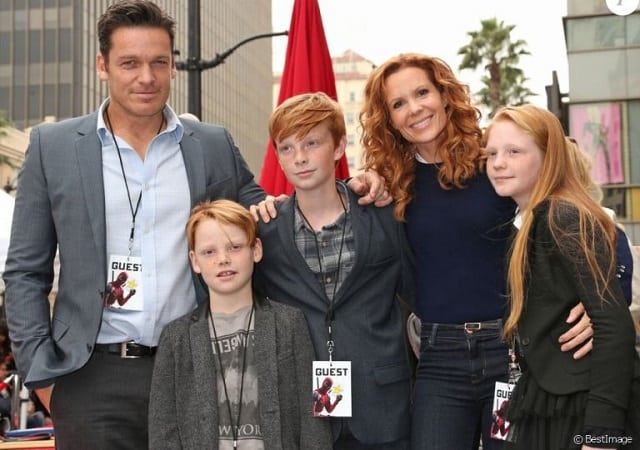 Following her marital relationship with Johnson, Robyn automatically becomes a daughter-in-law to Charlene Johnson her husband's father. She also has Johnson's four sisters as her sisters-in-law and his three brothers as brothers-in-law. Robyn and Jason have two sons Baylen and Wyatt Blake Johnson, and a daughter Kate Johnson.
One more interesting fact about beautiful actress Robyn is her strong bond with her half-sister Blake Lively. The two sisters are often seen together at events. Blake is Robyn's older sister but when it comes to good bonding, they are just the perfect kind of sisters who share things among themselves. Blake even named Robyn the godmother of her daughter, James Reynolds, who was born on December 16, 2014. Blake's second child is Inez.
Robyn Lively's Height, Weight, Body Measurement
Robyn is 5′ 8″ (1.73 m) tall and weighs 126 IBs. Her body measurement is 35-26-36.