Ray Liotta is a veteran American actor, director, and producer who is best known for portraying the bisexual cop in the famous crime drama titled, Shades of Blue. He has been a prominent figure in the American entertainment industry and has starred in dozens of movies. Some of his movies include The Place Beyond the Pines, Field of Dreams, Goodfellas, and Identity. He has also played the role of a voice actor in the video game titled, Grand Theft Auto: Vice City and many more.
Aside from his sterling career, Ray has also been in the news because of his numerous relationships. The actor who was only married once became quite notorious for his many romances with top celebrity ladies and his dalliances date as far back as the 80s.
What We Know About Ray Liotta's Failed Relationships
He has been married once
Ray Liotta has won the heart of many women since the inception of his acting career however, even the relationship that made him walk down the aisle did not do so well. His only known wife is the American actress, Michelle Grace who was born on December 4, 1968. She is notable for having a degree in theatre and has starred in a handful of movies including Take the Lead, Narc, and The Rat Pack. In addition to her acting career, Grace is also a producer and has worked on the set of several movies such as Baseball Wives, Narc, and Knights of the South Bronx, among others.
According to reports, the couple first met each other several years ago at Michelle ex-husband's baseball game, that is, the baseball player, Mark Grace with whom the actress tied the nuptial knot in 1988 but annulled their union in 1993. A few years after her divorce, Michelle rekindled her friendship with Ray and the pair sealed their love with a nuptial bond on February 15, 1997.
They exchanged marital vows in the presence of their close friends and family members in Las Vegas. About a year after their wedding, the couple co-starred in the 1998 movie titled, The Rat Pack where Liotta played the lead role of Frank Sinatra and his wife portrayed Judith Campbell.
After 7 years of a successful marriage, Ray Liotta and Michelle decided to end their union in 2004 but did not share the reason for their divorce. More so, they have maintained quite a good bond over the years, and sometime in November 2017, they were seen holding hands as they traveled together. The pair have also done a pretty good job in raising their daughter, Karsen Liotta who was born on December 21, 1998.
Like her parents, she has made a career out of acting. Her debut film appearance was in the movie, A Rumor of Angels when she was just 2 years old. Since then, she has appeared in other movies such as Trump's America, A Rose for Emily, Mississippi Requiem, and Shades of Blue. Ray's amazing daughter also started her modeling career when she was 15 and she has been working as a fashion model for Brandy Melville.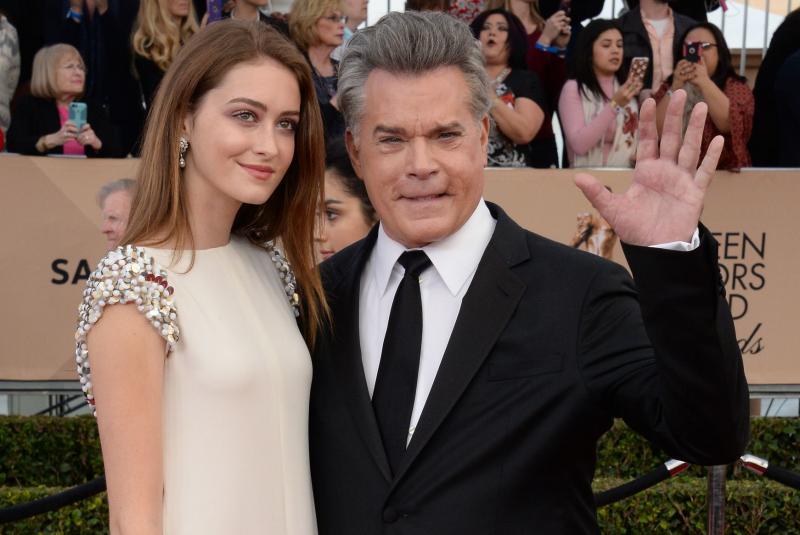 Ray Liotta was in a relationship with Catherine Hickland, Heidi Von Beltz, Sherri Rose and others
One of Ray's major relationships is his 4-year relationship with the American actress, Catherine Hickland. The pair hooked up barely a year after Catherine's divorce from her husband, Michael E. Knight. Although many thought this relationship would lead to marriage, that did not happen for the couple who called it quits in 2011. The reason for the sudden split remains unknown to the public and what was even shocking was the fact that Catherine got married the next year to Todd Fisher, her husband to date.
Prior to this relationship, the veteran actor has been in several short-lived relationships which usually last for only a year with a few exceptions. Ray's fling with the One Life to Live actress, Susan Keith lasted for only a couple of months in 1980 before he moved on to dating the renowned writer, Heidi Von Beltz sometime in 1981 till 1882.
In the early 90s, Ray Liotta dated the Blame it on Rio actress, Michelle Johnson briefly in 1991. The same year he left Michelle, he started a romantic relationship with Sherri Rose who is notable as an actress, producer and screenwriter. Like his other relationships, this romance was also short-lived as it ended the next year. The actor has also been in a brief relationship with Donna Puzio which lasted from 2003 to 2004 and later on he dated Jill Marie Jones for a short while in 2006.
Who is Ray Liotta Dating Now?
Since the early part of 2020, the veteran actor has been seen with a lady who has been identified as Jacy Nittolo. The pair has been spending ample time together for a couple of months now and in May 2020, they were seen at the Gold's Gym in Los Angeles. Not much is known about Jacy's background and what she does for a living but it was gathered that she is also divorced like Ray and has 4 kids, a girl and 3 boys.
The pair seemed to be very open in showing affection for each other as they have been caught on several occasions curdling and kissing in public. This might just be the kind of woman Ray has been waiting for as he once revealed that he would prefer a lady who is not so career-driven like himself rather a woman who would be with him because of the affection. Jacy seems to be a perfect fit since she seems to live a simple life and she is not an actress like his numerous past lovers.
See Also: Does Robert Ri'chard Have A Wife or Girlfriend & Who Are His Parents?
Despite His Numerous Relationships, Here is Why Liotta's Sexuality Has Been Questioned
Ray Liotta has played several roles in movies as well as television series and notable among his TV appearances is the role of a bisexual cop named Lieutenant Matt Wozniak in the American crime drama, Shades of Blue. Following his unusual kiss with a fellow guy in one of the episodes, rumors began to spread that Ray could be gay. However, the veteran actor was also surprised at seeing the extent such rumors about his sexuality could go in reality. Apparently, Liotta is not gay, he has a straight sexual orientation and his numerous relationships can clearly attest to this fact.