It could be said that more people are familiar with Matthew Fox, or at least have seen a movie or TV show he appeared in. After all, he has starred in popular projects like Bone Tomahawk, Lost, World War Z, Alex Cross and a couple more. His wife, Margherita Ronchi, on the other hand, although has a career in entertainment, does not share a similar level of fame.
In learning more about the actor, one must take a closer look at his wife and we do so in this article, diving into the life and biography of Margherita Ronchi, her life as a former model and her relationship with the actor so far. Read on to learn more.
Who Is Margherita Ronchi and When Was She Born?
Margherita Ronchi was born on the 14th of July, 1966 in Venice, Italy. Growing up in one of the famous cities in the world, Margherita had a childhood that revolved around modeling and fashion having been born to a mother who had a modeling studio. There is no information regarding her father or her siblings if she has any.
Her mother's modeling studio paved a chance for Margherita Ronchi to become a model at an early age and she began to model for several fashion brands. The early introduction also gave Margherita the insight to pursue academic knowledge in fashion design and learn various aspects of fashion.
Until she got married and chose to phase out her heavy involvement in modeling, Margherita Ronchi worked across Venice and the United States. She also took up a minor interest in acting after meeting Matthew Fox but modeling was her first and true love.
Margherita Ronchi no longer commands the regular photo shoots and magazine spread that once defined her life but she still makes the occasional appearance on a couple of magazines, choosing instead to be primarily a homemaker.
Her husband, Matthew Fox has had a decent acting career that has seen him star in one of the most popular shows of all time, Lost. In the show, he played the character, Dr. Jack Shephard and has been on the receiving end of a couple of awards and nominations, including the Golden Globe award and the Primetime Emmy Awards. With over 20 films and TV shows to his name, Margherita Ronchi's husband, Matthew Fox is a successful actor.
Family Life
Now, a look at what has kept Margherita Ronchi in the media spotlight – her relationship with Matthew Fox.
A lot of the important changes and moments in our lives have been down to random moments of coincidence and chances. When Margherita Ronchi took the trip to visit New York City in 1987, little did she know that she would be meeting her husband in an innocent trip that was designed for her to explore the famous city and spend time with a friend.
The friend, whose name is unknown, introduced Margherita Ronchi to Matthew Fox, who at the time, was a student of Columbia University. Following the introduction, an interaction continued between the two that blossomed into a relationship.
Eventually, the belief in what they both share as lovers caused Margherita Ronchi to relocate to New York, following the completion of her visit and subsequent return to Venice.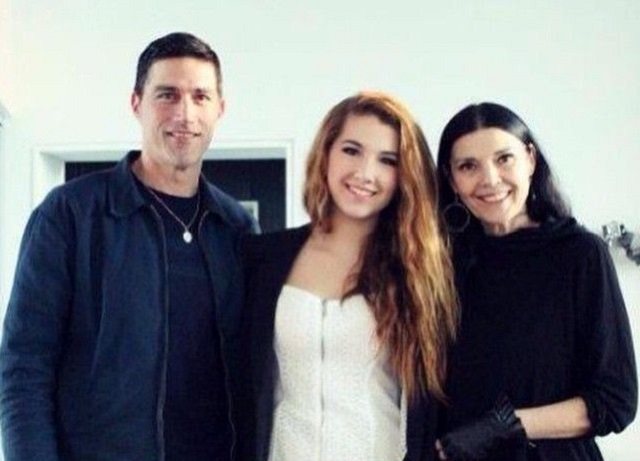 Five years after their first meeting, they got married on the 1st of August, 1992. Since the marriage began, they have shared more than love and companionship, welcoming two children, a first-born daughter named Kyle Fox who was born in 1998 and a son born in 2001 who is named Byron Fox.
For many Hollywood relationships, brevity is a trait, crashing before you get chance to spell out happily ever after, but Margherita Ronchi and Matthew Fox have remained together as a married couple ever since, even at the peak of his career as a lead character on the show, Lost.
See Also: Felicity Blunt – Biography, Wife of Stanley Tucci and Sister To Emily Blunt
Other Facts About Matthew Fox's Wife
For a while, Ronchi and her husband Fox were a member of the same profession – Modeling. Although her husband, Matthew Fox is more renowned as an actor, he started out as a model, appearing in a couple of photo shoots and magazine covers before he found his true love in acting.
She has black colored hair and dark brown eyes. She has a height of 5 feet 9 inches.
Although she never took up acting as a profession, Margherita Ronchi and Matthew Fox both studied at the Atlantic Theatre Company in New York.