Marc Maron is easily considered one of the most popular American stand-up comedians in recent times. He performed standup for the first time when he was 24 years old and has since delved into other areas of entertainment, including acting, podcast and radio hosting. Also a writer, his first one-man show, Jerusalem Syndrome, was released in book form in the year 2001.
He has appeared in a number of television shows such as Maron, which he executive-produced and starred in, portraying a fictional version of himself, as well as the Netflix comedy series GLOW in which he has co-starred since 2017. For his amazing performance in GLOW, Marc Maron was nominated for Best Supporting Actor in a Comedy Series at the 8th Critics' Choice Television Awards. He was also nominated for Outstanding Performance by a Male Actor in a Comedy Series at the 24th Screen Actors Guild Awards.
Marc Maron's Journey In The Entertainment Industry
Born Marcus David Maron on the 27th of September 1963, in Jersey City, New Jersey, the stand-up comedian performed comedy for the first time in 1987 at the age of 24 and later kicked off his professional comedy career at The Comedy Store in West Hollywood, Los Angeles, California, becoming an associate of the late American stand-up comedian and actor, Sam Kinison. In search of greener pastures, he moved to New York City and joined the New York alternative comedy scene, performing at comedy venues and also appearing in play productions.
Marc Maron kept on performing stand-up comedy and subsequently started making appearances on television, lending his voice in an episode of Dr. Katz, Professional Therapist and serving as host of the clip show Short Attention Span Theater for a while. He appeared in the 1997 theatrical comedy movie Who's the Caboose? and in 2000, he acted the role of an angry promoter in the film Almost Famous which turned out to be his major film credit for many years.
Hosting Gigs and Podcast
From February 28 to July 14, 2006, he co-hosted The Marc Maron Show with Jim Earl and in 2008, Marc Maron and Sam Seder began a daily show produced by Air America Media called Maron v. Seder (later renamed Breakroom Live with Maron & Seder from 2009). Sadly, it was not up to one year before the show was cancelled by the media house.
On the 1st of September 2009, Marc started hosting the WTF podcast which airs on Mondays and Thursdays from his garage in Highland Park, Los Angeles, California. He followed this up on the 3rd of May 2013, with the first season of his television series titled Maron, which premiered on IFC.
The funnyman was also a radio host. He co-hosted the Morning Sedition on Air America together with Mark Riley.
This Is How Much He's Worth
Having been in the comedy business since 1987, writing and performing original, honest, and thought-provoking pieces for print, stage, radio, and television, Marc Maron has succeeded in developing into a legend in the stand-up community. He has garnered an estimated net worth of $3 million from his successful career as of June 2020.
A 2014 report on the 20 highest-earning podcasts listed his WTF podcast show in the third position with a revenue of $14,640 per episode – $4,320 for the 20 seconds pre-roll ad, $6,000 for the 60 seconds mid-roll ad and $4,320 for the 20 seconds post-roll ad – and 250,000 downloads for each episode.
See Also: Darren Knight – Bio, Net Worth, Relationship and Affairs, Is He Gay?
The Comedian Has Been In Two Failed Marriages
Although the comic star has succeeded in various aspects of his career, his love life has not been a smooth ride. He has been involved in a series of failed relationships with different women and has even been married twice but both marriages ended in divorce.
Marc Maron was first married to producer Kimberly Reiss in 1997 when his career was still gaining speed. Sadly, they only stayed married for a few years before drifting apart and by 2001, their union had officially ended. While the marriage lasted, no child was produced by the couple and nothing has been heard of Kimberly as she loves to keep a low profile.
Marc Maron's Second Attempt At Matrimony
Barely three years after his second marriage failed, he tied the knot with Mishna Wolff, his former colleague in the standup comedy business but by 2007, they were no longer a couple.
Mishna is an American writer and humorist with a memoir dubbed I'm Down to her credit. The piece is based on her experiences as a child of the white race growing up in a black community where she was expected to blend in. At a later stage of her career, she performed on stage at Luna Lounge and the Upright Citizens Brigade.
Marc's marriage to Mishna formed a large part of his standup routines and podcast as he would often talk about his behaviours when they were together. He termed his actions towards her as emotionally abusive. Just like his first marriage, Marc's second attempt at marriage produced no children but Mishna is now married to Jeremy Doner with whom shares two kids.
The Real Reasons Behind Marc Maron's Failed Marriages
Speaking about his divorces, among other things, with Jon Stewart of The Guardian, The Glow star said that the failure of his first marriage was largely as a result of his addictions. According to him, he was angry, a druggie, and a drunk; in fact, Marc described his then-self as bad news.
His marriage to Mishna, Maron said, fell apart partly because he was needy after she helped him get clean but the neediness, according to him, was gnarled. The podcaster went on to describe his divorce from his second wife as the most devastating experience that he had ever gone through. It happened at a period the entertainer was going through very difficult times in his career and coupled with that, Marc told The Vulture Transcript, he was going broke very fast because Mishna wanted to bankrupt him out of his house. However, when she could not get the house, which Marc had bought in his name prior to their marriage, she hired lawyers to wreck him financially, the comedian alleged. "I was going down hard", he added.
Taking some of the blame for their failed marriage, Maron said some of his behaviours were horrible as it was somewhat emotionally abusive. Their union ended so badly that they are no longer in touch because, according to Marc, she cannot stand him. The couple's bitter divorce was the focus of Marc's standup tour in 2009 titled "Scorching The Earth".
His Relationships Since His Last Divorce
Moving forward, Marc got involved with Jessica Sanchez, a behaviour specialist who works with autistic children and kids who are extremely emotionally disturbed. Speaking in a 2012 interview with Jada Yuan of The Vulture Transcript for a magazine article, Maron revealed that they met at a book event in San Francisco. After their brief meeting at the event, Jessica sent him an e-mail saying she thought he was hot and wanted to sleep with him. Interested in the deal, they agreed to meet in Portland where they spent three days together.
A few weeks later, Jessica Sanchez relocated from San Francisco to Los Angeles, supposedly not because of Marc. Their relationship remained off and on for some time before they eventually broke up. However, Marc decided that what he felt for her was real so they got back together and Jessica moved in with him. The two eventually got engaged but it ended like Marc's other relationships before it. The comedian announced his breakup from Jessica on the October 14, 2013, episode of his podcast.
The following year, he made a public announcement during his podcast which aired on February 10th, revealing that he was in a relationship with the New York City-born actress and author, Moon Zappa. However, for reasons best known to the former couple, their love did not survive for up to three months.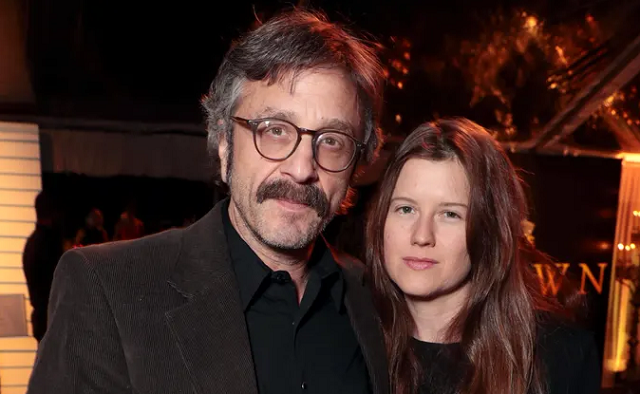 As always, Marc Maron found love again, this time in the arms of an American contemporary artist named Sarah Cain, who is 15 years younger than him. Speaking in an interview in November 2018, Sarah revealed that she met Maron through one of her friends who set them up at the time he was doing Maron and dating him was her first time of being in a relationship with anyone in the entertainment industry.
Considering the fact that he already has a track record of falling in and out of love so easily, a lot of people believed that his relationship with Sara will still end like the rest and true to this popular belief, Marc announced that they had parted ways on his podcast on June 3, 2019. Even though they eventually parted ways, Sarah and Marc stayed together for about four years, which was the longest time the podcaster has been in any known relationship.
Towards the end of 2019, the comedian started making mention of his relationship with Lynn Shelton, a filmmaker known for her works such as Your Sister's Sister and Humpday. Lynn was the director of the 2019 movie Sword of Trust, in which Mac starred and before they became an item, she had been a two-time guest on his podcast. The duo chose to keep their relationship on the down-low for about seven/eight months before eventually making it public.
Maron's Romance With Lynn Ended With A Sudden Death
The couple remained together until Lynn passed on at the age of 54 on May 15, 2020, leaving Maron devastated. On May 18, 2020, episode of WTF With Marc Maron the podcaster took out time to pay tribute to his late partner. According to him, Lynn, whose death was due to a blood disorder formerly not identified, was not only his partner and girlfriend but also his friend. He went on to tell his fans that they loved each other so much that they did a lot of things together, adding that he had never felt what he had felt with her before.
Maron went further to give details of the events that immediately preceded Lynn Shelton's death. It started with an ailment that both of them had thought was strep throat. However, she continued having fever for some days even though a coronavirus test that was conducted on her turned out to be negative. She also visited a doctor virtually but when there was no improvement, she resorted to making a physical appointment to get her blood tested.
They were supposed to go and see the doctor on Friday but sadly, she collapsed in the hallway as she made her way to the bathroom in the middle of the night. Having heard her collapse, Maron said amidst sobs, he rushed towards her and met her on the floor, unable to move, though conscious but a bit delirious. He put a call to 9-1-1 around five in the morning and they came and took her away. That, he said, was the last time he saw his partner alive.
The efforts of doctors to get her back on her feet yielded no results as they battled with issues such as internal bleeding, anaemia, and low blood pressure. Unfortunately, they were left with no other option than to take her off life support and she passed on by 12:45 a.m.
Sharing his first posts on social media since Lynn's death, the podcaster, on May 25, 2020, posted a picture of them together, soaked in the rain but smiling, and captioned it "I miss her".
Responding to people who were asking where they can donate some money in Lynn's name, Maron also went on Twitter and shared a link to where they could do just that.
People have asked where they can make donations in Lynn's name. The Shelton-Seal Family Fund has been established at Northwest School for Deaf and Hard-of-Hearing Children. Her son attended this school from pre-school through eighth grade. https://t.co/KviiO1mJlC

— marc maron (@marcmaron) May 25, 2020