Marc Maron is easily considered one of the most popular American stand-up comedians in recent times. He performed standup for the first time when he was 24 years old and has since delved into other areas of entertainment, including acting, podcast and radio hosting. Also a writer, his first one-man show, Jerusalem Syndrome, was released in book form in the year 2001.
He has appeared in a number of television shows such as Maron, which he executive produced and starred in, portraying a fictional version of himself as well as the Netflix comedy series GLOW in which he has co-starred since 2017. For his amazing performance in GLOW, Marc Maron was nominated for Best Supporting Actor in a Comedy Series at the 8th Critics' Choice Television Awards. He was also nominated for Outstanding Performance by a Male Actor in a Comedy Series at the 24th Screen Actors Guild Awards.
Early Life
The stand-up comedian, Marcus David Maron, was born into a Jewish family on the 27th of September 1963, in Jersey City, New Jersey. He is the son of an orthopaedic surgeon, Barry R. Maron and his wife, Toby Maron. He spent the first six years of his life in Wayne, New Jersey before he moved with his family to Alaska in order to be with his father, Barry, who was doing his medical residency with the U.S. Air Force.
Two years later, his dad was done with his medical residency so he relocated with his family to Albuquerque, New Mexico, and began practising medicine. From third grade until he finished his high school education at Highland High School, Marc Maron lived in Albuquerque. After he graduated, he moved on to Boston University from where he graduated in 1986 with a B.A. in English literature.
He performed comedy for the first time in 1987 at the age of 24 and later kicked off his professional comedy career at The Comedy Store in West Hollywood, Los Angeles, California, becoming an associate of the late American stand-up comedian and actor, Sam Kinison. In search of greener pasture, he moved to New York City and joined the New York alternative comedy scene, performing at comedy venues and also appearing in play productions.
Marc Maron kept on performing stand-up comedy and subsequently started to make appearances on television, lending his voice in an episode of Dr. Katz, Professional Therapist and serving as host of the clip show Short Attention Span Theater for a while. He appeared in the 1997 theatrical comedy movie Who's the Caboose? and in 2000, he acted the role of an angry promoter in the film Almost Famous which turned out to be his major film credit for many years.
From February 28 to July 14, 2006, he also co-hosted The Marc Maron Show with Jim Earl. The radio show, which aired at night, originated from KTLK 1150 AM in Los Angeles, California. In 2008, Marc Maron and Sam Seder began a daily show produced by Air America Media called Maron v. Seder (later renamed Breakroom Live with Maron & Seder from 2009). Sadly, it was not up to one year before the show was cancelled by the media house.
On the 1st of September 2009, Marc Maron started hosting the WTF podcast which currently airs on Mondays and Thursdays from his garage in Highland Park, Los Angeles, California.
On the 3rd of May 2013, the first season of Marc's television series titled Maron was premiered on IFC. The show, which was created by and starring the comedian, revolved around his life and he appeared in all of its 51 episodes from 2013 to 2016. The funnyman was also a radio host. He co-hosted the Morning Sedition on Air America together with Mark Riley.
The comedian has also featured in 12 episodes of the Nickelodeon show Harvey Beaks between 2015 and 2016. He appeared in the television series Easy, Girls, Louie and GLOW, which earned him multiple award nominations. It was revealed in August 2018 that Marc Maron would play a supporting role in the film Joker, starring alongside Robert De Niro, Zazie Beetz, and Joaquin Phoenix, who will play the title character. The film has an October 4, 2019 release date.
Marc Maron's Net Worth
Having been in the comedy business since 1987, writing and performing original, honest and thought-provoking pieces for print, stage, radio, and television, Marc Maron has succeeded in developing into a legend in the stand-up community. He has garnered an estimated net worth of $2.5 million from his successful career.
A 2014 report on the 20 highest-earning podcasts listed his WTF podcast show in the third position with a revenue of $14,640 per episode – $4,320 for the 20 seconds pre-roll ad, $6,000 for the 60 seconds mid-roll ad and $4,320 for the 20 seconds post-roll ad – and 250,000 downloads for each episode.
See Also: Darren Knight – Bio, Net Worth, Relationship and Affairs, Is He Gay?
Who Is His Girlfriend Or Wife, If Married?
Although the comic star has succeeded in various aspects of his career, his love life has not been a smooth ride. He has been involved in a series of failed relationships with different women and has even been married twice but both marriages ended in divorce.
Marc Maron was first married to Kimberly Reiss in 1997 but by 2001, their union had officially ended. Barely three years after, he tied the knot with Mishna Wolff, his former colleague in the standup comedy business but by 2007, they were no longer a couple.
Moving forward, Marc got involved with Jessica Sanchez. The two eventually got engaged but it ended like others before it. The comedian announced his breakup with Jessica on the October 14, 2013 episode of his podcast. The following year, he made a public announcement during his podcast which aired on February 10th, revealing that he was in a relationship with Moon Zappa. However, for reasons best known to the former couple, their love did not survive for up to three months.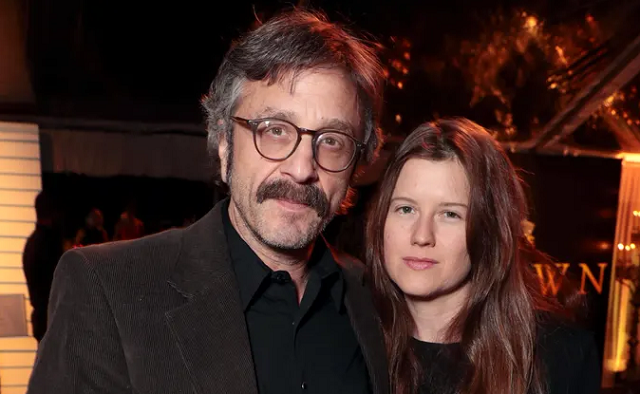 As always, Marc Maron found love again, this time in the arms of an American contemporary artist named Sarah Cain. Considering the fact that he already has a track record of falling in and out of love so easily, a lot of people believed that his relationship with Sara will still end like the rest and true to this popular belief, Marc announced that they had parted ways on his podcast on June 3, 2019.

Fact Check: We strive for accuracy and fairness. If you see something that needs updating,