Manwell Reyes is an American music artist, singer, rapper, and songwriter; famous for being the lead vocalist of the notable Christian gospel music group known as the Group 1 Crew. The group which was formed in 2003 gained prominence with the release of hit singles such as "Can't Go On" and "Love is a Beautiful Thing" which were top 20 chart-toppers on the R&R Magazine's Christian music chart.
After years of releasing several albums and winning a handful of awards, the gospel music group disbanded in the year 2017, with Manwell pursuing other interests in the entertainment industry. Working as an actor, he has starred in movies such as Moms' Night Out and Restored Me. More so, the talented songwriter enjoys a blossoming married relationship with his beautiful spouse, Anjelah Johnson – an American comedian and actress.
Manwell Reyes' Rebellious Early Years
The multi-talented star was born as Jose Manwell Reyes in Germany to a German father and an American mother. His father was an army officer and he has an older brother. Not long after his birth, his parents got divorced which led his mother to take him and his elder brother back to the United States. He grew up in Florida, the United States where he completed his basic education.
While he was growing up, Manwell was a very stubborn child and was kicked out of high school courtesy of his mischievous tendencies. His life began to take a different dimension when he encountered God. The encounter made young Manwell change his ways; thus working diligently to become a better person to society. Subsequently, he enrolled at a Bible College in Florida, and while he was there; he participated in different shows organized by his school including musical shows and Summer Camps.
During one of their summer camps, Manwell performed before a huge crowd, earning much praise. From then onwards, Reyes began to work on his music career and later formed a Christian music group along with his few friends – Pablo Villatoro and Bianca Callahan.
A Rundown of How He Became Famous
Upon graduation from college, Manwell Reyes and his fellow group members adopted the name Group 1 Crew in 2003. They launched their first EP titled "I Have a Dream" in 2006; followed by their hit track titled "Can't Go On" as well as their self-titled debut album which was released in 2007. After the release, one of their songs titled "Love is a Beautiful Thing" reached Top 20 in the R&R Magazine's Christian music chart.
The following year, they released their second album called "Ordinary Dreamers" in September 2008. It's singles titled "Keys to the Kingdom" and "Movin" peaked at No. 3 and No. 4 respectively on the R&R Magazine's Christian music chart. The Group 1 Crew went on to release two more albums "Outta Space Love" in September 2010 and "Fearless" in 2012. Then some of the members of the band including the lead vocals Blanca Callahan and the percussionist Ben Callahan left the group in 2013.
Between 2012 and 2015, the group underwent reformation and some new members including Brian (drummer), Loren Clark (bass), Lance Herring (guitars) and Sara Sandoz (vocals and raps) joined the group. Also, Manwell became the lead vocalist for the group. They released three Extended Plays during that time titled "Christmas" (2012), "#Faster" (2014) and "#Stronger" (2014) that spawned singles such as "O Holy Night", "No Christmas (Without You)" and "A Little Closer".
Manwell Reyes later underwent surgery to repair his vocal cords. After his recovery, the group launched yet a fascinating album "Power" in 2016 and it's lead single "Wake Me Up (Amnesia)" clinched the No. 6th spot on the R&R Magazine's Christian music chart. The album garnered much popularity and also recorded commercial success. Then in 2017, Manwell Reyes announced he would be putting music aside so he could focus on other endeavors.
Prior to the disbandment of the Group 1 Crew, Reyes made appearances in several albums released by other music artists. They include "The Upside of Down" by Chris August, "Anthem Lights Covers" by Anthem Lights, "Ready to Fly" by Jamie Grace, and "Science Fiction" by Jonathan Thulin.
His Recent Works and Career Achievements
In 2018, Reyes worked as a narrator and producer of a short video titled Panda$: Love After War. He has previously starred in Moms' Night Out (2014) and Restored Me (2016), as well as hosting Nuvo TV's original show, The Collective for eight episodes. Then in April 2019, the gospel artist launched a podcast titled Night at The Round Table, where he discusses topics relating to relationships, love, and religion. Also in the same year, the dropped several new singles including "Virtual Love" featuring J. Lewis, "How Did We Get Here" feat. Daniella Mason, "Monster" and "No Love From Me" feat. Daniella Mason.
New podcast out!! We did an episode on LOVE: How To Find It https://t.co/GETfqjQhRy pic.twitter.com/RpgHcpJtBw

— MANWELLREYES (@manwellreyes) May 24, 2019
Having been present in the music scene for over ten years now, Manwell Reyes has received many awards alongside his Group 1 Crew bandmates. In 2008, the group took home their first Dove Award for Rap/Hip-Hop Album of the Year and subsequently gained additional four Dove Awards before they got disbanded. The group also registered sales of over 250,000 records, having released five music albums, 7 EPs, and 18 singles. Through his works in the entertainment industry over the past years, Reyes has amassed a net worth estimated at over $700,000.
What To Know About His Blissful Married Life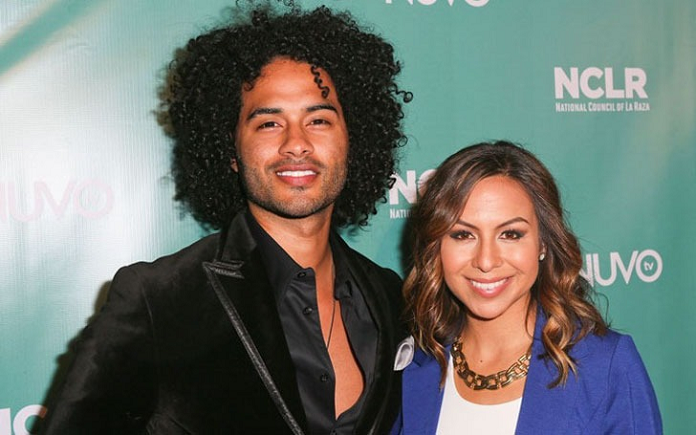 Manwell Reyes' personal life is a very interesting one; the singer is happily married to a famous American comedian named Anjelah Johnson. The duo came in contact for the first time at a mutual friend's wedding. They eventually got romantically involved two years later when their friend set them up on a date.  After a few years of a successful relationship, the couple exchanged their marital vows in Half Moon Bay, California. Their wedding took place on June 11, 2011.
The two lovebirds who are relishing a blissful married relationship of over eight years often flood their Instagram pages with pictures of their romantic dates. Apparently, they are very much in love with each other, and divorce doesn't exist as far as they are concerned. The couple has cited that they do not long to have kids of their own. As such, the two have adopted their pet dog named Banzo Bean Reyes as a member of their small family unit.
Meet Manwell's Comedian Wife, Anjelah Johnson
The gorgeous wife of the award-winning singer, Anjelah Johnson was born in San Jose California on May 14, 1982. While she was growing, she was an NFL cheerleader and was associated with Oakland Raiders. Following her performance during Super Bowl XXVII, Anjelah was named Oakland Raiderettes Rookie of the Year. In 2005, she went to Los Angeles, where she began her comedy career.
Last week home before I hit the road on the #TechnicallyNotStalkingTour East Coast and Midwest you're up first!!
Get Tickets right now: https://t.co/Wi7nDBT6u8 pic.twitter.com/WocLFQQq1D

— Anjelah Johnson (@anjelahjohnson) September 3, 2019
She featured on different comedy shows on MADtv from 2007-2016. She has released three stand-up comedy specials and her third titled Not Fancy was released on Netflix in 2015. Reyes' significant other is quite popular for her impression of a fast-food employee character named Bon Qui Qui, as well as a Vietnamese nail salon employee Tammy. In September 2019, she embarked on a comedy tour titled Technically Not Stalking Tour.
Also, Angelah features on her husband's Night at The Round Table podcast and equally has some acting credits under her belt. They include Alvin and the Chipmunks: The Squeakquel, Our Family Wedding, Moms' Night Out, The Resurrection of Gavin Stone, Ugly Betty, Superstore, among others.