The amazing Liz Cho is an American journalist, television host, and local news anchor associated with WABC-TV in New York. She began her journalism career at NECBN (New England Cable News) in Newton, Massachusetts and also worked with WPLG in Miami before joining ABC News.
Liz Cho is very talented as far as journalism is concerned and has covered several top stories in America. In addition to her brilliance, she is also a beautiful lady and was named among the 50 Most Beautiful Ladies in 2003 by the People Magazine. She is a married woman and has a daughter. Read on to find out more interesting things about Liz Chao.
Who is Liz Cho?
The amazing journalist was born in Concord, Massachusetts in the United States on December 19, 1970. She was raised along with her brother Andrew by their parents who are of Korean and Jewish-American ethnic descent. Her father, Sang Cho is an acclaimed surgeon who led the team that performed the first liver transplant in Boston. He later died of colon cancer in March 2009. Her mother Donna Cho, on the other hand, is also a nurse. Liz went to Boston University where she obtained her bachelor's degree in Journalism and history.
Her Journalism Career
Upon graduation, the brilliant Liz joined New England Cable News located in Newton, Massachusetts. She worked as an assignment editor for a few years in the network after which she moved to WPLG an ABC affiliate in Miami where she worked as a reporter. In 2003, Liz Cho joined ABC NewsOne where she served as the network's Chicago-based correspondent covering national stories including President Clinton's impeachment process, the devastating tornadoes in Oklahoma, Columbine High School shootings and many more. After a while, she became a co-host on ABC late night programs including World News Now alongside Derek McGinty as well as Good Morning America anchor.
Later in the same year, Liz Cho joined Eyewitness News Team in March 2003. She anchored the coverage of top stories including the Royal Wedding of Prince William to Kate Middleton, Republican and Democratic National Conventions, the funeral of President Ronald Reagan among others. She also moved to ABC Channel 7, WABC-TV where she replaced Diana Williams at 6 p.m. and 11 p.m. Liz covered breaking news and top stories for Good Morning America, Nightline, and World News Tonight.
Following the departure of The Oprah Winfrey Show at WABC-TV in 2011, Liz alongside David Novarro began to host Eyewitness News First at 4 pm. The preceding year, she joined Bill Ritter in anchoring Eyewitness News First at 6 pm as well as 11 pm till date.
Liz Cho's Net Worth and Salary Earnings
The amazing journalist has been outstanding since the inception of her career, she is earning a huge salary at WABC-TV and this has contributed to her huge net worth. Though her salary is not precisely known at the moment, she is currently living a decent lifestyle with a whopping net worth of $1 million. That of her husband Josh Elliot is around $4 million. She has a fancy BMW ride with which she cruises around town.
Who is Liz Cho's Husband?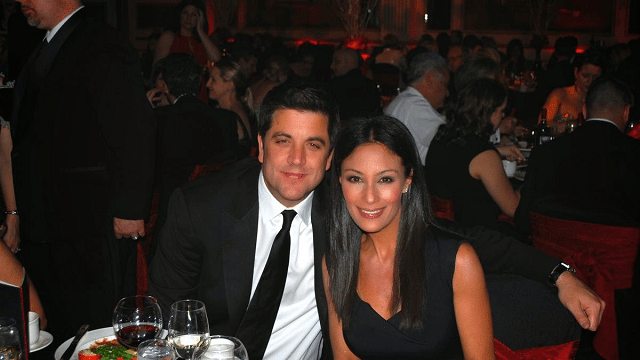 Liz has been married twice, her first marriage was to Evan Gottlieb and after their divorce, she married NBC's, Josh Elliot. Evan and Liz tied the knot in 2008 in a lavish wedding attended by their close friends and family. A few years after their marriage, following unresolved issues which include Liz's infidelity and legal battle over their Westchester mansion, the couple went their separate ways. They had a daughter Louisa Simone Gottlieb, born on May 17, 2007. After their divorce, both parties got equal custody of their daughter.
See Also: Amiri King Net Worth and Other Facts You Need To Know
Furthermore, Liz who has been in a relationship with Josh Elliot right before her first marriage to Evan ended tied the knot on July 11, 2015. It was a second marriage for the duo, Josh was formerly married to Priya Narang and they had a daughter Sarina Elliot. Their wedding took place at Villa Sevillano private estate in Montecito, California. About seventy guests were in attendance including their two daughters who served as little brides. The amazing couple has been living together in New York and there's no sign or news of a divorce.
Other Facts You Need To Know about Liz Cho
Liz's father is a renowned doctor and the first surgeon to carry out liver transplant in Boston.
She is of mixed ethnic origin – Korean and Jewish-American
Liz grew up in Boston along with her brother Andrew and her parents.
She has been working as an anchor and correspondent at WABC-TV from 2003 till date
She has married twice, first to Evan Gottlieb and currently to a fellow journalist Josh Elliot
People magazine listed Liz Cho as one of the 50 Most Beautiful Women in 2003
She has a daughter Louisa Simone Gottlieb from her first marriage.