The Polish-American woman Linda Kozlowski had a relatively brief career as an actress between 1981 and 2001. Although she left the industry out of frustration because she taught she wasn't being successful enough in landing desirable roles, the two decades she spent were full of events. She is one of the few actresses who were lucky enough to develop their careers from off-Broadway through Broadway before finally arriving on the screens. Also, she is one of the few actors who were able to meet real love on a romantic set. Besides, her brief career history is decorated with three starring roles with some of the biggest names in the industry (including one role in a trilogy). All these eventful aspects of Linda's career was capped with a prestigious Golden Globe Award nomination. Read on to get more details on these claims and indeed more of the beautiful blonde former actress.
Linda Kozlowski's Early Life and Career Beginnings 
Linda Kozlowski was born an American to Polish parents Helena E. Parniawska and Stanislaw M. Kozlowski on January 7, 1958. Her birthplace is Fairfield County in the US State of Connecticut. We have no further details on her family background such as the professions of her parents and the names and number of siblings she has if any.
Also, while we have no details on Linda's elementary school, available information shows that she attended Andrew Wade High School, a co-educational secondary school located in Fairfield. After graduating from high school in 1976, Linda proceeded to The Julliard School, a prestigious performing arts conservatory located within the Lincoln Center for the Performing Arts on the Upper West Side of Manhattan, New York. After studying drama at Julliard, Linda graduated in 1981 with a BFA (Bachelor of Fine Arts) degree.
5 Facts You Should Know About Linda Kozlowski 
1. Linda Kozlowski's Career Started In An Off-Broadway Project
With the above-given background, Linda's acting career kicked off later in 1981 with How It All Began (an off-Broadway play). We are, however, yet to ascertain her exact role in the play. But in her next role, she acted as 'Miss Forsyth' in the multiple-award-winning Broadway production, Death Of A Salesman in 1982/83. Her screen debut was in the film version of the Broadway play where she played the same role.
2. Movie Career
After her stage endeavor, it was from 1986 that Linda Kozlowski began to lay a claim to fame when she was cast in the lead role of 'Sue Charlton' in the first tranche of the Australian trilogy Crocodile Dundee opposite the award-winning comedian, actor, and TV presenter Paul Hogan. She continued in the role in Crocodile Dundee II (1988) and Crocodile Dundee in Los Angeles (2001).
Over the two decades that her career lasted, Linda Kozlowski also acted in other roles which include: as 'Claire' in 1988 comedy film, Pass the Ammo. She was seen as 'Rose Garner' in the comedy-drama Almost An Angel (1990). In 1993, she received the double role of Mary/Mrs. Hatch in the horror-thriller film, The Neighbor. In 1994, she was 'Keri Finnegan' in Backstreet Justice and also 'Emilie Bartlett' in Zorn. In her next role, she was 'Jill McGowan' in the science fiction horror film Village of the Damned (1995).
3. Why Linda Kozlowski Ended Her Acting Career
Linda's last credited movie role was in the third tranche of the Crocodile Dundee trilogy in 2001. After that role, she decided to seek or accept no more acting roles. She said it was because she was not satisfied with the kind of roles she was getting. Kozlowski even claimed she so hated the roles that she was getting an ulcer from filming them. So she had to decide between her career and her health which meant she had to quit acting to have good health.
4. Married Life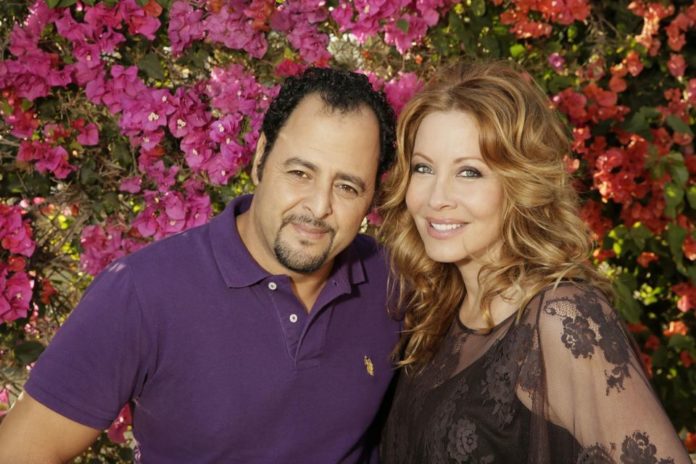 Linda Kozlowski was married to comedian Paul Hogan between 1990 and 2014. The couple met on the set of Crocodile Dundee around 1986 when they were cast opposite each other in the film. But soon, the movie acts between them turned to real chemistry of love which saw them getting married on May 5, 1990. They have a son named Chance. However, in 2013, Linda filed for divorce which was finally effected in 2014.
The marriage was the second for both of them. Paul Hogan had been married to a lady named Noelene while Linda also had been married to a Moroccan, Moulay Hafid Babaa.
5. Net Worth And Current Occupation
Although Linda Kozlowski was not satisfied with her career, yet she did relatively well as an actress and even got nominated for a Golden Globe Award in 1987 for her role in Crocodile Dundee. In terms of dollars too, she has done well because, as of 2019, her net worth is reported to be $10 million approximately. Apart from her acting career, she added to her net worth from her real estate business which she has been doing since she resigned from acting.