Net Worth:

$100,000
Salary:
$100,000 per season of The Real Housewives of Beverly Hills
Income Sources:</strong
Acting and cappearance on reality TV shows
Age/Date of Birth:

September 19, 1964
Height:

In Feet: 5′ 1″
In Meters: 1.55 m
Nationality:
American
Last Updated:

2020
Kim Richards is an actress and television personality best known as one of the housewives on Bravo's "The Real Housewives of Beverly Hills" (RHOBH). Her $100,000 pay per episode on the reality TV show once put her wealth in the tune of $2 million, however, following a series of personal issues, Kim Richards' earnings are now estimated at a mere $100,000 but it appears the former child star is determined to get back into the millionaire's club. Read on to discover more.
Kim Richards was born on September 19, 1964, in Mineola, New York. Sister to fellow actress and RHOBH star Kyle Richards, Kim is related to many other famous faces. Like her sister, Kim began her showbiz career at a very tender age, making her debut at just months old on a TV commercial for Firth Carpet.
How Kim Richards Achieved Her Net Worth
Career Earnings 
Although Kim began her acting career as a child and continued through her early adult days, appearing in several movies and television series, information about her salary for those movies has remained unknown.
She was inactive in show business throughout the 1990s, returning in the early 2000s. After sporadic movie roles, Kim and her sister Kyle were chosen to appear as regular cast members in Bravo's "Real Housewives of Beverly Hills" in 2010. Kim reportedly earned $100,000 per season as a main cast.
However, before she resumed her role on the reality TV show, Kim was struggling with alcoholism and checked into rehab a couple of times. Appearing on RHOBH seemed to have escalated her personal problems as she checked into rehab yet again in 2012. She was also arrested in April 2015 and slammed with multiple charges, which resulted in her spending a night in jail.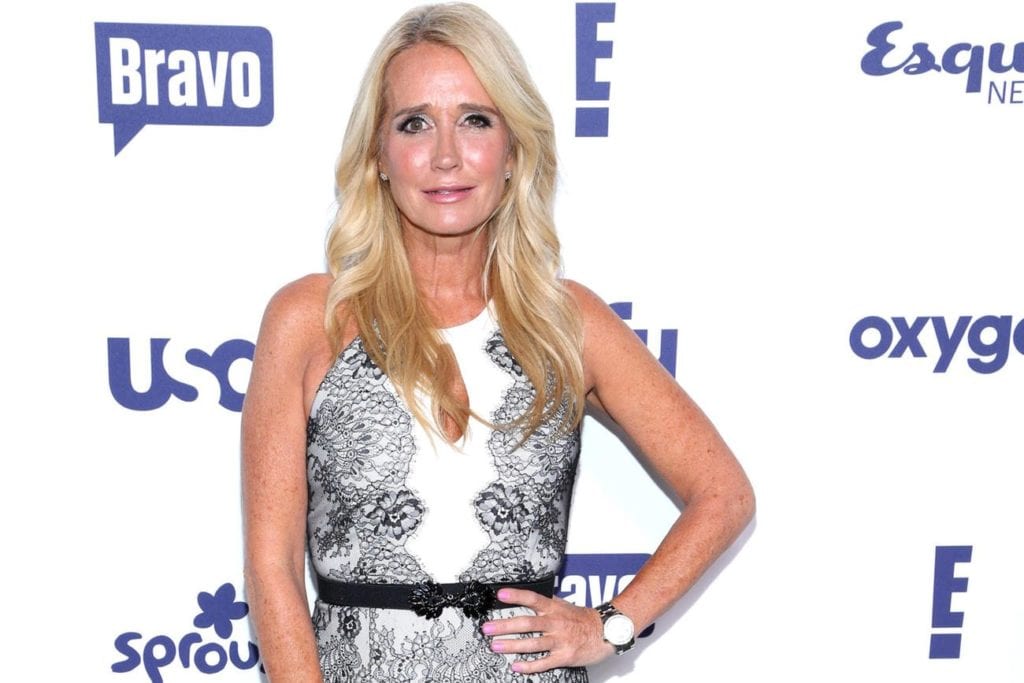 The incidence blew the sobriety claims she made on the RHOBH, leading producers to fire her from the show after appearing as one of the main cast in its first five seasons. Kim had previously blown two chances from Bravo to get sober.
After being fired by Bravo, Kim however, refused to stay fired, pestering the producers until they allowed her to return as a "friend" and guest on the 6th season of the show, reportedly without pay as she wanted a good PR after her issues with the law.
The relentless Kim after learning that one of the show's veterans Lisa VanderPump earns $2 million per season, demanded that Bravo pay her up to $1.5 million for the 7th season and more for reunions claiming that she would bring the necessary drama to keep fans watching. Unfortunately for her, not only did Bravo turn her down, they stated that "Kim is absolutely delusional if she thinks producers are going to give her anywhere near Lisa's huge paycheck."
Insider sources revealed that for the 7th season, Kim would be very lucky if she receives up to $150,000. While Bravo turned down her pay rise, Kim looked to her sister Kyle for a spot in her then-new TV show "American Woman" which is based on how the sisters were raised by their mom back in the 1970s. Unfortunately, she never got a chance to appear on the show as it was canceled after just one season.
However, she has been lucky to be allowed to return in the ninth and current tenth seasons of The Real Housewives though still as a guest star. Her salary for these guest appearances is also unknown.
Divorce Settlement
Having discovered that Kim Richards does not make as much money as you thought from appearing on The Real Housewives of Beverly Hills, you might be wondering how else she earns additional cash to sponsor her lavish lifestyle. Well, according to Jerry Oppenheimer's "House of Hilton," she receives a decent amount in child support every month from her former husband, Gregg Davis. And yes, she still gets paid even now that their children are grown. 
According to the book, Their divorce settlement stipulated that Kim be paid $20,000 a month up until the year 2009 and "$23,000 a month for life, or until she remarries."
Recent reports have it that Kim Richards has total assets worth $100,000, however, if she has cleaned up her acts, she could be set for future high paying gigs.
A Highlight of Kim's Income Sources
Career Earnings
Divorce Settlement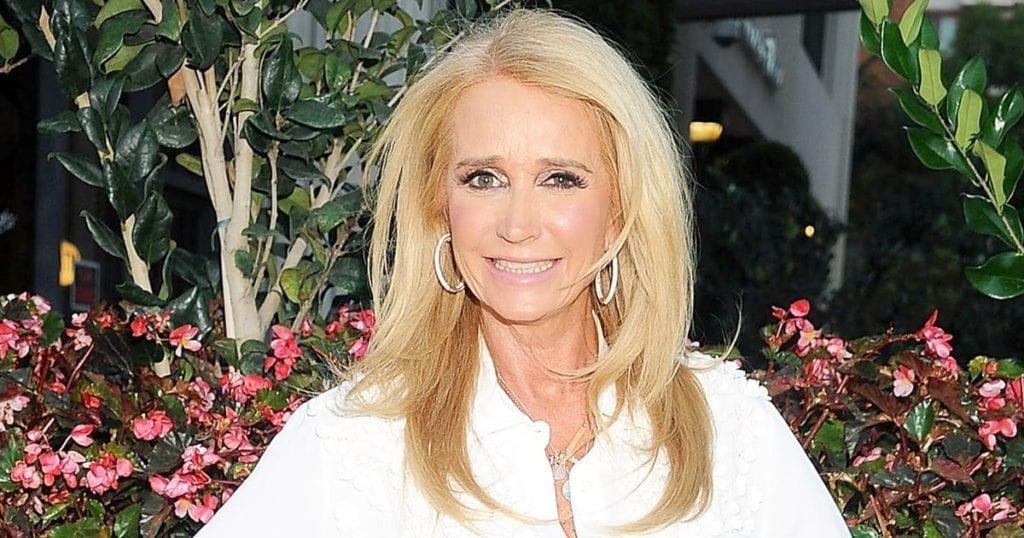 Kim's Personal Struggles Has Resulted In Monetary Losses
Kim has been no stranger to financial struggles and confirming this, her sister Kyle has once accused her of receiving financial help from her husband, Mauricio Umansky. All through the early seasons of The Real Housewives of Beverly Hills, Kyle has accused her sister of being unable to manage money and blowing away all the money she made as a very successful child actor very fast.
From having one of her four children breakdown publicly, to her pit bulldog named Kingsley landing her in several lawsuits for its wild attack on several families, friends, and even strangers, and her own dramatic breakdown on her daughter's wedding, Kim has been tabloid fodder.
She was arrested on April 15, 2015 at the Beverly Hills Hotel and charged with resisting a police office, public intoxication, trespassing, and battery on a police officer. She was later released on a $20,000 bail, after spending a night at Los Angeles County Jail.
She was arrested yet again on August 2, 2015, for shoplifting $600 worth of products at Target department store in San Fernando Valley. She spent the night in jail and was released on a $3,000 bail the next morning. During this period, Kim was said to be struggling with her fiances and even had to live off her half-sister Kathy Hilton. However, Kyle defended her insisting that she had enough money. Kim was, nevertheless, ordered to attend 52 Alcoholics Anonymous meetings, serve three years on probation, and perform 300 hours of community labor.
Things To Know About Kim Richards Family Members
Her Mother, Kathy Dugan, Was Married Four Times
Born Kathleen Mary Dugan on April 7, 1938, in Ohama, Nebraska, U.S.A., Kim's mother was the daughter of Dorothy (Callahan) and Edward J. Dugan, both of Irish descent. Unlike her parents who stayed married to death, Kathy married four different men in her lifetime and was also involved with many more.
Her first marriage was to Larry Avanzino and it lasted from 1958-1963. After they parted ways, she got married again to Kenneth Edwin Richards from 1964-1972. Following the collapse of her second marriage, Kathy got remarried to Jack Catain in 1978 but the union could not survive beyond 1998. Afterward, she married her fourth and last husband, Richard Fenton in 1999.
In his blockbuster book, "House of Hilton", author Jerry Oppenheimer documented Kim's troubled early life, attributing much of it to her mother who he described as a driven, ambitious, and dysfunctional woman who drank heavily and had many men in her life. The book also painted Kathy as a 'gold digger' who forced her daughters into marrying rich men.
Sadly, Kathleen eventually died on March 2, 2002, about one month before she turned 64. She passed on at Kim's residence in Indian Wells, California, after battling cancer that started in her breasts, spread to her lungs, and then her brain.
Kim Richards And The Hilton Family Are Related Through Kathy Hilton
As earlier said, Kim's mother was married four times and two of those marriages produced three daughters, including actress, socialite, fashion designer, and philanthropist Kathleen Elizabeth Avanzino (now Kathy Hilton) whom she had with her first husband, Larry Avanzino, on March 13, 1959. Through her second marriage, Kathy had Kim and her sister Kyle Richards, meaning that they are sisters to Kathy, though half-sisters.
As her last name indicates, Kathy became a member of the Hilton hotel family through her marriage to Rick Hilton who she met when she was 15 years old while a student at a private high school. They got married in 1979 and together they have four children, including socialite Paris Hilton and her sister, fashion designer Nicky Hilton as well as Barron Nicholas Hilton II and Conrad Hughes Hilton III (born 1994).
Following her father's remarriage after his split from her mother, Kathy also has five paternal half-siblings.
Kim's Sister, Kyle Richards, Also Began Appearing On Tv As A Child
Born on January 11, 1969, Kyle Egan Richards is an actress, socialite, television personality, and philanthropist. She is most popular for her appearance on The Real Housewives of Beverly Hills, a reality show she has been on since 2010 as one of the main cast. As of 2020, she is the only cast member on the show who has been there from the onset.
However, before she became part of the Real Housewives cast, Kyle was a child actor, beginning her professional acting career on Little House on the Prairie where she played a recurring role. She also appeared in a number of horror films such as the 1977 movies Tobe Hooper's Eaten Alive and The Car, as well as Halloween (1978), and more than four decades later Halloween Kills (2021). Additionally, Kyle also played the role of Alicia Sanderson Edwards / Samantha in 19 episodes of Little House on the Prairie and starred as Nurse Dori in E.R. for 20 episodes, appearing alongside the likes of George Clooney and Julianna Margulies.
As a result of the exposure that comes with being a child star, Kyle got involved with men very early and even became a teen mom before it was a thing. She got pregnant in 1988, at the age of 18 by her then-Indonesian boyfriend, Guraish Aldjufrie, who later married her before the birth of the child named Farrah later that year. However, their union hit the rock, leading to their separation in 1990 and eventual divorce two years after.
In 1994, Kyle met her second and current husband, Mauricio Umansky. Born and bred in Mexico, Mauricio who is of Russian and Greek Jewish descent is a real estate agent in Los Angeles. The duo tied the knot on the 20th of January 1996 after which Kyle converted to Modern Orthodox Judaism. At the time they got married, she was already four months pregnant with their daughter Alexia who was born on June 18, 1996. Four years later, the couple welcomed their second daughter Sophia while their last daughter, Portia, followed eight years later.
The Real Housewives star lives with her family in Encino, Los Angeles.
Details of Kim Richards' Marriages and Relationships
Kim Richards has been married and divorced twice and has also been involved in other romantic relationships afterward. One of those relationships would have ended in a third marriage for the reality star if not for the tragic death of the man she was involved with. Details of these are discussed below.
Kim Was First Married To Monty Brinson
In the book "House of Hilton" authored by Jerry Oppenheimer, he claims that Kim Richards alongside her sister Kyle and half-sister Kathy Hilton were raised by their mother Kathy Dugan, who configured their minds to only look out for rich men they can get married to. With that mindset, Kim met and began dating her first husband, G. Monty Brinson.
Monty was born George Montgomery Hutchens Brinson on November 21, 1957, in High Point, North Carolina, USA. He was a supermarket-franchise heir who subsequently turned professional poker player. Before his poker career, he had intended to become a Hollywood producer and consequently, left his family home in North Carolina to pursue his dream.
Kim and Brinson were introduced by a friend of her half-sister, Kathy Hilton after which they had a blind date at the Palms Restaurant in Beverly Hills. After their first date, Monty told author Oppenheimer, they became inseparable and were practically together every day.
Along the line, Kim got pregnant and this led the duo to eventually have a hurried wedding. While arrangements were being made for the marriage arrangements, Brinson gave Kim an engagement ring, but her mother asked her to give it back to him because it was not a big enough sparkler, according to a friend of Kim's mother, Mickey Catain, Kim. Brinson eventually gave her a bigger one.
Kim and Monty later got married sometime in July 1985 at the Church of the Good Shepherd in Beverly Hills but their union lasted only two years as they officially parted ways in 1988.
Soon afterward, the couple formed Brinson/Richards Entertainment with the active involvement of Kim's mother, whose dream it has always been to be a Hollywood mogul. However, only one movie, "Escape", was produced by the company. Monty was credited as a story writer on the 1990 movie while Kim starred in it.
The Reason For Their Divorce
Monty Brinson alleged in Jerry Oppenheimer's "House of Hilton" that Kim went out with other men while they courted and these include John Davis, the son of billionaire oil and entertainment mogul Marvin Davis. As he was quoted to have said in the book, "Kim would say she had to go babysit [her nieces] Paris and Nicky and, really, she was being fixed up with John, and I found out about it. She was being influenced to do it. She was being pressured because of the billions of Davis dollars." Continuing he said, that "[Kim's mother Kathy Dugan] was looking for the best for her daughter and those guys [the Davis family] had mega-money."
Even after they got married, the young lady reportedly never stopped cheating but her husband continued putting up with the habit until one night when Kim told him that she was going out with friends on a girls' night out at a private club in Beverly Hills. Brinson decided to show up at the club and by the time he got there at around 2 a.m., he saw his wife 'walking hand-in-hand' with John Davis. "It was the final straw", Brinson told author Oppenheimer.
Although it is not known which of the couple filed for the divorce, however, it is common knowledge that they remained friends after their split and were co-parents to their only child.
Monty's Death
Unfortunately, Monty passed on January 25, 2016, at the age of 58 after a long fight with cancer. His death was announced on Instagram on January 25, 206, by Kim's brother-in-law Rick Hilton. All through the period, Monty suffered the disease, Kim was by his side.
During her appearance in the television show Dr. Phil., she refused to heed to Dr. Phil's advice to go out of state for a much-needed alcohol rehabilitation program. This, she explained, was because she could not be away from Monty Brinson who she said was fighting stage 4 lung, brain, and spine cancer, and was living with her.
After his death, Kim was left broken and in her tribute to him, the reality star wrote, "Yesterday I said goodbye to [the] best the friend I've ever had in my life… Monty was an amazing person with an amazing soul … We shared over 30 years of Love & Happiness and brought a beautiful daughter into [the] world. I am so grateful for all that we shared."
She Walked Down The Aisle A Second Time With Gregg Davis
After she parted ways with Brinson, Kim's mother allegedly pushed her into getting married into the super-wealthy family of Marvin Davis, an oil baron and one-time owner of 20th Century Fox, the Beverly Hills Hotel, and other platinum enterprises.
Apart from the earlier mentioned John Davis, the family had another son named Gregg James Davis who Kim was able to hunt down as her next husband. They got married later in 1988 at an elaborate wedding that took place on the Davis estate and were gifted with a mansion of their own by the groom's father. The mansion also had a garage that was stocked with some Ferraris and Mercedes-Benzes for the newly-married couple, according to Oppenheimer's book.
Being married into the Davis family afforded Kim the opportunity to live like royalty. At one point in her marriage, Gregg gave her a check for one million dollars and told her to shop for whatever she wanted, Brinson told Oppenheimer.
However, their marriage started shaking and according to a source who spoke to Oppenheimer, "Marvin and Barbara Davis broke that marriage up." John Jackson, an aircraft parts supplier who Kim began seeing after her separation from Gregg, also claimed that Gregg's parents gave him an ultimatum to either end his marriage with Kim or be cut off from the family fortune. Choosing the former, Gregg and Kim eventually got a divorce in 1991.
Kim Would Have Been Married A Third Time But…He Died
Kim Richards moved on from her last marriage very quickly as she was already engaged to her would-have-been third husband, John J. Collett, by October 1991. The then-29-years-old Collett was a native of Agoura Hills, California, and a commodities salesman. They met and dated for several months before they started talking about settling down.
Speaking to People, Collett's sister, Nina Stormo, revealed that Kim "loved him and he loved her and it was like a fairy tale. They seemed really happy." Sadly, the couple's happiness was cut short following Collett's untimely death on October 28, 1991.
John Collett was a major figure in one of America's biggest criminal schemes in which 8,000 elderly investors lost almost $150 million. He was on the phone with Kim when he was gunned down by a hitman outside Brent's Deli in Northridge, San Fernando Valley. He was reportedly shot two times on the head at point-blank range by the killer who received a payment of $30,000 and it is believed that his murder is not unconnected to a failed part of the investment scam.
Also See: The Top15 Highest Paid TV Actors In The World
The loss of her fiancé left Kim devastated. According to Collett's mother, Jan, "It just tore her apart emotionally and she was not in good shape for a long time". "She really loved John. They were a good match," she further told People.
Moving On With John Jackson and Others
Born John Patrick Jackson on December 8, 1953, Kim Richards began dating the aircraft parts supplier after the death of Collett. Jackson told Oppenheimer that they "were living in the fast lane. We were jet-setters and bounced all over – Paris, St. Tropez, Orlando. And we were taking the kids with us most places. Kim was always very kid-oriented." They never got married but were together for a very long time during the 1990s. Jackson also fathered Kim's last child.
In 2015, Kim claimed that she was in a relationship with Maine entrepreneur Todd Jason Voisine. She also appeared in the reality show Marriage Bootcamp: Reality Stars in 2018 with her businessman beau Wynn Katz whom she claimed to have been dating for six years at the time. During a 2017 reunion episode of the Real Housewives of Beverly Hills, Kim Richards also confessed to dating President Donald Trump. However, it is not confirmed if the former child actor is currently dating or seeing anyone or has simply decided to enjoy her singlehood.
Who Are Kim Richards' Children?
Brooke Ashley Brinson
The television personality is a mother of four grown-up children. She had her first child, a daughter named Brooke Ashley Brinson, with her first husband just seven months after their nuptials. Brooke was born on February 21, 1986, in El Centro, California, and she is well-known for her appearance in The World According to Paris, the 2011 reality show which revolves around different people in the life of Paris Hilton.
Now married with children, Brook is the wife of Fatburger heir Thayer Wierderhorn. They tied the knot on the 2nd of August 2014, in Bel-Air, California, after dating for some years. The couple was married twice, first at the Bel-Air home of Kathy Hilton, which was aired on The Real Housewives of Beverly Hills, and later at a destination wedding in Cabo in May 2015. Brooke had her first child, Hucksley Andrew Widerhorn in 2016, and the second, Hunter Montgomery, in 2019.
Whitney and Chad Davis
Kim's marriage to Gregg Davis also produced two children, a daughter named Whitney Davis (b. 1990) and a son named Chad Davis (b. 1991). Unlike Brooke, there's hardly any information available about these two on the internet.
Kimberly Jackson
The reality star had her fourth child, Kimberly Jackson, in 1995 through her relationship with John Patrick Jackson. Speaking to Debbie Magids in a preview clip for Lifetime's The Mother/Daughter Experiment: Celebrity Edition in 2016, the then-21-year-old Kimberly said she feels more like her mother's caretaker than her daughter. The role reversal was as a result of Kim spiraling out of control on her use of alcohol and painkillers during her run on Bravo's Real Housewives Of Beverly Hills. According to Kimberly, "I feel like someone needs to protect her".
Meanwhile, there was a report on Radar Online in 2015 that one of Kim Richard's children was admitted to a psychiatric facility. However, the identity of the particular child was never disclosed even though a source revealed that the experience was "very, very hard on Kim."
Profile Summary
First Name:
Kim
Last Name:
Richards
Estimated Net Worth:

$100,000
Salary:
$100,000 per season of The Real Housewives of Beverly Hills
Source of Wealth:
Acting and cappearance on reality TV shows
Last Updated:

2020
Also Known As:

Disney girl
Sex/Gender:

Female
Profession:

Actress, television personality
Famous For:
Her roles in her roles in the sitcom Nanny and the films Professor, Escape to Witch Mountain and Return from Witch Mountain
Colleges/Universities Attended:

N/A
Educational Qualifications:

N/A
Religion:

N/A
Birthday & Zodiac

Age/Date of Birth:

September 19, 1964
Zodiac Sign:
Virgo
Birth Place:

Mineola, New York
Nationality:
American
Ethnicity/Race:

White
Country of Residence:

USA
Physical Attributes

Height:

In Feet: 5′ 1″
In Meters: 1.55 m
Weight:

In pounds: 115 lbs
In Kilogram: 52 kg
Eye Colour:

Blue
Hair Color:

Blonde
Other Body Measurements:

34-26-36 inches (86-66-91 cm)

Relationships

Marital Status:

Dating
Spouse/Partner:

John Jackson
Family and Relatives

Father:

Kenneth Edwin Richards
Mother:
Kathleen Mary (née Dugan)
Children:

Daughters, Brooke Brinson, Whitney Davis Kimberly Jackson, and a son, Chad Davis
Siblings:
sisters Kathy Hilton and Kyle Richards
Other Relatives:

Nicky and Paris Hilton (nieces)