Kim Richards is an actress and television personality best known as one of the housewives on Bravo's "The Real Housewives of Beverly Hills". Her $1000,000 pay per episode on the reality TV show once put her wealth in the tune of $2 million, however, following a series of personal issues, Kim Richards' earnings is now estimated at a mere $100,000 but it appears the former child star is determined to get back into the millionaire's club. Read on to discover more.
Kim Richards Bio
Kim Richards was born on September 19, 1964, in Mineola, New York. Sister to fellow actress and RHOBH star Kyle Richards, Kim is related to many other famous faces. She is the half-sister of actress Kathy Hilton and aunt to her daughter's socialite Paris Hilton and her sister fashion designer Nicky Hilton. Like her sister, Kim began her showbiz career at a very tender age, making her debut at just months old on a TV commercial for Firth Carpet.
Also See: Julia Roberts Kids, Husband, Brother, Divorce, Sister, Family
Kim Richards Earnings and Acting Career
Kim made her TV series debut on "Nanny and the Professor" where she portrayed Prudence Everett appearing in 54 episodes from 1970 – 1971. She then appeared in an uncredited role in the made-for-tv movie "The Strange Monster of Strawberry Cove" (1971). Kim became one of the earliest Disney child stars when she starred in Walt Disney's "Wonderful World of Color" series from 1971 – 1976. Throughout the 70's Richards continued to star in numerous TV series and made-for-tv movies from "Here We Go Again" where she starred in 13 episodes to "Benjamin Franklin", and "The Streets of San Francisco".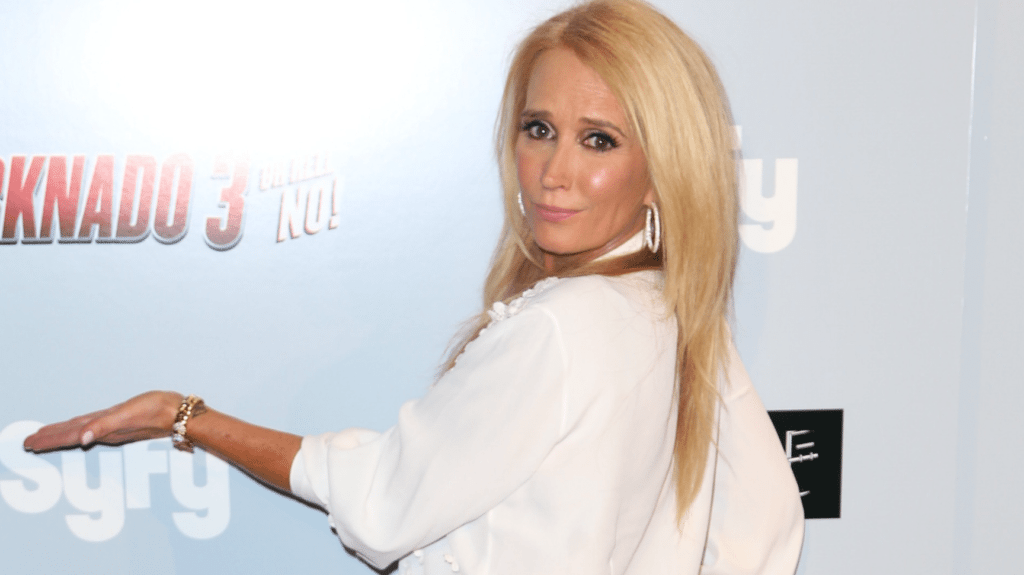 She made her major film debut playing Tia Malone in "Escape to Witch Mountain" (1975) and reprised her roles in the subsequent sequels that followed- "Return from Witch Mountain" (1978) and "Race to Witch Mountain" (2009). She also featured in a major film "No Deposit, No Return" (1976) where she portrayed Tracy.
Together with her sister Kyle, they both acted as sisters in the 1977 thriller movie "The Car". Between 1977 and 1978 she appeared in 21 episodes of NBC drama series "James at 15/16". Her next major TV gig was in the short-lived "Hello, Larry", a spin-off of "Diff'rent Strokes" which she also starred in three episodes.
In her early adult years, Kim was seen on "Meatballs Part II" (1984), "Tuff Turf" (1985) and "Escape" (1990). In her later life and more advanced years, Kim Richards has continued to land minor TV roles, although sporadically one of such was in 2015 when she appeared as Stephanie in an episode of ABC's "Revenge".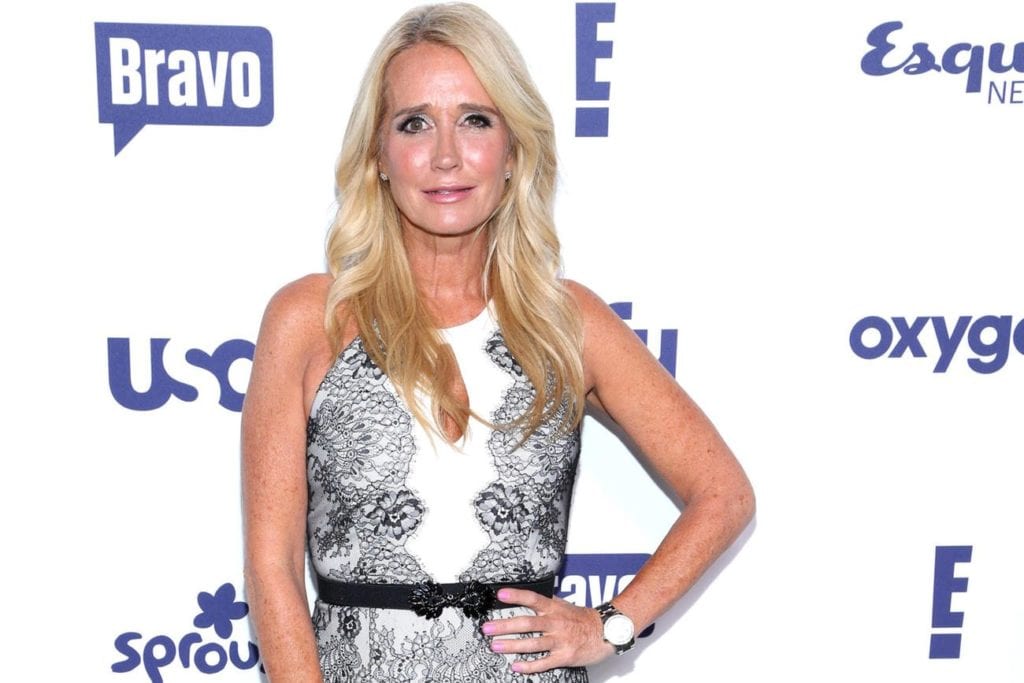 Kim was inactive in show business throughout the 1990's returning in the early 2000's. After sporadic movie roles, Kim and sister Kyle were chosen to appear as regular cast members in Bravo's "Real Housewives of Beverly Hills" in 2010. Kim reportedly earned $100,000 per season.
However, before she resumed her role on the reality TV show, Kim was struggling with alcoholism and checked into rehab a couple of times. Back in 1991, her then-fiance commodities salesman John J. Collett was gunned down while the two were speaking over the phone.
Appearing on RHOBH seemed to escalate her personal problems as she checked into rehab yet again in 2012. From having one of her four children breakdown publicly, to her pit bull dog named Kingsley landing her in several lawsuits for its wild attack on several families, friends, and even strangers, and her own dramatic breakdown on her daughter's wedding, Kim has been tabloid fodder.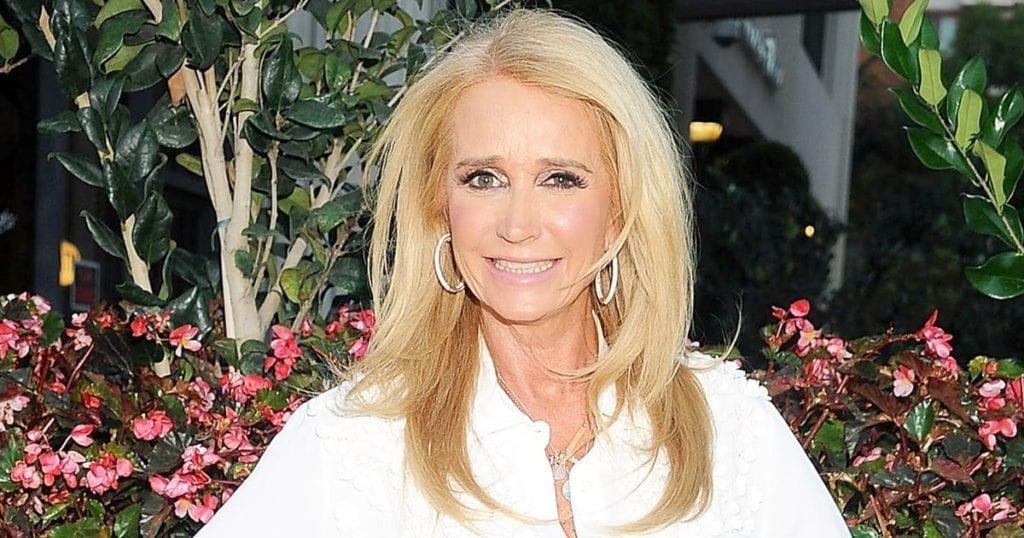 Kim was arrested in April 2015 at the Beverly Hills Hotel, the reality TV star was charged with resisting an officer, public intoxication, and trespassing. She was released on a $20,000 bail, after spending a night at Los Angeles County Jail. The incidence blew the sobriety claims she made on the RHOBH, leading producers to fire her from the show. Kim had previously blown two chances from Bravo to get sober.
She was arrested yet again on August 2, 2015, for attempted shoplifting at Target department store in San Fernando Valley. She spent the night in jail and was released on a $3,000 bail the next morning. During these time period, Kim was struggling with her fiances and even had to live off her stepsister Kathy Hilton, mother to Paris Hilton.
Also See: Ben Affleck Bio, Wife, Divorce, Brother, Kids, Girlfriend, Wiki
After being fired by Bravo, Kim however, refused to stay fired, pestering the producers until they allowed her to return as a "friend" and guest on the 6th season of the show, reportedly without pay as she wanted a good PR after her issues with the law. The relentless Kim after learning that one of the show's veterans Lisa VanderPump earns $2 million per season, demanded that Bravo pay her up to $1.5 million for the 7th season and more for reunions claiming that she would bring the necessary drama to keep fans watching. Unfortunately for Kim, not only did Bravo turn her down, they stated that "Kim is absolutely delusional if she thinks producers are going to give her anywhere near Lisa's huge paycheck."
Insider sources reveal that for the 7th season, Kim would be very lucky if she receives up to $150,000 per season. While Bravo turned down her pay rise, Kim could look to sister Kyle for a spot in her new Land TV show "American Woman" which will be based on how the sisters were raised by their mom back in the 1970's.
Kim Richards has total assets worth $100,000, however, if she has indeed cleaned up her acts, she could be set for future high paying gigs.
Details Of Kim Richards Husband Children, Boyfriend
Kim has been married and divorced twice. Kim was married to supermarket franchise, G. Monty Brinson from 1985 to 1988. Brinson died in 2016 after a long battle with cancer. Kim and Brinson had a daughter (Brooke) together.
Just a few months after her separation from Brinson, Kim got married to the son of petroleum mogul Marvin Davis. The couple were together till 1991. Her marriage to Gregg Davis produced two kids( Whitney Davis and Chad Davis).
After separating from Gregg, in the same year, Kim got engaged to commodities salesman John J. Collett. Unfortunately, Kim never got the opportunity to walk down the aisle with Collet as he was murdered in cold blood by hit men in a business deal that went bad.
Also See: The Top 15 Highest Paid TV Actors In The World
Kim was also linked with John Jackson (an aircraft supplier) with whom she had her fourth Child in 1995.
It is not confirmed if the former child actor is currently dating or seeing anyone or has simply decided to enjoy her singlehood.