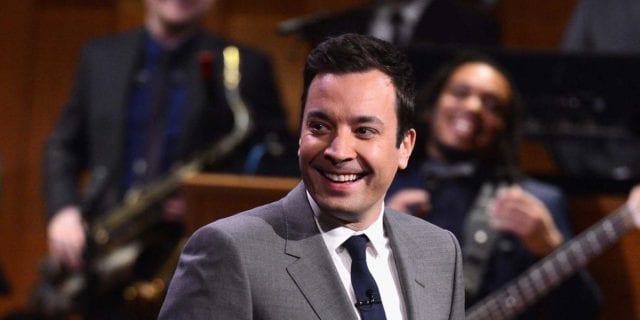 Jimmy Fallon is an actor, comedian, television host, producer, and singer best known for his time as cast on the SNL and as the current host of the late-night talk show, "Tonight Show With Jimmy Fallon".
Jimmy Fallon has worked his way to stardom with several awards and nominations, including the Grammy award for Best Comedy Album. His success is evident on his social media platforms. The entertainer pulls a crowd of 10.6 million fans on Instagram and 50.3 million on Twitter. With that number of followers, Jimmy is definitely at the peak of his career and doesn't seem to be slowing down.
Other things to be known about his life and wealth will be found here.
Jimmy Fallon Wiki
James Thomas Fallon was born on September 19, 1974, in Bay Ridge Brooklyn, New York. Shortly after his birth, his family moved to Saugerties, New York where he grew up. As a teenager, Fallon developed a strong passion for comedy and was a big fan of Saturday Night Life – his parents only let him watch scenes that they deemed appropriate for his age. Jimmy would re-enact his favourite scenes to his parents imitating actors and comedians from the show.
Also, Jimmy was passionate about music and learned to play guitar at 13. In high school, he was dubbed the class clown and was actively involved in social events. In an effort to follow in his father's footsteps who worked for IBM, Jimmy studied computer science in college but later switched to communications. While at college, he took up stand-up gigs during weekends performing in different comedy clubs. With just a semester to graduation, Jimmy dropped out of college and moved to LA to pursue a career in stand-up comedy.
See Also: 16 Private Jets Owned By Your Favorite Stars
Rise To Stardom
In LA, Fallon joined a group called The Groundlings where he polished his comedic act. His dream was to eventually become a cast on SNL, the comedy show he's been obsessed about since his teenage years. His manager sent video tapes of him to producers at SNL and after a first failed audition, Fallon saw his dream come true when the second audition though difficult was hugely successful. He was 23.
He made his SNL debut on September 1998 in the show's 24th season. The fourth episode of the show launched Fallon into stardom thanks to his performance of a Halloween-themed version of songs by popular artists and his impression of other comedians including Adam Sandler, Jerry Seinfeld, and Howard Stein. Fallon stayed on SNL for 6 years – 3 years more than he had originally planned. During his second half years on the show, he also became the host of "Weekend Update", wrote a book, released his first comedy album which received a Grammy nomination and also hosted a couple of MTV award shows. Fallon earned about $25,000 per episode during his heydays at SNL.
Movie Career Flop
He left SNL in 2004 to pursue a career in acting. His first major role was in "Taxi" (2004). Unfortunately, the movie turned out to be a flop. His follow-up role in "Fever Pitch" (2005) was just a bit better with no outstanding outcome. On the flip side, Jimmy won big after meeting film producer, Nancy Juvonen on the set of Fever Pitch. The two got married in 2007 and have since stayed married with two daughters. Jimmy also enjoyed a better success lending his voice to animated characters. His roles in films earned him at least $1 million. 
See Also: James Cameron Spouse/Wife, Wiki, Film Earnings, Houses
Return to Late Night Show And His Earnings
Following a rather unsuccessful post-SNL period, Fallon was without direction for a while until Lorne Michaels creator/producer of SNL suggested to NBC that he take over The Late Night franchise which was soon to be without a host following the contract expiration of Conan O'Brien. Fallon succeeded O'Brien as the host and Late Night With Jimmy Fallon premiered in March 2009.
Though the management and the general public were unsure if he was the best option for the show, Jimmy turned out to be surprisingly successful winning over the hearts of fans and increasing the show's popularity. He brought a paradigm shift to the show by ultimately focusing on music, gaming and dancing. Several clips of the show began to go viral online. In 2013 Fallon's paycheck increased to $11 million. His second comedy album won a Grammy for Best Comedy Album in 2013.
In 2014, Jimmy Fallon succeeded Jay Leno as host of NBC's Tonight Show after penning a 6-year contract that will keep him as host until the fall of 2021. The debut Tonight Show With Jimmy Fallon was a huge success registering 11.3 million viewers.
Fallon has written three books, he also makes cameo appearances in movies and TV shows. The man owns a $1.35 million four-bedroom co-op in a Manhattan apartment building and a $5.7 million farmhouse in the Hamptons. In all, it has been commonly assumed that the value of his riches is $25 million.
See Also: Ryan Seacrest Gay? Married With Wife? Girlfriend
Details Of Jimmy Fallon's Mom And Wife
The 43-year old talk show king and his wife, Nancy Juvonen are proud parents of two kids – Winnie Rose and Frances Cole Fallon. Jimmy's mother, Gloria Fallon passed away on November 4, 2017, at the age of 68. She died at NYU Langone Medical Center in Manhattan, New York, with Jimmy and the entire family by her side.
This led to the cancellation of the scheduled taping of the following week's shows, and Fallon paid an emotional tribute to his mother.
Divorce Rumors
Rumors of his divorce with Nancy started in 2017. This has been followed by countless insinuations that both are on the verge of breaking up their marriage. Despite the allegations surrounding the Jimmy-Nancy marriage, the power couple appeared at the 74th annual Golden Globe Awards, looking like the rumours never existed.

The duo got married in 2007 after being introduced by producer Drew Barrymore. They are still married and very much in love.

Fact Check: We strive for accuracy and fairness. If you see something that needs updating,