What is Jimmy Fallon's net worth?
Jimmy Fallon is an actor, comedian, television host, producer, and singer best known for his time as cast on the SNL and as the current host of the late-night talk show, "Tonight Show With Jimmy Fallon." As of 2021, Jimmy Fallon's net worth is $60 million.
Net Worth:
$60 million
Age/Date of Birth:

September 19, 1974
Height:

6 feet (1.83m)
Ethnicity:

Mixed: Irish, German, and Norwegian descent
Nationality:
American
Wife or Girlfriend:


Nancy Juvonen (m. December 2007)
Parents:
Father: James Fallon, Sr.
Mother: Gloria Fallon
Jimmy Fallon has worked his way to stardom with several awards and nominations, including the Grammy award for Best Comedy Album. His success is evident in his social media platforms. The entertainer pulls a crowd of 10.6 million fans on Instagram and 50.3 million on Twitter. With that number of followers, Jimmy is definitely at the peak of his career and doesn't seem to be slowing down.
His Childhood and Early Life
James Thomas Fallon was born on September 19, 1974, in Bay Ridge Brooklyn, New York. Shortly after his birth, his family moved to Saugerties, New York, where he grew up. As a teenager, Fallon developed a strong passion for comedy and was a big fan of Saturday Night Life – his parents only let him watch scenes that they deemed appropriate for his age. Jimmy would re-enact his favorite scenes to his parents imitating actors and comedians from the show.
Also, Jimmy was passionate about music and learned to play guitar at 13. In high school, he was dubbed the class clown and was actively involved in social events. To follow in his father's footsteps who worked for IBM, Jimmy studied computer science in college but later switched to communications. While at college, he took up stand-up gigs during weekends performing in different comedy clubs. With just a semester to graduation, Jimmy dropped out of college and moved to LA to pursue a career in stand-up comedy.
His Rise To Stardom
In LA, Fallon joined a group called The Groundlings where he polished his comedic act. His dream was to eventually become a cast on SNL, the comedy show he's been obsessed about since his teenage years. His manager sent videotapes of him to producers at SNL and after a first failed audition, Fallon saw his dream come true when the second audition though difficult was hugely successful. He was 23.
He made his SNL debut in September 1998 in the show's 24th season. The fourth episode of the show launched Fallon into stardom thanks to his performance of a Halloween-themed version of songs by popular artists and his impression of other comedians including Adam Sandler, Jerry Seinfeld, and Howard Stein. Fallon stayed on SNL for 6 years – 3 years more than he had originally planned. During his second-half years on the show, he also became the host of "Weekend Update", wrote a book, released his first comedy album which received a Grammy nomination and also hosted a couple of MTV Awards shows. Fallon earned about $25,000 per episode during his heydays at SNL.
His Movie Career Flop
He left SNL in 2004 to pursue a career in acting. His first major role was in "Taxi" (2004). Unfortunately, the movie turned out to be a flop. His follow-up role in "Fever Pitch" (2005) was just a bit better with no outstanding outcome. On the flip side, Jimmy won big after meeting film producer, Nancy Juvonen on the set of Fever Pitch. The two got married in 2007 and have since stayed married with two daughters. Jimmy also enjoyed a better success lending his voice to animated characters. His roles in films earned him at least $1 million. 
His Return to The Late Night Show, and His Career Earnings
Following a rather unsuccessful post-SNL period, Fallon was without direction for a while until Lorne Michaels creator/producer of SNL suggested to NBC that he take over The Late Night franchise, which was soon to be without a host following the contract expiration of Conan O'Brien. Fallon succeeded O'Brien as the host and Late Night With Jimmy Fallon premiered in March 2009.
Though the management and the general public were unsure if he was the best option for the show, Jimmy turned out to be surprisingly successful winning over the hearts of fans and increasing the show's popularity. He brought a paradigm shift to the show by ultimately focusing on music, gaming, and dancing. Several clips of the show began to go viral online. In 2013 Fallon's paycheck increased to $11 million. His second comedy album won a Grammy for Best Comedy Album in 2013.
In 2014, Jimmy Fallon succeeded Jay Leno as host of NBC's Tonight Show after penning a 6-year contract that will keep him as host until the fall of 2021. The debut Tonight Show With Jimmy Fallon was a huge success registering 11.3 million viewers.
Fallon has written three books, he also makes cameo appearances in movies and TV shows. The man owns a $1.35 million four-bedroom co-op in a Manhattan apartment building and a $5.7 million farmhouse in the Hamptons. In all, it has been commonly assumed that the value of his riches is $60 million.
Career Highlights:
Spin City (TV-Show, 1998)
Saturday Night Live (1998)
Band of Brothers (2001)
Hosted 2001 MTV Movie Awards (2001)
Hosted 2002 MTV Video Music Awards (2002)
Hosted Late Show with David Letterman (2003)
Hosted MTV Movie Awards (2005)
Late Night with Jimmy Fallon (2009)
The Electric Company (2009 – 2010)
Co-creator, writer, and executive producer of Guys with Kids (2012 – 2013)
Meet Jimmy Fallon's Parents, Sister, and Wife
As aforementioned, Jimmy Fallon is one of the two children born to Gloria and James W. Fallon. The comic star has an older sister also named Gloria Fallon. Let's meet Jimmy's family members below.
Name: Gloria Fallon (nee Feeley)
Relationship: Mother
Year of Birth: 1949
Died: 2017
Jimmy's mom, Gloria was born in 1949, in Brooklyn, New York City, New York, USA. She was married to James W. Fallon. Sadly, she died on November 4, 2017, in New York City, from undisclosed causes. At the time of her death, she was 68 years old. Meanwhile, Jimmy has always taken his mom to be his biggest fan, and when the news of her death started making the rounds, the comedian canceled all the scheduled episodes of his show. The following week, the comic star paid tribute to her following the night's monologue, becoming quite emotional on set and calling her "the best audience."
Name: James W. Fallon
Date of Birth:

November

 16, 1948
Relationship: Father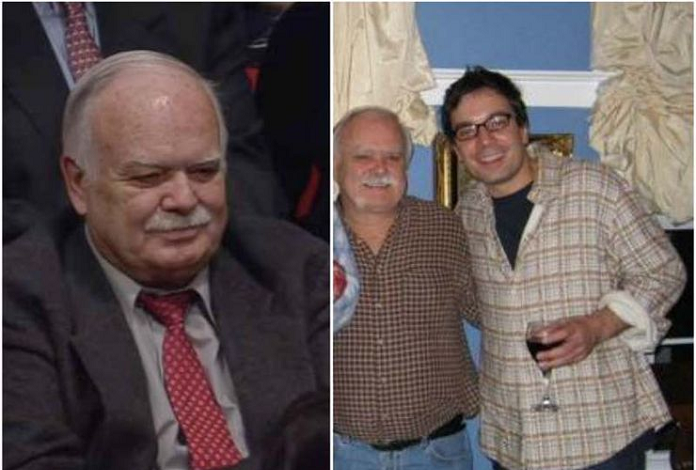 James is the father of the comedian and late-night show host, Jimmy Fallon. He has been seen frequently with his son in public places, and he also made a guest appearance on his son's first monologue on The Tonight's Show in 2014. In his heydays, James sang with a street-corner group called doo-wop, worked as a machine repairer for IBM in New York, and was equally a Vietnam War veteran. Jimmy has described his childhood as idyllic, and his parents as being overprotective.
Name: Gloria Fallon
Date of Birth: N/A
Relationship: Sister
Marital Status: Married
Occupation: Comedy Writer, Author
Named after her mother, Gloria Jr is Jimmy's older and only sister, as well as his only sibling. They all grew up in New York, and while she was very young, Gloria had an interest in comedy and acting. However, she is now a New York-based writer of comic books, as well as a frequent contributor to US Weekly's Police. Beyond that, Gloria's works have been featured on notable magazines and websites, including The Huffington Post, SheKnows.com, and Mommyish.com, among others.
Jimmy is Happily Married to Nancy Juvonen
Full name: Nancy Juvonen
Date of Birth: May 18, 1967
Occupation: Film Producer
Years Active: 1999 – Present
Spouse: Jimmy Fallon (married since 2007)
No of Children: 2
The talk show king is happily married to Nancy Juvonen, and they are proud parents of two kids – Winnie Rose and Frances Cole Fallon. The duo first met on Saturday Night Live but later became friends on the set of Fever Pitch as Nancy worked as one of the producers of the show. They were introduced by Drew Barrymore, a producer who had worked with Jimmy, as well as Nancy's business partner.
It didn't take long before the pair hit things off, and in August 2007, Jimmy popped the big question and Nancy said Yes! The comic star proposed to her on the dock at sunset with a Neil Lane designed engagement ring at Nancy's family home in Wolfeboro, Lake Winnipesaukee, in New Hampshire. Four months later, the couple exchanged marital vows and has been together ever since.
As earlier stated, Jimmy's wife, Nancy Fallon, is an American film producer. Together with Drew Barrymore, she co-owns a production company called Flower Films. The California native is the daughter of William H. Juvonen, a former Marine Aviator and Aviation Industry Executive, who died in 2018. She graduated from the University of Southern California, where she got a degree in cooperative education and sociology. She began her career in 1999 and has produced more than 15 movies.
They Have Two Adorable Daughters
Jimmy Fallon's marriage to Nancy has produced two adorable children, daughters named Winnie Rose Falon and Frances Cole Fallon. Their first child, Winnie Rose Fallon, was born on July 23, 2013, and in the following year, 2014, the couple welcomed their second daughter, Frances Cole Fallon.
It is important to note that both Winnie and Frances were born via gestational surrogacy. According to Fallon, he and Nancy tried to have a child for five years, but it didn't work out. However, going through surrogacy it all became possible. He went further to say that the arrival of their kids has changed him, and he is happy to a father. About future careers, Jimmy Fallon's kids are still very young, but having a comedian dad and a producer mom, we are sure either or both of them would follow in the footsteps of their parents in the entertainment industry.
Jimmy Fallon's Children:
Winnie Rose Fallon (b. 2013)
Frances Cole Fallon (b. 2014)
Divorce Rumors
While Jimmy Fallon and his wife, Nancy, have been married for over a decade and still counting, the couple has had their fair share of divorce rumors. The rumors first started making the rounds in 2015, when the comic star was accused of drinking too much. It started gaining momentum when was rushed to the hospital after nearly severing a finger when he caught his wedding ring on a table corner during a freak fall at home.
Also, in 2017, it emerged that the couple is experiencing marital issues. This has been followed by countless insinuations that both are on the verge of breaking up their marriage. Despite the allegations surrounding the Jimmy-Nancy marriage, the power couple appeared at the 74th annual Golden Globe Awards, looking like the rumors never existed.
Profile Summary
First Name:
James
Last Name:
Fallon
Also Known As:

Jimmy
Sex/Gender:

Male
Profession:

Comedian, actor, television host, writer, and producer
Famous For:
Saturday Night Live, The Tonight Show
Colleges/Universities Attended:

College of Saint Rose
Educational Qualifications:

N/A
Religion:

Christianity
Birthday & Zodiac

Age/Date of Birth:

September 19, 1974
Zodiac Sign:
Virgo
Birth Place:

New York City, U.S.
Nationality:
American
Ethnicity/Race:

Mixed: Irish, German, and Norwegian descent
Country of Residence:

The United States of America (USA)
Physical Attributes

Height:

6 feet (1.83m)
Weight:

73kg (160 lbs)
Eye Colour:

Dark Brown
Hair Color:

Brown
Other Body Measurements:

N/A
Relationships

Marital Status:

Married
Spouse/Partner:

Nancy Juvonen (m. December 2007)
Family and Relatives

Father:

James Fallon, Sr.
Mother:
Gloria Fallon
Children:

Frances Cole Fallon (2014)
Winnie Rose Fallon (2016)
Siblings:
Gloria Fallon
Other Relatives:

N/A
Net Worth
Estimated Net Worth:

$60 million
Salary:
$16 million
Source of Wealth:

The Tonight Show, Comedy, Acting
Common Questions
The late-night talk show The Tonight Show Starring Jimmy Fallon which premiered on February 17, 2014, airs weeknights at 11:35 p.m. ET/PT, on the National Broadcasting Company (NBC). The show which opens with Fallon's topical monologue transitions into comedic sketches/games, concluding with guest interviews and musical performance.
The American comedian Jimmy Fallon makes an annual salary of about $11 million for his work on Late Night. On August 13, 2015, he signed a contract to remain with the show until 2021.
Tickets of the Tonight Show Taping is often released one month at a time. You can reserve free tickets to see a taping of The Tonight Show Starring Jimmy Fallon by visiting Tonightshowtix.com. All available dates will be listed on the Calendar. You can try to get the tickets by requesting them in advance or by waiting in line for standby tickets.