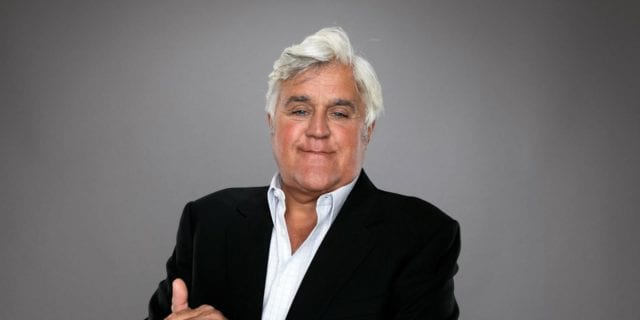 Jay Leno is a stand-up comedian, writer, TV host, actor, and producer. You will find all you need to know about him here including his age, height, wife, and car collections.
Jay Leno – Biography, Age
James Douglas Muir Leno was born on 28th April 1950 in New Rochelle, New York. His mother's name is Catherine; she was a homemaker and immigrant to the US from Scotland. And, his father, Angelo was an insurance salesman born in New York to Italian immigrants. During high school, Leno was referred to as the class clown.
Leno launched his career by taking up acts in nightclubs and later launched a comedy club in 1973. He then began taking up minor roles in several films and TV series including "Good Times", "Holmes" & "Yo-Yo".  In 1977, he made his debut on "The Tonight Show" as a performing comedian.
Throughout the 70's and early 80's, Leno continued appearing in a number of films and TV series including "Almost Heaven", "Americathon", "The Wild One" and more. A decade later, in 1989 after his debut on The Tonight Show, Leno became a regular substitute for Johnny Carson on The Tonight Show. He completely replaced him in 1992 in a rather turbulent transition which was later adapted into a book and movie titled "The Late Shift".
Earnings, Net Worth
His total assets are estimated at $350 million with several collections of automobiles and motorcycles. Let's know more about how he made his money.
Career as a TV Host
Leno's first salary as a host for "The Tonight Show" was $1 million, it increased in 1994 to $3 million. His salary continued to increase rapidly each year until it reached its peak – $30 million – between 2009 and 2010. It took a little dive in 2010 to $25 million and then $15 million in 2011 – 2014.
In 2004, he signed a contract extension with NBC which saw him earn $20 million from then to 2009 when he decided to retire as host of the show to start his own eponymous show. However, the Jay Leno Show was unsuccessful and was cancelled in 2010, he then returned to continue as host of Tonight Show the same year, which was the year he received his highest paycheck as the show's host.
The King of Late Night retired from hosting the popular show in 2014, after a successful career that spanned over 2 decades. He was inducted into the TV Hall of Fame the same year. Since retiring, he has made appearances on "Tonight Show with Jimmy Fallon", "Late Night with Seth Meyers" and more.
See Also: Top 10 Highest Paid Comedians In The World
Stand-Up Comedy, Books, Films
Jay bolsters his TV show earnings with stand-up comedy. He performs over 150 stand-up comedy gigs every year which makes him between $15 million and $20 million every year. Even after retiring, Leno continues to tour as a stand-up comedian.
Apart from his work (The Late Shift) about his turbulent transition to becoming the host of The Tonight Show, Leno has penned another book, "Leading With My Chin" which was inspired by his prominent jaw. The book talks about how he is aware surgery would reset his jaw but he'd rather live without surgery as it would have to keep him from talking during the healing process.
In recent film works, Leno has lent his voice for Fast Eddie in "Ice Age 2: The Meltdown" and The Crimson Chin in "The Fairly OddParents". He has also made cameo appearances in a number of movies including "Ted 2".
See Also: Tracy Morgan Wife, Accident, Is He Dead? Wiki, Kids, Mother
Cars, Car Collections
Leno is an avid car collector, he has almost 286 vehicles including 169 automobiles and 117 motorbikes. He writes about his wide range of cars in his blog – jaylenosgarage.com. One of his most prestigious cars is the McLaren F1 which is valued at $870,000. He also owns a fire truck, an American-LaFrance built in 1941.
Here is a list of the top 10 most expensive cars in Jay Leno's collection:
| | | |
| --- | --- | --- |
| S/N | Type of Car | Monetary Value |
| 1 | 2006 EcoJet | Priceless |
| 2 | 1955 Mercedes 300SL Gullwing Coupe | $1.8 million |
| 3 | 2014 McLaren P1 | $1.35 million |
| 4 | 1994 McLaren F1 | $970,000 |
| 5 | 1963 Chrysler Turbine | $415,000 |
| 6 | Blastolene Special | $350,000 |
| 7 | 1986 Lamborghini Countach | $215,000 |
| 8 | 1909 Stanley Steamer | $185,000 |
| 9 | Audi R8 Spyder | $157,000 |
| 10 | 1966 Oldsmobile Toronado | $150,000 |
You can view some of his numerous other cars here.
Jay Leno Wife, Height
Lene is, without doubt, one of the finest and most mature entertainers America has ever produced. Jay stands at 5.11 feet with a healthy body weight of 66kg. His height and body weight is ideally perfect to keep him active for performing in shows despite his old age.

The comedian has been married to wife, Mavis Leno since 1980. Mavis is a social worker who fights for the rights of the underprivileged. The two are perfect for each other and have been spending their life together ever since they became life partners. However, the couple has no kids. It is said that they had a mutual agreement about that.

Fact Check: We strive for accuracy and fairness. If you see something that needs updating,