Jay Leno is without doubt, one of the finest and most mature entertainers America has ever produced. A multiple award-winning stand-up comedian, writer, TV host, actor, and producer, Jay has used both his talents and physique to endear himself to the hearts of millions of entertainment lovers across America and the globe. Most popular for hosting NBC's The Tonight Show for almost three decades, Jay has since leaving the show kept his career alive with numerous other personal ventures, including his Jay Leno's Garage show which has been on air since 2015. The show which won the Primetime Emmy Award gives a peek into Leno's love for vintage motor vehicles. As of 2020, Jay Leno's net worth is $450 million
Stunning Revelations from Jay Leno's Car Garage
It would be a great omission to complete a discussion about Jay Leno without making mention of his car collections. This is simply because Leno is an avid and massive car collector. A trip to Leno's Big Dog garage in Burbank, California leaves many jaws dropping.
The Origin of Jay Leno's Obsession with Cars

The stand-up comedian was bred in the rural parts of Massachusetts and developed his love affair with cars as a kid, following the array of broken vehicles which needed fixing in his neighbourhood.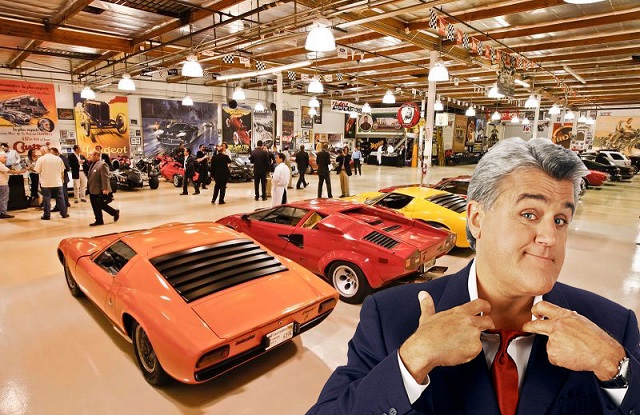 Interestingly, the comedian never set out to collect cars. But in the course of his love affair with autos, he just bought what fascinated him. The avid car collector's garage is filled with no less than 286 cars and about 160 motorcycles. Jay who has a soft spot for rare and valuable cars accumulated his collection on three principles: historical significance, attractiveness, and technical significance. The legendary comedian's entire collection is reportedly worth more than $52 million while his net worth is estimated at $450 million.
Jay's auto obsession has also landed him a spot on Tim Allen's comedy Last Man Standing, where he utilizes his extensive car knowledge to portray mechanic Joe Leonard since 2015. Despite his exquisite car collection, Leno claims to live pretty frugally and prides himself as a huge believer in low self-esteem.
One of his most prestigious cars is the McLaren F1 which is valued at $870,000. He also owns two double steam cars, a range of electric cars and an American-LaFrance fire truck built in 1941. While we may not cover all the cars in Leno's collection, we'll have a look at 10 of the most-valued.
2006 EcoJet (Priceless)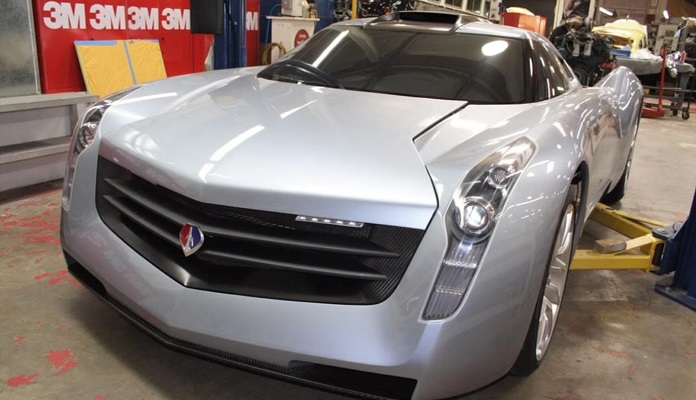 Owing to how much it took Jay and his crew to have this EcoJet restored, it became quite difficult to say its monetary value. For three long years, the team worked on the classic which boasts a speed of over 150 mph.
1955 Mercedes 300SL Gullwing Coupe ($1.8 million)
Jay actually salvaged this coupe from the desert where it was rusting away on a trailer! Knocking off rust from the vintage, he had it restored to its old dignity of being the first ever F1 of its day.
2014 McLaren P1 ($1.35 million)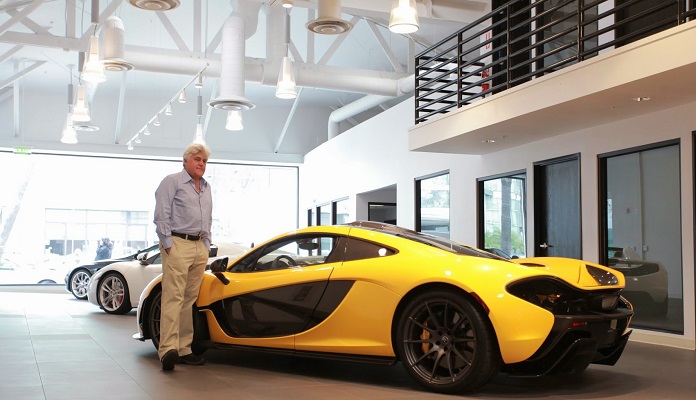 Leno's McLaren P1 is one of the only 375 ever manufactured in America. The brand's CEO, Mike Lewitt had to come down to Leno's garage himself to put him through the supercar.
1994 McLaren F1 ($970,000)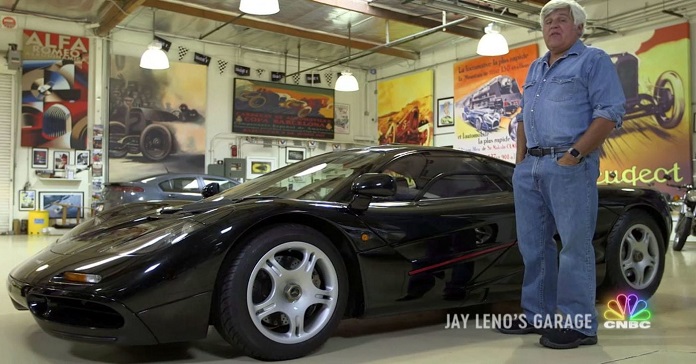 One of Jay Leno's most expensive automobiles, 1994 McLaren F1 valued at almost $1m has a whopping speed ability of over 240 mph!
1963 Chrysler Turbine ($415,000)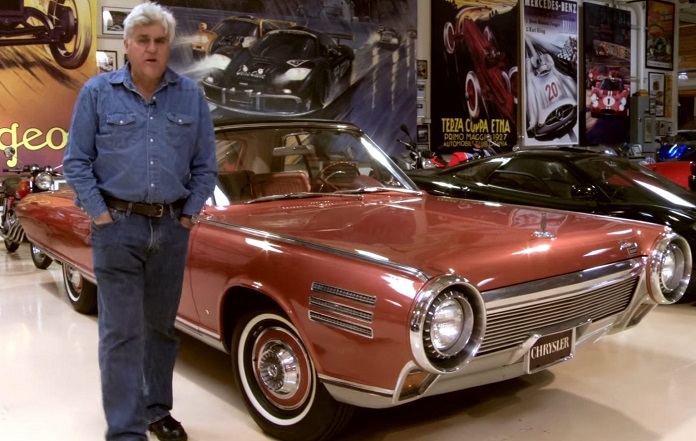 Jay said he admired and longed for this car from age fourteen. So for him, having it is a dream come true. The 1960s car cost Leno fortunes to have it back in optimal shape and function.
Blastolene Special ($350,000)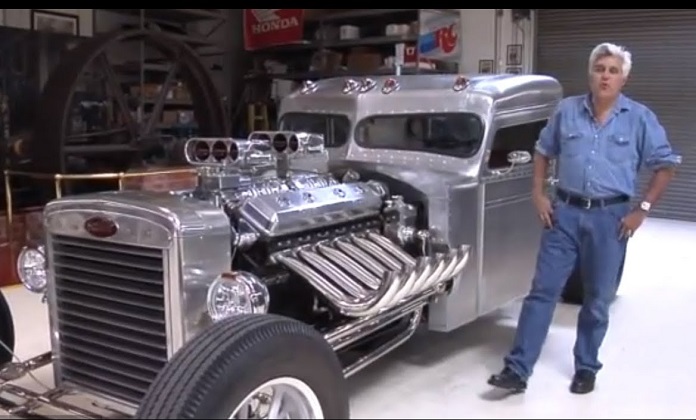 From its looks, one needs not be told what a powerful auto Jay Leno has got here. It took the car enthusiast no small amount of sweat to have what you see above. But his passion for cars made it quite easy!
1986 Lamborghini Countach ($215,000)
This is one of the beasts in Jay Leno's garage whose performance drops jaws for sure. Of Italian origins, the restored 1986 countach remains one of Lamborghini's best models.
1909 Stanley Steamer ($185,000)
This vintage remains one of Jay's auto wonders. Valued at almost $200,000, Leno indeed spent a lot of time and energy to bring it back to life. The classic has however, proven it's all worth the while.
Audi R8 Spyder ($157,000)
After working on this supercar, Jay Leno was proud of his results. One of Audi's best models till date, the beast boasts a powerful 540 hp.
1966 Oldsmobile Toronado ($150,000)
Leno's 1966 Toronado is one of the most valued vintages in his garage. Although its fat build discourages many, its powerful performance is something worth giving a try.
You can catch up with more updates on Leno's wide range of cars on his YouTube channel, Jay Leno's Garage.
Jay Leno's Net Worth and How He Makes His Money

With a staggering net worth of $450 million, Jay Leno has garnered most of his wealth from his entertainment career. Born on 28th April, 1950 in New Rochelle, New York, Leno launched his career in the early 1970's. Here's a detailed exploration of his sources of income through the years.
He Has Made Millions from Tonight Show and Other Screen Works
In the first two decades of his entertainment career, Jay only did random jobs as both comedian and actor. He however, landed his big break in 1992 when he replaced Johnny Carson as host of NBC's hit talk show, The Tonight Show. For over thirty years, this breakthrough meant a great turn around in Leno's financial status!
His first salary as a host for "The Tonight Show" was $1 million per annum. This increased in 1994 to $3 million. In 2004, he signed a contract extension with NBC which saw him earn $20 million for his hosting role. Owing to the booming success of the show, Leno's salary continued to increase rapidly each year until it reached its peak of $30 million in 2009. After taking a short break from the show, his paycheck took a little dive in 2010 to $25 million and then $15 million from 2011 to 2014.
In addition to hosting The Tonight Show, Jay Leno has featured in numerous other financially rewarding screen jobs including films and TV series/shows. Notable among Leno's high-grossing screen appearances are Collision Course, Space Cowboys, Cars, Ice Age: The Meltdown, The Fresh Prince of Bel-Air, The Drew Carey Show, The Fairly OddParents, Family Guy, The Muppets, and Ted 2.
Since 2015, Jay has been playing the recurring role of Joe Leonard in the ABC sitcom, Last Man Standing. He has also been voicing Billy Beagle in Disney's animated series, Mickey Mouse Mixed-Up Adventures since 2017.
Jay Leno's Garage and Car Care Products Provides Alternative Income Sources

Following his departure from The Tonight Show, Jay Leno launched his on prime-time series titled Jay Leno's Garage. The show which Jay hosts himself has witnessed considerable success having aired five seasons since after its debut in 2015. On the show, Leno reviews a variety of vintage cars, from classics and super cars, to roadsters, restoration projects, and more. Complementing his TV show is Jay Leno's line of car care products. The merchandise which are on display on lenosgarage.com comprise a variety of wash and wax essentials, detailing tools, and more.
Stand-Up Comedy and Writing Gigs Earn Him Close to $20 million Each Year

As mentioned in the introduction, Jay Leno is a versatile entertainer whose career apart from TV hosting includes stand-up comedy, acting, writing, and producing. Jay bolsters his TV show earnings with stand-up comedy. He annually performs over 150 stand-up comedy gigs which makes him between $15 million and $20 million each year. Despite having advanced in age, Leno continues to tour as a stand-up comedian.
In addition to stand-up, Jay Leno is the author of two books, namely: The Late Shift and Leading With My Chin. Having witnessed successful sales on their respective releases, proceeds from the books also contributed to Leno's worth. The entertainer has also written and produced the scripts for a number of TV films and shows including The Tonight Show, The Jay Leno Show and Jay Leno's Garage.
Altogether, Leno's media career have earned him massive wealth. As of 2020, Jay Leno's net worth stands at an estimated $450 million, alongside his numerous collections of automobiles and motorcycles worth over $50 million.
See Also: Top 10 Highest Paid Comedians In The World
Lesser-Known Facts About Jay Leno's Marital Life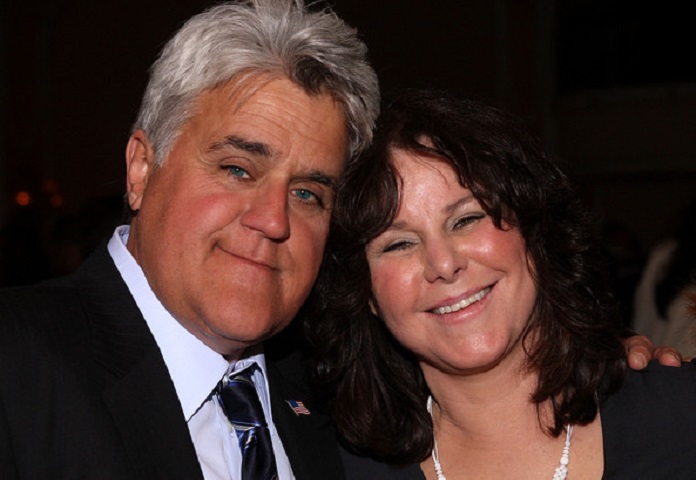 Jay Leno has been married to a lady called Mavis for four decades now. The duo tied the knot in 1980, about four years after they met at a comedy store in 1976. Mavis Leno (b. Sept 5, 1946) is a feminist and social worker who fights for the rights of the underprivileged. Alongside her husband, Mavis is an active member of the Feminist Majority Foundation. In 1997, she became the chair of the organisation's campaign against Gender Apartheid in Afghanistan.
Secrets to Jay and Mavis Long-lasting Marriage Revealed
Jay and his wife Mavis have been described as a ideal couple who are just perfect for each other. As of 2020, the couple who obviously love each other dearly have already spent forty years of their lives together without any media-noticed issue or controversy. Speaking in a March 2019 interview with People, Leno revealed that one of the key secrets to their long-lasting marriage is faithfulness; "don't screw around", the comedian advised.
The couple also have similar hobbies. While Jay is a car enthusiast, Mavis loves traveling. The fact that he married someone who is not in the show business also helps to keep their marriage. Jay moreover advised that people should marry someone they wish they could be. Explaining further, he said guys should not marry a lady based on her sexual prowess but based on an assessment of her overall character and personality.
The Surprising Reason Leno and His Wife Have No Kids
So far in their long union, Jay Leno and his wife Mavis do not have kids. Surprisingly, Mavis has owned up to being responsible for their childlessness. The feminist revealed she changed her mind about getting married and having kids after watching The Honeymooners as a child. In a 2014 interview with The Washington Post, Mavis said the movie opened her eyes to how getting married and giving birth turn smart and attractive women into drags and end losers, with their husbands always trying to abandon them. This caused her to decide never to marry nor give birth. She took this decision around age seven or eight and stuck to it till adulthood.
Mavis however, changed her mind about getting married after she fell helplessly in love with Jay Leno. But she never did on the aspect of giving birth. This however, has never been an issue between her and her husband as they both reached a mutual agreement on the issue prior to tying the knot. The couple are obviously very happy with each other, often appearing hand in hand and full of smiles at public events.
Family Tragedies
Jay Leno has been dealt a fair share of life's blows. The legendary comedian who has strong family values was devasted following the death of his mother, Catherine in 1993, shortly after he began hosting The Tonight Show. About a year later, he also lost his father Angelo. In 2003, Leno's brother, Patrick passed away after battling with cancer.
Does He Have Any Health Challenges?
Jay Leno is dyslexic and has had to work twice as hard as any other person to get the same thing since he was a kid. The comedian reportedly does not gamble, drink or smoke, and gets only 4 to five hours of sleep daily. More recently, Jay disclosed that he was diagnosed with high cholesterol about two decades ago and has survived by adjusting his lifestyle to accommodate healthier foods and regular medical check-ups.