What is Jerry Seinfeld's net worth?
Net Worth:
$950 million
Age/Date of Birth:

69 years old (April 29, 1954)
Height:

In feet: 5 ft 11 in
In centimeters: 180.5 cm
Ethnicity/Race:

White
Nationality:
American
Wife or Girlfriend:
Jessica Seinfeld (m. 1999)
Parents:
Kálmán Seinfeld and Betty Seinfeld
Who said standup comedy doesn't pay? Jerry Seinfeld's net worth clearly shows that people will pay a lot of money to laugh. The comedian topped the 2015 list of the highest-paid comedians in the world and as of 2021, his net worth is reported to be $950 million. SOme analysts beleive that his net worth would surely be higher than the reported US$950 Million.
Although Seinfeld is no longer as active as he used to be, he still remains a household name in the United States and other Western countries. What makes Jerry a force to reckon with is his unique way of telling jokes. He simply takes the basics of life and turns them into humor that will leave you in stitches or in tears for a good reason. So rib-cracking and hilarious are his works that despite having been aired many years ago, people still watch reruns of them today. Statistics indicate that Seinfeld is still earning good money from the shows he made while he was still very young.
Jerry Seinfield's Path to Success Was Not Extraordinary
Jerry Seinfeld's path to stardom and enormous wealth was not extraordinary as he followed the same path other people followed. The Brooklyn, New York native who was born on April 29, 1954, attended Massapequa High School in Long Island before enrolling at State University of New York at Oswego. After two years at Oswego, he transferred to Queens College, City University of New York, where he graduated with a bachelor's degree in theatre and communications in 1976.
During his school days, Seinfeld developed a huge interest in stand-up comedy. He participated in college productions and was able to appear on open-mic nights at Budd Friedman's Improv Club. After graduation, he tried out at an open-mic night at New York City's Catch a Rising Star. His performance caught the attention of a few people and so he was able to land an appearance in the HBO Special of Rodney Dangerfield.
Jerry Seinfeld's big break then came in 1981 when he made his first appearance on The Tonight Show Starring Johnny Carson. He became an instant hit after making such a huge impression on Carson and the audience. Jerry was subsequently able to land more appearances on the show and he gained a large fan following. In addition to making frequent appearances on The Tonight Show, he also appeared on other shows like Late Night with David Letterman before landing his first one-hour special aired live on HBO titled Stand-Up Confidential in 1987.
The Semi-fictionalized "Seinfeld" Sitcom About Himself Catapulted Him to Fame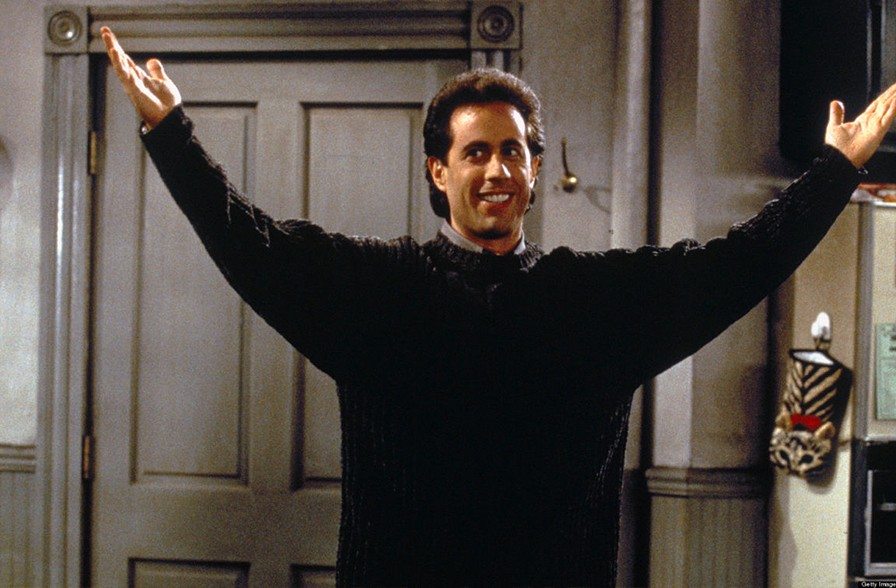 In 1988, Jerry Seinfeld created a sitcom titled The Seinfeld Chronicles. The sitcom was, however, later renamed Seinfeld and it aired on NBC. It is undoubtedly the best act from the comedian, playing a central role in his incredible net worth and singlehandedly changing the world of sitcoms.
Jerry played a semi-fictitious character of himself on the show that ran for nine seasons and held the top position as the most-watched comedy show in the US until its final episode aired in 1998. In addition to being the main act, he wrote and co-produced it with his partner Larry David. Re-runs of the show are still being watched today, decades after the last show was aired.
With the huge success he found with the TV show and as a stand-up comedian, Seinfeld never really ventured into the world of film and movies. He continued to dedicate most of his energy and work in building a prolific comedy profile and in 2005, he was named as the 12th-greatest standup comedian ever by Comedy Central.
A Breakdown of Jerry Seinfeld's Net Worth
Comedy has really paid off for Jerry Seinfeld who has made a fortune from doing what he loves the most. As mentioned above, his net worth is estimated to be $950 million. Pretty much for a comedian huh? Well, he earned it through decades of hard work.
In 2004, he reportedly earned $100 million from both performing standup comedy and his show's syndication deal. Two years later, his earnings dropped to $60 million but rose again to $85 million between 2008 and 2009. He was the highest-paid comedian in the world during that time.
According to Forbes, Jerry was again the highest-paid comedian in the world in 2015, having raked in $36 million. The following year, he managed second place but bounced back to take first place again in 2017 with a total earning of $69 million.
A Huge Chunk of His Wealth Comes From the Success of "Seinfeld"
Nine seasons and 180 episodes of Seinfeld aired from July 5, 1989, to May 14, 1998. The show was a huge success and it has since been ranked among the best television shows of all time by various notable publications. Such was its popularity that the final episode of the show enjoyed a historic audience, with an estimated 76.3 million viewers tuning in. This made it the fourth most-watched regular series finale in U.S. television history.
The sitcom further became the first TV series to command over $1 million a minute for commercials, a figure which only the Super Bowl previously commanded. This was one of the factors that propelled executives at NBC to offer Jerry Seinfeld $5 million per episode, or over $100 million for a tenth season, which he declined. The offer was over three times higher per episode than what anyone on TV had ever been offered or paid before. Jerry appeared to have been content with him having earned a total of $267 million from the show at the time.
He Continues to Earn From its Syndication and Reruns Long After It Ended
One of the major reasons why Jerry Seinfeld was able to earn so much from his show was because of its sale into syndication. As of February 2017, the sitcom has made an estimated $4.06 billion in syndication. Re-runs continue to air today as multinational mass media conglomerate Viacom in 2019 acquired the rights to the series allowing it to be aired on networks like Comedy Central, Paramount, and TV Land. This means that Jerry still continues to take home a good amount of money from the show he created in the 90s.
Jerry Seinfeld's Deal With Netflix Ensures That His Wealth Will Continue To Rise As The Years Go By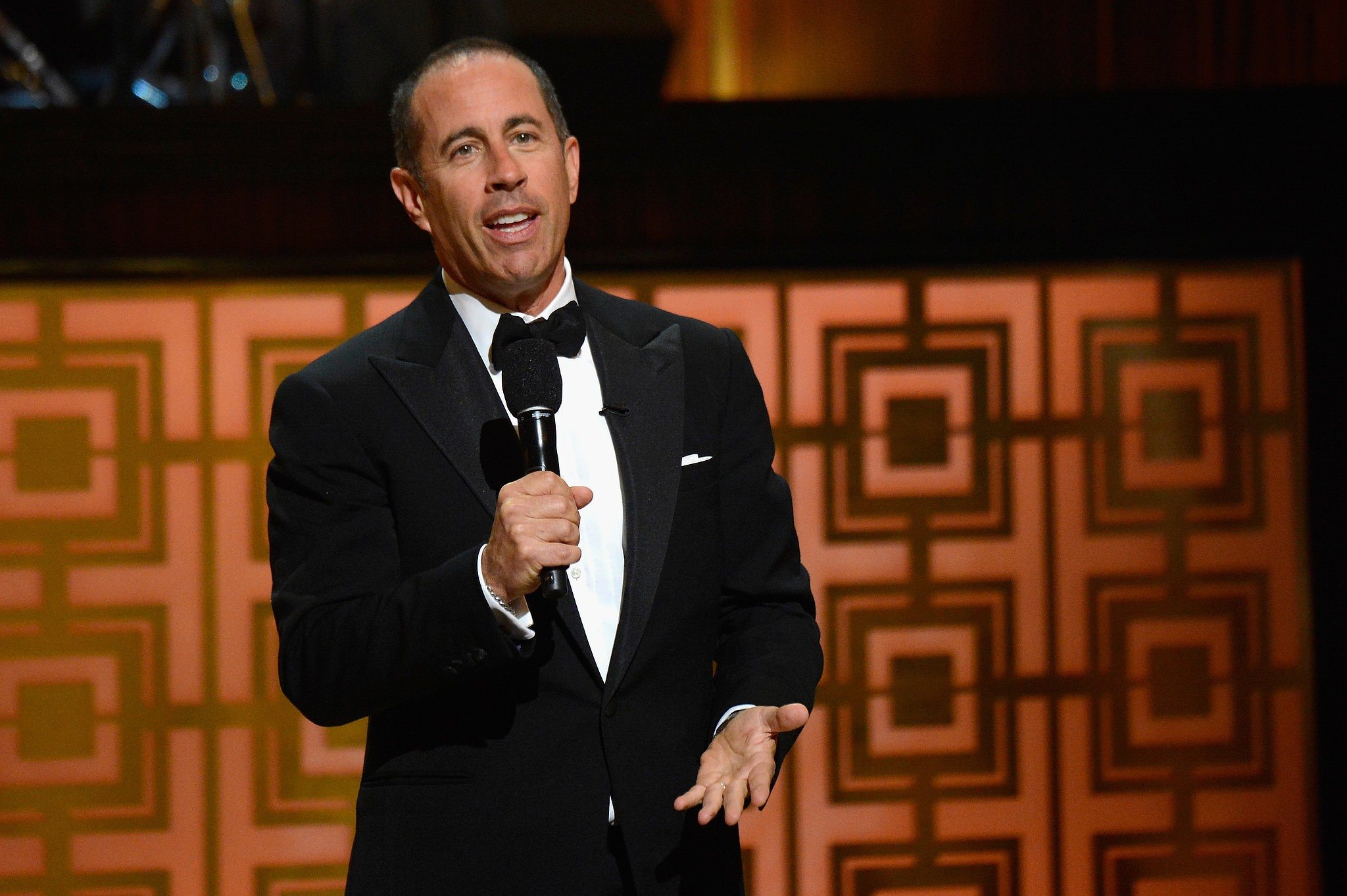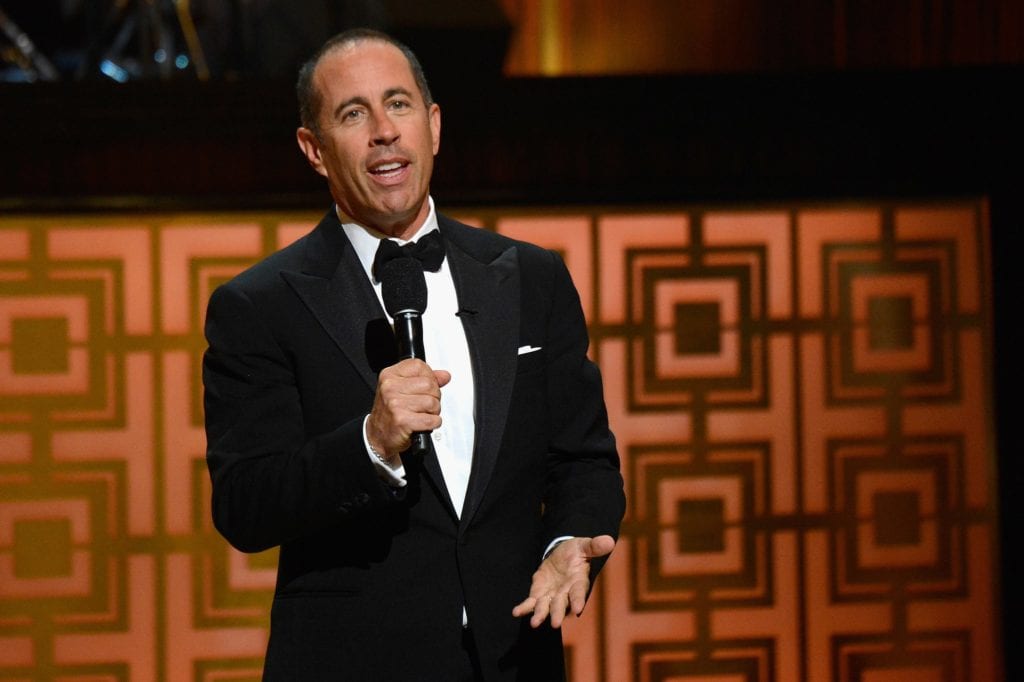 The major factor that led to Jerry Seinfeld ranking as the highest paid comedian in the world in 2017 was his Netflix deal. The streaming service acquired the rights to his famous sitcom and his talk show, Comedians in Cars Getting Coffee. The deal further included him doing two new stand-up specials, as well as developing a scripted and non-scripted comedy program for the service.
In fullfilment of his deal, the comedian released the stand-up comedy special, Jerry Before Seinfeld, in September 2017. The special, which follows him as he returns for a stand-up routine at the New York City comedy club circut where his career began, was released as an album and it earned a nomination for a Grammy Award for Best Comedy Album in 2018.
In May 2020, Seinfeld released another stand-up special on Netflix titled 23 Hours to Kill. It was his first original stand-up special in 22 years.
Highlights of His Online Syndication Earnings:
Hulu – US$180 million (2015)
The amount Jerry Seinfeld earned from the deal: US$27 million
Amazon Prime Video – N/A (Not Available)
The amount Jerry Seinfeld earned from the deal: Unknown
Netflix – US$500 million+ (2019)
The amount Jerry Seinfeld earned from the deal: US$100 million+
Seinfield Can Afford to be an Automobile Enthusiast With All His Wealth
With so much money in his hands, Jerry Seinfeld doesn't shy off when it comes to spending. He owns a number of mansions across the U.S., a Gulfstream V private jet, and numerous luxurious vehicles, over 150 by various estimates.
Jerry's love for fancy cars knows no bounds. He particularly has a soft spot for Porches and owns about 47 of them, making his Porsche collection among the largest in the world. Some of the other cars in his collection include a 1960 Volkswagen Beetle, a 1964 Volkswagen Type 2 Camper, and a 1967 Fiat 500, among many others.
Jerry Seinfeld's TV show about a fictionalized version of himself accounts for a huge percentage of his earnings.
He has made a lot money from the show's sale into syndication, with companies like Netflix and Viacom recently paying hundreds of millions of dollars for the rights of the show.
Seinfeld's Netflix deal, which saw him re-enter the list of the highest-paid comedians of the year in the late 2010s, has seen him continue with stand-up comedy.
Jerry has only made cameo appearances in films and TV shows since 1998 when his sitcom ended. He also barely appeared in TV commercials although he was once paid $10 million for appearing with Bill Gates in Microsoft's advertisements for Windows in 2008.
It would be outrageous not to put into consideration the comedian's huge car collection when calculating his wealth. So big is his collection that he had to rent a hangar at the Santa Monica Airport in Santa Monica, California to store his cars in the 90s. In 2002, he built a two-story garage on a property he purchased on the Upper West Side of Manhattan in New York City to store part of his Porsche collection on the East Coast.
Jerry Seinfeld Met His Wife After His Show Ended in 1998
In 1998, when NBC did everything in their power to get Jerry Seinfeld to do another season of his famous sitcom, one of the reasons he gave the network for turning down the offer was that he was not married and had no children. The comedian wanted to focus on his personal life and as things would pan out, he met his future wife Jessica Sklar in August of that year, just three months after the show's finale aired.
Seinfeld met Sklar, a public relations executive for Tommy Hilfiger at the time, at the Reebok Sports Club on the Upper West Side of Manhattan in New York City. The pair began dating soon afterwards even though Sklar was just two months into her marriage to her first husband, Eric Nederlander. Sklar would later reveal that her marriage was "irreparably broken" at the time she met Seinfeld despite her and Eric's attempts to repair it in couples therapy. Eric, on the other hand, disputed this, saying that he was "manipulated, misled, and completely caught off guard by Jessica's infidelity" when he saw a paprazzi photo of Jerry and his wife kissing.
Regardless of what was playing out in the tabloids, Jerry Seinfeld and Jessica Sklar moved on with their relationship and the two got engaged just over a year after they met. The couple kept their nuptials private as they quietly tied the knot on December 25, 1999 in New York where they bought a home and began their family.
The Couple Have Three Children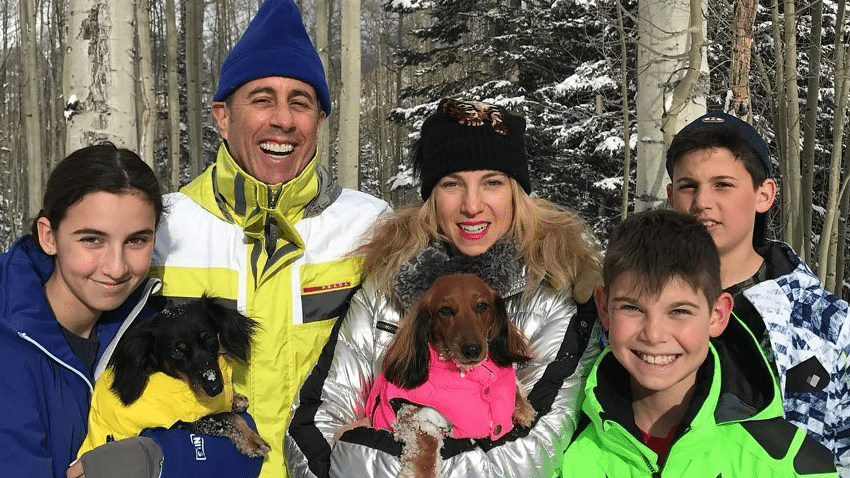 On the 7th of November, 2000, Jerry and Jessica welcomed their first child, daughter Sascha. Three years later on the 1st of March, 2003, they added another member to the family with the birth of son Julian Kal. Their third and final child, son Shepherd Kellen, was born on the 22nd of August, 2005.
The Seinfelds continue to enjoy their marriage that has lasted for over two decades. Their kids are all teenagers, with their first child having already began university. Sascha attends Duke Univeristy.
Key Takeaways
Jerry Seinfeld met his wife Jessica at the gym after telling NBC executives that he wanted to focus on his personal life. They have since been married for over twenty years.
After exchanging vows, the couple spent US$32 million on a house in Amagansett, Long Island that used to be owned by Billy Joel.
At the time they met, Jessica was a public relations executive for Tommy Hilfiger. She has since become an author and philanthropist; releasing four cookbooks and founding the New York City-based charitable organization, Good Plus Foundation (formerly Baby Buggy), which provides essential items for families in need.
The couple have three children and their oldest child is in the university.
Profile Summary
First Name:
Jerome
Last Name:
Seinfeld
Also Known As:

Jerry, Little Jerry


Sex/Gender:

Male
Profession:

Comedian, actor, writer, producer, and director
Famous For:
His work on the sitcom Seinfeld
Colleges/Universities Attended:

State University of New York at Oswego, Queens College, City University of New York
Educational Qualifications:

Degree in communications and theater
Religion:

Transcendental Meditation
Birthday & Zodiac

Age/Date of Birth:

69 years old (April 29, 1954)
Zodiac Sign:
Taurus
Birth Place:

Brooklyn, New York City, New York, United States
Nationality:
American
Ethnicity/Race:

White
Country of Residence:

USA
Physical Attributes

Height:

In feet: 5 ft 11 in
In centimeters: 180.5 cm
Weight:

In kilograms: 76 kg
In pounds: 167.5 lbs
Eye Colour:

Hazel
Hair Color:

Black
Other Body Measurements:

Not available
Relationships

Marital Status:

Married
Spouse/Partner:

Jessica Seinfeld (m. 1999)
Family and Relatives

Father:

Kálmán Seinfeld
Mother:
Betty Seinfeld
Children:

Daughter, Sascha Seinfeld, and sons, Julian Kal & Shepherd Kellen.
Siblings:
Carolyn Liebling (Sister)
Other Relatives:

Selim Hosni/Hesney/Husney (Maternal Grandfather), Salha/Selha (née Kassin) Hosni/Hesney/Husney (Maternal Grandmother), Shimshon/Schimscher "Simon" Seinfeld (Paternal Grandfather), Celia (Paternal Grandmother), Jonas Seinfeld (Paternal Great-Grandfather), Ezra Husney (Maternal Great-Grandfather), Esther Sardell (Maternal Great-Grandmother), Sam Kassin (Maternal Great-Grandfather), Garez Dayan (Maternal Great-Grandmother), Evan Seinfeld (2nd Cousin)
Net Worth
Estimated Net Worth:

$950 million
Salary:
Not available
Source of Wealth:

Stand-up comedy and acting careers, deals with Netflix, sales of his books.
Your Questions Answered