A good number of Swedish actresses have attained international recognition, and Hanna Alström counts among that lot. Raised with a passion for acting, the Swedish actress made her debut back when she was just 5 years old in 1986. She kicked off her career in the theatre, and two years later, she was ready to make her big-screen debut, and soon added many small-screen roles. She has remained active in the acting business for more than thirty years, and throughout that time has been able to scoop a couple of notable works.
Hanna Alström's Early Acting Years In Theater
Some well-established actors and actresses today began their careers in theater. Born on the 5th of March 1981 in Stockholm, Sweden, as Hanna Carolina Alström, she began training to become an actress at Sankt Eriks gymnasium and the Swedish National Academy of Mime and Acting.
However, before her formal training in acting even began, Hanna Alström had already started acting at a very young age of 5 at Unga Teatern, alongside her older sister named Sara, who was 11 years old at the time. The theatre group, under the direction of Maggie Widstrand, performed at many theatres in Stockholm.
At the age of 6, Hanna performed at both Puckteatern and the Gröna Lund Theatre in the play Gränsland staged by Staffan Götestam. Subsequently, she performed at the Royal Dramatic Theatre, portraying some child characters.
Making Her Screen Debut and Continued Success
Two years after she started acting on stage, Hanna Alström made her big-screen debut in Gull-Pian, a film directed by Staffan Götestam and based on the novel of the same name, written by Astrid Lindgren. In 1994, she starred in the Swedish television series, Bert, and from 1997 to 1998, she appeared in the soap opera, Vita lögner, playing the role of Magdalena Gren.
The actress went on to appear in the 1998 and 2000 television programs Längtans blåa blomma and Barnen på Luna, respectively. She also took part in the 1999 film Sherdil and followed it up in 2002 by featuring in Nya tider and Cleo, both television projects. Two years later, Hanna Alström played a small role in Fjorton Suger (meaning Fourteen Sucks in English), a film about a teenage girl and her family.
Within this period, Hanna Alström also starred in Skärgårdsdoktorn (in English – The archipelago doctor) on television and the series turned out to be one of the most successful Swedish TV shows of the 1990s. In 2008, the actress was seen in the movie Kärlek 3000 and the television series Livet i Fagervik. She continued with the small screen the following year, appearing in Blomstertid and Crimes of Passion in 2013.
Hanna Alström's Breakthrough and Notable Works
Hanna Alstrom's first taste of fame came with her role in the '90s TV show Skärgårdsdoktorn, which became one of her country's most successful shows. However, her fame was only within her country. Hanna's rise to international fame came in 2014 with her role as Crown Princess Tilde of Sweden in the action spy comedy film Kingsman: The Secret Service. As evident in the Instagram post above, the actress was elated to be part of the project, and it is not difficult to see why. The movie availed her the opportunity to work alongside some of Hollywood's renowned acts, including English actor, Colin Firth, Samuel L. Jackson, Mark Strong, Taron Egerton, and Michael Caine.
Kingsman: The Secret Service, which is based on Dave Gibbons's and Mark Millar's comic book series of the same name, was released to critical acclaim; among a host of areas, critics praised the film's acting performances and dark humor. It made over $414 million against a budget of not less than $81 million. Such huge success was exactly the kind that Holstrom needed in her career, and when the sequel was made, she was selected to reprise her role.
The sequel titled Kingsman: The Golden Circle was released in September 2017. Like with the first film, the acting and humor were praised, although it received some sticks for being too lengthy. Commercially, it was also a success, grossing $410 million worldwide against a budget of $104 million. A prequel titled The King's Man, was scheduled to be released on November 15, 2019, but the date was pushed to 14 February 2020, and later to September 18, 2020.
In addition to the Kingsman movies, the beautiful Swedish actress is also well recognized for her role in the 2016 coming-of-age drama film Sami Blood, which also stars Lene Cecilia Sparrok, Maj-Doris Rimpi, Mia Sparrok, Olle Sarri, and Anne Biret Somby. She played the role of The Teacher in the film, which revolves around a girl of 14 who is faced with discrimination at a nomad school for Sami children. As a result, she decided to run away from her town and renounce her Sami heritage.
Hanna Alström continues to remain active in her career. She played the role of Ann Zacharias in the 2018 film Ted – För kärlekens skull, directed and written by Hannes Holm. She also starred alongside Claes Bang and Alexandra Borbély in the 2019 movie The Glass Room, which is an adaptation of Simon Mawer's book of the same title. The actress has not been absent from the small screen either; she had guest roles in 2015's Crossing Lines and 2018's The Sandhamn Murders. Alstrom scored the main role as Josefin Hultén in the TV series The Machinery, which premiered in 2020.
See Also: Paz Vega – Bio, Facts, Movies, TV Shows and Family of The Spanish Actress
What We Know About The Swedish Actress's Love Life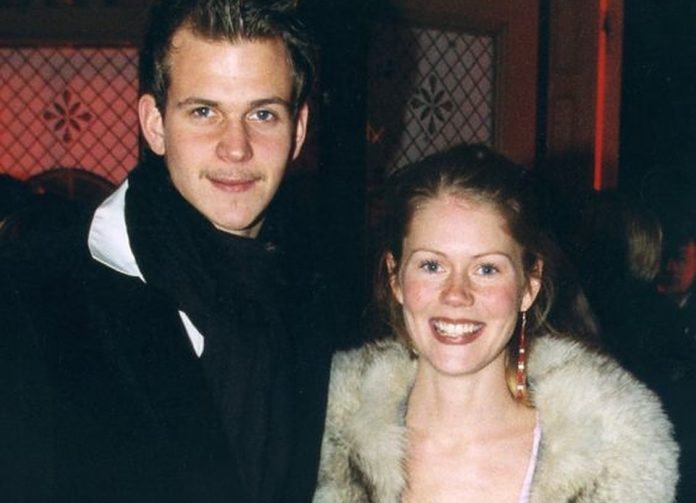 Hanna Alström is currently unmarried. She was formerly in a long-term relationship with co-Swedish actor Gustaf Caspar Skarsgård, who is best known outside Scandinavia for his roles in, Vikings, The Way Back, Kon-Tiki, as well as his role in a season of HBO's Westworld.
Hanna and Gustaf began their relationship in 1999. They were so perfect together and often attended events in each other's company. A lot of people were looking forward to when they would announce their wedding but rather than that, the couple parted ways in 2005, after six years of being together. They never disclosed their reason for breaking up, and that notwithstanding, they still chose to remain friends.
Since the end of that relationship, Hanna Alström has kept her love life away from the media, and as it stands, there is no information about any subsequent relationship/s she may have been involved in.