If you are well-acquainted with the American superhero thriller Wonder Woman, then you'd certainly remember Gal Gadot, the Israeli actress, who portrayed the lead role of Diana Prince. She depicted the daughter of the Amazonian Queen and Olympian King of the old. The film also starred the likes of Robin Wright, Chris Pine, Kristen Wiig, and Pedro Paschal, among others. Amazingly, the first series of the movie was released in 2017 and was followed by its sequels Justice League, The Lego Movie, and Wonder Woman 1984.
Who Is Actress Gal Gadot? 
Gal Gadot was born in Petah Tikva, Israel on 30th April 1985. Her family is Jewish by religious inclination and her parents have been identified as Michael and Irit Gadot who have just two children, Gal, and her sister, Dana. Gal participated in the 2005 Miss Israel Beauty Pageantry, thanks to her mum who urged her to put forward her picture. She equally ran for Miss Universe the same year.
Alongside her sister Dana Gadot, the actress spent her childhood in the Rosh HaAyin City of Israel. As per her education, the Israeli born entertainer completed her studies at IDC Herzilya College where she obtained a degree in international relations and law. According to her, if things had worked out as she initially planned, her acting career would never have been a reality as she would have ended up in the courtroom as a legal practitioner. In fact, she told Glamour in a March 2016 interview that joining the entertainment industry never featured in her dreams.
When she finally began to see her future in front of the camera, Gal Gadot still had her own share failed auditions. A good example is her very first audition for a role in Quantum of Solace. According to the beautiful actress, the idea of joining the league of the performing arts was initially sown by Quantum of Solace's casting director who pulled her in for an audition after seeing her modeling card. Though she failed to land the position which was later taken by Olga Kurylenko, it gave her an in-road into securing The Fast and Furious character, Gisele Yashar. From what she told Glamour, Gal commenced acting lessons immediately, and it was thanks to the same director that she was favored in the audition for The Fast And Furious franchise.
Gal Gadot Has A Successful Acting Career
Gal Gadot is a multi-talented movie star, model, and martial artist, known for one of her most popular role as Gisele Yashar in the Fast & Furious series. Before the commencement of her acting career, the beautiful actress had a burgeoning modeling career as she had already contested and won the Miss Israel crown in 2004. Gal just turned 18 and was fresh out of high school when she achieved this feat. She started her acting career in 2007, staring in an Israeli television film titled Bubot where she did well to interpret the character of Miriam "Merry" Elkayam in the show which lasted for 12 months.
After that, the young entertainer went on to star in the 2009 series The Beautiful Life and Entourage before finding her way into the spotlight. After her first outing in 2009 – with the Fast & Furious series – she later returned to the franchise for a reprisal of her role in Fast Five and Fast and Furious 6 (2011 and 2013 respectively). Her impressive performance in the series made way for the actress to get bigger roles subsequently.
She earned another level of fame after portraying Diana Prince in Patty Jenkins' superhero Wonder Woman. Gal joined the cast of the series in 2017, gathering international recognition in the process. She reprised the role in the ensemble movies Justice League, The Lego Movie, and Wonder Woman 1984 and has appeared in many other productions like Criminal, Triple 9, Keeping Up with the Joneses, Date Night, as well as Knight & Day – where she shared the screen with the likes of Cameron Diaz and Tom Cruise.
It is worthy of note that her rise in Hollywood was by no means a walk in the park. Gal Gadot has faced a lot of disappointments in the industry and got to the brink of quitting acting altogether. She told Today that she was almost on her way back to law school before she was called for an audition (for the superhero movie Batman v Superman: Dawn of Justice).
The famous actress is set to play the lead in a showtime limited series about actress and inventor Hedy Lamarr, which she will equally co-produce. She will also appear in Irena Sendler – a movie from Warner Bros depicting the life of the humanitarian Irena Sendler. We also expect to see her on the set of Red Notice by Rawson Thurber.
With all these giants strides in her career, Gadot has gradually carved a niche for herself in the American movie industry, earning a spot on Time's List of 100 Most Influential People in the World.
Did The Actress Engage In Military Service?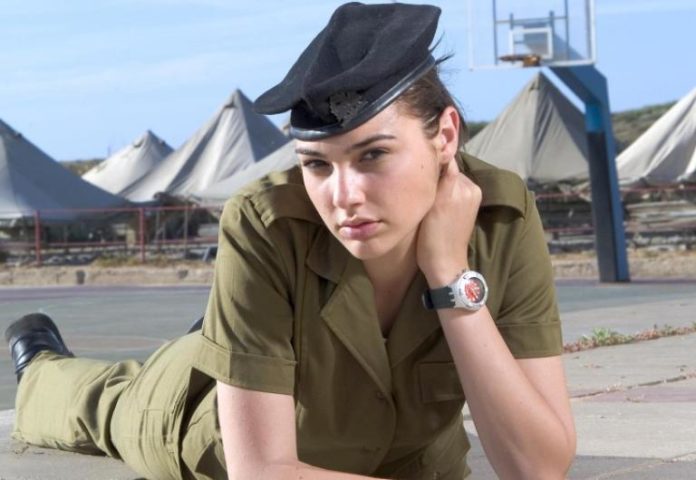 It is no longer news that a two-year compulsory military service awaits every Israeli citizen that is eighteen years and above. Interestingly, the iconic actress Gal Gadot has completed her two-year military service with the Army before the inception of her acting career. The Wonder Woman star joined the military service in 2005; at the time, she was twenty years old and it lasted until 2007.
During her two-year career with the military, Gal Gadot served as a combat trainer for the Israeli Defense Forces; she also taught them gymnastics and calisthenics. Narrating her experiences, Gal recalled having a great time while she was there. She always helped the soldiers in keeping up with physical fitness. According to her, being a part of the IDF also helped to learn respect and discipline.
Her Military Training Aided Her Acting Career
Interestingly, she has attributed her military background as part of the reasons she won the audition for her role as Gisele Yashar in Justin Lin's Fast & Furious thriller series. Lin, however, embraced the fact that she has firsthand knowledge of military weapons. However, it didn't end there; her military experiences also helped her during the making of the Wonder Woman. For the movie, the actress undertook a series of training that could be said to be even tougher than that of the military.
Additionally, Gal Gadot also participated in Maxim's photoshoot featuring Women of the Israeli Military in 2007. Although she has become a Hollywood superstar, Gal has never forgotten the Israeli Military. Amazingly, the actress has paid tribute to them via her social media channels.
Read Also: Where Is Lisa Eilbacher Now? 6 Facts About Bradford May's Wife
What is Gal Gadot's Salary And Net Worth
As of 2020, Celebrity Net Worth pegged Gal Gadot's net worth at $20 million. However, she didn't start earning the big bucks from her first role in Wonder Woman; in fact, Gal was just paid a paltry $300,000. This gave rise to controversy when it came to light that the amount is significantly less than what male superheroes earn. But it was later explained that any debut movie in franchise would normally attract a lower pay.
By the time she established herself as an A-lister in the movie world, her second appearance as Wonder Woman attracted an impressive $10 million. From June 2017 to June 2018, the stellar entertainer earned $10 million between her movie income and endorsement deals.
What We Know About Her Relationship Status And Family
It is hard to see actresses that are successful at both their careers and the home front, however, Gal Gadot is one of such rare breeds. In 2008, she exchanged marriage vows with Yaron Varsano – an Israeli real estate developer.
Though the details of her marriage with Varsano is not being made public, the duo seems to be living in the lap of marital bliss. Besides, Gal Gadot and her spouse are a typical example of a couple that does things together. In collaboration with Varsano, the actress launched a production company called Pilot Wave in October 2019 and they equally co-own a boutique hotel located in TelAviv. The couple's love is cemented by their two lovely daughters Maya and Alma – born in 2011 and 2017 respectively.