CNN may no longer be the leading news network in the United States in terms of ratings but it still boasts of some of the best journalists in the country, from Anderson Cooper to Jake Tapper, and Fredricka Whitfield. It is hard for the network to drop below excellent levels when its roster comprises of talents like these.
In the case of the latter, Fredricka Whitfield, who has been in the industry since the late 80s, she is a walking institution, with several accolades and accomplishments over the course of her career and she has been with CNN for over 17 years.
In this article, we will take a closer look at the life of Fredricka and everything you need to know about the journalism icon.
Fredricka Whitfield's Early Life and Career Beginnings
Fredricka Whitfield began her life as the daughter of one of the most accomplished men in US sports on the 31st of May, 1965. Her parents were Nola and Malvin Whitfield. She studied at Paint Branch High School in Burtonsville, Maryland. There is a dearth of information about her childhood details but we know that she attended the prestigious and famous Howard University, where she studied and graduated with a bachelor's degree in Journalism in 1987.
Her journalism career began right from university, for the school's campus radio station which she was a part of as a news anchor. After graduation, Fredricka Whitfield worked for a number of media organizations, several of which were local TV stations across the country like WPLG-TV based in Miami, WCIV, in Charleston, WTNH in Connecticut and a couple more others, which she used in gaining the necessary experience as a rising journalist.
She got her first chance in the big leagues through NBC News, who recruited her in 1995. She worked as a correspondent for the network's NBC Nightly News and on other programs like The Today Show as a news anchor and reporter.
After six years with NBC, Fredricka Whitfield joined CNN where she has remained ever since, rising to the top of her craft as a nationally recognized journalist.
Her CNN Career Achievements
Watch @wolfblitzer midterm election coverage this Tuesday pic.twitter.com/7hahfaduTU

— Fredricka Whitfield (@FWhitfield) November 5, 2018
Fredricka Whitfield joined CNN after years of working for other media organizations like NBC. While CNN is not her first national news organization, it is where Fredricka has lasted the most and earned her name in the annals of TV journalism.
She joined CNN in 2002 and since then, has been at the forefront of several major stories, including the passing away of former US President, Ronald Reagan. Her work has covered major events ranging from politics to natural disasters like the Asian Tsunami and to war, like Operation Iraqi Freedom.
It hasn't been an all smooth ride for Fredricka Whitfield since she joined the organization, however, having dealt with some stumbles of her own, most notably a June 2015 incident when she incorrectly labeled a gunman who attacked the police in Dallas to be a courageous and brave man. The backlash from the comment was eventually quelled with an apology from the journalist.
Meet Her Husband – John Glenn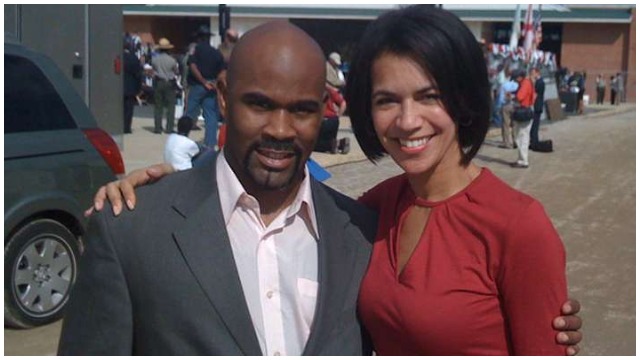 While she has had a stellar career, Fredricka Whitfield has equally had a long and fruitful marital life with John Glenn, a photojournalist who has worked for several companies and organizations.
John Glenn has a long resume that includes six years of working for the Atlanta Journal-Constitution, including serving as the Director of Photography. He is a graduate of George Mason University and he is currently the owner and principal of his own photography company, J Glenn Photography, through which he has worked with businesses like Coca Cola, Democratic National Committee, SunTrust Bank and many others.
Fredricka Whitfield got married to her husband in 1999 and since then, they have remained together as a couple, raising three children, a son who was born in January 2005 and twins, Nola and Gilbert, who were born in November 2012. The couple is currently based in Atlanta.
See Also: Who is Ana Cabrera of CNN and How Much Does She Make?
Other Interesting Facts
Fredricka Whitfield's father, Mal Whitfield was an athlete who competed at the Olympics and won five medals, including two gold medals in the 800m race. After forty-seven years working as a coach, he died on the 19th of November, 2015 at the age of 91.
Her twin children, Nora and Gilbert are fraternal twins i.e. are non-identical twins.
One of her siblings is the accomplished high jumper, Ed Wright. They share the same father but not the same mother.