For those who live on the internet, you probably have heard about the famous David Dobrik, the vine-god and YouTube star. The internet sensation became famous in 2013 and has over the years been able to entertain massive viewers both nationally and internationally. The funny Slovakian-born shot to YouTube stardom for consistently posting hilarious films on the 6-second video app, Vine. As you might expect, he has since moved his talents to YouTube since Vine shutdown in 2016. But beyond his funny antics on the internet, there are still several facts you need to know about the celebrated YouTube star who never fails to dazzle his fans.
Who Are David Dobrik's Parents and Other Family Members?
David Dobrik has never revealed the identity of his parents, but it is common knowledge that the vlogger is not an only child. He was brought up alongside three siblings, a brother, Toby and two sisters, Sara and Esther. We cannot say much about the vlogger's siblings, but he has been featuring them on some of his vlogs and tweets, especially the earliest ones.
However, the Dobrik family appears to be a close-knit one as revealed from his internet uploads. They formerly resided in Kosice, Slovakia where David was born but later relocated to Chicago in the United States when the young vlogger was barely out of the diapers. What we gathered from the internet star's uploads points to the fact that his family is involved in the cattle rearing business. David stated that the video-sharing platform saved his life, if not, he would have ended up back home in their Illinois farm, raising cattle.
David Dobrik's Career Beginnings and Rise to Fame
David Dobrik happens to be one of those social media stars who thrived on the Vine network before it went defunct. He made his Vine debut in April 2013 when he was still a teenager, attracting the attention of other Viners as well as earning a steady inflow of followership. His fans began to increase when teenage girls started doting on him. The majority of his initial uploads featured solo improvs, but he later went into collaboration with big names in Vine such as Alex Ernst, Gabrielle Hanna, and Brandon Calvillo.
While his popularity on Vine continued to gather momentum, David Dobrik was equally operating a channel on YouTube dubbed 'Second Class' where he functions as a co-host with Jack Dytrych, Cameron Kasper, Bren Lunn, and Jake Webber. The YouTube channel was also thriving, which reaffirmed the vlogger's skills as a talented comic. With time, he carved a niche for himself as one of the most sought-after vloggers of our time.
What Makes the Vlogger Special?
He is distinct from guys of similar ilk in the sense that he never sat down to meticulously map out his career path, creating a slacker image which has been among the major ingredients that catapulted him to popularity. David Dobrik 's charmingly flippant sense of humor, his tongue-in-cheek tweets, coupled with his physical appearance have really put him in good stead, as these qualities are the major things that draw the attention of teens.
The handsome Vlogger is in fact a high-school dropout and is always quick to point out the shortcomings of the school system. This adds an edge to his appeal – here, we have a veritable rebel who doesn't mince words in openly expressing his disdain for the conventional path, the beaten, and has still managed to come out on top, making it big in the world. Most adolescents would view David Dobrik as that proverbial renegade that they wish to emulate. And that is the very ingredient, the X factor that distinguishes him from the crowd. No wonder he has a special place in the heart of his fans.
Unveiling Details Of His Relationships – Including Liza Koshy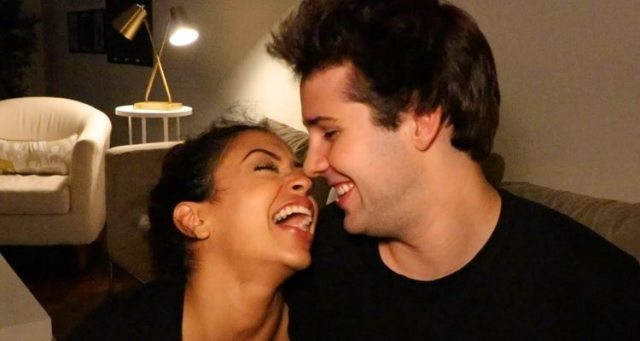 One commendable aspect of David Dobrik's life is that he has distanced himself from scandals and controversies, no infamous brawls, and no politically incorrect statements. However, his love life is very much in the public eye. He went into a romantic relationship with fellow internet star and Viner, Liza Koshy.

The duo found each other during the later part of 2015 and they appeared to share a strong chemistry that fans thought was not likely to fizzle out anytime soon. They even came out openly to celebrate their nine months as an item in style, going to the Rio Summer Olympics as a couple and rooting for their country throughout. We would find a testimony to the lovebird's popularity on the online tale-telling community Wattpad where accounts from devoted 'fan fiction' take fascinating leaps of imagination based on the couple's relationship.

Unfortunately, the David-Liza relationship wasn't the "love made in heaven" as fans were thinking. It didn't survive beyond three years. The couple went their separate ways in 2018, revealing their break-up in June the same year.

Read Also: Is Ryan Eggold Married Or Does He Have A Girlfriend?

The next year, precisely on the 15th of May 2019, the vlogger legally tied the knots with Lorraine Nash, the mother of Jason Nash. However, the marriage was, in fact, a comic bit for a vlog he did. Barely one month later on the 12th of June 2019, David Dobrik came up with an announcement that their marriage has ended. He took to Instagram on the 22nd of November 2019 to say that he officially signed the papers for divorce and thus, his divorce from Nash is final.

At one point in his life, David was rumored to be dating his assistant and childhood friend Natalie Mariduena. David Dobrik himself came out to debunk the rumors in May 2020, clarifying that nothing was going on between them and nothing ever will. According to the vlogger, there will never be a time that he and his assistant will become an item even if the coronavirus pandemic were to last up to 25 years, and they find themselves stuck inside together. It's never a possibility. David's name has also been linked with Olivia Jade, but the duo is just friends.

We don't know the internet personality's present relationship status, but being the vlogger who delivers what YouTube users are interested in, David has many female admirers that love to keep up with his personal life. He has been said to have found love with many girls online which are often not so true. However, you never can tell what the future portends for the handsome dude.

Fact Check: We strive for accuracy and fairness. If you see something that needs updating,