Daniel Holtzclaw became known in a disgraceful way as an Oklahoma City police officer found guilty of multiple counts of sexual assault and other charges against different women, all African-Americans. After Daniel was caught, it was disclosed that he ran background checks to get possible information that he could use to pressurize his victims into yielding to his sexual requests; the police investigators concluded that he abused his position as an officer of the law.
In the course of the trial, the prosecutors argued that Holtzclaw deliberately picked his victims. This was because most of the 13 women who accused him had criminal histories. The defense, on the other hand, questioned the credibility of the victims based on their criminal records. Daniel pleaded not guilty to all of the 36-count charges brought against him but was eventually convicted of 18 charges by a jury made up of only whites on December 10, 2015. However, he insists that he is innocent.
His Knowledge In Criminal Justice Helped Him Cover His Tracks
Daniel Ken Holtzclaw was born on December 10, 1986, in the United States territory of Guam. The former police officer attended Enid High School in Oklahoma and graduated from there in 2005. While in Enid High, Daniel was part of the school's football team and played as a linebacker.
Continuing his education, he enrolled at Eastern Michigan University where he also played as a linebacker while studying criminal justice. Following his graduation in 2010, he tried to take his football career to a professional level but could not succeed in getting drafted into the National Football League (NFL).
Because of that, he settled for an alternative career and joined the Oklahoma City Police Department. After his crimes were exposed, analyst trying to establish why he was able to get away with his deeds for a while, concluded that his knowledge in criminal justice helped him cover his tracks.
Daniel Holtzclaw Targeted Vulnerable and Poor Black Women
The former police officer was accused of sexual assaults against several African American women from December 2013 through June 2014. He selected these women because they were very poor and vulnerable. According to investigators, Daniel Holtzclaw ran background checks on women with either outstanding warrants or other records of crime and systematically preyed on them.
The particular incident that exposed him took place on June 18, 2014, and it involved a 57-year-old woman named Jannie Ligons. On the said day, Jannie was driving through the northeast side of Oklahoma City, an impoverished area said to be Daniel Holtzclaw's target. There, the police officer who had finished his shift in the same area, and was driving back to his house in the police vehicle assigned to him, pulled Ligons over.
As opposed to other women the man preyed on, Jannie wasn't poor, neither does she have any police record. According to her, Daniel Holtzclaw forced her to lift her shirt and pull down her pants before making her perform oral sex on him. In her testimony, Jannie said her pleas to make him stop fell on deaf ears and she feared for her life. Without delay, Ligons reported the incident to the police.
Events Leading to His Dismissal from Police
Following the Jannie incident, the man returned to work the next day but it marked the beginning of his trouble with the law. Upon his report to the Oklahoma City Police Department the following day for his daily 4 p.m. to 2 a.m. shift, Daniel was taken to the department's Sex Crimes Unit by two detectives for questioning.
After he was Mirandized, he was interrogated for two hours but he denied all claims of misconduct. Nonetheless, the detectives were convinced that he was lying, judging by previous evidence as well as the statement made by his then-cohabiting girlfriend Kerri Hunt, which contradicted his claims. A sample of his buccal smear was eventually collected for DNA comparison.
Although he was released after the interrogation, he was stripped of his badge and was placed on an indefinite paid administrative leave. Two months later, precisely on August 21, 2014, he was arrested after further investigation saw twelve more complaints turn up. In all, he was charged with 36 counts of first and second-degree rape, stalking, sexual battery, forcible oral sodomy, and procuring lewd exhibition. Eventually, Daniel Holtzclaw was fired from the police force in January 2015 and his trial kicked off on the 2nd of November, 2015.
Daniel Holtzclaw Has Been In Jail Since 2016
The charges brought against Holtzclaw range from stalking to first-degree rape, second-degree rape by instrumentation, indecent exposure, sexual battery, burglary, and forcible oral sodomy. He pleaded not guilty to all 36 charges brought against him but was later convicted on 18 of the charges. It was on the 21st of January 2016 that he was sentenced to a 263-years jail term.
Not long after he was sentenced, all information about Daniel Holtzclaw was removed from the website of the Oklahoma Department of Corrections (DoC). The man is currently serving his time in an undisclosed Oklahoma state prison.
In 2017, Daniel Holtzclaw's attorneys filed an appeal and in a bid to raise money to fund the process of the appeal, his family created a website. According to them, statements given during the trial with regards to the physical evidence were either wrong or not well-represented to the jury. Daniel has also insisted that he is innocent. In an interview after his conviction, he asserted that he won't feel remorse for something he did not do.
See Also: El Chapo – Bio, Escape, Killings, House, Wife, and Children
His Girlfriend Testified In His Favor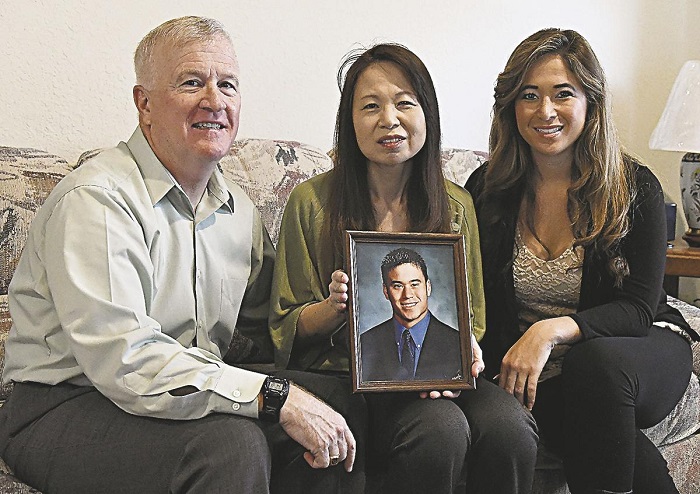 Daniel Holtzclaw is the son of Eric and Kumiko Holtzclaw who is from Japan. His father is also a police officer, a Lieutenant with the Enid Police Department, north of Oklahoma City.
Before he was convicted, Daniel was in a relationship with a beautiful lady known as Kerri Hunt. They met at an Oklahoma City gym and started dating exclusively even though Daniel worked nights while Kerri worked in the day as a recruiter.
However, their relationship ended in 2015 as a result of the stress of the case against Daniel who had been placed on house arrest in Enid. Kerri Hunt was Daniel Holtzclaw's only witness during his trial and according to her, he enjoyed reading scripture, volunteering at church, working out at the gym, and was proud to carry his Oklahoma City police badge.
She told the Jury that Holtzclaw never made her feel uncomfortable during their one-year relationship which began in March 2014, a few months before the incident that involved Jannie.