This long-haired, tattooed, and freakishly weird goth is Chris Motionless. He is one of the founders of the popular metal rock band, Motionless in White, alongside Angelo Parente, Frank Polumbo, and Kyle White. He serves as the lead singer of the group, as well as the lead guitarist. The band was formed in 2005 and has since gone on to cultivate a sizeable following. They have released several projects over the years, including Graveyard Shift, Creatures, Infamous, Reincarnate, and The Whorror. However, many of the original members of Motionless in White have departed from the group, leaving Chris as the veteran member of the band.
Beyond music, Chris has gained popularity for his outlandish and crazy physical appearance. He likes to dress in strange gothic clothing, wear makeup, and has tattoos on practically every inch of his body. Chris has an interesting and vibrant personality that lends itself to mystery, attracting lots of people who flock around him because they find the musician to be fascinating. He has garnered millions of fans from all corners of the world, and many of them also follow him on his social media pages, where he shares dark and weird content inspired by his life. We take a look at the journey that brought Chris Motionless to where he is at the moment.
Chris Motionless Background Information
Chris Motionless was born and named Christopher Thomas Cerulli on the 17th of October 1986. He was raised in Scranton, Pennsylvania, the same city where he was born. As for his educational background, the singer has revealed a sparse amount of information on that front. His early years were rough because his parents had a difficult time getting along and would fight constantly until they eventually separated. Like most kids from broken homes, the divorce was a little hard on Chris and it led him to pour all of the angst and emotions he was battling with into music.
He began building a reputation for being a loner. He dressed and acted in ways that made people terrified of him and afraid to cross his path. This was probably a way to cover up his inner emotions and shut the world out. Chris held several jobs over the years, including one at a tattoo shop where he helped people ink beautiful designs on their skin. He started training to become a piercer, but he was forced to quit his job before achieving that goal because his music career was blowing up.
Founding Motionless in White and The Road to Fame
Chris joined forces with his high school buddies – Angelo Parente, Kyle White, and Frank Polumbo, to start the popular American heavy metal band known as Motionless in White in 2005. They were still in high school at the time, but that didn't stop them from working on their music, and soon, a demo was released the same year the band was formed. They continued to make music, but it took a while before they found the spotlight.
Before he found fame, Chris Motionless played in nightclubs and bars around his town, but things took a turn for the better after Motionless in White gained the attention of Zach Neil, a producer who brought the band on board his record label. Shortly after they signed a recording contract, they released The Whorror, their first EP in 2007. This was followed by nationwide tours, during which Chris and his bandmates began writing the songs for what will become their follow-up EP, When Love Met Destruction, which was released in 2009. Some of the singles from the playlist were able to achieve hit status and their fans began clamoring for an album.
The band blessed their listeners with their debut album, Creatures, a year later. The musical offering blew up and quickly found huge success on music charts and beyond. In 2012, Infamous, their second album was released to widespread praise and commendation. Chris received numerous awards for the album, and this inspired him to start working on the band's fourth album titled Graveyard Shift, which was released under their new record label, Roadrunner Records, in 2016. Music is Chris's entire life and he loves being able to share his creativity with the people who take out time to listen to his music.
Family Life of The Musician
Chris Motionless leads a very private life. While his physical looks and persona suggest that he's a bad boy who only wants to rock and roll, the metal singer is a sweet person who believes in monogamy and not playing around. He has had his fair share of relationships, some of which have been public. In 2013, he began dating Sabrina Malfoy, his childhood friend. The relationship hit the rocks a few years later, and Chris began dating a popular makeup artist known on Twitter and Instagram as Gaiapatra.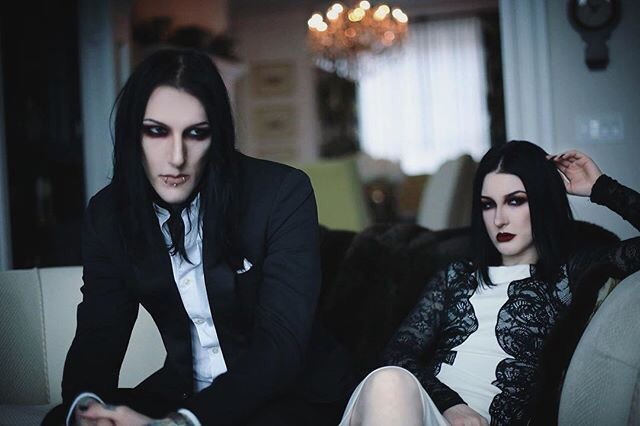 The couple has collaborated on several projects together, and she also serves as his makeup artist. They seem to have similar interests, which might explain why their relationship is still going smoothly. For now, Chris is not a married man but seems to take his relationships quite seriously.
The talented rockstar was raised by his parents, although their names and occupations are not known. Similarly, he is yet to disclose the names of his brother and sister, but if his Instagram page is to be believed, he is very close to his family and loves spending time with them. Chris has a daughter named Riley Cerulli. She was born when he was 20 years old and dating an ex-girlfriend called Callie, who is the girl's mother.
Fun Facts to Know About Chris Motionless
1. Chris Motionless is pretty tall. He stands at a height of 6 feet 1 inch and weighs about 75 kg.
2. He is extremely passionate about tattoos, piercings, and makeup. His entire body is covered in all kinds of tattooed drawings and inscriptions.
3. He tried his hands at being a vegetarian but couldn't keep up with the dietary requirements while on tour, so he quit.
4. He has adhered to the straight edge lifestyle his whole life. This entails avoiding drugs, alcohol, smoking, and generally, living a healthy and moral life.
5. Growing up, his greatest influence was Davey Havok of AFI, while Marilyn Manson and The Misfits also inspired his love for music.