Cael Sanderson is considered one of the greatest wrestlers of all time, especially in his home country, America, for whom he has won a prized Olympic gold medal as well as other individual titles that will blow anyone's career out of the water. The former freestyle and folkstyle wrestler went undefeated throughout his college career, winning four NCAA Division I titles in the process. Critics and avid observers of the sport have long declared his collegiate career to be the second-best, behind Jesse Owens, in the history of college sports in the States; in some circles, he is considered the best.
Cael's story is an inspiration to many as he managed to achieve all his feats and set the records he did simply by believing in his own merit and then putting in the work and hours of practice required to place him at the top of the game.
At the moment, Cael is inspiring a whole new generation of wrestlers as the head of the coaching squad for the male wrestling team at Pennsylvania State University. He has led his team to many victories and has his name solidly behind the progress and rise of a new crop of wrestlers who are well on their way to dominating the college scene for years to come.
Exploring Cael Sanderson's Early Life and Career
The 2004 Olympic gold winner was born on June 20, 1979, in Salt Lake City, Utah to Debbie and Steve Sanderson. Cael was the third out of four sons. While his father and brothers have always been interested in wrestling, his mother, Debbie Sanderson, has an interest in helping kids with conditions such as Down syndrome, autism, and other different learning challenges.
Cael Sanderson was a student at Wasatch High School where he began showing, without permitting even the slightest doubt, that he was destined for greatness in the world of wrestling. His statistics were astounding and he set record after record only to break them again by himself.
Throughout his trailblazing high school career, Cael accumulated a total of 130 matches, out which he won 127 and lost only 3. After graduation, he headed to Iowa State University and proceeded to make history.
Cael Sanderson earned all 39 victories in his freshman year to claim his first NCAA title, becoming the first freshman to be named the NCAA Wrestling Team Championship's Outstanding Wrestler.
In his sophomore year, he remained undefeated with 40 wins and 0 losses, bagging another NCAA title. He also became the first underclassman to be awarded the Dan Hodge Trophy for being the best college wrestler in the entire country. He then went to Tokyo during the off-season to bring home the World University title.
In his junior year, Cael also put up 40 wins, 0 losses, and an accumulative 119 consecutive wins which shattered the record at the time, held by Dan Gable with 98 wins. He won the Dan Hodge Trophy a second time, making him the first wrestler to ever do so.
In the seasons that followed, Cael record another 40 wins and no losses, took home the Dan Hodge Trophy once more, and his fourth NCAA Division I title, becoming the second wrestler since Pat Smith to do so. He concluded his college career with 4 Big 12 Conference Championship titles, 4 NCAA Outstanding Wrestler titles, 159 straight wins, 3 Dan Hodge Trophies, and 4 NCAA individual titles. Sanderson remains as the only one who has a perfect record in the N.C.A.A. Division I history, with his 159-0 record. In 2002, the American wrestler won the Best Male College Athlete ESPY Award.
On the international front, the undefeated college champion represented his country at the 2004 Olympic Games held in Athens, Greece, and brought home the gold medal. He was also a silver medalist at the 2003 World Wrestling Championships. Even after he retired and returned briefly to the sport, Cael Sanderson still managed to place fifth in the entire world.
He began coaching in 2004, serving as a special assistant at Iowa State University. He then held a number of associate head coach positions before being promoted to head coach in 2007. Over the next three years, Cael helped two of his wrestlers win individual NCAA titles and coached the team to place second, fifth, and third in the NCAA national team rankings.
Shortly before the end of the 2010 season, it was announced that Cael Sanderson would be moving to Pennsylvania State University to serve as their head coach. So far, he has coached the team to 8 NCAA national team titles and his wrestlers have won 23 NCAA Division I individual titles.
By 2020, his coaching career with Pennsylvania State University was still great in many ways. His team finished first in all the years from 2010 to 2019 with the exception of his first year in charge, 2010, when he finished 9th and 2015 when the team ended in sixth place.
He is the only coach in the history of the NCAA to take home both Big Ten and Big 12 Coach of the Year honors.
Dissecting Cael Sanderson's Salary and Net Worth
Cael Sanderson has earned a lot of money over the course of his career in the form of bonuses, sponsorship deals, and salaries as a reward for his hard work and performances. Since he began working as a wrestling coach, he has been able to up his value by helping his teams bring home numerous titles.
As per his old contract with Penn State, Cael was paid a base salary of $175,000 annually, not including performance bonuses and other incentives. However, he signed a new contract in 2018 which is believed to double his income value, but he is yet to reveal the exact figure. At the moment, he is estimated to have a net worth of more than $500,000.
See Also: Chris Hogan – Bio, Injury and Career Stats, Wife, Net Worth and Other Facts
An Insight Into His Beautiful Family Life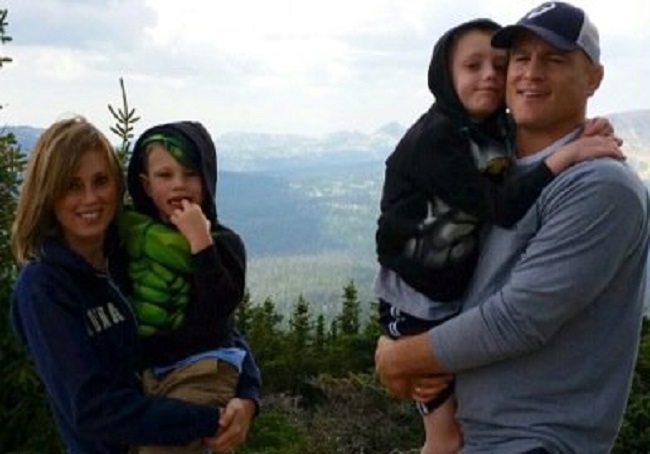 Wrestling is not the only thing that Cael Sanderson has succeeded at; he has also been killing it on the marriage front since 2002 when he walked down the altar with his beautiful wife, Kelly. The pair have been happily married ever since and have welcomed two wonderful children into their family.
Cael and Kelly are proud parents to their sons Tate and Teag Sanderson. In their many years of marriage, the wrestling champion has never stopped gushing about his wife and extolling just how wonderful, perfect, and supportive she has been to him and their family.
The wrestling star was born into a family of wrestlers beginning with his grandfather. Cael's father, Steve Norman Sanderson was also a notable wrestler who served as his trainer and coach for most of his career. He also trained Cael's three brothers, Cole, Cody, and Cyler, who all became amateur wrestlers, although none of them managed to achieve Cael's level of success.