Anthony McFarland, better known as Booger, is a former professional American football player who went pro after he was selected by the Tampa Bay Buccaneers in the 1999 National Football League (NFL) draft. After eight seasons with the Buccaneers, the defensive tackle who had played college football at Louisiana State University was traded to the Indianapolis Colts where he played until his career came to an abrupt end due to a knee injury.
Within the period he played professionally, Booger McFarland won two Super Bowl rings – the first being Super Bowl XXXVII with the Tampa Bay Buccaneers and the second being Super Bowl XLI with the Colts. Following the end of his playing career, he began to work in the media as he currently serves as a consultant and color analyst for ESPN's Monday Night Football telecasts.
Booger McFarland's Mischief Filled Childhood and How He Earned His Name
Booger McFarland, whose birth name is Anthony Darelle McFarland, was welcomed to the world on the 18th of December 1977, in Winnsboro, Louisiana. According to him, he was a bad child from the time he was two years of age and as a result of this, his mother always kept referring to him as "booger". His sisters teased him for this and his friends soon joined in calling him the name that he would eventually continue to go by.
The peak of Bogger's bad behavior as a child came when he set his family's rubbish pile on fire. His mother was not at home at the time and the burning pile almost reduced the house to ashes. Thankfully, that was not the case and the young lad escaped with minimal punishment. McFarland's bad behavior eventually dwindled by the time he turned 12 but he had already earned a nickname that would remain with him for the rest of his life.
His Trophy-Laden College Run
Booger McFarland began playing football at Winnsboro High School. Upon graduation, he continued his studies at Louisiana State University where he also continued to play football for the LSU Tigers from 1995 to 1998.
In his freshman year, Booger started every game as a defensive tackle and contributed a record 73 tackles as the Tigers won the Independence Bowl. He continued this impressive form in his sophomore year until the end of his college career. He notably contributed to his school's victories at the 1996 Peach Bowl and the 1997 Independence Bowl.
Booger received several accolades for his outstanding individual performances. They include the 1996 Peach Bowl SEC Defensive Most Valuable Player award, First-Team All-SEC Honors, First-Team All-America Honors, as well as an appearance in the 1999 Senior Bowl. Aside from his exploits on the field of play, Booger McFarland additionally did well on the academic side as he completed his education and was awarded a bachelor's degree in business management.
The Highs and Lows of His Professional Career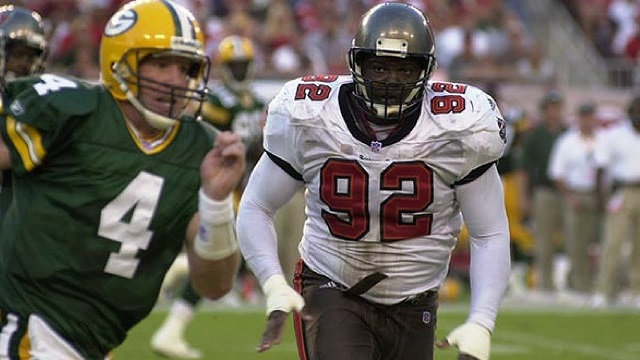 Following an outstanding collegiate career, Booger McFarland was selected by the Tampa Bay Buccaneers with the 15th overall pick in the 1999 NFL draft. He went on to spend a total of eight seasons with the franchise during which he featured in about 84 games and recorded 20 sacks, 211 combined tackles as well as 141 solo tackles. McFarland had two particularly outstanding seasons during his time with the Bucks. The first was the year 2000 when he contributed an impressive 6.5 sacks, 50 tackles (seven for loss), and a forced fumble. The next was the year 2002 when he posted 12 tackles, 1.5 sacks, and 1 pass defended as his team went on to play in Super Bowl XXXVII where they defeated the Oakland Raiders to emerge as champions.
Following a time well spent with the Bucks, Booger McFarland was traded to the Indianapolis Colts on October 17, 2006. Even though he only managed to spend one season with the team before injury ended his career, he was able to make a lasting impression. The defensive tackle contributed with 33 tackles and 2.5 sacks as the Colts made it to the playoffs. He and his team then went on to defeat the Chicago Bears at Super Bowl XLI to emerge champions, giving the player his second ring.
Given his early antecedents in life, one would have expected Booger McFarland to turn out to be a hell-raising player but the reverse was the case. The Louisiana native kept his nose clean throughout his nine-year run in the league. There were no reports of any arguments with referees as there were also no physical bust-ups or altercations with his fellow players on the field of play. Off the field, McFarland meticulously avoided problematic issues such as drug cheating or other criminal offenses. As a result of all this, the former infant terrible has a squeaky reputation in the NFL.
Booger McFarland's Earnings From Both His Playing and Post-NFL Career
The former NFL star has a fortune estimated at $2 million. He primarily accumulated his wealth from what he earned during his playing days. In 2003, the player signed a five-year contract with the Bucks worth $34 million. Following an inability to restructure to deal, his team traded him to the Colts in 2006 where his career eventually came to an end.
Since calling time on his playing career, McFarland has turned to sportscasting and this has also boosted his overall fortune. The Louisiana native commenced his journey in the media industry by co-hosting a radio show called The Fan on CBS radio station 98.7. He subsequently switched to television and joined the SEC Network as an analyst in December 2014.
Boogie McFarland now works as a color analyst for ESPN's Monday Night Football. He gained the exalted position in 2018 and has worked to establish himself as a cornerstone of the show ever since. It is not exactly known how much the former NFL star earns as salary but there is no doubt that it would be in the seven-figure region.
See Also:  Why Did Brian Urlacher Retire From NFL And What Is His Net Worth Now?
What We Know About His Family
Booger McFarland is married to Tammie McFarland. The pair are reported to have met in 1999 at the wedding of Booger's college teammate, Anthony Skinner, whose wife is Tammie's cousin. Booger and Tammie later tied the knot in 2008. They have remained together ever since then and their union is blessed with two children; a daughter named Alexis and a son named Jacob.
McFarland is not big on social media and as such, there is not much information on what his family gets up to. We are, however, sure that they are enjoying blissful family life.