The world can be quite a challenging place to live in and bad news are rampant, thus prompting a need for people to seek out entertainment one of which exists in videos that make them feel good about their existence. Although her situation is what many might describe as another bad news, Audrey Nethery has been a constant reminder of how beautiful life truly is no matter the challenges one is confronted with. She is also a known entertainer in the internet community.
Through YouTube, Audrey became famous through her dancing skills as posted by her parents on her channel, Audrey Nethery. Through a combination of her cuteness, her charm, and her skills, she has become one of the most popular children in the world and has been championing different charity causes, including one about her condition – Diamond Blackfan Anemia.
Learn more about the media personnality and her life below.
Audrey Nethery Age and Biography
Audrey Nethery was born on the 20th of October, 2008 in Kentucky, US. Right from her birth, Audrey has been a special child. She was born prematurely with multiple holes in the heart. It was the first battle that Audrey defeated with the help of surgeries. However, despite the surgery, she still suffered from low blood cell count and it led to the discovery of her condition, Diamond-Blackfan anemia, which is a medical condition where the body is unable to create enough red blood cells.
Despite trying a couple of solutions, including blood-cell transfusion and the injection of a form of steroid, Prednisolone, Audrey Nethery was unable to defeat the condition, and as a result, has been using a combination of both solutions to sustain her life. The solution's side effect included curbing Audrey's growth, which means she still looks like a toddler, despite being far older than one.
Regardless of this challenge, Audrey and her family have remained positive, strong enough to share her joy with the world. Having fallen in love with dancing as a child, with the help of her parents, Audrey has taken to YouTube and Facebook to share her dancing skills with the world.
One of her preferred dancing styles is the Zumba dance and the charm she had on people during her first Zumba dancing class was recorded by her mother and uploaded to Facebook. The video went viral with several comments of appreciation and support from Facebook users across the world. As a result of this, an unwitting Zumba star was born and it has reflected all across social media. On Facebook, she has over 1.5 million followers while her YouTube channel, which is eponymously named Audrey Nethery, has thousands of subscribers with several million views. On Instagram, she also has over 300 thousand followers.
Her popularity has earned her performances at Zumba communities, including the Zumba convention where she went on to sign autographs and get her pictures taken by fans and admirers.
Other than dance, Audrey Nethery also tends to sing and has performed several lullabies which have featured across her social media platforms, especially YouTube.
With her popularity established as she rolls out vlog videos, dancing videos, and other interesting content, sometimes featuring her family members, she has used her platform to raise awareness about her medical condition and has become a leading voice for the cure of Diamond Blackface Anemia.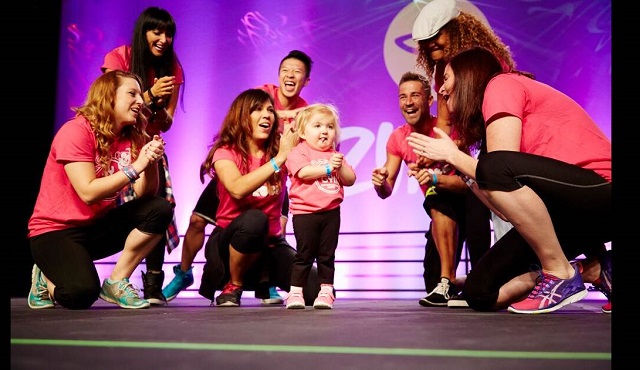 Using all her platforms, Audrey has been spreading information about the condition and has equally been using the platform to raise funds for research organizations in pursuit of a cure for the condition.
Audrey Nethery has also established a foundation, Diamond Blackfan Anemia Foundation which she has been funding with income from donations and from ad revenue from her YouTube channel, which has millions of views and has an earning potential of up to $188 thousand per year.
See Also: Morgan Adams – Bio, Age, Height, Net Worth, Facts About The YouTube Star
Who Are Audrey Nethery's Family Members?
Audrey Nethery has been lucky to be raised by loving parents who chose instead to share her joy and charm with the world rather than hiding her away from the world because of her condition. She has as her father, Scott Nethery and as her mother, Julie Nethery. She is the only child of her parents.
Other Facts About Her
Her popularity has extended to Elle DeGeneres' website, which is the home of extraordinary personalities.
She has a cat and a dog, named Harper and Butters respectively.
Audrey Nethery makes frequent appearances on the Racheal Ray Show. Her appearances are often a means for her to continue the raising of awareness about the Diamond Blackfan Anemia disorder.
She is a big fan of singer Selena Gomez and they both featured in a video together.