Tyga is one of the uniquely talented rappers in the international music scene.
As at 2017, the star and media personality was listed as one of the Top 10 highest-paid rappers in the industry. Before the year ran out, Tyga dropped a brand new single titled Temperature.
Presently the star is even more famous for his romantic relationships and of course his dollar worth than his musical talent.
Tyga Bio
Born as Michael Ray Stevenson on the 19th November 1989, Tyga is of a mixed bloodline.
According to him, he is of both Vietnamese and Jamaican origin.
His professional name, "Tyga" he says is an acronym for "Thank You God Always".
Not much information is known about his family background.
However, gathered information from different reports show discrepancies in the actual social class of Tyga's background. That regardless, the talented American rapper has earned himself a self-made millionaire title with sheer talent in the music industry.
His career just like many other entertainers have not been all rosy but in all, he has marked notable successes since he came into limelight.
At the age of 18 he launched his first album. By 19, the then upcoming star blew the minds of top record labels with his debut mixtape, Young on Probation.
His rap style and flow caught the ears and interest of Lil Wayne's Young Money record label; and in time signed on to Cash Money Records and Republic Records.
He would later go on to work with big names in the industry in the likes of Chris Brown, The Game, Rick Ross and Jadakiss.
Music Success
Before the mixtape, Tyga released his debut single Coconut Juice with his cousin Travis McCoy of the Gym Class Heroes.
Tyga sure did do a lot of music before his professional recognition with the mixtape.
In partnership with Chris Brown, Tyga released the Fan of a Fan collaborative album, produced by DJ Rockstar and DJ III Will.
Tyga seemed to be the star with the magic touch, as his collaboration with Chris Brown on the hit song Deuces landed an impressive 14th position on the  Billboard Hot 100 and number 1 on the Billboard Hot R&B/Hip-Hop Songs.
Deuces was also nominated for the Grammy's as the Best Rap/Sung Collaboration.
His third star-studded album, Hotel California banged at number 7 on US Billboard 200.
See Also: World's Richest hip-hop artists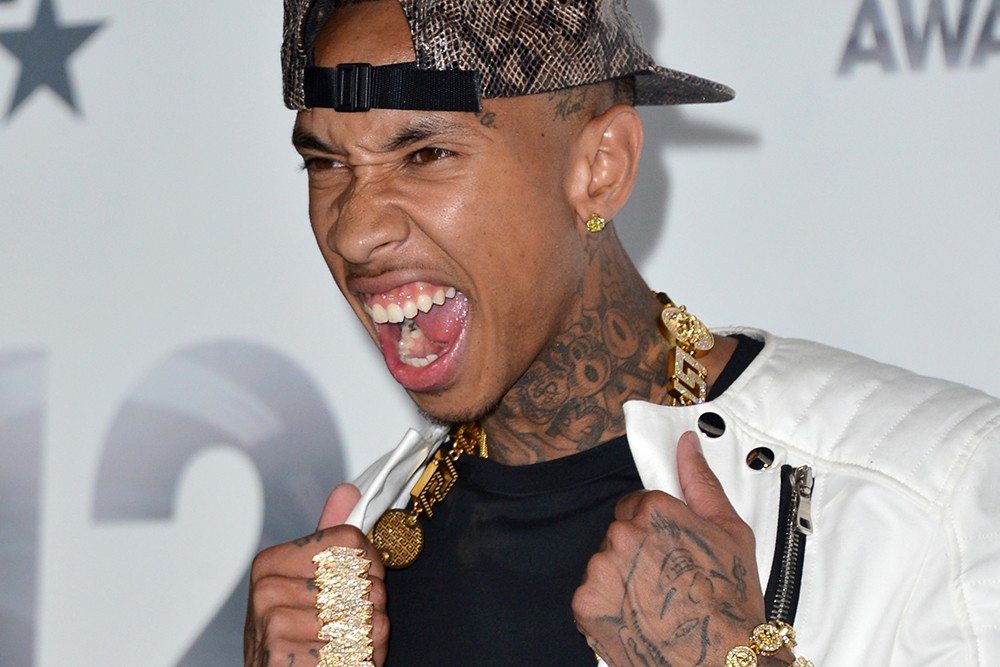 On June 23rd, 2015, Tyga released his fourth album, The Gold Album produced by Kanye West which featured may star artists including  Justin Bieber, and Young Thug.
This would be the first album produced by his independent Last Kings Record.
With about 2, 200 copies sold in the first week of its release, the album did not do as well as his previous albums.
See Also: Details of Blac Chyna's 7 Karat, $325k Engagement Ring From Rob Kardashian
Kingin' with Tyga, Business Ventures, Endorsement
While nursing the somewhat disappointing returns from the 18th Dynasty album, Tyga turned on his business side.
His Kingin' with Tyga reality show premiered on 24th July 2015 on MTV2. It is thought to be one of the biggest contributors to his swelling net worth.
Besides music, Tyga is currently involved in a bunch of other ventures including a clothing line called Last Kings, a watch line and adult film website rackcityxxx.com which reportedly nets him $12,000 every month. His endorsement deal with Reebok also left him $1.5 million richer.
Relationship With Kylie Jenner, Blac Chyna & Baby Mama
Tyga has made quite interesting headlines for his dating choices and love life in general.
In 2011, Tyga starting dating an American model and dancer, Angela Renée White, professionally known as Blac Chyna.
The two reportedly met during Chris Brown's F.A.M.E Tour after party. Barely a month later, their relationship had become full-blown. In 2012, the presently estranged couple welcomed a son in October and announced their engagement in December of the same year.
Unfortunately their love boat hit rock bottom and they broke up, blaming it on "personal differences".
Of course the separation did not happen without a heated custody battle.
It was indeed a news worthy co-incidence that the estranged couple found the new love of their lives in the Kardashian family.
Tyga's fame practically doubled the minute he started dating Kylie Jenner. However they have been described as an "off and on" couple from 2015 till their most recent break up in April 2017.
The media had strongly suggested that his romance with super-rich reality star and beauty entrepreneur had business-related ulterior motives.
On the contrary, Tyga who has made several appearances on Keeping Up With The Kardashians, says his public relationship with the young star "overshadowed" his talent and worth as a hardworking artiste.
Meanwhile, Blac Chyna ended up in the arms of Kylie's older half-brother, Rob Kardashian. The one year romance ended with a short-lived engagement and another child for the dancer turned business woman; making her a two-time baby mama.
See Also: Highest Paid Reality TV Stars And How Much They Made
Tyga Net Worth
Though not as boxed up as he used to be at the beginning of his career, Tyga's net worth is till tied to an estimated range of $2-5 million.
On two different occasions, the rapper bought his ex-girlfriend Kylie Jenner a $450,000 worth Ferrari for her 18th birthday(2015) and another Mercedes-Benz Maybach worth $220,000 for her 19th birthday(2016).
His icy collection of jewelry consists, but not limited to, one King Tut diamond necklace, two chain bracelets, one gold cell phone case, three gold animal cuffs, and seven small pendants.
Among the collection in his garage are Mercedes SLS Coupe, Rolls-Royce Phantom Coupe, Mercedes G waggon, Mercedes SLS AMG, Mercedes SLR McLaren, Lamborghini Aventador and Vintago Fogiatio.
You know what they say… More money, more problems. Tyga has had his fair share of money problems since 2015. The list goes from unpaid taxes to rent lawsuits.
An LA jeweler by the name Jason sued the rapper for not paying for luxury accessories he borrowed from him, the total amount due plus damages and interest was over $180,000.
Tyga is reportedly flawed by his extravagant and luxury lifestyle.
A court ruling revealed that Tyga owed $80,000 in rent for his Calabasas mansion. The state of California revealed he owed almost $20,000 in unpaid taxes. Car companies including Choice Motor Credit filed a lawsuit against the rapper for owing them $448,503.44 for two luxury cars he purchased.
Tyga has been bluntly called him broke in the actual sense; leading to the rumor that he was living off his ex-model girlfriend Kylie Jenner.
However, Tyga gave the media a shocker when he cleared his debts in 2016.
Optimism is shared that the star is due to build a heavier net worth, thanks to his endorsement deals and career revamp moves.
Tyga Son
His name is King Cairo Stevenson, his son with Baby Mama Blac Chyna.

King Cairo also has a half sister, Dream Renée Kardashian (from his mother's love affair with Rob Kardashian).

Putting aside their differences, Tyga and Chyna made out time to mark their son's 5th birthday with a party in Valencia, California, last year in October.

Fact Check: We strive for accuracy and fairness. If you see something that needs updating,