The realization that the WWE is not really all that it claims to be has led many fans of combat sports to seek other platforms to satisfy their love for the game. One brand that has benefitted immensely from that migration is none other than the UFC. Following its establishment in 1993, the Ultimate Fighting Championship has grown to become the largest and most popular MMA promotion in the world. It draws tens of thousands of fans to each fight night with millions more watching on pay-per-view (PPV) channels.
Of course, some of the biggest beneficiaries of this phenomenon are the fighters themselves. They regularly pocket five and six-figure paychecks and have now built up net worth running into millions of dollars. They also constitute some of the biggest sports stars in today's world with several endorsement deals to their names as well as a massive legion of devoted fans globally. From the likes of Conor McGregor to trailblazing women champion Ronda Rousey, the UFC has produced personalities who transcend their sport.
Most Famous MMA Fighters in UFC and Their Net Worths
20. Kamaru Usman
Net Worth: $3 Million
Year of Joining the UFC: 2015
Country of Residence: U.S.A
Occupying the 20th spot on the list of the most famous MMA fighters in the UFC is Kamaru Usman. Popularly known as the Nigerian Nightmare, Usman enjoyed an impressive wrestling career in the collegiate division before setting his sights on representing the United States at the Olympic Games in London in 2012. That dream failed to materialize and the young man turned to mixed martial arts that same year.
Within the span of three years, he had done enough to earn a contract with the UFC and since then, he has been impressive all the way. In 11 UFC matches, the Florida-based athlete has yet to taste defeat but has gone on to rack up titles and records. He has successfully defended the UFC Welterweight Championship twice and now holds the record as the first Nigerian ever to win a championship in the UFC.
19. Donald Cerrone
Net Worth: $9 Million
Year of Joining the UFC: 2010
Country of Residence: U.S.A
Cerrone is one guy who has managed to overcome several controversies to maintain a viable career in the UFC and remain one of its most famous personalities. The former championship-winning kickboxer has been accused of using racial slurs as well as inappropriate sexual behavior towards women. He has also courted criticisms for the transphobic and homophobic comments that he has made in recent time.
Despite all this, Cerrone continues to blossom in the octagon and now has several records to his name. They include the UFC record for most wins (22), most post-fight awards (16), and most finishes (16). The Colorado native is also one of the fighters in the UFC with the highest number of bouts to his name (33).
18. Dan Henderson
Net Worth: $8 Million
Year of Joining the UFC: 1998
Country of Residence: U.S.A
Dan Henderson's impact transcends the UFC as he has also built up an enviable reputation in other MMA promotions such as Strikeforce and Pride Fighting Championships. At Strikeforce, Henderson won the light heavyweight championship. Under Pride Fighting Championships, he added the welterweight and middleweight championships thus becoming the first fighter to hold titles in two different weight classes simultaneously in a major MMA organization.
In the UFC, Henderson also emerged middleweight tournament champion at UFC 17. He was subsequently inducted into the fight wing of the UFC Hall of Fame in July 2018. This was in recognition of his exhilarating bout with Mauricio Rua which he won by unanimous decision.
17. Max Holloway
Net Worth – $2 Million
Year of Joining the UFC – 2012
Country of Residence – U.S.A
A dominant figure in the featherweight division, and a one-time champion there, Max Holloway has endeared himself to fans with his dedication to his craft. While most of his peers are focused on seeking out the most lucrative of bouts or looking for opportunities to obtain multiple championships in different divisions, Holloway is cut from a different cloth altogether. He is focused on consolidating his legacy in the featherweight division and so purposefully defends his belt against any person that dares to challenge him. The Hawaii native managed three successful title defenses between 2018 and 2019 before ending up losing in December 2019. Despite the loss, he remains one of the most famous MMA fighters in the UFC.
16. Tony Ferguson
Net Worth: $2 Million
Year of Joining the UFC: 2011
Country of Residence: U.S.A
While Holloway is busy dominating the featherweight division, Tony Ferguson is doing a similar thing in the lightweight division. His titles (interim UFC Lightweight Championship) and achievements (The Ultimate Fighter 13 winner) have helped him emerge as one of the best-known stars there.
Another fact that accounts for Ferguson's fame is his use of social media. The fighter regularly posts videos of his unorthodox workouts on Instagram. They include smacking his arms and legs against metal poles to build bone strength as well as somersault jumps over tall stacks of gym mats. As unorthodox as these training routines may be, fans lap it up as they are simply glad to be offered an inside glimpse into the day-to-day routine of one of their favorite stars.
15. Frankie Edgar
Net Worth: $2 Million
Year of Joining the UFC: 2007
Country of Residence: U.S.A
Ever since he joined the UFC in 2007, former bantamweight-turned-lightweight fighter, Frankie Edgar, has gone on to enjoy unrivaled longevity in his career. He has one UFC lightweight championship to his name as well as a multitude of awards, including fight of the night, knockout of the night, and performance of the night. This has made him a fan favorite. Another fact that accounts for his popularity is his penchant for staging dramatic comebacks. For instance, during UFC 126 in October 2011, Edgar was pummeled to within an inch of his life by his opponent, Gray Maynard. This forced the then-reigning champion into defense but he was able to rebound and finish off his opponent in the fourth round with a flurry of punches.
14. Israel Adesanya
Net Worth: $2 Million
Year of Joining the UFC: 2017
Country of Residence: New Zealand
Another Nigerian-born fighter who makes it to the list of the most famous MMA fighters in the UFC is Israel Adesanya. Widely regarded as one of the best strikers in the world of mixed martial arts, Adesanya has enjoyed a career that most of his peers can only dream of. He remains undefeated in 20 bouts to date and holds the middleweight title which he has successfully defended twice. His swagger outside the ring has helped him emerge as one of the biggest stars in the sport and in 2020, he was named the fighter of the year and the international fighter of the year at the annual MMA awards. This was in recognition of a stellar year in which he defeated two formidable opponents to retain his title.
13. Demetrious Johnson
Net Worth: $6 Million
Year of Joining the UFC: 2017
Country of Residence: U.S.A.
If you call Demetrious Johnson a serial record-breaker, then you won't be wrong. The Kentucky native is the inaugural flyweight champion of the UFC. He also holds the record for the athlete that has landed the most takedowns in the history of the UFC; the athlete with the most finishes in UFC flyweight history; as well as the only UFC fighter to record over 10 takedowns in three different fights. All these exploits have fetched Johnson several awards, including 2017 fighter of the year and submission of the year from Bleacher Report, 2017 fighter of the year at the ESPY Awards, and the 2013 fighter of the year from FoxSports.com.
12. Ronda Rousey
Net Worth: $13 Million
Year of Joining the UFC: 2011
Country of Residence: U.S.A.
It is impossible to compile a list of the most famous MMA fighters in the world without including Ronda Rousey in it. This living legend has blazed the trail for women in combat sports and is now regarded as one of the most-defining athletes of the 21st century.
Rousey first made her mark when she nabbed a bronze medal in Judo at the 2008 Olympics, becoming the first American woman to do so. From thereon, she went on to become the first woman to land a competitive contract with the UFC and also won the Bantamweight title for good measure. Since then, Rousey has gone on to conquer WWE, picking up the women's Raw title in the process. Her incredible story has been used to inspire lots of women all over the globe and she has featured in a handful of movies, including the 2015 blockbuster Furious 7.
11. B.J. Penn
Net Worth: $22 Million
Year of Joining the UFC: 2001
Country of Residence: U.S.A.
Penn is a versatile mixed martial arts fighter as well as a decorated jiu-jitsu practitioner. He has fought in several divisions of the UFC, including the featherweight, welterweight, lightweight, and middleweight divisions, and has won championships in the last two. Achievements like this have made him one of the most visible stars in the sport but that reputation has been under threat thanks to troubles in his personal life. The UFC star was filmed taking part in a series of street brawls in the year 2019 and this cost him his contract. He was also involved in a paternity lawsuit in December 2020 as a Brazilian woman claimed that he fathered her child who was born earlier that year.
10. Daniel Cormier
Net Worth: $6 Million
Year of Joining the UFC: 2013
Country of Residence: U.S.A.
Cormier has achieved a lot in the course of his illustrious career; he is a one-time heavyweight and light heavyweight champion, and these achievements are magnified by the adversity that he had to overcome in order to get to his destination.
At the age of seven, Daniel's father was shot dead by the father of his second wife. The young boy, however, coped with the loss and went on to emerge as one of the brightest wrestling prospects in his country. Despite this, Cormier found it hard making it to the Olympics or winning an NCAA title. He subsequently became a father and he and his young family had to survive on welfare. In spite of all this, or maybe because of it, Cormier was still able to become a champion of the world.
9. Jose Aldo
Net Worth: $9 Million
Year of Joining the UFC: 2010
Country of Residence: Brazil
After 35 professional fights and 16 years in the cage, Jose Aldo has done enough to be considered one of the greatest and most famous MMA stars of all time. The Brazilian star is, however, not distracted by the ovation and is instead focused on consolidating his legacy. One of the ways of achieving this is by moving down weight classes. The three-time featherweight champion now competes in the bantamweight divisions and made his debut on the 14th of December 2019 against Marlon Moraes. It has been a mixed bag of fortunes for Aldo so far in his new division but he remains unfazed in his bid to land a title there.
8. Justin Gaethje
Net Worth: $4 Million
Year of Joining the UFC: 2017
Country of Residence: U.S.A
I protect myself inside the Octagon, @trojancondoms keeps me protected outside. #ad #ProtectYourselfAtAllTimes #TrojanCondoms #UFC254 pic.twitter.com/P9cr2DUMEk

— Justin Gaethje ???????? (@Justin_Gaethje) October 20, 2020
Justin Gaethje is hands down one of the most exciting prospects in the UFC. A much-decorated wrestler in his high school and college days, what has helped him achieve that coveted status is his exciting and violent fighting style. Gaethje has carefully fine-tuned this due to the knowledge that it will make him more popular with the fans and make for bigger paydays. Another thing that the one-time interim lightweight champion has going for him is his boldness. Gaethje does not have much respect for the bigger names in the sports and has no qualms calling them out. For example, in 2020, the fighter used some choice words on McGregor for avoiding a fight with him while choosing a guy that he (Gaethje) had knocked out a few weeks previously.
7. Amanda Nunes
Net Worth: $5 Million
Year of Joining the UFC: 2013
Country of Residence: Brazil
Another woman who ranks amongst the most famous MMA stars in the UFC is Amanda Nunes. Now widely regarded as the greatest female MMA athlete of all time, the Lioness, as she is fondly called, is the reigning champion in both the bantamweight and featherweight division. She is the first woman, as well as the third UFC star, to achieve that feat of holding two titles in different divisions. Furthermore, Nunes is the first fighter in UFC history to defend two titles while actively holding them. Such feats ensure that she is now a household name and in 2019, it was announced that she would be appearing in the 2020 sports film, Bruised. The flick stars Oscar-winner Halle Berry as a disgraced MMA fighter who seeks both career and personal redemption.
6. Anderson Silva
Net Worth: $8 Million
Year of Joining the UFC: 2006
Country of Residence: U.S.A
For seven whole years, Anderson Silva held sway as the middleweight champion of the UFC. During this period, he recorded 16 victories which became a UFC record much like his 2457 days reign as champion. Silva would eventually lose his title in 2013 but that did nothing to harm his reputation as one of the greatest in his chosen sport. This has resulted in him having a massive legion of fans from all over the world.
The Brazilian fighter also has a slew of endorsement deals to his name, including with the likes of Burger King and Nike. Beyond the Octagon, Silva has also featured in several movies and TV shows, including Never Surrender, Ultimate Beastmaster, Tapped Out, and Till Death Do Us Part 2.
5. Georges St. Pierre
Net Worth: $30 million
Year of Joining the UFC: 2004
Country of Residence: Canada
Ever since he made his debut in 2002, Georges St. Pierre has gone on to accumulate an impressive 26 wins out of 28 bouts. He has also won several titles, including the UFC middleweight championship (once) and the UFC welterweight championship (twice). St. Pierre is now one of the most famous sports personalities out of Canada and in 2008, he was named the Rogers Sportsnet Canadian Athlete of the Year. He beat out other illustrious Canadian stars to scoop the prize and would go on to repeat the feat in 2009 and 2010, making him the first athlete to achieve so. This achievement by St. Pierre was largely aided by his numerous fans on social media who voted for him online.
4. Stipe Miocic
Net Worth: $4 million
Year of Joining the UFC: 2011
Country of Residence: U.S.A.
Stipe Miocic is one fighter who manages to impress both inside and outside the octagon. In his MMA career, the American fighter is a two-time heavyweight champion. He also holds the record for the most fight-night bonuses in that division and this has made many regard him as the greatest heavyweight fighter in the UFC.
Outside the octagon, Miocic has earned admiration and respect for his part-time gig as a firefighter and EMT in his native Ohio. The highly-decorated MMA star has retained that gig since 2013 and has no plans to give it up anytime soon. He sees it as a means of helping out and giving back to society. It is also a retirement plan for him once he decides to call time on what has been an enviable career.
3. Jon Jones
Net Worth: $10 million
Year of Joining the UFC: 2008
Country of Residence: U.S.A.
One person that is coming to unsettle things in Miocic's heavyweight division is the mercurial Jon Jones. Despite being involved in several controversies such as testing positive for banned substances and a hit and run felony charge, Jones has gone on to establish himself as one of the most famous MMA stars in the UFC with several titles to his name in the light heavyweight division. For his next act, the native New Yorker is hoping to conquer the heavyweight division. In order to achieve this, he has jacked up his physique from 205lbs to an incredible 250lbs. He has also embarked on an intensive training regime as he looks forward to his first fight in his new division.
2. Khabib Nurmagomedov
Net Worth: $40 Million
Year of joining the UFC: 2011
Country of Residence: Russia
Khabib is not just one of the most famous MMA stars in the world but also one of the most popular Muslim athletes in the globe. It, therefore, broke many hearts when he announced his decision to retire in 2020. The man, who walked away with an undefeated record of 29 – 0, maintained that he had to do it following the death of his beloved father-cum-trainer as well as the promise that he made to his mom.
Khabib is now officially retired but all facts point to an inevitable return to the octagon. Fans are yearning to see him again and in January 2021, UFC president Dana White confirmed that he had held a meeting with the Russian fighter in Dubai. Khabib is set to fight fellow MMA great, Georges St. Pierre or bitter rival, Conor McGregor, upon his return.
1. Conor McGregor
Net Worth: $120 Million
Year of Joining the UFC: 2013
Country of Residence: Ireland
It certainly does not come as a surprise to see that Conor McGregor occupies the top spot on the list of the most famous MMA fighters in the UFC. The Irish fighter is simply one of the best things to have ever happened to the brand and he has several titles and records to prove it. McGregor's fame now goes beyond the UFC so much so that he embarked on a well-publicized boxing match with the undefeated Floyd Mayweather Jr. in 2017. Even though the Irishman ended up losing the match, he still walked away with a payday which is valued at anything from $100 million to $130 million. It is paychecks such as this that explains why he is also the richest MMA athlete in the world.
Recap of the 20 Most Famous MMA Fighters in the UFC and their Net Worth
1. Conor McGregor ($120 million)
2. Khabib Nurmagomedov ($40 million)
3. Jon Jones ($10 million)
4. Stipe Miocic ($4 million)
5. Georges St. Pierre ($30 million)
6. Anderson Silva ($8 million)
7. Amanda Nunes ($5 million)
8. Justin Gaethje ($4 million)
9. Jose Aldo ($9 million)
10. Daniel Cormier ($6 million)
11. B.J. Penn ($22 million)
12. Ronda Rousey ($13 million)
13. Demetrious Johnson ($6 million)
14. Israel Adesanya ($2 million)
15. Frankie Edgar ($2 million)
16. Tony Ferguson ($2 million)
17. Max Holloway ($2 million)
18. Dan Henderson ($8 million)
19. Donald Cerrone ($9 million)
20. Kamaru Usman ($3 million)
How Much Do MMA Fighters Get Paid?
It is difficult to give a definite answer to this question and this is because of the secrecy surrounding the payment structure of various MMA promotions. The MMA is not like other organized sports, such as the NBA and NFL where the value of contracts are public knowledge and splashed on the pages of the dailies once a deal has been concluded. It privatizes its financial information and the only glimpse we do get into the state of things is the purse information released in the aftermath of a major bout by the regulatory authorities.
From these reports, we do know that the most popular MMA stars, such as Conor McGregor and Khabib Numargomedov can earn as much as seven and eight figures ($12,000,000). Then, those that rank behind them in status, about 33%, earn six-figures. Further down, about 37% of the fighters make $45,000 per annum while the lower rung, comprising of about 15%, make about $10,000 a year. When the numbers are crunched, the average annual income for MMA fighters is $138,250.
This figure is quite impressive but it doesn't paint the real picture as it is the big stars who account for the lion's share of this while the lower cadre keeps on struggling. They barely break even and still have to apply their relatively-low wages to take care of their training, coaching team, and medical fees. There is therefore a need to address this disparity and help the upcoming ones.
Do they come anymore game than @BlessedMMA? #UFCFightIsland7 pic.twitter.com/4mifgK6hFF

— UFC (@ufc) January 16, 2021
How Much Does a UFC Fighter Make Per Fight?
The answer to this puzzle once more depends on the fighter that we are talking about as there is no standard payment rate. The pay for a fight in the UFC can range from $20,000, $250,000, to as much as $50 million depending on whether the fighter involved is a marquee star or an amateur that is just starting out. Before giving a practical illustration of this, it is important to note the different sources that account for what a UFC fighter takes home on each particular fight night.
For instance, there is a base salary that they earn for turning up to the fight and making weight. They also get the fight night incentive pay that comes either from their own personal apparel supplier or the company that the UFC has an exclusive sponsorship deal with. Beyond the base salary and fight night incentive pay, fighters can also get win bonuses as well as the performance of the night bonuses (usually about $50,000 each) depending on how well they perform in the ring.
Finally, the biggest contributor to what a fighter takes home from a fight is their share of the pay-per-view purse. This can be quite lucrative depending on how many fans shelled out money to watch the fight. It is PPVs that have made Connor McGregor the highest-paid fighter in the UFC. For instance, during his October 2018 match against Khabib Numargomedov, he pocketed about $53 million despite losing. A breakdown of that figure shows that $3 million was his base pay while $40,000 was his fight night incentive pay. Then, almost 50 million came from per-per-view as the match drew 2.4 million PPVs, the most in UFC history.
What Other Ways Do MMA Fighters Make Money?
MMA fighters do not only depend on their base salary and fight bonuses for their income. Just like other professional athletes out there, they also get to make good money from a variety of sources including sponsorships, endorsement deals, their personal business ventures, and appearances in Hollywood movies and TV shows, etc.
With regards to sponsorship deals, each fighter usually has a sports apparel manufacturer that pays them handsomely to don kits produced by them. This remains the situation in most MMA promotions but it is a different ball game in the UFC where they now have a centralized deal with Reebok. Every UFC star has to wear the Reebok apparel and they get about $2,500 to $5,000 for each time they were it. The big stars such as Conor McGregor and Alistair Overeem have been known to make as much as $40,000 and $10,000 respectively.
Another lucrative source of revenue for MMA stars is endorsement deals with different companies in the world. The growing popularity of the sport means that many brands now court MMA stars to serve as their spokesperson and ambassador. For instance, American fighter Donald Cerrone has endorsement deals with the likes of Budweiser, Monster Energy, Bell Helicopters, Henry Rifles, and P3 Protein.
Women's star, Ronda Rousey is also doing well as she has an impressive endorsement roster that includes the likes of Monster Energy, Carl's Jr., Metro PCS, Buffalo Jeans by David Bitton, and Mizuno (a Japanese sportswear and equipment company). One good aspect of these endorsement deals is that they are not only available to the big stars but also the lesser-known fighters as local companies can pick them to help drum up business.
Hollywood is also another avenue through which MMA stars can make a good income. They do this either by featuring in movies or participating in some TV shows. For instance, Ronda Rousey has had minor parts in several movies, including Furious 7 and The Expendables. Another formidable women's champion, Amanda Nunes, is also set to star in the 2020 sports film, Bruised, alongside Halle Berry.
Finally, several MMA stars have also invested their fortune in setting up lucrative business ventures. For instance, Conor McGregor is the founder of an alcohol brand known as Proper Whiskey. Even though the brand has received some negative reviews, it is nevertheless thriving and sold about 2.4 million bottles in the first six months. Another nascent business that McGregor has to his name is a fashion brand known as August McGregor. It carries both sport wears and stylish wear such as suits.
Do Boxers Generally Earn More Than MMA Fighters?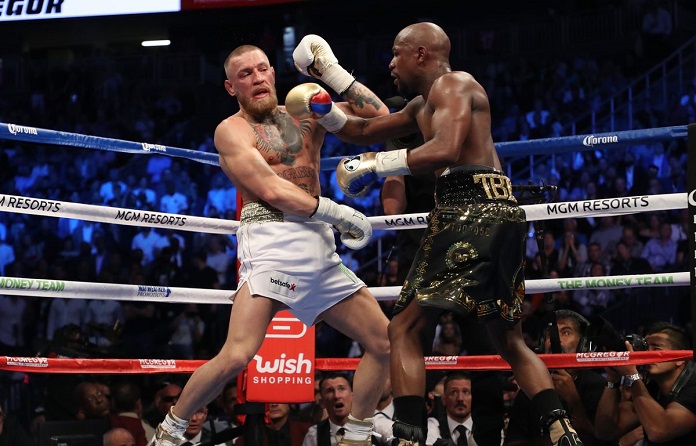 Even though mixed martial arts has surged in popularity in recent times to become one of the most-followed combat sports on the planet, it still plays second fiddle to boxing when it comes to the issue of pay. While the top boxers can easily pocket millions of dollars per fight, top MMA stars still have to make do with hundreds of thousands of dollars for each fight with the exception being the likes of Conor McGregor obviously.
For example, former UFC light heavyweight champion, Jon Jones, picked up $500k for defeating Thiago Santos in July 2019 while female bantamweight star, Amanda Nunes, earned $500k for defeating Holly Holm that same month. On the reverse side, boxer Tyson Fury took home about $12.5 million for his routine triumph over Tom Schwarz in June 2019 while British heavyweight champion Anthony Joshua was paid $13 million for defeating Kubrat Pulev in December 2020.
This disparity means that boxers perform better than MMA stars when it comes to per-annum income. For instance, in 2018, undefeated boxer Floyd Mayweather Jr. topped the list of the highest-paid athletes in the world with about $285 million while the highest-ranked MMA star was McGregor in the fourth position with $99 million. About four other boxers also made it to the top 100 but no other MMA star featured there.
Boxers are also wealthier than their MMA counterparts. Floyd Mayweather has a fortune valued at $500 million while McGregor has a net worth of $120 million. This disparity in the fortunes of MMA stars and boxers has baffled many with the legendary boxer Mike Tyson stating that MMA stars should make more money and that he doesn't know why this is not the case. Some people have, however, offered up explanations including the fact that boxing generates more revenue; boasts of variation; and is more established and long-standing.