Celebrities become popular for different reasons. Some perform in films or television shows while others sing or entertain. Some others are famous for engaging in combats just like Floyd Mayweather who is one of the most popular boxers in the world. At 5 feet 8 inches in height, the self-proclaimed Best Ever wasn't the tallest boxer of his era, but he left a trail of victories, gaining a reputation not only as the most famous but also the richest in boxing history. In his over two-decade-long career, he showed nothing but excellence – winning five weight classes and a lineal championship in four weight classes – an outstanding feat.
Who is Floyd Mayweather Jnr?
Born Floyd Joy on February 24, 1977, Floyd Mayweather Jr. was born into a family of boxers. His father, Floyd Mayweather Sr was a welterweight contender. Also, his two uncles had successful careers in boxing.
Growing up both in New Jersey and Grand Rapids, Michigan, Mayweather, dealt with troubling childhood. His temperamental father was a drug dealer and was always in one problem or the other. He later got jailed on cocaine trafficking charges and his mother also battled substance issues. However, little Mayweather who had always gone to the gym with his father before his jail sentence used boxing to escape from his tumultuous childhood.
Generally known as the greatest boxer of his time, the Ottawa Hills High School dropout began his career as an amateur boxer in 1996 Olympic. He competed from that year to 2007 and retired temporarily. Then, he returned and fought from 2009 to 2015. In 2017, he made a one-fight comeback, obviously his highest-paid matchup which was against McGregor.
The fighter has retired with an undefeated record of 50-0 left and a huge amount of wealth from his boxing activities. It doesn't look like his decline from boxing will affect his wealth, considering that he runs his boxing promotional firm which he opened in 2007 when he became a free agent.
Floyd Mayweather's Net Worth and How He Made His Money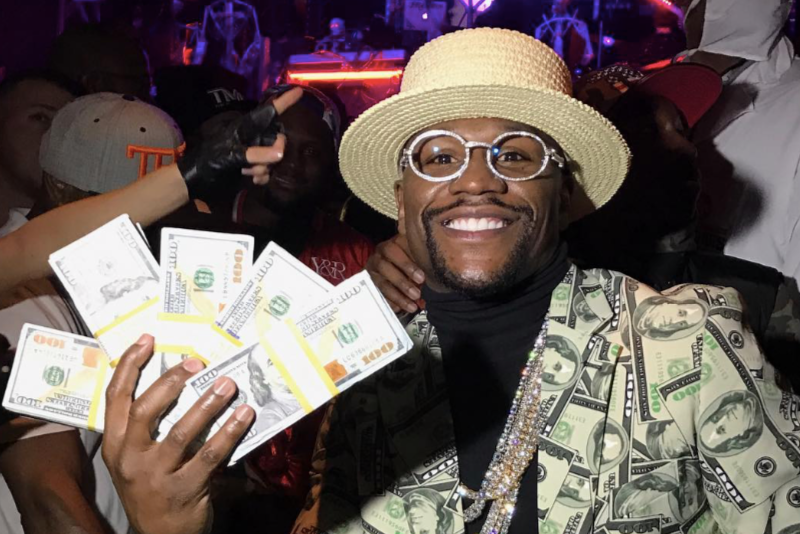 Most of Mayweather's fortune came from accumulated cash earnings from his successful boxing career for engaging in world-class and high-income generating bouts.
The fighter called "Money", Mayweather was part of the three biggest fights from a financial perspective in the history of boxing (Canelo Alvarez, Oscar De La Hoya, and Manny Pacquiao). His fight with De La Hoya in 2007 was the most pay-per-view buys for a match in the sports with 2.7 million households.
Similarly, his highly publicized fight with Pacquiao generated $600 million in revenue and gained him $240 million. It garnered $120 million in revenue with Mayweather scooping $25 million.
Equally, he was paid handsomely, a whopping $32 million when he fought with Cotto and received $41.5 million for fighting Saui Canelo Alvarez. His bout against Marcos Maidana II was also a huge source of income for the champion who earned at least $32 million from it. More high-budget fights he was involved in was a fight against Andre Berto which earned him $32, million, the fight against Tenshin Nasukawa ($9 million), among others. In 2017, when he made a comeback in the boxing ring against McGregor, Mayweather allegedly earned $300 million.
With all these in mind, the twelve-time and five-division world champion has built an incredible net worth throughout his career in boxing. According to Forbes, his net worth is estimated between $760 million and $1 billion. His ability to nab many product endorsement deals has also helped his income significantly. From that source, he earned approximately $105 million between 2013 and 2014.
Considering his hard work so far and his poor background, Mayweather is unapologetic when it comes spending on himself and showcasing his wealth on social media.

From his online displays, his Las vegas mansion has a garage filled with cars estimated at $15 million including a Bugatti Veyron worth $1 million, a $4.8 million Koenigsegg CCXR Trevita Hypercar, and more.

Floyd Mayweather shared with the world his own private jet. In 2017, he paid $3.5 million to pre-order Bugatti Chiron. His mansion measures 22,000 square and worth millions of dollars. He also has a mansion in Miami worth $7.7 million.

Apart from houses, cars and private jet, Mayweather has a special love for expensive jewellery. He spent over $600,000 on a single shopping trip to New York's diamond district in 2015. He also spent $500,000 during his previous trip to the district and owns a $1.1 million Hublot Watch which he bought during his visit to Dubai. In 2017, he bought a medallion worth $275,000 and a Rolex watch that cost $500,000.

Fact Check: We strive for accuracy and fairness. If you see something that needs updating,