Dana White is an American businessman best known as the president of the mixed martial arts organization, Ultimate Fighting Championship (UFC). Since he took over the leadership position in the mixed martial arts promotion, he has helped the organization to become the largest in the combat sports community. White has also moved on to display his sound business acumen by incorporating a boxing context into his program.
Consequently, he became a global superstar in 2017 when he organized a cross-promotion boxing match, which was welcomed with open arms by the UFC fans. Through the experiences he has gathered from his boxing career, as well as working as a sports agent, the New Yorker has successfully molded UFC into a multi-billion dollar enterprise.
The Intrigues of Dana White's Career As a Boxer
At the age of 17, Dana White took a major leap in his career by becoming an amateur boxer. Having kick-started his academic pursuit in a High School situated in Maine, he moved on to attend Boston University but never graduated. While there, he started a boxing program for at-risk children in the inner city.
He also worked a paid job as an aerobics instructor. At a point, Dana White had to quit everything when he was asked for money by the local mob. He then founded Dana White Enterprises in Las Vegas in 1992 and began managing UFC fighters like Tito Ortiz and Chuck Liddell.
How He Rose To Prominence as The UFC President
While working as the manager for Tito Ortiz and Chuck Liddell, Dana White learned that the Semaphore Entertainment Group intended to sell the UFC. At the time, SEG was the parent company of UFC. Desirous of the opportunity to buy, he contacted a childhood friend, Lorenzo Fertitta, who together with his older brother, Frank, bought the UFC and installed Dana White as the president. Lorenzo and his brother Frank Fertitta were at the time managing Station Casino, a casino business that belonged to their father.
The two bought 81% of the UFC for $2 million and made White the new president of UFC. White himself owned 9% of the new parent company, Zuffa, LLC (the outfit that the Fertitta brothers created to manage the UFC). Later in 2016, the ownership of UFC changed when it was sold to a consortium of investors led by WME-IMG, but Dana White continued as President.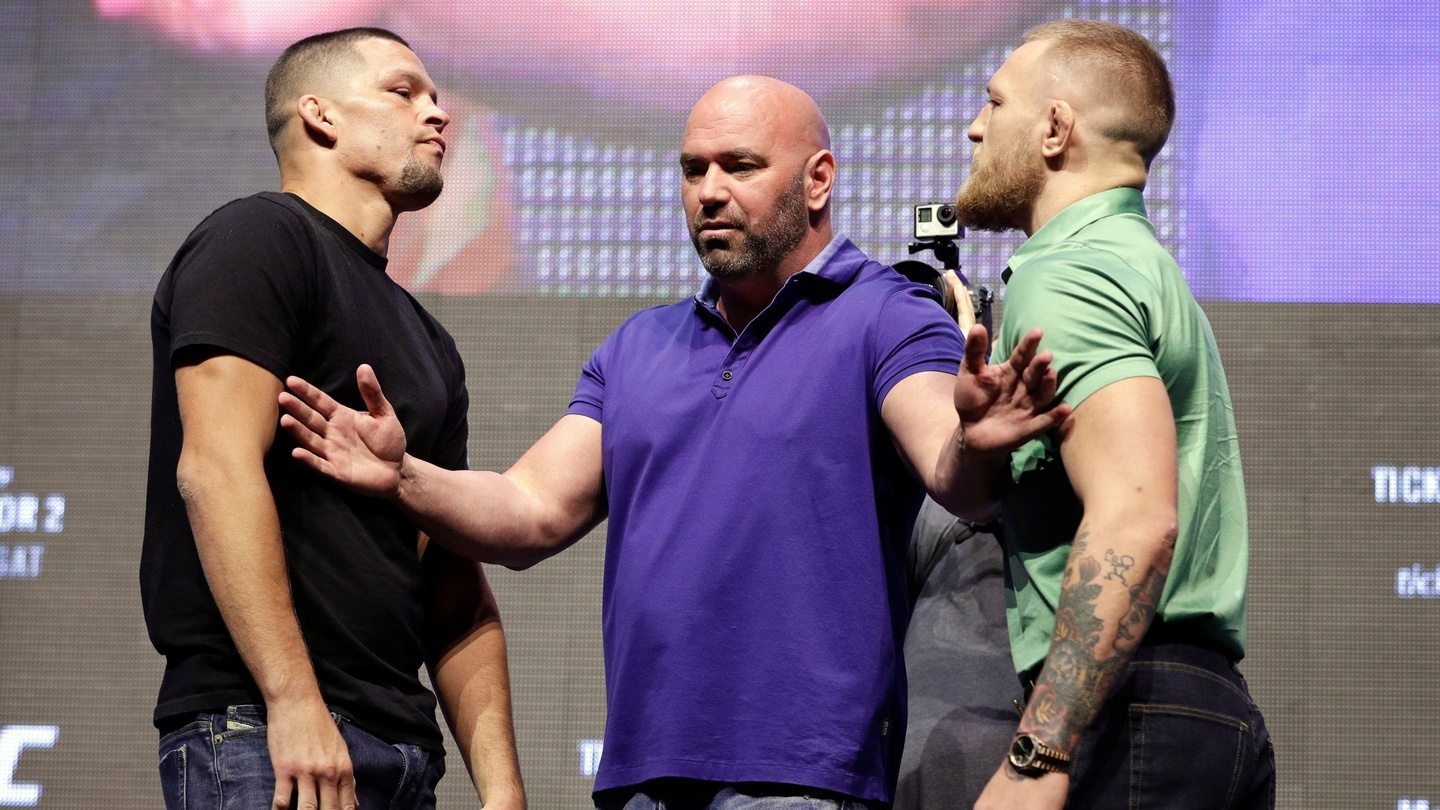 In May 2017, Dana White's Tuesday Night Contender Series monthly began on UFC Fight Pass – the promotion's subscription-based video streaming service. The series further created an avenue for White to find new talent for the Ultimate Fighting Championship. Five months later, White stunned the combat sports community by setting up what was termed a dream fight by the UFC fans; a cross-promotion boxing match between Floyd Mayweather and Conor McGregor.
After the match, he made known his intention to launch a boxing promotion, Zuffa Boxing, under the management of UFC. The new promotion, however, is yet to be unveiled to date. Having achieved unprecedented success since he became the president of UFC, the mixed martial arts promotion caught the interest of ESPN in March 2019, and thus, the two agencies entered into a long-term contract, which also prolongs Dana Whites reign as the president of the Ultimate Fighting Championship for more seven years.
With profound business acumen, White has been able to mastermind the biggest MMA fights in history. He further played an instrumental role in the comeback match of Conor McGregor against Donald 'Cowboy' Cerrone held in Las Vegas in January 2020. Additionally, he worked out a UFC deal with Floyd Mayweather for his fighter, Makhmud Muradou, although the boxing champion is speculated to have been negotiating for a possible move to the Ultimate Fighting Championship. With such great achievements, Dana White has climbed through ranks to become one of the wealthiest figures in the combat sports community.
What is Dana White's Net Worth?
The Fertitta brothers and Dana White were able to turn UFC into what is now – one of the fastest-growing sports channels in America, which broadcasts to over 1 billion homes in more than 145 countries. White's 9% stake rose to $360 million in July 2016 when the WME-ING bought the UFC for $4 billion. He also maintained his role as UFC president and inked a deal with its new owners, which got him entitled to 9% of UFC's net profit for the next 5 years.
Following a new deal he signed in 2019, Dana reportedly earns an annual salary of almost $20 million. His earnings would further make a considerable increment if the UFC 249 match between Tony Ferguson and Khabib Nurmagomedov, who is now replaced by Justin Gaethje, will pull through on the newly fixed date of May 9th, 2020, as it had been previously called off as a result of the coronavirus pandemic.
His success in the business of wrestling is revealed in his net worth estimated at $500 million, as well as in the many accolades he has been awarded. Among his awards include World MMA Leading Man of The Year, which he consistently won from 2010 to 2015. Others are Wrestling Observer Newsletter's Promoter of the Year, which he won from 2005 to 2013 and 2015.
Furthermore, when it comes to how Dana spends his money, the UFC boss owns several properties in different parts of the country. For instance, he purchased a luxury home situated in Pine Island Court, Las Vegas for $1.95 million in 2006. He subsequently purchased three additional properties for a sum of almost $6.2 million. Additionally, he has in his possession expensive rides like Bentley, Range Rover, Ferrari, and Motorbikes.
Interesting Facts About Dana White's Family
Dana White got acquainted with his now-wife, Anne Louise Stella while completing his basic education from Hermon High School, Maine. Anne supported her beau through tough times as he struggled to make a living as a boxercise coach before becoming a sports agent. The two finally became man and wife on November 8th, 1996 when they exchanged vows in the presence of their family and friends in Las Vegas.
The couple is now proud parents of three children – two sons named Dana III and Aidan, and a daughter, Savannah White. Despite being constantly in the spotlight, the UFC president has successfully kept his family away from the media. As a result, only trifle information is available on the internet.
Nevertheless, we have been able to gather that his eldest son, Dana is an undergraduate of the University of San Diego, and there, he plays collegiate football as a member of the San Diego Toreros team. White's youngest son, on the other hand, is currently walking in the footsteps of his father, as he is an amateur boxer. He recorded his first career victory against Andre LeClerc in a 130 pounds fight held during a Junior Golden Gloves event in March 2018.
BOOM first one under his belt. Congrats @aidanwhite29 hard work pays off!!! 👊🏼👊🏼👊🏼 pic.twitter.com/xpuI5TTCTD

— danawhite (@danawhite) March 11, 2018
Being a supportive and loving father, the UFC president graced the event and cheered on his son outside the ring. Additionally, he has gained a reputation for his extravagant spending during his children's 16th birthday celebration. In 2017, when Dana III turned 16, his father gifted him a BMW car and equally organized a huge party for the youngster at Las Vegas' Brooklyn Bowl, with Kendrick Lamar making a VIP appearance.
Similarly, in July 2018, White threw a massive 16th birthday bash for Aidan spending over $1 million. He also gave him a  birthday gift of a customized Land Rover Defender. Despite being embroiled in a sex tape scandal, Dana White has continued to relish his long-term married relationship with Anne that has lasted for more than twenty years.