Mohammed Dewji has a net worth of $1.6 billion. For several years, he has been making the list of the richest Africans as he is the owner of the biggest homegrown conglomerate in Tanzania – MeTL Group. The company which is valued at over $1.5 billion has subsidiaries in 11 African countries. It operates in different industries which include agriculture, manufacturing, logistics and distribution, transportation, financial services, and trading, among others. Dewji took over the business from his father and has grown it into one of the largest businesses in Africa.
Having accumulated such astounding net worth, Mohammed Dewji has joined the likes of Patrice Motsepe, Strive Masiyiwa, Bill Gates, and Mark Zuckerberg to sign the giving pledge. Thus, agreeing to give more than half of his wealth to charity either during his lifetime or in his will. For the success he has achieved thus far in his business career, the young entrepreneur has received many accolades.
Mohammed Dewji is The Youngest Billionaire in Africa
As earlier mentioned, the 48 year old businessman is worth $1.6 billion. He has been holding onto the title of Africa's youngest billionaire for more than six years now. The only Tanzanian with a billion-dollar net worth, Mohammed Dewji had an estimated fortune of $1.5 billion in 2018 and was ranked among the top richest Africans. In the year 2019, he increased his total wealth by $400 million and his net worth of $1.9 billion got him ranked the 14th richest person in Africa. Having had a decrease of $300 million in his net worth in the next year, Dewji was ranked by Forbes as the 16th richest African in 2020.
The Tanzanian then moved to the No. 13th position on the Forbes list of Africa's billionaires in 2021 with the same estimated total wealth ($1.6 billion), as it never decreased nor added over the past year. Speaking about the decline in his net worth in 2020, Dewji cited that his long-term investment in agro-business accounted for it as he plans to emerge as the world's largest producer of sisal in the nearest future.
Mohammed Dewji's Net Worth Milestones
2018 – $1.5 billion
2019 – $1.9 billion
2020 – $1.6 billion
2021 – $1.6 billion
Dewji Made His Wealth By Woking as The CEO of MeTL Group
In the 1970s, Mo's father Gulamabbas Dewji established a small trading company, MeTL Group, and was the majority owner of the business. In 1999, Mohammed Dewji joined his dad in the business and was made the chief financial officer in 2001. He later took over the management of the company and subsequently bought over several loss-making companies that were privatized by the Tanzanian government in the early 2000s. Thus, expanding the company as it is now ranked as Tanzania's largest privately-owned conglomerate.
Tuambie unapika nini leo kwa kutumia mafuta ya Mo Safi! ????#MoSafi #tunagusamaishayako pic.twitter.com/Hbv08Ovhfg

— MeTL Group (@MeTL_Group) September 22, 2020
Between 1999 and 2017, the intelligent entrepreneur has grown the commodities trading business from yielding a revenue of $30 million to generating over $1.5 billion in revenue. Currently, the MeTL group which has more than 30,000 employees and operates in over 35 industries. They include insurance, infrastructure and real estate, mobile telephony, petroleum, textiles, energy, food and beverages, agriculture, and manufacturing. The group contributes 3.5 percent of Tanzania's gross domestic profit and equally, over 5 percent of the country's workforce.
Dewji disclosed that he plans to increase the number of employees at MeTL Group from 32,000 to 100,000 by the end of 2021. In the year 2014, he secured loans of about $260 million from a consortium of banks to expand the activities of his conglomerate across Africa. Syndicated loan of $60 million which he secured from Barclays Bank of Mauritius, Tanzania's National Bank of Commerce, and ABSA went to one of his subsidiaries, Star Oils Limited, which is an energy distribution company.
Additionally, Mohammed Dewji transformed his father's business to market leaders in Tanzania by acquiring an edible oil refinery in Zambia and Mozambique, as well as a soap manufacturing plant in Ethiopia. He has also established a wheat grain processing plant in Malawi, Uganda, Mozambique, and Zambia. Other of his investments include wholesaling of petroleum products in The Democratic Republic of Congo, Malawi, Burundi, and Zambia; warehouse facilities in Kenya, Malawi, Uganda, Zambia, and Mozambique; and textiles manufacturing in Zambia, Ethiopia, and Mozambique. The group has hence established itself as the trading powerhouse of agricultural and industrial goods, as well as the leading local producer in Eastern and Southern Africa.
Interestingly, Dewji is not showing signs of slowing down any time soon, as he has plans to grow the MeTL group to a 5 billion dollar company with expansions in many other countries in Africa.
List of Organizations Where Dewji Serves as Either Chairman, Founder or Board Member  
MeTL Group (CEO, president, and owner)
Mo Dewji Foundation (Founder)
Invest Africa Limited (Board member)
Barclays Africa Group Limited (Growth Advisory Council member)
University of Dodoma (Member of the board of trustees)
University of Oxford (Advisory board member of Rhodes Scholarship)
Georgetown University's McDonough School of Business ( Board of Advisors member)
Red Sea Foundation (Board member)
Global Peace Foundation (Member of the advisory board)
The Tanzanian Billionaire Had Been Involved in Politics
Uimara upo katika tofauti zetu na sio kwenye usawa wetu.
//
Strength lies in differences, not in similarities. pic.twitter.com/01qq7ace4I

— Mohammed Dewji MO (@moodewji) January 21, 2021
Though presently drifted away from the political scene, Mohammed Dewji was quite popular in Tanzania for his political exploits for ten years. As a member of the CCM political party, he contested for the Tanzanian parliamentary seat for his hometown of Singida Urban in the year 2000 when he was 25 years old. Although he emerged victorious for his party, he was denied the position as he was said to be too young to become a member of the parliament.
Notwithstanding, he contested again in 2005 and won. The businessman served as a member of the Tanzanian parliament from December 14th, 2005 through July 9th, 2015. He afterward refrained from participating in political activities.
Mohammed Dewji is a Graduate of Georgetown University
Dewji, who is the son of Gulamabbas Dewji and Zubeda Dewji, was born into a family of eight. Despite his parents having six children, he attended the best schools in his country and even moved to the United States where he furthered his education.
While in Tanzania, he attended Arusha Primary School and the International School of Tanganyika (IST). Mohammed Dewji proceeded to Arnold Palmer Golf Academy in Florida in 1992. He also attended Trinity Preparatory School, as well as Saddle Brook High School in New Jersey. He had his higher education at Georgetown University situated in Washington, D.C. There, he graduated with a Bachelor's degree in International Business and Finance in 1998.
List of His Academic History
Arusha Primary School
International School of Tanganyika (IST)
Arnold Palmer Golf Academy, Florida
Trinity Preparatory School
Saddle Brook High School, New Jersey
Georgetown University, Washington, D.C.
Mo Has Gained Multiple Honors and Recognitions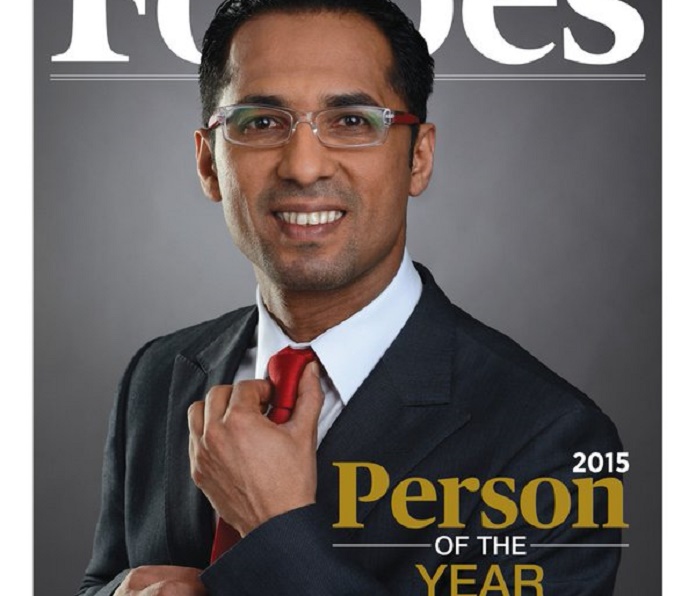 Having achieved a thriving business career that has enabled him to build massive net worth, Mohammed Dewji is a recipient of several awards. They include;
Young Global Leader Award by the World Economic Forum, 2012
African Philanthropist of the Year Award by the African Leadership Magazine, 2014.
Business Leader of the Year Award by the African Business Magazine, 2015
Philanthropist of the Year Award for the East African Region from the All Africa Business Leaders Awards, 2015
Forbes Africa's Person Of The Year 2015