If the world did not know who Lauren Sanchez was, before 2019, it most certainly does now. The American reporter was at the center of the most expensive divorce in human history, having started an affair with the world's richest man, Jeff Bezos, leading to a $35 billion divorce from his wife, MacKenzie Tuttle. With his ex-wife getting such a significant boost in net worth through the divorce, it is worth thinking how much of Lauren Sanchez's wealth has improved since she began dating the Amazon boss.
In this article, we took a look at how Lauren Sanchez's net worth has fared over the course of her career, before and after her relationship with Jeff Bezos.
Analyzing Lauren Sanchez's Net Worth
Before She Met Jeff Bezos
Before Lauren Sanchez met Jeff Bezos and they became romantically entangled, she worked as the founder of Black Ops Aviation, an aerial film, and production company. And before that, she worked as a news anchor and made a string of cameo appearances in movies and television shows. Over the course of her professional career, Lauren Sanchez achieved a net worth of $30 million.
As a news anchor, she began her career after graduation as a desk assistant at KCOP-TV in Los Angeles in the early 90s, before working her way up to become an anchor and a reporter for KTVK-TV, a TV station in Phoenix. From the station, Lauren began to work on the entertainment show, Extra, as a reporter before taking her talents to Fox Sports Nets, where she worked as an anchor and a correspondent.
Over the course of her career as a journalist, she worked for other media outlets like KTTV, Fox for the show, So You Think You Can Dance, Good Day LA, and a couple of others.
As an actress, Lauren Sanchez's net worth before meeting Jeff Bezos came from appearing in more than 25 films and TV shows. Her first appearance as an actress was in an episode of the show, Babylon 5 in 1997. Since then, she has appeared in several other titles like The Day After Tomorrow, Zoom, NCIS, Killer Movie, Ted 2, often playing the fictional version of her real-life profession as a news anchor and reporter.
However, the most significant contributor to Lauren's net worth is perhaps her career as a pilot and founder of the aerial film and production company, Black Ops Aviation. She established the company in 2016 after she trained and earned her helicopter pilot's license in June 2016.
Since the established the company, Lauren, who learned the ropes of the business while she was consulting on Christopher Nolan's Dunkirk, has worked on other productions like a commercial in the Bahamas for Discovery Land, a high-end residential development company. She has also worked on the show, 9-1-1, and the film, Miss Bala.
All of this has helped Lauren Sanchez to a personal net worth of $30 million, which we have to say, is not too insignificant for the former news anchor.
After She Met Jeff Bezos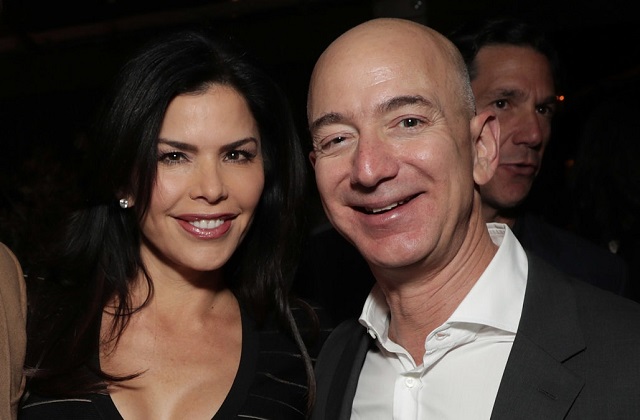 Interestingly, Lauren Sanchez met Jeff Bezos through her now ex-husband, Patrick Whitesell. The two of them started their relationship as family friends who shared the same social circle. The relationship eventually evolved into a professional one, when Lauren Sanchez's company, Black Ops Aviation, worked for Jeff Bezos' company, Blue Origin, on a couple of projects.

From there, things got hot and heavy, and they have reportedly been together since the fall of 2018, months before it was publicly announced in the early parts of 2019.

Jeff Bezos, the Amazon founder, is worth $108.2 billion, and since they became a couple, it is believed a certain percentage of his humongous net worth will affect Lauren Sanchez's wealth, boosting her place on the wealth rankings.

Sadly, so far, no concrete financial implications have been established since she started dating the e-commerce guru. Speculation suggests she will continue to work with Jeff Bezos' company, Blue Origins via her company, and the popularity from her relationship with the billionaire will increase her profile as well as her company's exposure, enabling her and the company to command high fees for future projects.

See Also: What Is Amazon Jeff Bezos' Net Worth and How Does He Spend His Money?

Her net worth could also improve significantly if they get married, although you would expect the two of them to sign an ironclad prenup considering Bezos coughed out $35 billion in his last divorce.

Of course, all of this is merely speculation, and specifics remain unknown, but if what we have seen and learned about Lauren Sanchez and Jeff Bezos' romance is anything to go by, there is plenty more to unfold.

Fact Check: We strive for accuracy and fairness. If you see something that needs updating,