Once married to the richest person in recent history, MacKenzie Bezos' net worth since she decided with her ex-husband to walk away from their union after 25 years has got the world talking. With the massive fortune she made from her divorce from her former husband and president of the giant e-commerce company, Amazon Inc., she is presently one of the over 2000 billionaires in the world.
Away from her husband, she is a philanthropist and a writer. Find out all there is to know about what she is worth having finalized her divorce.
Who Is MacKenzie Bezos?
A novelist and philanthropist, MacKenzie S. Tuttle was born to a mother who has been described as a homemaker and a father well-grounded in the financial circle as a financial planner on April 7, 1970, in San Francisco, California.
She got her education from Princeton University where she studied English and graduated in the early 1990s with the highest honors. In addition to that, she was a student of one of the best American writers, Toni Morrison who tagged her among the best people she had ever taught creative writing.
Before long after graduation, she got a job in New York with D. E. Shaw. That was also where she first set eyes on Jeff Bezos who at the time, was working for the company. Their love story is very interesting as Mackenzie made the first move on the man who later became her husband by asking him out. They got to date for only three months before they were engaged and then by the next three months, they were already man and wife.
With the plans of starting a business based on the ideas that Jeff had come up with, the two set off to Seattle in 1994 where McKenzie helped her husband start his company which was dedicated to selling books online. Many years later, this company waxed stronger to become the giant brand, Amazon.
Their union was blessed with four children but unfortunately, it ended in divorce in 2019. As a novelist, McKenzie Bezos has published some books including her 2005 novel, The Testing of Luther Albright, which is also her first work. The book which was well received and praised by critics got her the American Book Award in 2006. Another of her work, Traps, was published in 2013.
Besides writing and her other works, she has also been seriously involved in anti-bullying activities.
See Also: 10 Most Famous Female Entrepreneurs In The World and Their Success Stories
What Is MacKenzie Bezos' Net Worth?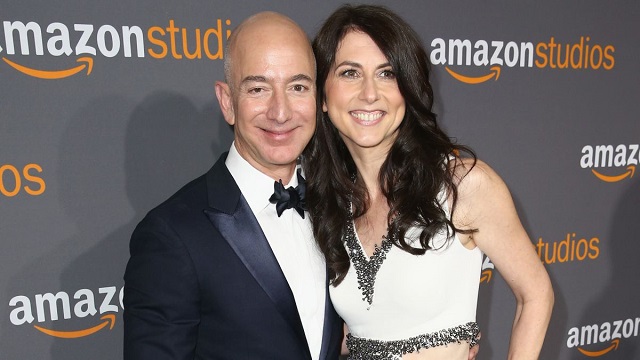 Considering the man she was once married to, MacKenzie is among the richest people in the world with a net worth that has been estimated at $38 billion. Before her marriage came to an end, MacKenzie and Jeff Bezos signed the giving pledge in 2018, which means that they will join people like Bill Gates and Warren Buffet to give away a large part of their fortune to charity. The pledge is said to have raised billions of dollars already towards helping homeless families as well as providing funds for preschools in communities that are underserved.

She made this fortune after her divorce from her husband of 25 years, Jeff. Their divorce came after a report that the two had been separated for many years and that her former husband was having an affair with Lauren Sanchez. The couple announced their divorce on their verified Twitter accounts to their followers.

That said, she could have walked away from the marriage with even much more as she was entitled to half of what her ex-husband has. However, the two were able to settle the end of their union amicably and so she took away only $36 billion. She allowed him to have the voting power of her shares in Amazon (a company she was significant in founding), as well as 75% of their stock and her interest in their other companies.

Inasmuch as she has so much wealth at the moment, there is no indication that she is actively trying to start any form of business or running any company. Apart from the great amount she got from her marriage, she also got some of their luxurious properties as her husband has been said to be one of the largest landowners in the States who also owns a number of estates.

Fact Check: We strive for accuracy and fairness. If you see something that needs updating,