Since 1995, the list of the richest people in the world has been topped by Bill Gates who appeared more than anyone else before him. However, with Jeff Bezos' net worth, he is now the first man to cross the $100 billion mark. He doesn't just sit atop the list of richest individuals right now but is also the richest in modern history.
He is a businessman and investor who is known for his companies including Amazon and Blue Origin among others. His road to wealth began in the early 1990s. Now one of the richest men to ever walk the earth, let's see how he makes his money and how he spend it.
Jeff Bezos' Background Details
As stated, he is a businessman and investor who was born as Jeffrey Preston Bezos to a high school student who was 17 years old at the time she had him. His parents, Ted Jorgensen and Jacklyn Gise Jorgensen had him in Albuquerque, New Mexico. However, the marriage between his parents did not sustain as it ended even before he was 5 and his mother got married a second time to Miguel Bezos (Mike) who was an immigrant from Cuba. Miguel decided to adopt the young Jeffrey and changed his surname.
He got his education from Miami Palmetto High School. While there, he started working for McDonald's. Next, he moved to the University of Florida's Student Science Training Program before he proceeded to get electrical engineering and computer science degrees from Princeton University, graduating in 1986.
Jeff Bezos went on to work with a number of companies including Intel, Anderson Consulting, and Bell Labs. Other companies that he worked with are Fintel, Bankers Trust, and then D. E. Shaw & Co, all before he was even 30. It was while he was with Shaw & Co that he met the woman who would later become his wife, MacKenzie Tuttle, a novelist.
With the help of Tuttle, he left his Wall Street job to start selling books online, marking the start of Amazon. Throwing away a career that was promising to start selling books came as a shock to his parents.
In 1993, he walked down the aisle with MacKenzie but 25 years later (in 2019), their union came to an end even though they have four children between them. Before the divorce, it was reported that the two had been separated for a long time.
What Is Amazon Jeff Bezos' Net Worth?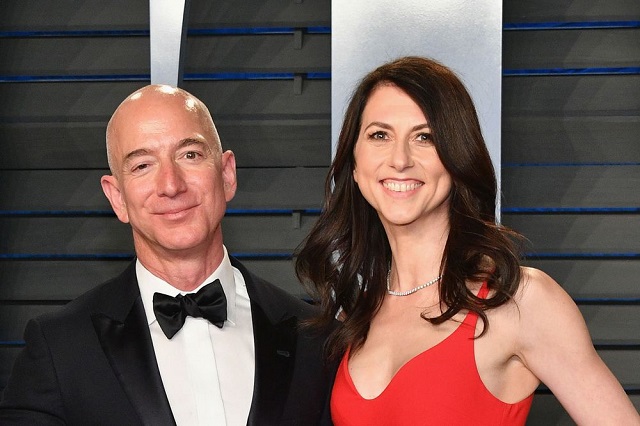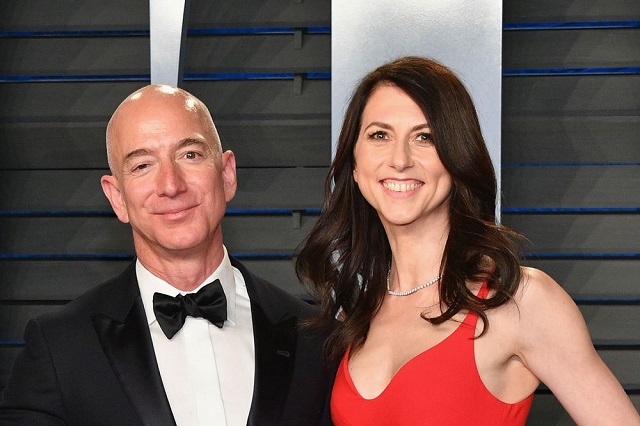 As regards his net worth, Bezos whose fortune is more than that of any man alive is estimated to be worth more than $113.5 billion dollars. Before his divorce from his former wife who was also his business partner, his fortune was much higher.
The divorce which counts as the most expensive divorce ever, saw the Amazon boss paying a settlement of close to $38 billion. Although it places her among the richest women in the world, it was much less than she would have gotten had she fought for more.
Jeff made his fortune from his many businesses, chief of which is Amazon Inc. He started the company with the help of his former wife in the early 1990s as a bookstore. From there, it kept developing to a point that it now sells almost anything one is looking for including products and services, physical, and digital items. It has become a brand that is involved in almost every aspect of life.
He also has many estate investments and is seen as one of the largest landowners in the United States. His other businesses include a space exploration company, Blue Origin, as well as media investments being the owner of The Washington Post.
See Also: Donald Trump Net Worth In 2019: How Much Has His Wealth Increased Or Decreased?
How Does He Spend His Money?
Beyond just making billions, Bezos is also spending so much money. He is very much involved in various philanthropic activities through his Bezos Expedition which he uses in funding various projects. Although in 2018 it was reported that he did not sign the Giving Pledge alongside other billionaires to give away almost all of their wealth, he was still known as a giver before he made the pledge in 2019.

More so, he treats himself to the most expensive luxury items money can buy including cars, houses, and everything else that is great.

In addition to that, Jeff Bezos' wealth is spent by the billionaire in trying to acquire more fortune by building more businesses. It has been reported that each year, he puts in a billion dollars into Blue Origin from Amazon stocks.

Fact Check: We strive for accuracy and fairness. If you see something that needs updating,