If you don't know Jimmy Kimmel, you are either not of this world – yeah, you are an extraterrestrial being – or one of those nerds who are comedy snobs who believe comedy isn't funny but generally disturbing and distasteful.
Jimmy Kimmel is an American Television host and comedian. He is best known for his eponymous late night talk show Jimmy Kimmel Live! which premiered on ABC in 2003.
Jimmy Kimmel's Early Life
Jimmy Kimmel born as James Christian Kimmel on November 13, 1967, in Brooklyn, New York. Kimmel got to grow up a bit in Mill Basin, Brooklyn. When he was 9 years old, his family relocated to Las Vegas, Nevada.
From his days at Ed W. Clark High School, Kimmel showed interest in show business and began working for free to earn experience. He first worked as host of a Sunday night interview show for University of Las Vegas college station KUNV. After graduating from high school, Kimmel enrolled at the University of Las Vegas for a year before transferring to Arizona State University where he spent 3 years, dropping out before he could earn a degree to pursue his radio career.
His first paying job was at Seattle, Washington radio station KZOK-FM where he was the co-host of "The Me and Him Show". Kimmel and his co-host were fired after 10 months on the job. They both landed another job at WRBQ-FM in Tampa, Florida but were again fired!
After a couple of other jobs, Kimmel landed his most enduring radio job at KROQ-FM in Los Angeles where he acted as Jimmy the Sports Guy on the longstanding morning show "Kevin and Bean." Three years later, in 1997, he dabbled into TV as a comedian on the Comedy Central game show "Win Ben Stein's Money." Two years on the job, Kimmel won his first of many awards– A Daytime Emmy Award for Outstanding Game Show Host.
Kimmel went on to produce his own shows on Comedy Central including the very successful "The Man Show", and  "Crank Yankers." Nonetheless, he left The Man Show in its penultimate season to focus on his new show on ABC which launched him to superstardom.
Jimmy is insignificantly taller than 6 feet (1.83 M). He plays the bass clarinet, was raised as a Catholic and even served as an altar boy.
Jimmy Kimmel Net Worth and Earnings
Beyond Jimmy's ABC talk show which brings him a salary of over $10 million and remains his biggest money maker, he also earns from other gigs like hosting award shows (Emmys and Oscars) producing TV shows and voice-over roles. Of course, the story of how Jimmy started his show business career off camera and proceeded to amass an estimated net worth of $50 million is amazing. Let's discover more about his $50 million fortune.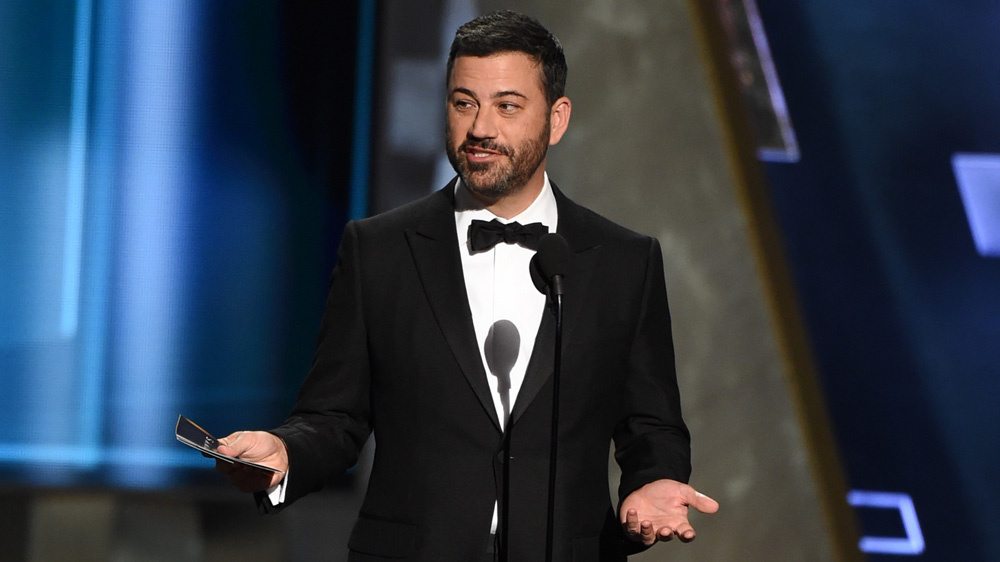 See Also: Jon Stewart Wife, Children, And Family
Jimmy Kimmel Live! premiered on ABC network on January 26, 2003. For the first year, Kimmel was paid $1.7 million. In its second season, the show rapidly rose in ratings to become a strong competitor with shows like Late Show with David Letterman, The Tonight Show with Jay Leno, and the Late Night with Conan O'Brien.
Over the years, Jimmy Kimmel has managed to remain a strong competitor with other late-night shows. While he follows CBS' Stephen Colbert and NBC's Jimmy Fallon in overall ratings, Kimmel often snaps the highest viewership within the much coveted 18-49 demographic with an average viewership of 2.4 million.
Kimmel owes his adult demographic domination to his social media prowess. He has a dedicated YouTube channel where he posts clips from the signature segments of his show after it's done airing on TV. Most of these clips have gone viral, helping to garner the channel over 4.5 billion views and almost 8 million subscribers. Some of these signature segments include "Mean Tweets," "I Told My Kids I Ate All Their Halloween Candy" and "Lie Witness News." In Mean Tweets, Kimmel invites celebrities from actors to athletes and even politicians to read out loud a number of mean tweets posted about them.
Despite the controversies some of his antics have created (like the one involving Matt Damon), Jimmy Kimmel Live! remains a darling to many and ABC is paying his due reward. By 2009, his salary surged to $6 million.
In May 2016, Kimmel renewed his deal with ABC to continue hosting the show for three more years ending in the fall of 2019. Prior to inking the deal, Kimmel was earning $10 million for each season and while the new deal didn't reveal the exact worth, chances are it is higher than the former. As of February 2017, Jimmy Kimmel Live! became the longest-running late-night talk show in ABC's history after running for 14 seasons. He also serves as the executive producer of the show.
While the foregoing would make one proclaim Jimmy Kimmel was born to host, the man can brag about other successes. Besides hosting his own show, Kimmel has had other lucrative hosting gigs. The ABC staple has hosted the American Music Awards 5 times in 2003, 2004, 2006, 2007, and 2008. He has hosted the Primetime Emmy Awards twice. First was the 64th on September 23, 2012, and then the 68th on September 18, 2016. Kimmel's most high-profile gig yet was when he was selected to host the 89th Academy Awards for which he received a $15,000 paycheck. Together with NBA star LeBron James, Kimmel hosted the 2007 ESPY Awards on ESPN.
More to that, Kimmel has supported his income by lending his voice to numerous animated characters. Some of the movies he's voiced characters include; Road Trip (2000 Budget: $16 million, Gross: $120 million) Garfield: The Movie (2004 Budget: $50 million, Gross: $200 million), and The Boss Baby (2017). He has also had voice roles in animation series like "Family Guy", and "Glenn Martin, DDS".
See Also: Bill Murray's Siblings, Wife, And Children
Jimmy Kimmel's Wife And Kids
If you ever want to make a list of the interesting facts about Jimmy Kimmel, you must include the fact that a good number of his family members are also in the show business. For instance, his brother Jonathan Kimmel is a director, producer, writer, and actor. He also writes some segments for Jimmy's show.
Forbye, his uncle Frank Potenza, a former police officer appeared on Jimmy Kimmel Live! as "Uncle Frank" until his death in 2011. That's not all, his cousin Sal Iacono is also a comedian and has appeared with him on "Win Ben Stein's Money", "The Man Show" and Jimmy Kimmel Live!
Nope, Kimmel's father James John Kimmel didn't get involved with show business. He worked at IBM as an executive while Jimmy's mom Joan (née Iacono) was a stay home wife.
Kimmel and his family live in a $2.2 million mansion in Hollywood Hills. His kids include Kevin and Katherine which he had with Gina Maddy. The comedian got married in 1988 (a year before he landed his first pay job) to Maddy. After 14 years of marriage, they divorced in 2002 (a year before his big break with Jimmy Kimmel Live!).
After Jimmy parted with Maddy, he dated fellow comedian Sarah Silverman from 2002 to 2009 before he fell in love with Molly McNearney, a co-writer for his eponymous show. He married her in 2013, four years after dating. Their first child, a daughter named Jane was born on July 10, 2014, while their second child, a son called John, was born on April 21, 2017.
In all, Kimmel has four children, two daughters and two sons from his marriages with both Gina Maddy and Molly McNearney. His second son was born with a rare heart condition and was operated on three days after his birth.