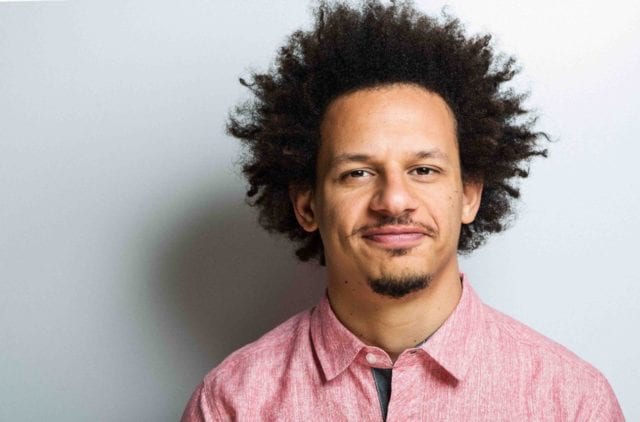 Eric Andre is an American actor, stand-up comedian and television host. He is best known as the creator and host of The Eric Andre Show on Cartoon Network's Adult Swim. He is also known for his role as Mike on the FXX comedy series Man Seeking Woman. Here is all you need to know about his career success.
Eric Andre Bio and Success Story
Born on April 4, 1983, in Boca Raton, Florida, Eric Andre always had a thing for arts. He attended Dreyfoos School of the Arts in West Palm Beach, Florida graduating in 2001. He then enrolled at Boston Massachusetts' Berklee College of Music where he majored in double bass. Unlike most prospecting entertainers, Andre didn't drop out of college. He lasted through to graduation in 2005 earning a BFA.
Shortly after graduation, Andre began putting his comic side to use in New York. He started out by performing stand-up at nightclubs and landing numerous commercial gigs. In a 2012 interview with SPIN, Andre revealed that he was a corporate mascot working as a Geico Caveman for live events.
Influenced by his love for Space Ghost Coast to Coast, Andre birthed the idea to develop a similar show, which would become The Eric Andre Show. With money saved up from his standup and commercial gigs, Andre purchased a demo reel, rented a semi-abandoned warehouse in Brooklyn and began filming the show himself.
Broke at the end of shooting, Andre was unable to pay for an editor. As a result, he spent a year teaching himself to use the Final Cut editing software. Andre's finished demo reel got rejected by numerous networks before Cartoon Network's Adult Swim started showing ineterst. He received $300 to make 10 episodes for the first season. He is currently worth about $3 million
See Also: Daniel Tosh's Profile
Who Are Eric Andre's Parents, Girlfriend and Wife?
Eric Andre's father was from Haiti and his mother was Jewish. He briefly dated Rosario Dawson, an actress popularly known for her role in Seven Pounds and Sin City. The two only recently went their separate ways.
Eric Andre TV Show And Film Success
Before The Eric Andre Show began airing, Andre moved to LA and began making TV and Film appearances from 2009. He made a cameo appearance in "The Invention of Lying" starring fellow comedians Louis CK and Jonah Hill. Also in 2009, he appeared in two episodes of Larry David's Curb Your Enthusiasm. Between 2009 and 2011, Andre appeared in shows like The Big Bang Theory, Hot in Cleveland, Level Up and more.
Andre's The Eric Andre Show which is a parody of low-budget public-access talkshows premiered on May 20, 2012. The show began by featuring impersonated guest stars, but as it progressed, it welcomed the precense of actual celebrities including Jimmy Kimmel, T.I. Chance the Rapper, Seth Rogen and more.
With at least 4 seasons aired, the show has been a milestone in Andre's career garnering him a loyal fan following while opening the doors to other lucrative Hollywood jobs. The show spawned a Live tour and has been made available for purchase on iTunes and Amazon. In an interview with Fader, Andre hinted that the fifth season would be the last one.
Andre had his first main sitcom role in ABC's Don't Trust the B—- in Apartment 23 which ran for 26 episodes and 2 seasons from 2012 to 2013. He had a recurring role in season 3 of 2 Broke Girls, appearing in 8 episodes. He played Mike in crtitcally acclaimed FXX show Man Seeking Woman which aired for 3 seasons and 30 episodes before getting cancelled.
Andre has lent his voice to animation shows like Lucas Bros. Moving Co., Animals, and American Dad! All these and many more gigs have contributed to earning Eric Andre the millionaire status.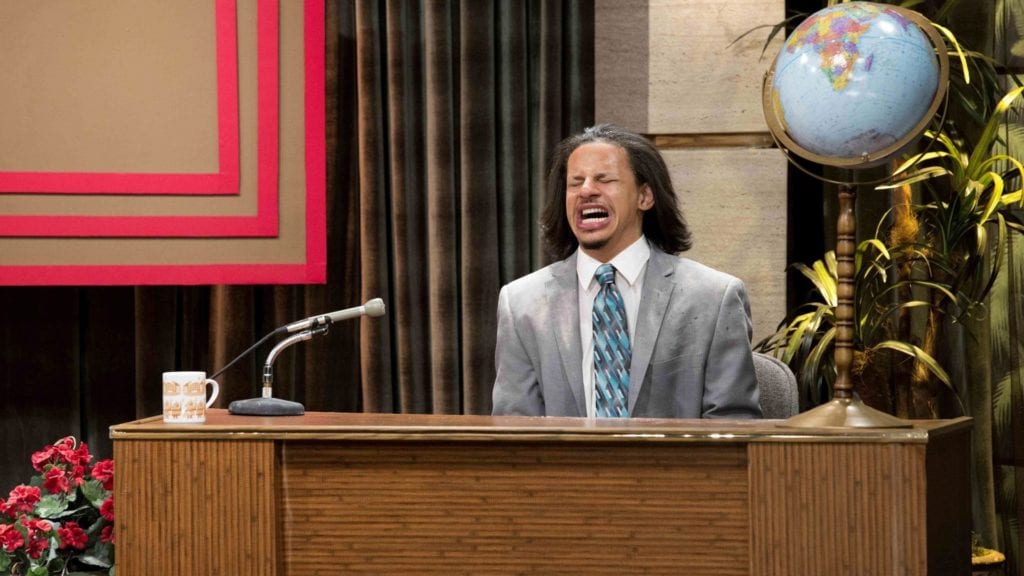 Fun Facts About Eric Andre
Andre's height is 1.83m and he loves to watch numerous episodes of Space Ghost Coast to Coast right before shooting his own  – The Eric Andre Show.

Wonder Showzen and The Simpsons are some of his all-time favorite shows.

His favorite comedians include Redd Foxx, and Bill Hicks.

Eric Andre is an Atheist.

A $300 bill wasn't the only thing Adult Swim gave him to begin filming The Eric Andre Show. Andre was also gifted with Domino's Pizza coupons.

He is a democrat and voted twice for former president Barack Obama. However, he thinks all politicians are horrible

While filming season one of his eponymous show, Andre crashed a town hall meeting during the mayor's speech. He rushed up to the podium shouting: "Vote for me for class president and I'll put beer in the water fountains and cameras in the girls' locker rooms. Don't taze me bro!" His actions booked him a night in jail.

He is in a relationship with Seven Pounds actress Rosario Dawson. They went public with their romance in February 2017.

Fact Check: We strive for accuracy and fairness. If you see something that needs updating,