Net Worth:
$3 Million
Age/Date of Birth:

40 years old (April 4, 1983 )
Height:

6 feet (1.83 m)
Ethnicity/Race:

Mixed (Ashkenazi Jewish, Afro-Haitian)
Nationality:
American
Wife or Girlfriend:
Rosario Dawson (Girlfriend, 2016 to 2017)
Parents:
Father: N/A
Mother: N/A
Eric Andre is an American actor, comedian, and television host who has been able to amass roughly $3 million throughout his career.
Most Hollywood stars, and even ordinary individuals, often look back and fondly recall the person or organization that gave them their big break in their respective careers. However, for some people, they had to make their own big break and one person who falls into that category of can-doers is Eric Andre.
A popular actor, stand-up comedian, and television host, Andre first garnered attention as a result of sporadic appearances in some TV shows and movies. He subsequently became a Hollywood star, thanks to his eponymous show which he single-handedly brought to fruition against all odds. Since then, he has gone on to consolidate on that remarkable achievement, becoming a force to be reckoned with in the industry.
Stand-up Comedy and Commercial Gigs Were His Earliest Source of Income
Born on April 4, 1983, in Boca Raton, Florida, Eric Andre always had a thing for the arts. He attended Dreyfoos School of the Arts in West Palm Beach, Florida, graduating in 2001. He then enrolled in Boston Massachusetts' Berklee College of Music where he majored in double bass.
Unlike most prospective entertainers, Andre didn't drop out of college. He lasted through to graduation in 2005 and earned a BFA.
Shortly after graduation, he moved to New York where he began putting his comic side to use. He started by performing stand-up at nightclubs and landing numerous commercial gigs. He also worked as a corporate mascot for several live events, including one for Geico Caveman. These were his earliest sources of income and it laid the foundation for the entertainer to build his net worth.
A Large Chunk of His Wealth Came from TV and Movie Roles
After about five years of toiling in New York, without much pay, Eric Andre moved to L. A. and began making TV and film appearances from 2009. He made a cameo appearance in The Invention of Lying, starring fellow comedians Louis C.K. and Jonah Hill. Also in 2009, he appeared in two episodes of Larry David's Curb Your Enthusiasm. Between 2009 and 2011, Andre appeared on shows like The Big Bang Theory, Hot in Cleveland, Level Up, and more. He finally debuted his show titled The Eric Andre Show in the year 2012.
Eric Andre's success on his eponymous show opened a lot of doors for him, including accelerating his acting career. The Florida native had his first major role in the ABC sitcom, Don't Trust the B—- in Apartment 23, appearing in about 22 episodes from 2012 to 2013. He then played a role in season three of 2 Broke Girls, appearing in 8 episodes. Andre also played Mike in the critically-acclaimed FXX show, Man Seeking Woman, which aired for 3 seasons (between 2015 and 2017) and 30 episodes before getting canceled.
On the big screens, Andre has featured in movies such as The Internship, Flock of Dudes, and Rough Night. He has also lent his unique voice to several animations, including the 2019 remake of the Disney classic, The Lion King. The musical drama featured the voices of a star-studded cast, including the likes of Beyoncé, Donald Glover, and Chiwetel Ejiofor. Andre, meanwhile, voiced Azizi, one of three hyenas who happens to be the henchmen for Simba's evil uncle, Scar.
Given the foregoing, it is hard to see how the actor came about his wealth. The figures involved may not be known to the public but it is clear that Eric has made millions of dollars from his acting roles.
The Eric Andre Show Has Been a Cash Cow for the Comedian
Influenced by his love for Space Ghost Coast to Coast, an adult animated parody talk show, Andre birthed the idea to develop a similar show, which would become The Eric Andre Show. With money saved up from his standup and commercial gigs, the comic purchased a demo reel, rented a semi-abandoned warehouse in Brooklyn, and began filming the show himself.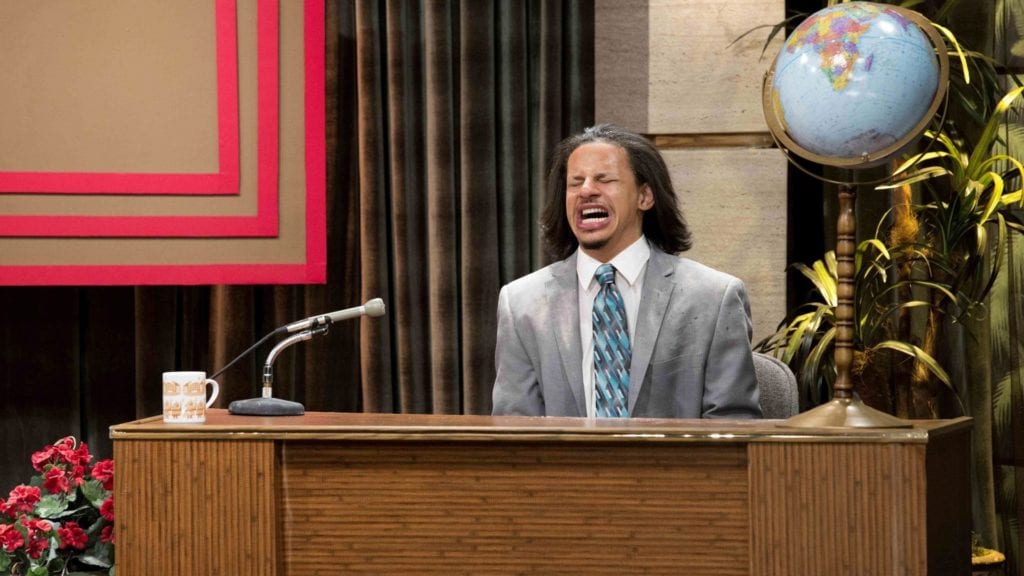 Broke at the end of shooting, Andre was unable to pay for an editor and as a result, he spent a year teaching himself to use the Final Cut editing software. Andre's finished demo reel got rejected by numerous networks before Cartoon Network's Adult Swim showed interest. He consequently received a meager $300, and Domino's Pizza coupons, to make 10 episodes for the first season.
The Eric Andre Show premiered on May 20, 2012, and is basically a parody of low-budget public-access talk shows. The show began by featuring impersonated guest stars, but as it grew more successful, it welcomed the presence of actual celebrities, including Jimmy Kimmel, T.I., Chance the Rapper, Demi Lovato, and Chris Jericho.
Buoyed by an unbeatable combination of candid camera footage, dark humor, and of course, Andre's weird behavior, The Eric Andre Show has grown in popularity and ratings. With five seasons aired, the show has been a milestone in Andre's career life, garnering him a loyal fan following while opening the doors to other lucrative Hollywood jobs. It has also spawned a live tour and is made available for purchase on iTunes and Amazon.
What he makes from the show is best known to him. Nonetheless, it is said that each season of the show gets a budget of about $3 million. Given that, and the fact that the show has been airing since 2012, it is obvious that it has become not only a major source of income for the comedian but a stable one.
Eric Andre Highest-rated Movies and TV Shows
Curb Your Enthusiasm (2009)

IMDb – 8.7/10
Rotten Tomatoes – 92%

Comedy Bang! Bang! (2014)

IMDb – 7.5/10
Rotten Tomatoes – 80%

Robot Chicken (2015)

IMDb – 7.7/10
Rotten Tomatoes – 91%

American Dad (2016)

IMDb – 7.3/10
Rotten Tomatoes – 90%

The Eric Andre Show (2012 – Present)

IMDb – 8.6/10
Rotten Tomatoes – 89%

Man Seeking Woman (2015 – 2017)

IMDb – 7.8/10
Rotten Tomatoes – 94%

Don't Trust the B—- in Apartment 23 (2012 -2013)

IMDb – 7.3/10
Rotten Tomatoes – 85%

The Amazing Johnathan Documentary (2019)

IMDb – 6.5/10
Rotten Tomatoes – 80%

The Lion King (2019)

IMDb – 6.9/10
Rotten Tomatoes – 52%

Bad Trip (2020)

IMDb – 9/10
Rotten Tomatoes – 71%
The Comedian Has Also Made Money from Singing
This may not be known to many but the actor and comedian is also a singer. He makes music under the named Blarf and has recorded a noteworthy success thereof. He began his pursuit of a music career with a band also called Blarf but it disbanded as quickly as the group formed.
Undeterred, Eric went about the music business alone and in December 2014, he released an EP titled BLARF. Much wasn't heard from him until June 2019 when he dropped his debut album titled Cease & Desist. While BLARF was a self-released project, Cease & Desist was released by Stones Throw Records.
Again, what Eric has been able to make from this endeavor is best known to him but there are no reasons to suspect it hasn't contributed anything to his $3 million fortune.
Major Sources of the Comedian's Wealth
Income from standup comedy and commercial gigs
Paychecks from numerous acting roles
The Eric Andre Show salaries
Earnings from his musical exploits
Eric Andre's Parents and the Family's Comic Background
Andre hails from a multicultural background comprising of a Jewish mom and a black dad. Even though their names are not available, it is known that Andre Sr. is originally from Haiti and migrated to New York in the '70s. He later moved over to Miami in the '80s and qualified as a psychiatrist. His son, meanwhile, identifies as both Black and Jewish, and this has served as a predictable recipe for racism which he has bravely withstood.
The funnyman has, however, not forgotten his experiences and as such, he remains active on social issues. Andre is also quite open about his political views and has revealed that he is a democrat. He has therefore voted for candidates such as Barack Obama and Bernie Sanders. On a funny note, he once crashed a town hall meeting during the mayor's speech and asked people to vote him for class president, promising to put beer in the water fountains and cameras in the girls' locker rooms. The stunt predictably booked him a night in jail but he took it all in stride.
His Romance with his Former Girlfriend, Rosario Dawson
Politics has also played a part in Eric Andre's love life. The comic star was previously in a relationship with award-winning actress and singer, Rosario Dawson. Andre and Dawson first crossed paths at the Democratic National Convention in July 2016. Bonding over their shared ideals and values, the pair subsequently commenced a relationship but kept it on the low key. They later went public with their romance on Valentine's Day 2017, tagging each other in a bunch of heart-warming posts.
The posts caused a small uproar as some persons, including Chance the Rapper, found it hard to believe that they were dating. The couple, in turn, responded by posting pictures of themselves kissing and this silenced the doubters. Andre and Rosario remained together for several months during which the comedian nursed his girlfriend through recovery after surgery for a ruptured ovarian cyst. Rosario proudly shared how grateful she was and declared that this made her love him more.
The couple sadly, and without any forewarning, broke up in December 2017. They gave no elaborate reason for the split but only stated that the relationship had run its course.
Profile Summary
First Name:
Eric
Last Name:
Andre
Also Known As:

Eric
Sex/Gender:

Male
Profession:

Actor, producer, and musician
Famous For:
"The Eric Andre Show"
Colleges/Universities Attended:

Berklee College of Music
Educational Qualifications:

N/A
Religion:

Atheist
Birthday & Zodiac

Age/Date of Birth:

40 years old (April 4, 1983 )
Zodiac Sign:
Aries
Birth Place:

Boca Raton, Florida, U.S.
Nationality:
American
Ethnicity/Race:

Mixed (Ashkenazi Jewish, Afro-Haitian)
Country of Residence:

American
Physical Attributes

Height:

6 feet (1.83 m)
Weight:

77 kg
Eye Colour:

Dark Brown
Hair Color:

Brown
Other Body Measurements:

N/A
Relationships

Marital Status:

Single
Spouse/Partner:

Rosario Dawson (Girlfriend, 2016 to 2017)
Family and Relatives

Father:

N/A
Mother:
N/A
Children:

N/A
Siblings:
Amy (Sister)
Other Relatives:

N/A
Net Worth
Estimated Net Worth:

$3 Million
Salary:
N/A
Source of Wealth:

'The Eric Andre Show'