Dennis Rodman is an American retired professional basketball player, wrestler, actor and TV personality. The best rebounding forward in NBA history, Rodman won the NBA championship title 5 times.
Rodman earned almost $30 million from playing in the NBA for 14 years and millions more from endorsement deals. However, he couldn't manage to get a grip on his finances as a result of his personal struggles, chiefly, alcohol and substance abuse.
By 2012, he was broke and unable to pay $800,000 in child support. Dennis now earns from irregular entertainment gigs. However, his constant run-ins with the law continue to bite chunks off his earnings. Justrichest estimates he is worth somewhere between $500,000 and $1 million.
How His Life Began
Dennis Keith Rodman was born on May 13, 1961, in Trenton, New Jersey and raised in the Oak Cliff section of Dallas. Rodman had a troubled childhood and struggled with low self-esteem. In high school, Rodman sought to become an athlete like his two sisters but was never considered athletic. He earned only a little playing time on the school's basketball team which forced him to quit. He turned to football but was cut for his 5 ft 6 in height.
After graduating from South Oak Cliff High School in 1979, Rodman's future was highly uncertain. In order to make ends meet, he began working a series of odd jobs including as a janitor at Dallas Fort Worth International Airport.
However, Rodman still had his eyes on basketball. When he wasn't cleaning floors at the airport, he'd play at local basketball courts. Soon a family friend got him noticed by the head coach of Cooke County Junior College in Gainesville, Texas who granted him the chance to play in the school's team. However, Rodman managed just one semester at the school before being dropped due to poor academic grades.
Luckily for Rodman, Southeastern Oklahoma State had their eyes on him and invited him over. He played 3 successful seasons with the side. Rodman's dreams to play in the NBA came true after he emerged as the MVP at Portsmouth Invitational Tournament, attracting the attention of NBA's Detroit Pistons who later selected him as the 3rd pick in the second round of the 1986 NBA draft.
NBA Career and Salary
Dennis Rodman spent 6 seasons with the Detroit Pistons during which he won the NBA championship title back-to-back in 1989 and 1990. He was also named the NBA Defensive Player of the Year for 1990 and 1991.
With 3 years and almost $12 million remaining on his contract, he requested a trade and was sent to San Antonio Spurs. For his 7 years with the Pistons, Rodman earned about $7 million in salary alone. His No. 10 was retired by the Detroit Pistons. He played 2 seasons with Spurs earning over $5 million in salary.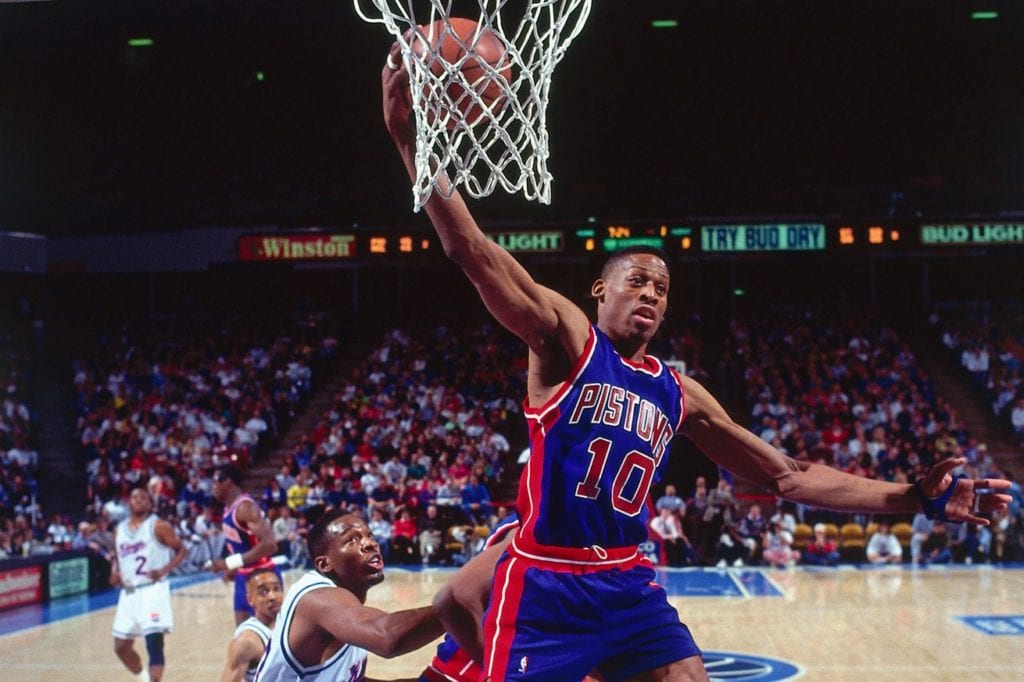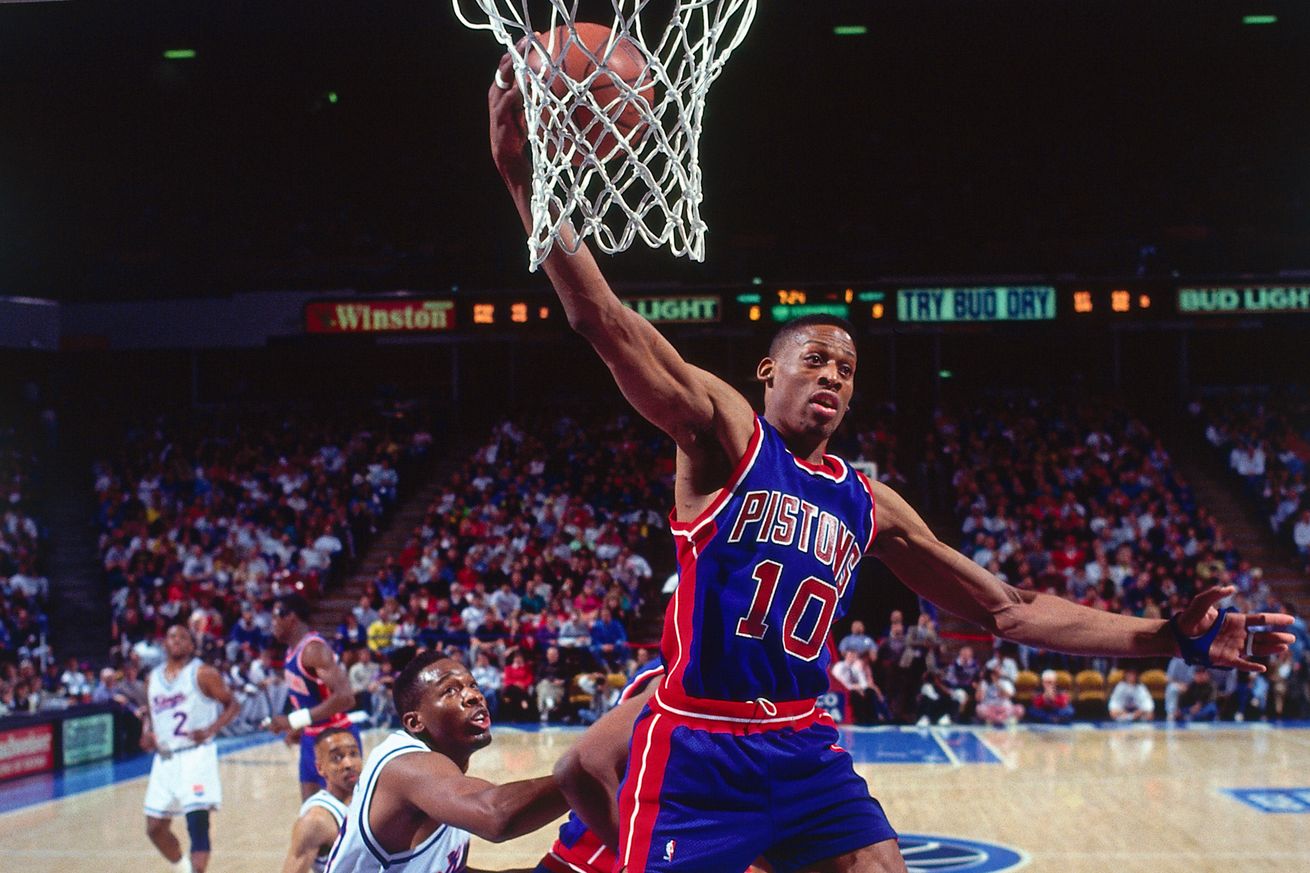 Rodman in 1995 joined the Chicago Bulls where his teammates included scoring champ Michael Jordan and Scott Pippen. With the Bulls, Rodman won three back-to-back NBA titles from 1996 – 1998. He earned about $16 million in salary with the Bulls. Rodman was released Bulls in 1999. He then spent the rest of the season with the LA Lakers where he received $1 million playing 23 games. He joined the Dallas Mavericks in 2000 but was cut due to his erratic behavior, ending his NBA career.
See Also: Magic Johnson's Kids, Wife and Body Stats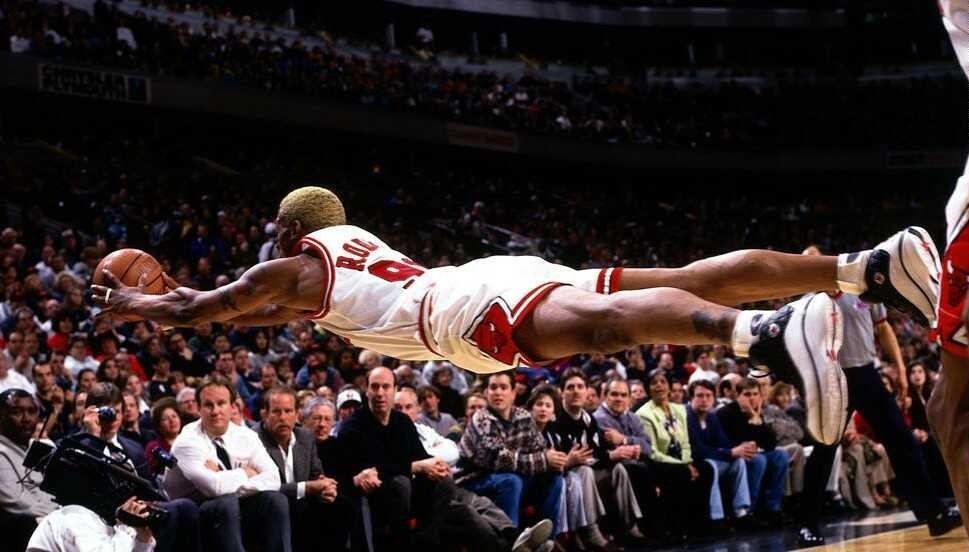 Suicide Attempt, New Image, and Wrestling Stints
At the peak of his career in 1993, Rodman's personal life was plagued by substance abuse which was exacerbated by his first divorce from Annie Bakes. These events culminated in a suicide attempt– Rodman was found sleeping in his car with a loaded gun, ready to shoot himself, however, he was rescued by beloved NBA reporter Craig Sager.
After the suicidal attempt, Rodman emerged with a new "bad boy" image and became notorious for numerous controversial antics. He wrote about his suicidal experience in his "Bad As I Wanna Be: The Dennis Rodman Story" which was adapted into a TV movie. While promoting the book, Rodman dressed in a wedding gown, wore makeup and identified as a bisexual.
Besides his amazing rebounding skills on the court, Rodman was known for his frequent clashes with opponents, referees, and even cameramen.
After being fined $20,000 and suspended for 6 games in the 1996/1997 season for headbutting a referee, Rodman launched a wrestling career, appearing in the WCW. Three games into the 1998 NBA final, Rodman left his teammates in bewilderment after he left them to fight in the WCW alongside Hulk Hogan. He retired from pro wrestling in 2000.
In addition to wrestling, Rodman also launched an acting career starring in lead roles in Double Team (1997) and Simon Sez (1999). He also launched a talk show "The Rodman World Tour" where he interviewed guests from his bed.
Most of these gigs were in an effort to earn some money as his erratic behavior often took its toll on his finances. After retirement, he appeared in several TV shows. He won the $222,000 prize money from the 2004 edition of Celebrity Mole. He also participated in Celebrity Apprentice becoming friends with Donald Trump.
When the gigs didn't seem to be lucrative enough, Rodman attempted to make an NBA comeback but it proved futile. However, he played in the semi-professional men's basketball minor league before retiring in 2006.
Rodman's controversial antics are unending. He is friends with North Korean Dictator Kim Jong-Un whom he visited in 2013, becoming the first American to do so. The worm whose net worth is estimated to be below $1 million, continues to blow off money as fast as he makes them.
Is Dennis Rodman Gay? Does He Have A Girlfriend or Wife?
Because of his flamboyant style and fashion sense, many have speculated that Dennis Rodman is gay. However, Dennis Rodman revealed in his book, Bad As I Wanna Be: The Dennis Rodman Story, that he was in fact bisexual. He had highly publicized relationships with celebrities like Carmen Elektra and Madonna.
The basketballer was reported to have had an affair with Jeanie Buss when she was an executive of the lakers. He also dated model, Annie Bakes, from 1986 till 1993. While they were together, she moved in with him and later had his daughter in 1988. Despite having issues as a couple, the two got married in 1992 but got divorced in 1993.
He was also in a very publicized relationship with Madonna in 1994. However, their relationship was short-lived with Rodman claiming Madonna wanted to have his child and with the tabloids claiming Madonna was causing a negative impact on his 1994 NBA playoff performances. After this, in 1997, he had another short-lived fling but this time with actress, Vivica Fox.
Later that same 1997, he began to date Stacy Yarbrough, a stripper he met at 'Scores Strip'. Even though their relationship was also short-lived, many claimed he was very serious about her. The next year, Dennis Rodman met and fell in love with actress Carmen Electra. Their steamy relationship was not favored by many including Rodman's agent who was known to commonly refer to Carmen Electra as a 'gold digger'. Despite the lack of support for their 'hot and heavy' relationship, the two still married. After less than half a year together as a married couple, they got divorced in 1999.
Two years later, Rodman had a short relationship with Jenna Jameson, the pornographic actress. Later, in 2003, he was rumoured to have dated Jaimyse Haft. Shortly after this, He was reportedly in a relationship with an English model – Alicia Douvall. While on one hand, Alicia stated that the couple had gotten engaged, Dennis denies their involvement on the other hand.
From 1999 to 2012, he was in an on-again, off-again relationship with Michelle Moyer who would become his third wife. The pair got married in 2003 on his 43rd birthday. The marriage was officially dissolved in 2012 after several problems which included Rodman physically abusing Moyer and getting arrested.
Who Are His Children?
The sports star has three children. He had a daughter – Alexis – in 1988 with his then-girlfriend (before she became his wife), Annie Bakes. After he got into a relationship with Michelle Moyer in 1999, the two had a son together – D.J. – in 2000; and later they had a daughter – Trinity – in 2001.
His son, D.J, is already an exceptional basketballer with big dreams of playing in the league someday like his father did.
Dennis Rodman Height, Weight & Other Facts
Full Name: Dennis Keith Rodman
Profession: Professional Basketballer, Professional Wrestler
Height: 6 ft 7 in or 201 cm
Weight: 110 kg or 242.5 lbs
Race: Black
Nationality: American
Date of Birth:  May 13, 1961
Place of Birth: Trenton, New Jersey, United States
Marital status: Single
Astrological sign: Taurus