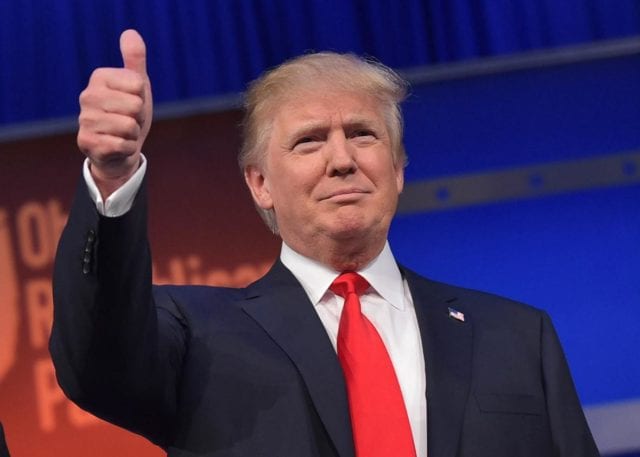 Age/Date of Birth:

June 14, 1946
Height:

In Feet: 6 feet 3 inches
In Meters: 1.90 m.
In Centimeters: 190cm
Ethnicity/Race:

German-American
Nationality:
American
Wife or Girlfriend:
Melania Trump (m. 2005)
Parents:
Father: Fred Trump
Mother: Mary Anne MacLeod Trump
Net Worth:
$2.1 billion USD
Donald Trump is a real estate mogul who has been in the entertainment scenes for more than a decade. Trump began surfacing on the political scene in 2012. In 2016 he entered the presidential race, defeating Secretary Hilary Clinton to become the president-elect and 45th President of the United States.
Trump has severally trumpeted about how rich he is and many sources have claimed that too, but how much is he worth? Well, that would depend on who you'd rather trust. While Forbes initially estimated his net worth at $3.1 billion as at March 2020, Trump himself claims he is worth about $10 billion. He is currently worth $2.1 Billion as at June 2020 as his fortune was impacted by Coronavirus
Donald Trump's Age & Early Beginnings
Donald Trump was born into a life of privilege on June 14, 1946, in Queens, New York City. His birth name was Donald John Trump and his zodiac sign is Gemini. He was born to Frederick C. Trump and Mary MacLeod as the fourth of five children. His father was a real estate developer and he followed his father to his construction sites and worked there during the holidays when he came home. Donald Trump attended the New York Military Academy and graduated in 1964. He was very active in school and became a student leader and also represented the school in different field sports.
On religion, you can say from his inclinations that Donald Trump is a Christian although it is hard to say any more than that. Whether orthodox or unorthodox, we know that Donald Trump believes in God. His father's family were Lutheran while his mothers family were Presbyterians. He has close ties with several top Christian leaders in America as was revealed during the electioneering season. In early years, Norman Vincent Peale, the author of the bestselling book, The Power of Positive Thinking ministered to the Trump household. He is an ardent reader of the Bible and says it is his most favourite book. He once described Pastor Paula White, the head pastor of New Destiny Christian Center, Florida as his spiritual confidant.
Donald Trump inherited part of his wealth from his father. Senior Trump was a rich real estate developer in New York. Fred Trump developed an empire that had about 27,000 residential units. These residential units ran across Queens and Brooklyn. At his death, senior Trump was estimated to have a net worth of about $300 million.
However, it is not clear how much Donald Trump got from his father's estate. Nonetheless, it was estimated that he was worth a current equivalent of $1.4 million when he was graduating from college. The social networks, skills and the money that Trump inherited from his father have greatly contributed to making him who he is today.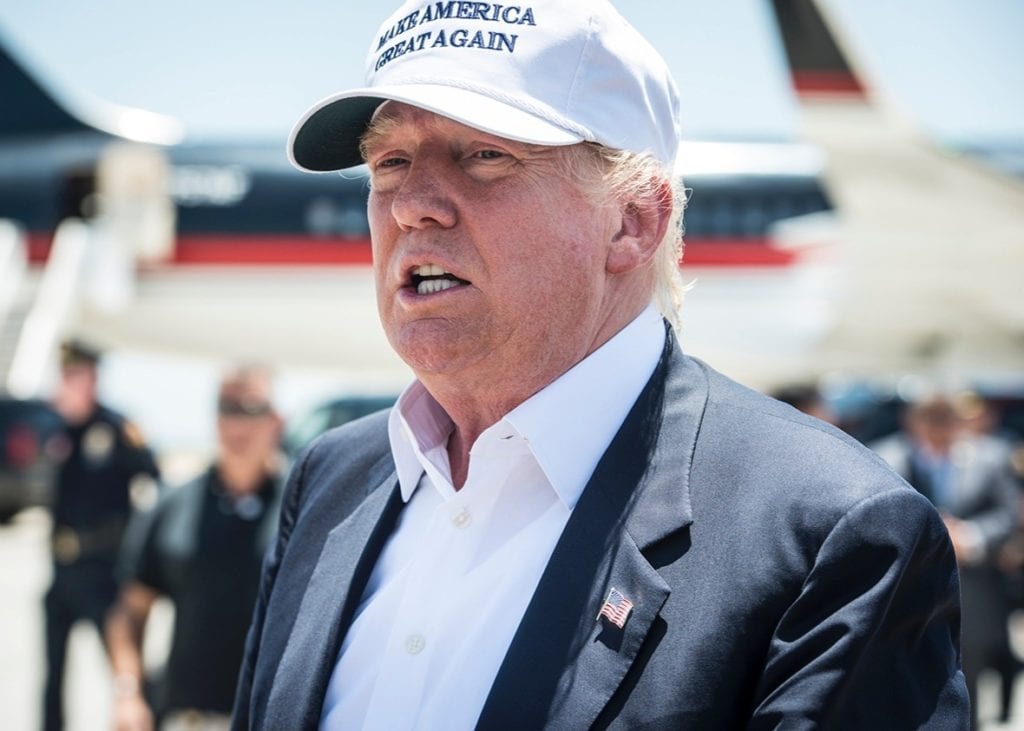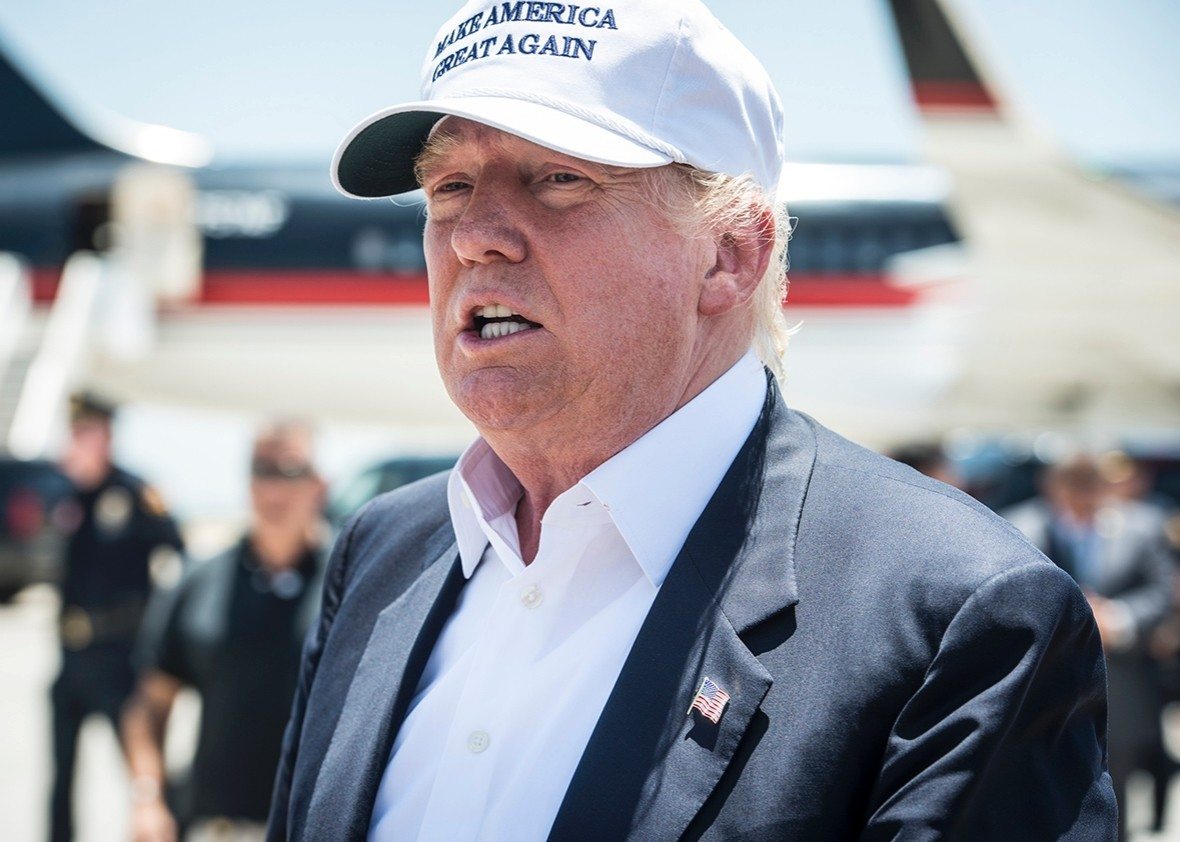 Profile Summary
First Name:
Donald
Last Name:
Trump
Also Known As:

The Donald
Sex/Gender:

Male
Profession:

Politician, businessman, and reality TV star
Famous For:
Being the president of the United States of America and a billionaire. He is also known for his time in his reality TV show, The Apprentice.
Colleges/Universities Attended:

Kew-Forest School
New York Military Academy (1959 - 1964)
Fordham University (1964 - 1966)
Wharton School of the University of Pennsylvania (1966–1968)
Educational Qualifications:

BS in Economics
Religion:

Christianity
Birthday & Zodiac

Age/Date of Birth:

June 14, 1946
Zodiac Sign:
Gemini

Birth Place:

Queens, New York City
Nationality:
American
Ethnicity/Race:

German-American
Country of Residence:

The United States of America
Physical Attributes

Height:

In Feet: 6 feet 3 inches
In Meters: 1.90 m.
In Centimeters: 190cm
Weight:

In Kilogram: 108 kg
In Pound: 239 lbs.
Eye Colour:

Blue
Hair Color:

Light brown
Other Body Measurements:

Chest Size: 44 inches
Bicep/arm Size: 13 inches
Hip Size: 36 inches
Relationships

Marital Status:

Married
Spouse/Partner:

Melania Trump (m. 2005)
Family and Relatives

Father:

Fred Trump
Mother:
Mary Anne MacLeod Trump
Children:

Donald Trump Jr. (Born on December 31, 1977)
Ivanka Trump (Born on October 30, 1981)
Eric Trump (Born on January 6, 1984)
Barron Trump (Born on March 20, 2006)
Tiffany Trump (Born on October 13, 1993)

Siblings:
Maryanne Trump Barry, born in 1937 (Sister)
Fred Trump Jr., born in 1938 (Brother)
Elizabeth Trump Grau, born in 1942 (Sister)
Robert Trump, born in 1948 (Brother)
Other Relatives:

Elizabeth Christ Trump- Grandmother
Frederick Trump: Grandfather

Grandchildren: Kai Madison (born May 12, 2007), Chloe Sophia (born June 16, 2014), Donald John III (born February 18, 2009) Tristan Milos (born October 2, 2011), Spencer Frederick (born October 21, 2012) Arabella Rose (born July 17, 2011) Joseph Frederick (born October 14, 2013), Theodore James (born March 27, 2016), "Luke" (born September 12, 2017), and Carolina Dorothy (born August 19, 2019).

Ex-wives: Marla Maples (m. 1993–1999) and Ivana Trump (m. 1977–1992)
Net Worth
Estimated Net Worth:

$2.1 billion USD
Salary:
$400,000
Source of Wealth:

He inherited a fortune from his father. He also made money as a real estate magnate and reality TV star, a book writer, investor, as well as from his salary as the President of the United States of America.
Donald Trump's Family: Wife, Sons & Daughters
Donald Trump has had three marriages of which two ended in a public divorce making him only the second US president to be divorced, the other being Ronald Regan. He married his first wife, Ivana Marie Zelníčková, a model from the Czech Republic in 1977 when he was 30 years old. Trump cheated on his wife with actress and TV personality, Maria Ann Maples, leading to the dissolving of the marriage in 1992 after the union produced three children; Donald Trump Jr. (b. 1977), Ivanka Trump (b. 1981), and Eric Trump (b. 1984).
Donald Trump's affair with Maria Maples led to a pregnancy which resulted in the birth of Tiffany Trump, his fourth child and second daughter in 1993. He married Maples in the same year but like his first marriage, it ended in a divorce in 1999. Trump seems to have a thing for beautiful models as in 2005, he was married again to Melania Knauss, a Slovenian model. She gave birth to Trump's fifth child and third son, Barron Trump. She remains his current wife and the First Lady of the United States.
In all, Donald Trump has five children from his three marriages, as well as nine grandchildren. His first son, Donald Trump Jr. has five children – three boys and two girls – with his wife, Vanessa. Ivanka, who is married to her husband, Jared Kushner has three children – two boys and a girl. His second son, Eric welcomed his first child – a baby boy with his wife, Lara on September 12, 2017.
His Earnings
Apprentice TV Show
In 2004, Trump started a reality TV show called The Apprentice. He was the executive producer as well as the host of the show which attracted many viewers. During the first season, Trump was paid around $50,000 for one episode. This was an estimate of $700,000 for the entire first season. Fortunately, the show was such a success and Trump accordingly received 20 times more than his initial payment. In recent years, it is reported that Trump is paid about $3 million for a single episode. This ranks him among the highest paid reality TV personalities.
See Also: Oprah Winfrey House, Net Worth, Bio, Age, Is Oprah Married?
Well-Wishers Support
One thing about Trump is that he is good at influencing authorities and other people to invest in his businesses. He has received high amounts of loans from successful private investors. For instance, Chase Manhattan offered him about $24 million to aid the building of the multi-million dollar, Trump Tower in New York. Trump himself owns a palatial condo in the building which is among the highest valued buildings in New York City.
In addition to the $24 million that was provided by Chase Manhattan, Trump was given an extra $150 million as a construction loan. This helped Trump make more profit from the building as none of his money was used in its construction.
See Also: 13 Richest US Presidential Candidates Till Date
Golf Courses
Donald has several golf courses which he promotes via the Gold Channel. This helps to boost the value and popularity of the golf courses, thereby making him richer.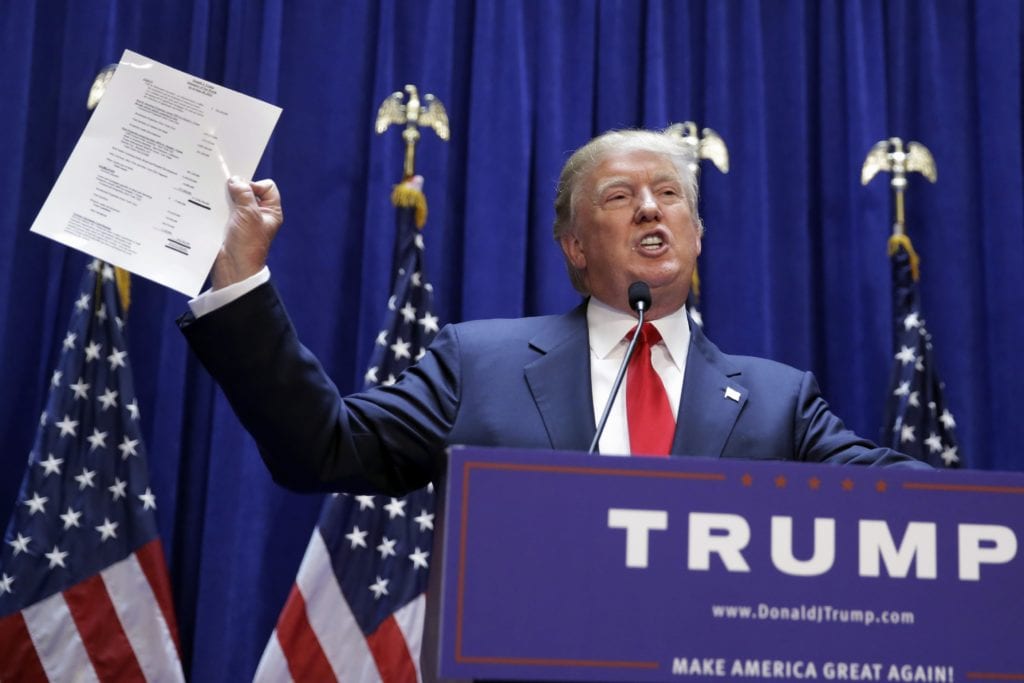 Donald Trump Brand and His Personal Net Worth
There might be other people with the name Trump, but there is only one Donald J Trump. The Trump name is tantamount to affluence and elegance which qualifies it as a brand. Apart from the famous Trump Tower, there are other properties and products that have been branded with the family name, from alcohol to airlines e.g Trump Shuttle and even ties. According to Trump, the brand is worth about $6 billion.
See Also: Donald Trump's Favorite Luxury Brands Revealed
Houses
With real estate as his primary source of income, it is only expected that Trump has some palatial private properties. He owns several homes in Miami and Manhattan and it is reported that the Trump Tower penthouse, where he primarily lives, is worth $100 million. The Mar-a-Lago estate in the Palm Beach is also under his name and is valued at $250 million. He also owns a 213-acre property called the Seven Springs in New York, where the Trump family often go to for vacation.
See Also: Donald Trump's Most Luxurious Private Properties
Other than the properties, Trump owns a private jet that is estimated to worth around $100 million. That said, it is not clear what he is worth, as different sources give different reports. While Forbes determined he's worth $4.5 billion, Trump said himself that he is worth about $10 billion, but we all know Trump for his narcissism.
Your Questions Answered
Fact Check: We strive for accuracy and fairness. If you see something that needs updating,