If you've never heard of the name Donald Trump, then you need to crawl outta that hole you've been hiding under ASAP. Donald Trump is known for many things, for his time as host of reality game show The Apprentice, his real estate portfolio and most recently as the 45th president of the United States (2017–21). The guy is mega-rich probably, the highest-profiled billionaire in America with a net worth of $3 billion or $10 billion depending on who you ask.
Like every typical billionaire, Trump loves opulence but surprisingly for someone who wants to "Make America Great Again", most of his favorite brands are foreign-made. A fact revealed in his book "Think Like a Billionaire" as read and discovered by BuzzFeed News reporter Andrew Kaczynski.
A section of the book reads;
To have the best, you have to know the best. Thinking like a billionaire means recognizing the best and enjoying the best. Of course, it takes practice. Can you confidently name the top five jewelers in the world? The best champagne? The best, most exclusive real estate? The most highly rated restaurants? The top art dealers? If not, you've got a long way to go to be a billionaire. But don't feel bad, because I don't know all the answers—other than the real estate ones—either!
Donald J Trump
To save you the stress of having to read through the whole book to find out, here are some of Donald Trump's favorite brands
Cars – Mercedes (Germany) Lamborghini (Italy) and Ferrari (Italy)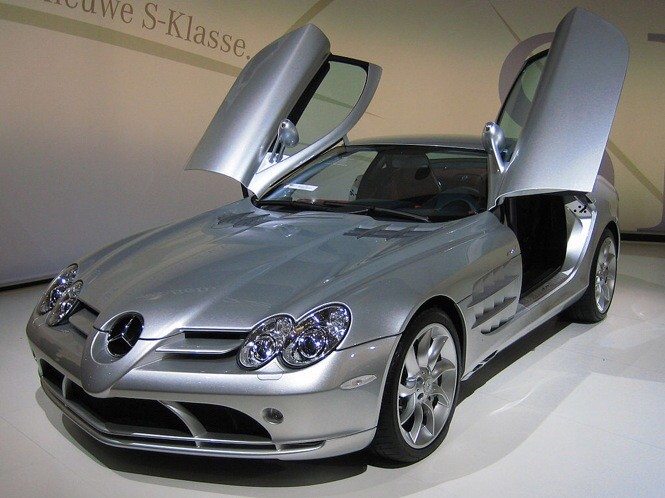 Billionaires and big toys (super fast cars, private jets, helicopters yachts) go hand-in-hand. While Trump can no longer boast of his Trump Princess yacht which he sold to Saudi Prince al-Waleed bin Talal for $20 million when he ran into some financial troubles back in 1990, he still has a decent collection of luxury cars and a $100 million private jet to cross the seas. In his book, Trump lists his favorite car brands to include Mercedes Lamborghini and Ferrari. The billionaire's words reads;
"The Best Car: My favorite car is a Mercedes. I've had one for a long time, and it's reliable, elegant, and sturdy all at once. I have no complaints about my Mercedes. It's never disappointed me. The cars are not temperamental, and they make my life easier. Mercedes cars are also great because they are classy without being ostentatious. I also have a Ferrari, a Lamborghini, and a bunch of other cars in different places."
Donald J Trump
Suits – Brioni
Trump prefers Italian-made Brioni owned by a French company. He writes;
"The Best Suit: I wear Brioni suits, which I buy off the rack. Some people think it's best to have custom-tailored clothing. I don't recommend it unless you have an oddly shaped body, and unless you have a great deal of time."
Donald J Trump
Shirts – Brioni
His book reads- "The Best Shirts: I've worn some great shirts over the years, but I now favor Brioni (the same brand as my favorite suits). Brioni shirts are fitted so they feel and look great. I used to have a favorite dry cleaner, located in Atlantic City, but I've mellowed a bit and I can handle the dry cleaners in New York City just fine now. Actually, once you get a good shirt, who really notices anyway?"
Ties – Brioni and Hermes (French)
How lucky is this Brioni brand. Trump says "The Best Ties: Brioni and Hermès make the best ties. And I must say, as I keep mentioning Brioni, that they graciously supply me with my clothing for The Apprentice."
See Also: Top 13 Richest US Presidential Candidates Of All Time
Jewelry – Asprey (English), Graff (English) Harry Winston, Tiffany, And Fred Leighton
When it comes to jewelries, it's good to know Trump doesn't go all foreign; Winston, Tiffany and Leigtion are all American brands. He writes:
"The Best Jewelry: I go to Graff, Harry Winston, Asprey, Tiffany, and Fred Leighton for jewelry. Asprey has been around since the eighteenth century, and their jewelry makes the most beautiful woman look even better. In addition to gems, Asprey is also famous for their silver, leather, porcelain, and crystal. Asprey's flagship store is in the Trump Tower, so I can slip in there whenever I want, almost always to buy something for Melania. You can buy a gift for anyone there, and the salespeople are excellent. Winston and Graff have, I believe, the best diamonds in the world."
Hair Product
Perhaps the most striking feature that meets the eye at first sight of the real estate tycoon is his blonde hair, styled in a somewhat unique way, sources reveals that he even gets the hair done himself in his own saloon inside his luxurious abode. To achieve that flake free look, Trump relies this time on American shampoo Heads and Shoulders.